By now, you must be sick and tired of the incomplete reviews of Google Optimize that are either confusing or just not helpful. I'm not going to pick a side and tell you what tool to use. My goal here is simply to tell you all about it and let you decide what's best for you.
Whether you're already familiar with CRO tools or are starting to consider using one, you must have encountered Google Optimize, as it's a famous free tool. The fact that you're reading this article shows that you want to research before signing up. You came to the right place! After reading this article, you'll know of a Google optimize alternative which is exactly what you need!
In the following, we'll go over every aspect and feature of Google Optimization and introduce WatchthemLive as one of the best conversion rate optimization tools to consider and learn why we always recommend it to every online business owner. So keep scrolling!
What Is Google Optimize
Google marketing platform has branches such as Google Analytics, Google Ads, Google optimize, etc. Once you create a Google account, you can access all of them.
Google Optimize is a website optimization tool that allows you to set up and launch different experiments. It's one of the most famous free tools that allow you to run A/B tests to get an insight into what attracts your users more.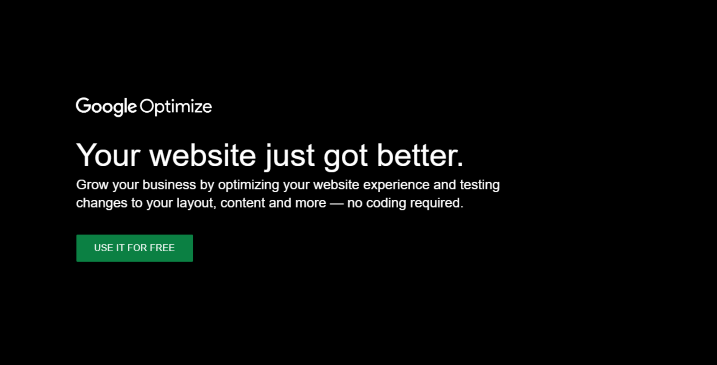 As you might already know, testing is a good way to analyze your audience, but you can't rely on it as your only solution. There are many other tools with much more features and low prices. But we'll get to Google Optimize alternative later! First, let's learn more about this tool and the services it provides you with.
Google Optimize Features
There are different methods for testing your ideas and changes. You can choose either one based on the nature of your business and the kind of information you want to get about your viewers. Google Optimize offers different methods of experiments, and we're going to elaborate on them more.
Testing
Different types of testing in Google Optimize include A/B testing, split URL testing, multivariate testing, server-side experiments, and personalization.
A/B testing is mostly used by users who want to know about their viewer's behavior toward different versions of an element. For that, they can build various models of their original web page and wait to see which one appeals to the viewers more and increases the conversion rate.
Unfortunately, Google Optimize has a strict limitation on the number of tests you can run. It allows you to run only 5 experiments per domain which may be insufficient for larger businesses.
Visual Editor
This feature allows you to make changes to your variants without coding. You can directly edit the copy in testing and run them immediately. There is also an app bar that guides the users through their editing and an editor palette that includes the editing controls.
Considering the fact that this tool is free, the amount of data you can store is highly limited. In other words, you won't be able to upload images and will have to save the data on your own servers.
Customization
Allegedly, you can customize your website based on the data it collects using advanced client-side signals, URL rules, or user attributes.
However, in order to reach its full potential, you must purchase Google Optimize 360. That will allow you to customize your experiments based on your target viewers and get more accurate and effective results. The problem is that to buy this package, you should pay 150.000$ yearly!
Reporting
You can get a summary of the results of your experiments to see their performance. By comparing the results of your variants with the original, you can have a better view of what engages your viewers more and what you need to change. But sadly, the data is not in real-time and takes almost 24 hours to update.
Google optimize can also integrate with other Google products, such as Google Analytics. On one hand, it can be useful as it allows you to have a wider view of your progress and collected data.
On the other hand, if you prefer to use more advanced tools instead of Google Analytics, you might find yourself in a pickle as it doesn't work well with other tools.
Google Optimize Pricing
As we said earlier, Google Optimize is a free tool, and no payment is required to use its features. Yet, to reach its full potential and get more out of it, you'll feel the need for a more advanced option. That's when Google Optimize 360 is introduced.
But it won't just stop there. If you decide to purchase Optimize 360, the pricing is too high and way out of budget. To use those advanced features, you'll have to pay 150.000 $ annually. But don't get cold feet yet!
There is a great alternative that will allow you to reach your desired revenue with the best features and reasonable prices!
But first, let's have a general view of Google Optimize's advantages and disadvantages.
Google Optimize Reviews: What Customers Say
To better understand Google Optimize's performance, let's go over some reviews left by its users.
Limited Tests
Many users are upset and unsatisfied with the limited number of tests Google Optimize allows you to run weekly. Many business owners find 5 tests per week to be insufficient. Let's look at this review written by an unhappy business owner.

Page Flickering
Another issue with Google Optimize A/B testing is the 'page flickering.' It happens when, during an A/B testing, the original version flashes and then changes to the variant. This will highly affect the user journey and reduce the website's credibility and overall revenue.
There is an anti-flicker code available, but it's not always helpful. Many users state that even by using this code, they still have flickering as it doesn't work until you state the time, and once it times out, it will lose efficiency. Now let's see what reviews say about this issue.

Here's another review regarding page flickering issue with Google Optimize:

Editing
Even though Google Optimize promises to provide you with an easy and effective editing system, many reviews show that users are not quite happy with that. According to these Google Optimize reviews, the editing controls are basic and not helpful for making more advanced changes.
Take a look at this review and see for yourself.

Website Speed
There are also reviews that show users are experiencing a decrease in the website's speed when using Google Optimize. Here is a review regarding this matter as a big flaw.

Integration
As we mentioned earlier, many users have problems using analytic tools other than Google analytics while operating Google Optimize. Reviews show that it's a common problem, and many users face it. Take this Google Optimize review, for example.

Google Optimize Pros and Cons
Now that we know what features are provided and at what cost, let's review some pros and cons to get a better idea.
Google Optimize Pros
It's a free tool,
It seems to be easy to set up and use,
It allows you to run different experiments,
Its visual editor feature allows users to edit variants without coding.
Google Optimize Cons
You can only run 5 tests per domain,
It doesn't work well with other analytic tools other than Google Analytics,
The data is not in real-time and takes up to 24 hours to update,
It can't store extensive amounts of data,
Optimize 360 is highly expensive,
You can only have up to 3 goals,
The characters in editor coding are limited to 10240,
There is no customer support such as live chat. The only options are community forums or paid third-party consultants,
There's a page flickering issue, and the anti-flickering code is hardly useful.
The Best Alternative to Google Optimize: WatchThemLive
Are you disappointed in Google Optimize and want to consider other tools but don't know where to find one? No need to worry! I will now introduce the best alternative to fulfill all your needs and help you reach your ultimate goal!
WatchThemLive is a great CRO tool that helps you skyrocket your conversion rate by providing features such as heatmaps, session recordings, visual live chat, and many more! It helps monitor your user's behavior and customize your website to send a more personal message.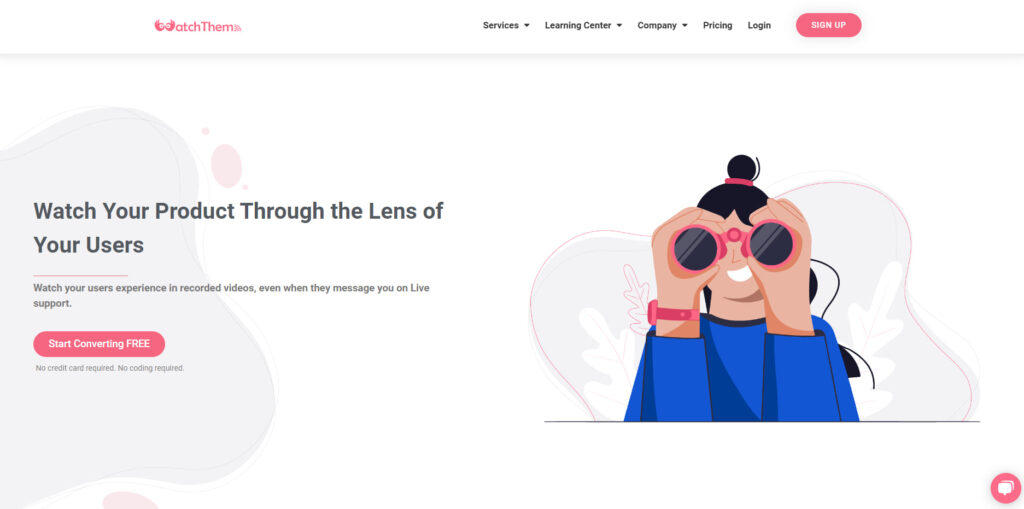 You'll never feel the need for other tools as WatchThemLive will have everything you need and more at low prices. Keep reading to learn why we always introduce WatchThemLive as one of the best Google Optimize alternatives!
WatchThemLive Features
Nowadays, it's really hard to find optimization tools with good features and reasonable prices. That's why in this article, we want to compare two of these tools and let you decide which one is a better choice for you.
Session Recording
What better way to understand your website's performance than seeing exactly how your viewers interact with it? That's when session replay software comes to help!
Session recording allows you to observe every action your viewer takes from the moment they enter your website until they leave. By going over these recordings, you will know which parts of your website are getting more attention and which don't.
In addition to that, you'll be able to use various filters to have easier access to the information you require and manage your recordings based on attributes such as country, browser, device, etc.
Heatmaps
Would you rather have access to raw and numeric data analytics or visualized ones? Of course, the latter is more coherent is easier to understand. That's what website heatmap tools offer.
Using heatmaps, you can see where your viewers click on most and optimize your website accordingly to reach maximum efficiency.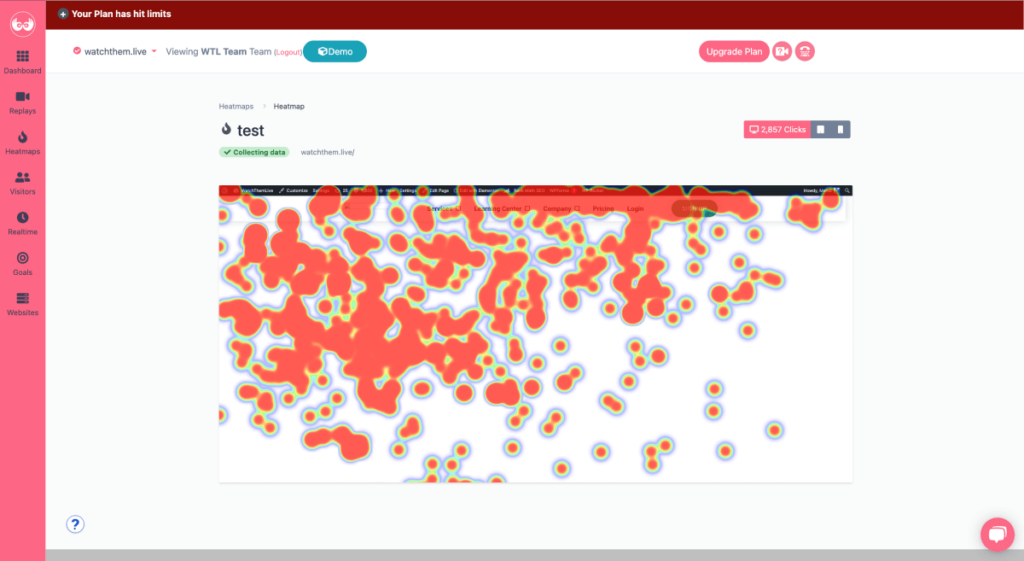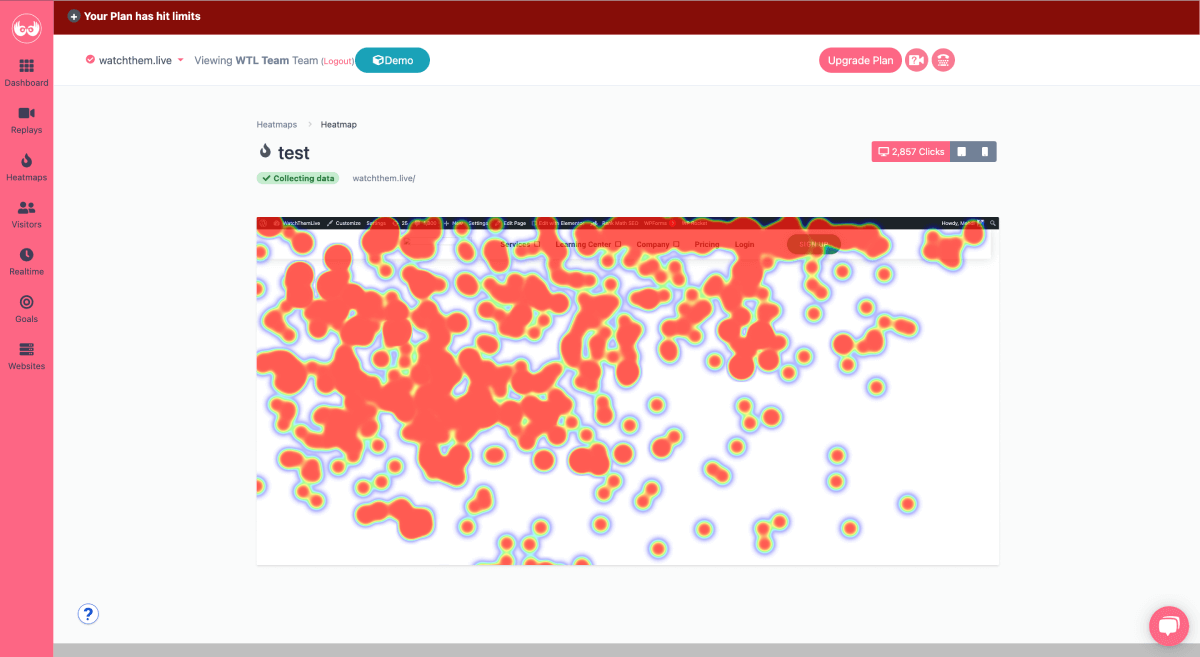 Deep Analytic Tool
Sit back and relax while WatchThemLive gathers all the data you need to optimize your business and enhance your revenue.
WatchThemLive provides you with all the necessary analyzed details so that you won't miss any important information. Just leave everything to WatchThemLive and enjoy your trip to the planet of successful online marketers!
User Tracking
Keep track of all your users and monitor their customer journey. Have a better view of any possible flaw and fix it to provide the perfect experience for your users!
Visual Live Chat
Customer service is one of the most important factors to consider when deciding to buy any product or service. Especially when it comes to e-commerce businesses. Visual live chat is the best feature to make your users feel loved and gain more credibility.
It allows you to access a real-time session recording of the users who reach out to you through live chat. This way, you can easily see where and how they have problems or questions.
Video Testimonial
The best way to gain more credibility and attract more viewers is using a video testimonial feature. Ask your users to communicate their experience with your business through a video and express their feelings and thoughts. Then you can share those videos on other platforms and be seen by many potential buyers!
Goal Tracking
Set your desired goals and keep track of your progress using the WatchThemLive goal tracking feature. By doing so, you have a better view of the path you're on and will know how to reach your goals faster.
WatchThemLive pricing
You must be thinking, 'this variety of services must come at a high price', right? That's not true! All those great features AND low prices are what distinguish WatchThemLive from other competitors.
There is a free plan in which you can access unlimited session recordings, heatmaps, an analytic system, and goal tracking! By spending only 83$ per month, you can use all these great features unlimited.
Unlike Google Optimize, where you have to pay an unreasonable amount to access more advanced services, here you don't have to! It's cheap, effective, and loved by users worldwide.
Here you can see the plans and their prices.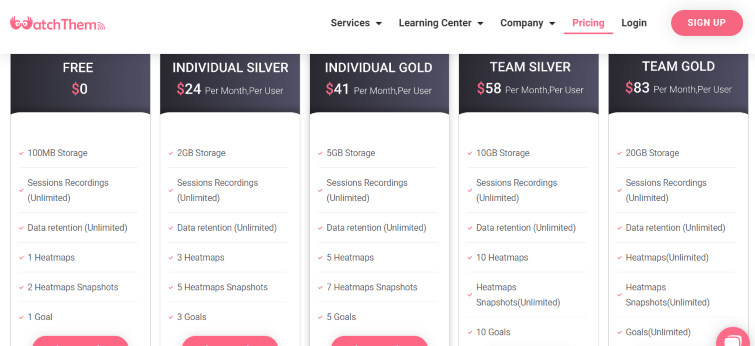 WatchThemLive Reviews
There are many great reviews about WatchThemLive on different legit websites. Users are satisfied and happy with their experience and always recommend it to others. WatchThemLive is proud of earning a 4.7 out of 5 stars!
Take a look at this review written by a satisfied user published on Trustpilot.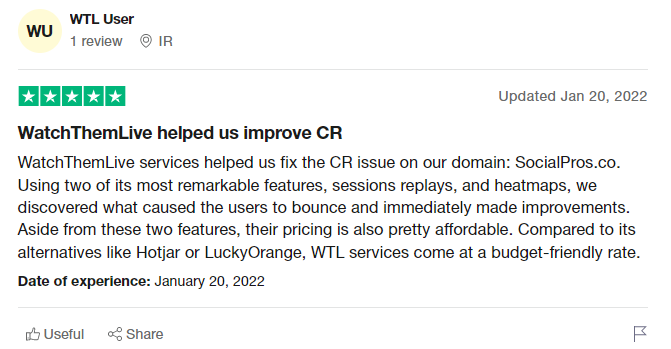 FAQs on Google Optimize
Let's go over some more questions people have asked. Maybe one of them is yours!
Q1. What Can Google Optimize Do?
It can help you run various tests to see which variant gets more conversions.
Q2. Is Google Optimize Free?
Yes, Google Optimize is a free tool, but if you own a larger online business, you should purchase Google Optimize 360 for 150.000 $ yearly as Google Optimize won't be sufficient.
Conclusion
Now that you know all about these CRO tools, you can decide which fits your business better. It's important never to lose track of your goals and flourish your online business! WatchThemLive will keep you company every step of the way!
So don't waste any time and Sign Up for free today!