Managing an online business is practically impossible without using analytics tools. Some even believe that Google Analytics (GA) is an indispensable part of their digital marketing. But have you ever wondered if this tool is enough? Have you ever wanted to check out Google Analytics alternatives?
Without the best web analytics tools, you're basically making every decision based on chance, and there's no guarantee for your plans to work out as they are expected to.
Now, Google Analytics has proved to be a popular tool out there with the most number of users. Despite its popularity, however, it has some issues that have made a lot of online business owners look for another analytics tool to replace it.
In this article, we will introduce to you the top 10 Google Analytics alternatives.
WatchThemLive is one of these alternatives and a new way to analyze your website and improve conversion rates. It provides you with a deeper understanding of your users' behaviors, making you deliver a better user experience.
Why You Need Google Analytics Alternatives
Despite its widespread use, Google Analytics has many drawbacks. For starters, it isn't really user-friendly.
Google Analytics employs several terminologies and filter names that may be unfamiliar to the typical user. In reality, Google offers a variety of courses to assist you in understanding how to utilize the platform. Still, not everyone has the time or knowledge to devote weeks to learning how to use it.
Furthermore, the latest version of Google Analytics (GA 4) is very different from prior versions, which means you may spend months learning how to use it just to see the platform has completely changed in just a few years.
Google Analytics Shortcomings
Before we get to the Google Analytics competitors, we will go through a number of problems that Google Analytics users are facing.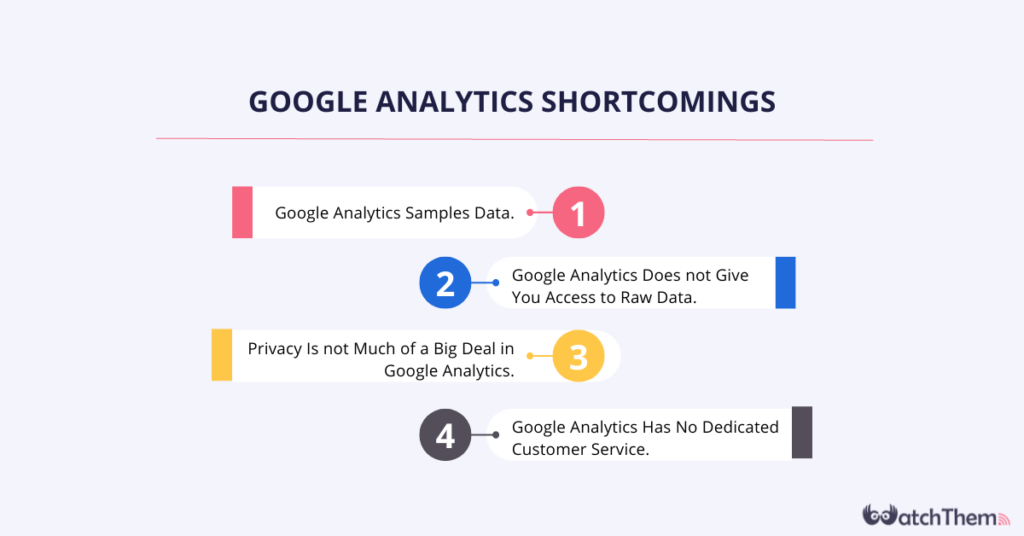 1- Google Analytics Samples Data
Google Analytics only analyzes a small fraction of your whole data. In other words, it samples your data.
Let's see how Google explains data sampling:
Data sampling means exploring the data by taking a small extract from the larger dataset which allows you to identify trends or test hypotheses. Google randomly takes a sample of your traffic data for analysis.
But you need to know that although data sampling is time-saving, the sample size is too small and can create doubts and uncertainty in your reports. So there is a very high chance that Google Analytics is ruining the accuracy of your data.
That's why Google Analytics alternatives come in and give you statistical significance.
2- Google Analytics Does not Give You Access to Raw Data
With Google Analytics, you have no access to raw data. You're only shown a summary of your data. There are lots of important details that are absent in what Google Analytics delivers.
With summarized data, you can't perform advanced analyses. Analysts use raw data to improve the accuracy of the analysis and reach more useful details.
In addition, by using raw data, you can combine data from many sources, allowing you to create a single unified data collection. Unfortunately, Google Analytics does not give free accounts access to raw, unprocessed data.
3- Privacy Is not Much of a Big Deal in Google Analytics
Privacy is not a priority with Google Analytics. It gets certain things right, such as data security, but it falls short in other areas, including giving users authority over their data. As a result, you must be responsible for data security.
You should also be aware that users' data in Google Analytics is shared with other Google products such as Google Ads, Youtube, Google AdSense, etc.
Nowadays, compliance with regulations is more necessary than ever, so it's better for you to consider using Google Analytics alternatives with a comprehensive set of privacy protections.
4- Google Analytics Has No Dedicated Customer Service
One of the most important features that makes you look for Google Analytics alternatives is that it lacks customer service. It only provides online documentation and forums as help. It's true that there are so many related forums you can refer to in order to find a solution for your problem, but you'd still have to go through all of that data to figure out what's important and what's obsolete and irrelevant.
When dealing with big problems or intricate analytical challenges, that type of assistance isn't adequate.
What Are the Best Google Analytics Alternatives
Now, let's dive right into our list of 10 powerful Google Analytics alternatives that help you avoid the issues stated above.
All-in-One Google Analytics Alternatives
The benefits of CRO tools is not deniable as they offer a range of advantages. These tools allow you to analyze website user behavior and make changes in order to improve conversion rates and generate more sales. By using such software, you can gain valuable insights into what works best for your target audience and subsequently increase the overall performance of your website. It's high time we introduced top two behavior analytics tools.
#1 WatchThemLive
WatchThemLive is a Google Analytics alternative with a lot of features. It provides a great amount of helpful information in the form of heatmaps, session recordings, analytics, and more. Session replays and heatmaps are two important tools for business owners. Through these methods, you can gain valuable insights that allow you to optimize your website's performance and maximize user engagement.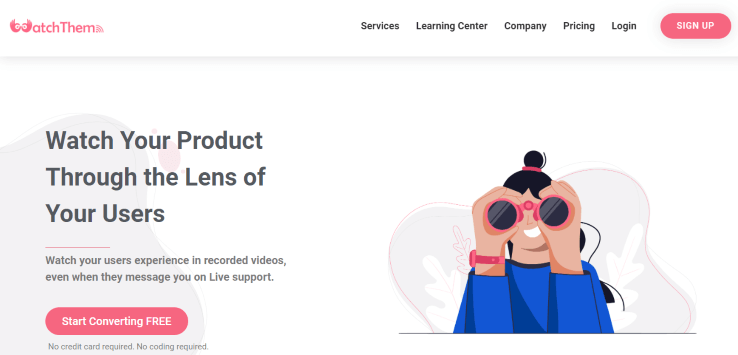 WatchThemLive G2 Rating: 5/5
WatchThemLive Pricing: It offers a free plan with 1 heatmaps and 100 sessions; monetary plans start at $29/month.
Now, let's walk you through WatchThemLive key features. Shall we?
Web Analytics
We could call the analytics on WatchThemLive a simplified version of Google Analytics that everybody can use and get the most out of. In fact, that's the reason so many people start using WatchThemLive. It allows you to track user activity on your website with the help of nine widgets, including:
Pages,
Referrers,
Countries,
OS,
Devices,
Browsers,
UTMs,
Screen Resolutions,
Browser languages.
Session Recordings
This tool is one of the important UX analytics tools that allows you to view recordings of your website users' journeys. You can watch their mouse movements, scrolling, clicks, pauses, and anything else they do on your site.
Session recordings give you a detailed understanding of how your visitors interact with your website. You can enhance your users' experiences and fix their problems by studying their interactions with your website.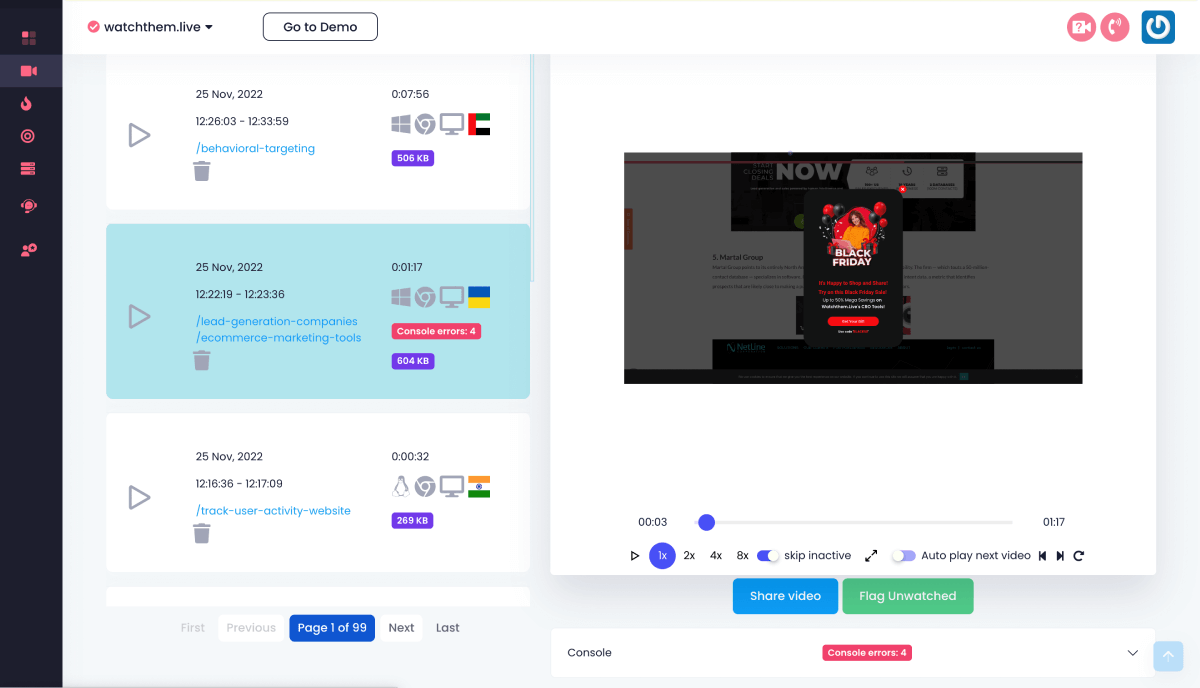 Heatmaps
Just like heatmaps in Google Analytics, heatmaps in WatchThemLive show you the total number of clicks on your web pages. Using heatmaps, you will position the buttons in a more thought-out way, identify the optimum spot for your CTAs, and boost your click-through rate.
Besides the website heatmap tool, WatchThemLive offers mouse tracking feature that gives you an opportunity to monitor users' mouse cursor movements on the computer.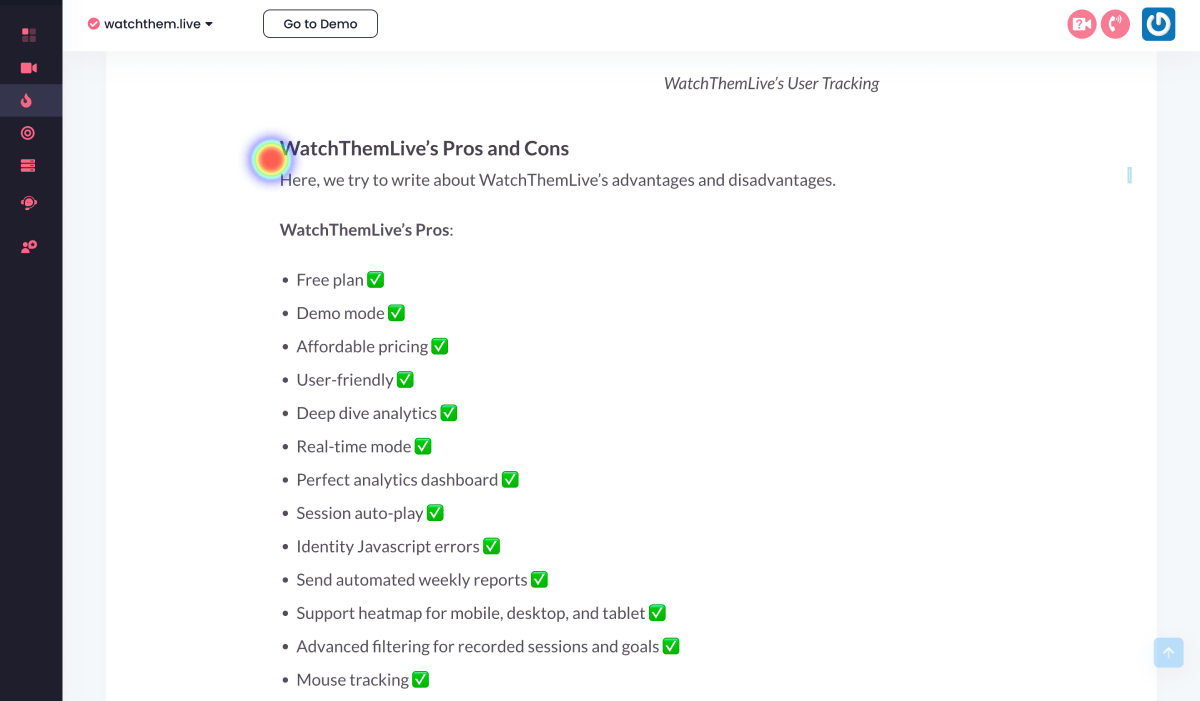 Together, session replay and heatmaps provide a comprehensive understanding of how users navigate through websites. By utilizing this data, you are able to make informed decisions about your website design in order to improve its usability for visitors.
Look at the picture below to realize what WatchThemLive offers you and what doesn't.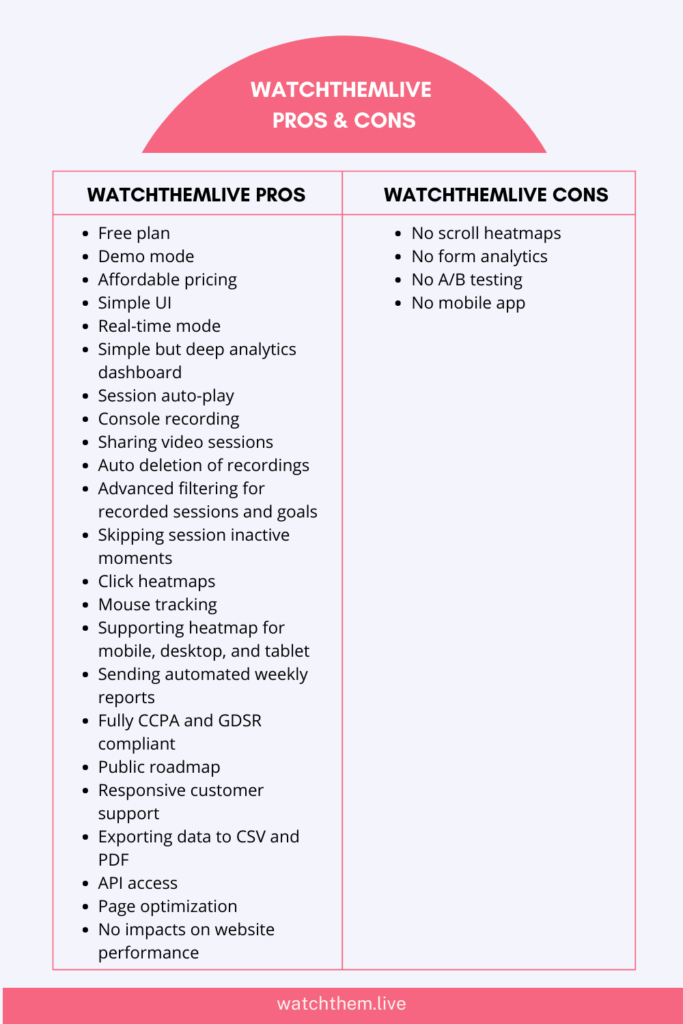 WatchThemLive offers so many other useful features as well, such as goal-tracking, user tracking, real-time analytics, visual live chat, video testimonials, and page optimization.
SIGN UP now and see exactly what users are doing on your website with WatchThemLive!
#2 Matomo
Looking for a tool to take control of your data and privacy? Matomo (formerly Piwik) is one of the open-source google analytics alternatives. Its features include heatmaps, A/B testing, session recordings, and custom reports.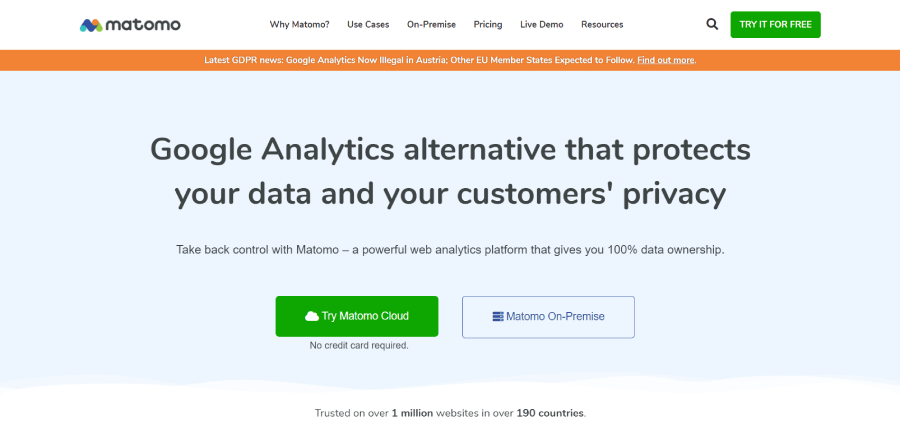 Matomo G2 Rating: 4.2/5
Matomo Pricing: Free plan; Cloud plans start at $23/month
You can install the program on your own server to have complete control over your data without any outside interference. But if you want your data to be stored on their servers, you must choose one of their premium cloud plans.
Matomo Key Features
Heatmaps,
Session recording,
Funnels,
Goals.
Matomo Pros
It gives you 100% data ownership that helps you protect your user's privacy.
It has no data sampling which means you can make decisions based on 100% accurate reporting.
There's no limitation on how much data you store.
Matomo Cons
The user interface can be improved.
It has only three free custom parameters, and you need to upgrade your plan.
There are a number of technical glitches on the website, which unfortunately can lead to inaccurate analytics.
Google Analytics Alternatives for SEO
SEO is a process that helps to improve website visibility and ranking on search engine results pages (SERPs). Utilizing the right SEO tools can lead to enhanced website traffic, higher conversion rates, and a better customer experience. Let's go over the two essential SEO tools in marketing.
#3 Ahrefs
Another tool on our list of Google Analytics alternatives is Ahrefs which is a website optimization tool with on-page features.
While it may not be as strong as dedicated on-page tools, many users use it for optimization.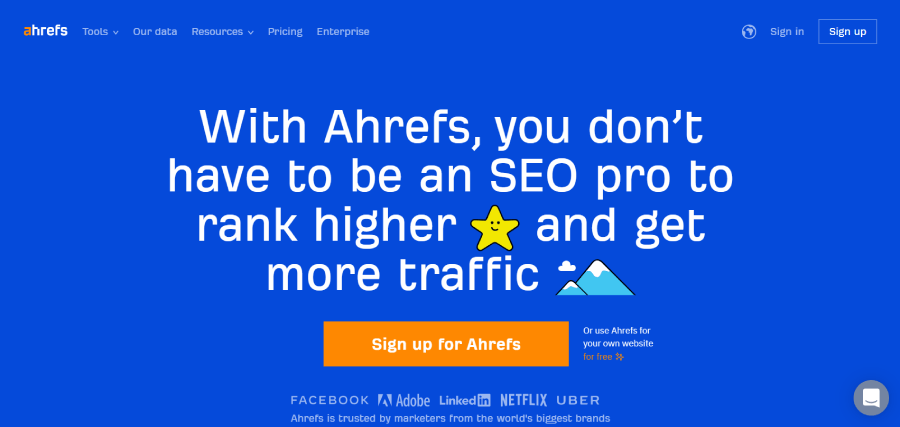 Ahrefs G2 Rating: 4.6/5
Ahrefs Pricing: Starts at $99/month
Ahrefs' features include its dashboard, which gives you a view of your SEO performance, its site explorer, keyword explorer, site audit, rank tracker, and content explorer.
Ahrefs Key Features
Site explorer,
Keyword explorer,
Historical SERP checker,
Site audit.
Ahrefs Pros
It allows you to do keyword research and find the highest volume keyword.
You can evaluate your existing content on a topic and discover gaps in the content.
It has great filtering options.
You can cancel your plan anytime.
Ahrefs Cons
It's too expensive for startups.
It's not easy to use at first.
The site audit tool is a little hard to navigate.
It doesn't provide user behavior analytics.
#4 SE Ranking
This is one of the cloud-based SEO and digital marketing platforms that has a complete set of tools for keyword research, competitor analysis, site audit, keyword ranking, backlink monitoring, etc.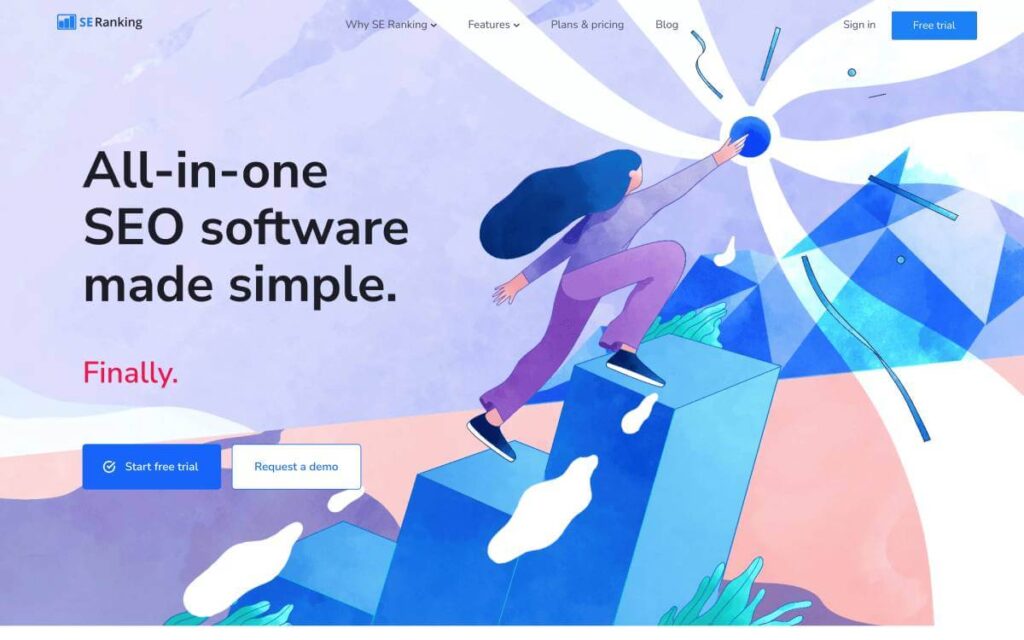 SE Ranking G2 Rating: 4.8/5
SE Ranking Pricing: Starts at €39.00/mo
SE Ranking Key Features
Keyword rank tracker,
SEO/PPC competitive research,
Keyword research,
Website audit.
SE Ranking Pros
It has multiple SEO tools in one dashboard.
SE Ranking can easily integrate with Google Analytics and Google Search Console.
It offers you the opportunity to keep track of your keyword rankings at the postcode level.
SE Ranking Cons
It has a limited number of tools for PPC specialists.
For some of the paid plans, additional fees may be required for some services.
It would be helpful if there were more video tutorials on the site to show you how to use some tools.
It doesn't provide user behavior analytics insights.
Google Analytics Alternatives for Real-Time Insights
These insights allow you to see up to date information and make decisions faster, allowing you to capitalize on opportunities and stay ahead of the competition.
You can benefit from real time insights in a variety of ways. First, you can use real time data to inform your strategies and stay competitive with your rivals. By understanding what is happening right now, you can quickly adjust your plans as needed. Additionally, having access to up-to-date information helps you stay informed and make better decisions which ultimately leads to improved performance. Let's check out some tools for this purpose.
#5 Amplitude
If you're looking for a way to monitor user behavior across channels, Amplitude may be a good option. It is a user-centric system that identifies and tracks important behavioral patterns. It promises to enable you to go deeper into mobile and app analytics.
It has a free plan, but the price difference is enormous if you want to upgrade.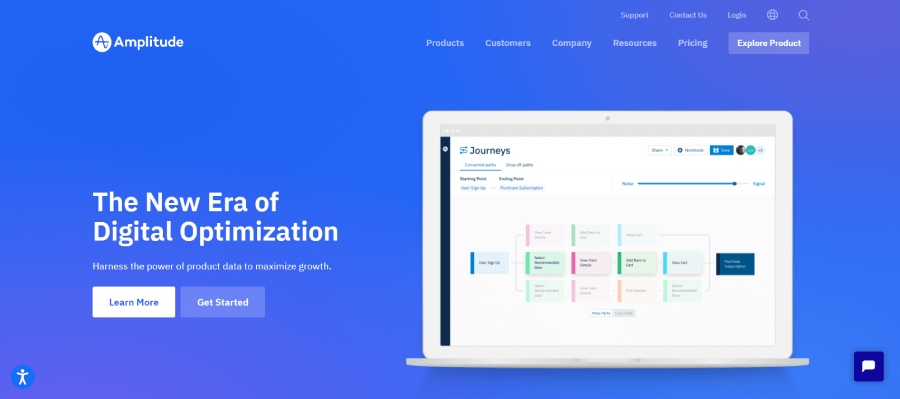 Amplitude G2 Rating: 4.5/5
Amplitude Pricing: Free plan; No fixed pricing for their Growth plan
Since it requires manual tagging, Amplitude needs a large amount of administrative and engineering efforts in order to reach the data you want.
Amplitude Key Features
Event segmentations,
Analytics dashboard,
Funnel analysis,
A/B testing,
Campaign performance.
Amplitude Pros
It enables you to compare the behavior of two custom user cohorts.
You can share analytics with your team members.
It provides a graphical representation of the data.
Amplitude Cons
They should make their dashboard easier to navigate.
There's a huge gap between the free plan and other paid plans.
It would be better if the loading time for dashboards with a larger number of graphs could be enhanced.
#6 Mixpanel
Wondering how to identify trends in real-time? Mixpanel claims to help product-based businesses enhance their sales funnel using a combination of user behavior analytics, A/B testing, and event tracking.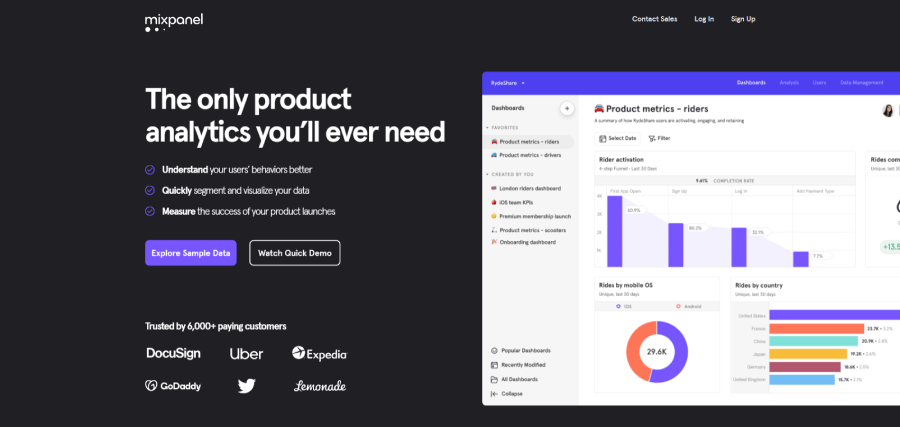 Mixpanel G2 Rating: 4.5/5
Mixpanel Pricing: Free plan; monetary plans start at $25/month
With their reporting tool, you can easily gather data on product usage metrics and transform it into reports.
Mixpanel Key Features
Cohort analysis,
Customizable dashboards,
Global filters in dashboards,
Report segmentation.
Mixpanel Pros
It provides reports in the form of graphs, diagrams, and panels.
It allows you to create and plan events for each page or activity and track user experience.
Mixpanel's live view is a good option for understanding who's on your site and how they interact with it.
Mixpanel Cons
Subscription fees for Mixpanel are expensive.
As a novice user, you may be overwhelmed and confused at first.
Their customer support team is not responsive.
#7 Woopra
Woopra's dashboard gives you a variety of analytics features that enable you to observe what's going on with your website in real-time. The tool displays the number of visitors online as well as the page they are visiting.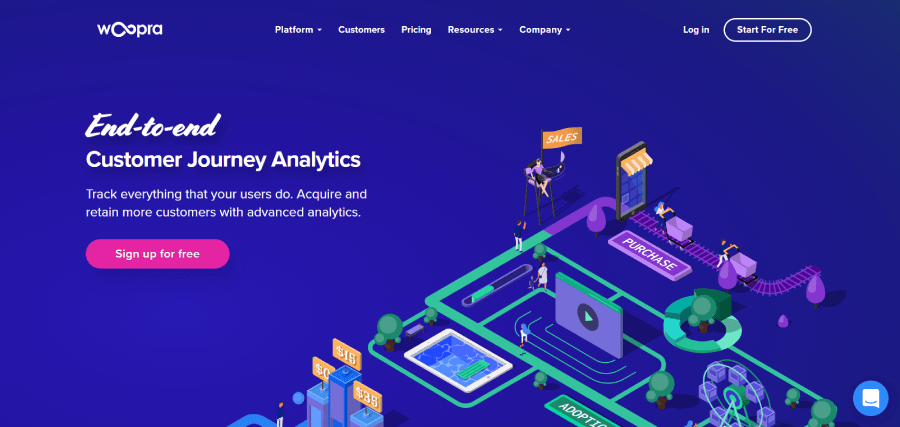 Woopra G2 Rating: 4.4/5
Woopra Pricing: Free plan; monetary plans start at $999/month
Woopra Key Features
Customer journey reports,
Behavioral triggers,
Profile reports,
Retention analytics reports.
Woopra Pros
It provides you with detailed customer profiles.
It gives you funnel analytics reports.
The user interface is easy to use for non-experienced users.
Woopra Cons
You may have experienced long loading times while accessing reports.
It would be great if there are more integrations with third-party tools.
It doesn't have easy search navigation.
#8 Kissmetrics
Kissmetrics is an online analytics solution designed for product and marketing teams. If your product is mostly web-based, it's a wonderful alternative to Google Analytics. It keeps track of important user activity such as signups, feature adoption, churn, and trial starts.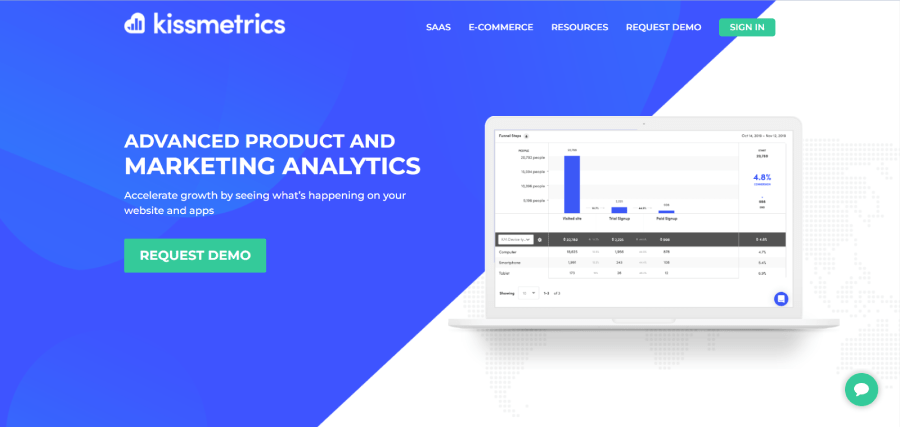 Kissmetrics G2 Rating: 4.0/5
Kissmetrics Pricing: Starts at $299/month
Kissmetrics Key Features
Customer profiles,
Funnel reports,
Real-time data monitoring tool,
A/B test reports.
Kissmetrics Pros
It has multiple site management.
You can integrate it with Shopify, Facebook, Woocommerce, and more.
It provides you with email campaign automation.
Kissmetrics Cons
Unfortunately, Kissmetrics is not compatible with products made for iOS and Android.
It's too expensive for startups to upgrade their plans.
It has no graphical outputs.
Google Analytics Alternatives for CRM
This type of software enables organizations to streamline customer service processes and deliver a personalized, high-quality experience for each individual customer.
CRM software provides you with an efficient way to store and manage customer information such as contact details and purchase histories. This data can then be used to personalize marketing campaigns or create targeted promotions that are tailored specifically to each customer's needs. Relevant tools are as follows:
#9 HubSpot
Hubspot is a sales analytics software and marketing platform that can measure traffic, manage leads, automate emails, and optimize conversion rates. It combines marketing, sales, and customer relationship management (CRM) software into one comprehensive program.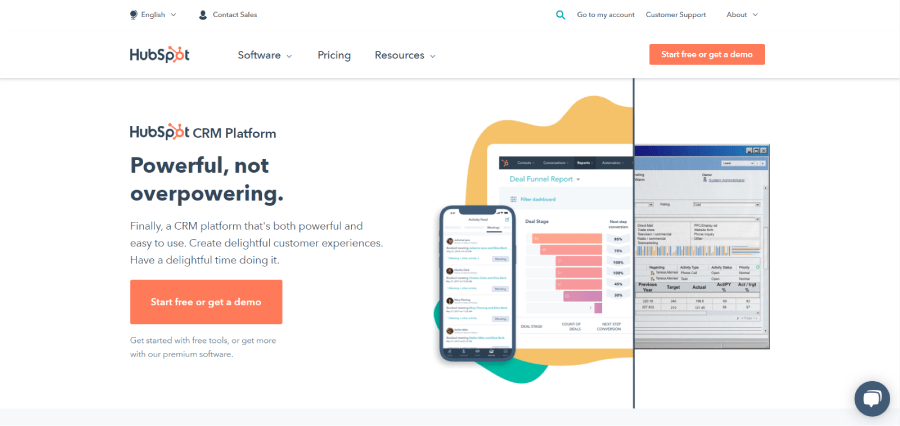 Hubspot G2 Rating: 4.4/5
Hubspot Pricing: Free plan; monetary plans start at €41/month
The features of this customer lifecycle analytics tool include email performance measurement, landing page creation, lead nurturing, and social media mention tracking.
Unfortunately, we can't recommend Hubspot to small businesses because per-user plans can get highly expensive.
HubSpot Key Features
Automated CRM database,
List segmentation,
Email analytics,
A/B testing.
HubSpot Pros
Hubspot has one of the best customer support teams.
You can create effective landing pages.
The A/B testing feature is really helpful for landing pages and emails.
Hubspot Cons
Unfortunately, you can't share templates with others.
It lacks integration with project management tools.
Keyword suggestions and short-tail keywords only work in English.
#10 Capsule
The last tool on our list of Google Analytics alternatives is Capsule. This tool offers many contact management tools allowing you to manage all your contacts and monitor the whole history of your customer interactions.
It allows you to sync your capsule contacts with your favorite apps. So you can easily see their last interaction in marketing campaigns.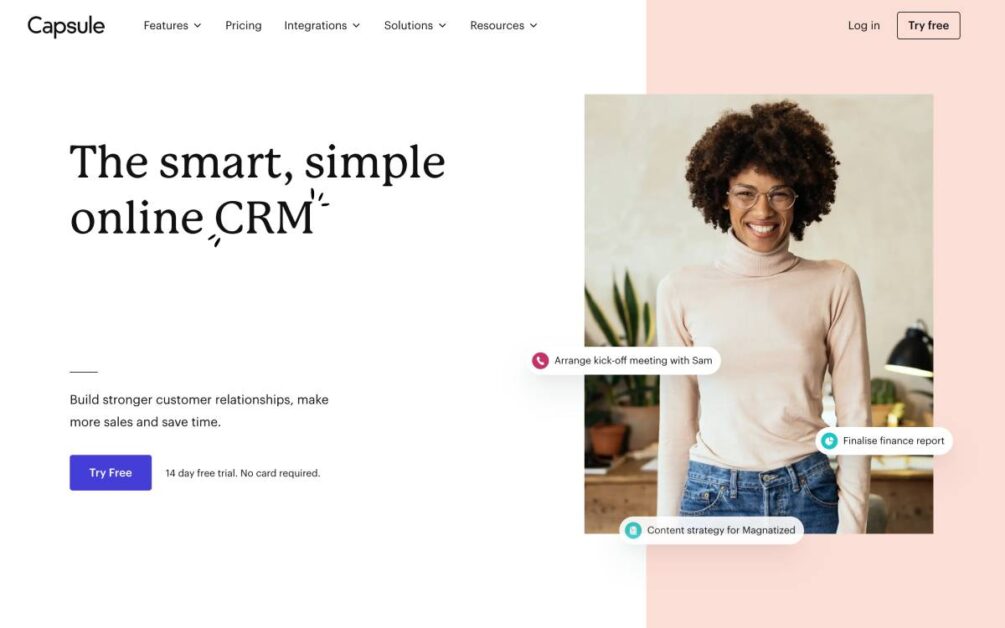 Capsule G2 Rating: 4.5/5
Capsule Pricing: Starts at £36 per user, per month
Capsule Key Features
Contact management,
Email marketing and tools,
Sales analytics,
Sales pipeline.
Capsule Pros
It has a clear and easy-to-use sales pipeline dashboard.
The customer support is very responsive.
You can manage your emails through this application.
Capsule Cons
You can't categorize your contacts alphabetically.
It's better to add reminders, such as birthdays.
It lacks reporting and analytics options.
FAQs on Google Analytics Alternatives
So far, we've discussed some alternatives to Google Analytics. Now, it's time to answer some of your questions.
Q1: What Data Cannot be Tracked in Google Analytics?
Unfortunately, Google Analytics can't track everything. As soon as you start using Google Analytics to track your site, it will only process information from that point forward. Unfortunately, there is no way for us to access any historical data before you connect to Google Analytics. Moreover, it can show you the number of clicks, form submission, and events. You can't understand what users are doing on social media platforms.
On top of that, Google uses cookies to monitor both new and returning visitors on your website. As soon as a user deletes these cookies, they will be considered a first-time visitor. So, It can be difficult to distinguish between a first-time visitor and someone who has deleted their cookies from a web browser.
Q2: What Is the Best Google Analytics Alternative?
With the rise of digital marketing and the need for businesses to track their website analytics, it is important to have a reliable tool to do so. Luckily, there is a viable alternative that can provide you with the same features and insights as Google Analytics.
The best Google Analytics alternative depends on your business's individual needs and preferences. Meanwhile, WatchThemLive offers a range of free and paid plans tailored for various sized businesses; it focuses mainly on giving users detailed reports about how visitors use their websites.
Here are three reasons that you need WatchThemLive:
You can use its visual live chat to see your user's session live and chat with them to realize whether they have a problem on their way to complete your targeted action or not.
It gives you simple but deep user behavior analytics.
You can use its console recording to fix any errors and warnings that exist on your user's console.
Conclusion
Google is a supergiant company, and its products have pretty much conquered the world of the internet. But this doesn't mean that its products are free of flaws.
In this article, we discussed some of the issues with GA and introduced 8 of the best Google Analytics alternatives.
Although these tools are not owned by companies as big as Google, they still give you results that can compete with Google Analytics and even do better in many aspects.
WatchThemLive is a behavior analytics tool that helps web platforms increase their conversions by giving them a deeper understanding of what their users go through when using their products.
Make sure to SIGN UP on WatchThemLive to get advantage of its awesome features FOR FREE!