In the modern business landscape, customer experience management software has become a central factor in the success of enterprises.
So as a business owner, you should invest in improving customer experience to boost revenue. But how do you know what to improve and how to do it? A CRO tool is going to tell you what needs to be improved to turn more leads into customers.
But before that, a CX tool should pave the way for getting the customers to trust you. In this article, we'll discuss 10 supreme customer experience management software that enables you to identify user problems and optimize the customer experience hands down.
But if you are sick of research, here is a quick getaway for you. In a world where only 4% of potential customers really trust advertising, WatchThemLive gives you neat insights to make improvements in your customers' journeys. Sign up to see with your own eyes. 
What Is Customer Experience Management
Increasing customer satisfaction, loyalty, and advocacy without elaboration is impossible. Customer experience management, also called CEM or CXM, encompasses the processes used to continually improve every interaction between a customer and a company, intending to foster customer loyalty and retention. 
Today, the benefits of customer experience are proven to everyone. To provide a good customer experience, companies must establish a successful customer experience strategy by following four critical steps:
Following these four critical steps is essential for creating a winning CX strategy and achieving higher customer satisfaction rates.
Understand the customers' needs and behaviors, and segment customers into groups for tailored marketing. 
Use customer journey mapping tools to anticipate the customers' next moves in touchpoints with your company through phone calls, live chat tools, social media, text messaging, and other mediums.
Develop an emotional connection by honing the brand in a way that will foster a lasting relationship between the customer and the company. Use website visitor tracking tools to get familiar with customers' behavior and deliver a more personalized experience.
Capture customers' feedback to both measure satisfaction levels and address issues to improve customer experience for future success.
What Is Customer Experience Software
Human naked eyes can't observe much when it comes to gathering data for digital customer experience management. Therefore, businesses need something more to increase their vision. Customer experience software, aka survey tool, is a tool that helps businesses track and manage customer interactions such as support calls, sales emails, and social media interactions under one roof.
By tracking these interactions, businesses can identify areas where they need to improve their customer service. Customer experience software can also help businesses create a more personalized customer experience by providing them with data about their customer's preferences and interests. By using customer experience software, businesses can improve their overall customer service and create a more positive customer experience.
10 Best Customer Experience Management Software
In this part, we introduce the top ten customer experience management platforms to help you choose the best one and make the research process easier for you.
1. WatchThemLive: Best Customer Experience Management Software
The number one CX management platform in this article is WatchThemLive. This platform offers everything one might need for satisfying clients.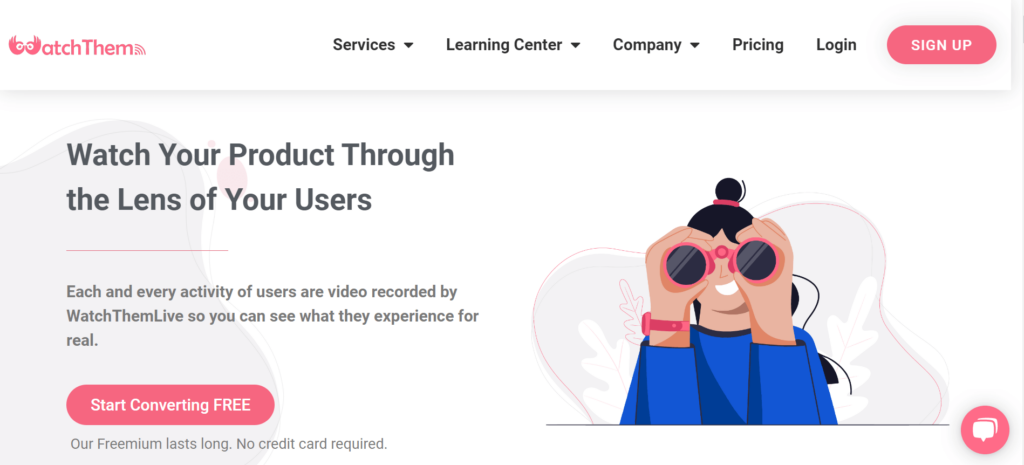 WatchThemLive is one of the best customer experience management software that allows you to collect behavioral data to see exactly what people are doing on your website to improve their customer experience.
It does a great job helping you discover what stops users from engaging and what keeps their attention by providing useful features such as video testimonials, session replays, and heatmaps.
Video Testimonial (On-Page Survey)
The best method to understand customer satisfaction is to directly ask them about it. Then, you can analyze their answers and take the necessary actions. But normal, old-fashioned question forms are boring and honestly, nobody cares enough to fill them out.
However, WatchThemLive's video testimonial turns the table. With this feature, you can create targeted forms to pop up on certain pages. Then, customers can click on the record button and answer your questions while recording themselves. You can get much more details from a video-recorded review than from a written one.
WatchThemLive is the first customer experience management tool that offers such a feature. So, are you ready to engage your customers in your website optimization?
Session Recording
As you know, session recording tools enable you to monitor and analyze the whole customer's journey and discover their behavioral patterns to optimize the path to purchase on your website.
The most interesting thing about WatchThemLive is you can use filters to filter the recordings by name or email to see your VIP customers' journeys. You can also find out what made them complete their purchase decision to identify barriers to conversion and reduce abandonment.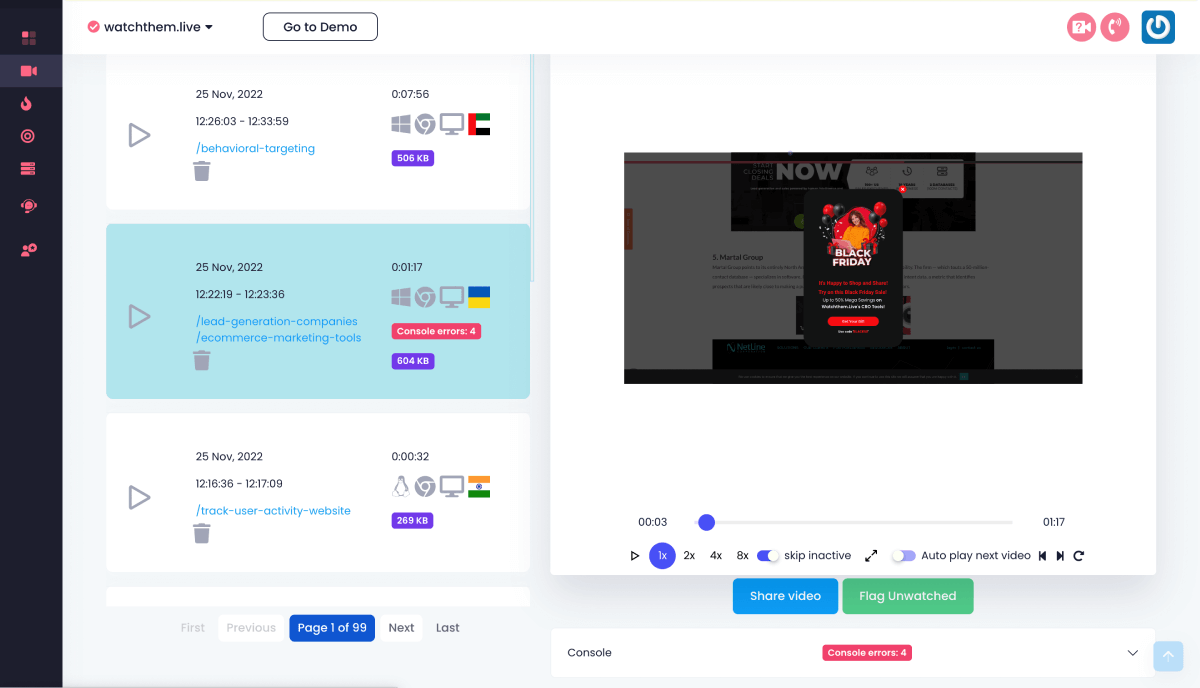 Heatmaps
Using a heatmaps tool is a powerful way of data visualization that enables you to identify distractions and attention points on your website. You can use WatchThemLive's heatmaps for specific pages to see users' interaction with your website's elements and avoid any unnecessary overdoing or other problems on their journeys.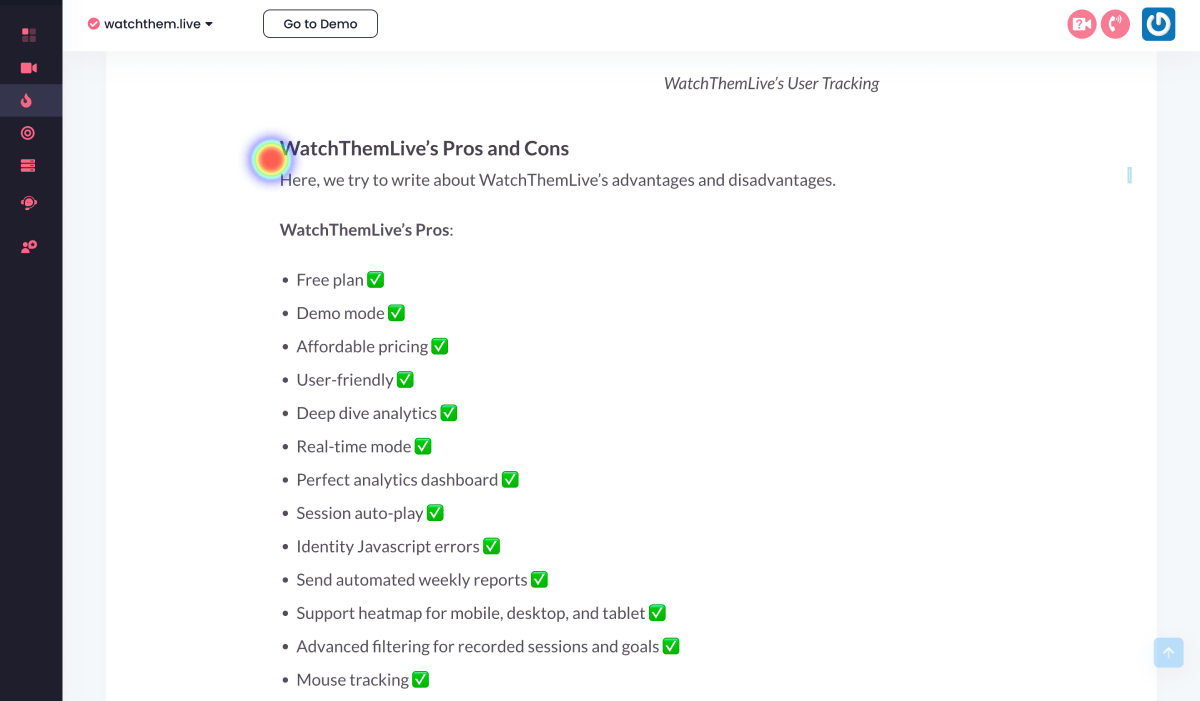 Conversion and Goal Tracking
A goal is something you want to track over a period of time to monitor whether everything is going according to schedule or not.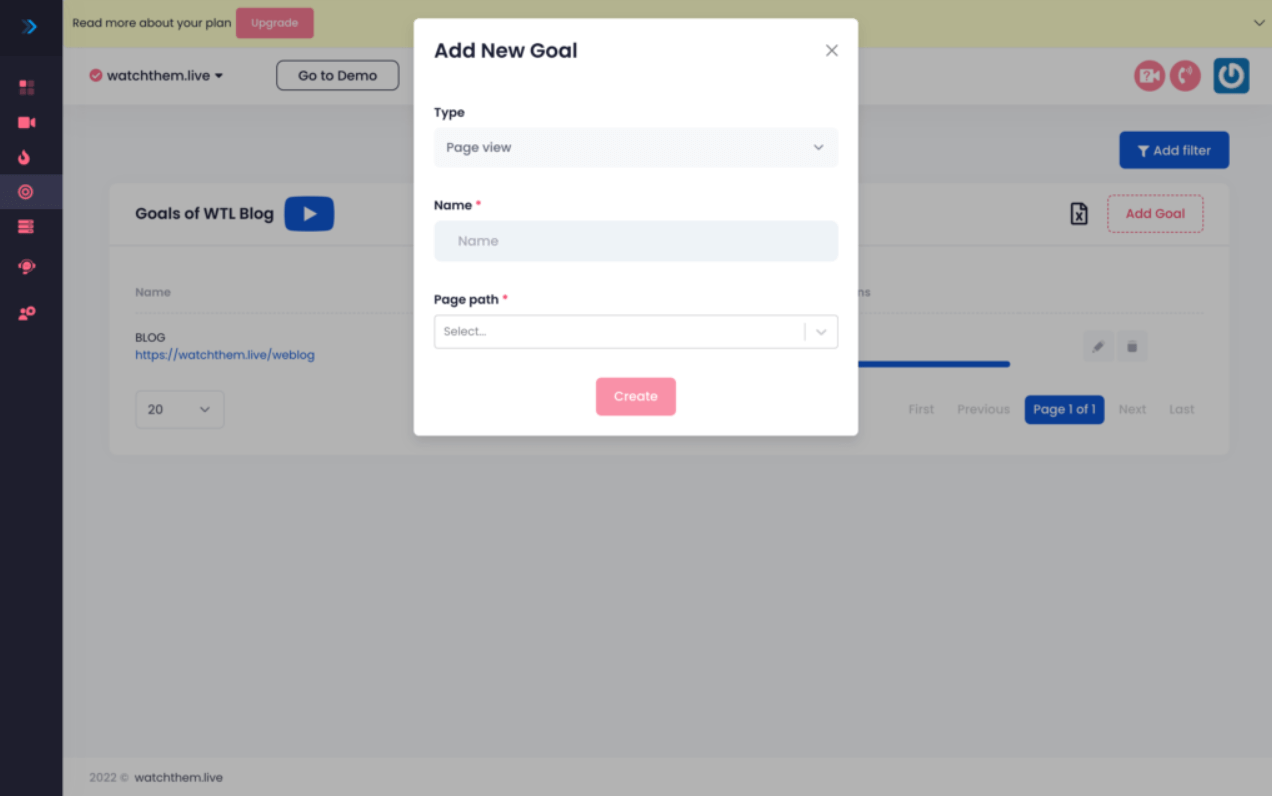 WatchThemLive allows you to clarify ideas and set your conversion goal, then map the user's journey with features like session replay to ensure everything works efficiently. You can also track your marketing success to see how many visitors completed your desired action or set goals for customer experience improvements.
Meanwhile, if you want to know more about WatchThemLive, here is the list of its key features:
WatchThemLive Features
Session recording,
Heatmaps,
Goal tracking,
Console recording,
Visual live chat,
Video testimonial (On-page survey).
WatchThemLive Pricing
Free Plan: ✅
Individual Silver: $29/mo,
Individual Gold: $49/mo,
Team Silver: $69/mo,
Team Gold: $99/mo.
So what are you waiting for? Don't miss the boat and sign up.
2. Freshdesk
Are you looking for cost-effective CXM software to facilitate and improve customer support? Check Freshdesk out.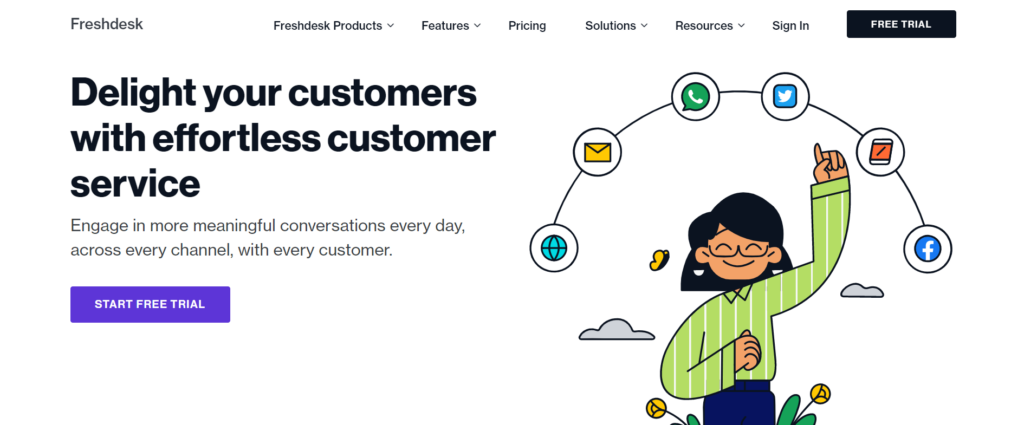 Freshdesk is an omnichannel customer experience software providing help desk support that allows delivering great customer support. It offers email ticketing, live chat, and phone support to create a smooth connection between the company and its customers.
In addition, this customer experience software converts requests coming in via email, web, phone, chat, and social into tickets, and unifies ticket resolution across channels. Free email support and integration with automatic ticket creation enable businesses to help customers' issues and complaints in a smart way.
Freshdesk's Features
Reporting and analytics,
Collaboration with team members,
Automation,
Help widget.
Freshdesk Pros
Its ticketing system smoothen workflow inside organization,
It helps to automate support tasks,
It's simple to use with a user-friendly UI.
Freshdesk Cons
Reporting and analytics data is not very advanced,
Not very attentive customer service,
Low integration with third party apps such as WordPress.
Freshdesk Support Desk and Omnichannel Pricing
Free plan: ✅
Growth: €18/agent/month,
Pro: €59/agent/month,
Enterprise: €95/agent/month,
Growth Omnichannel: €35/agent/month,
Pro Omnichannel: €71/agent/month,
Enterprise Omnichannel: €119/agent/month.
3. Contentsquare
The benefits of using website visitor tracking tools in increasing customer satisfaction is undeniable. Therefore, we are going to introduce you to a customer experience software that also offers user tracking tools.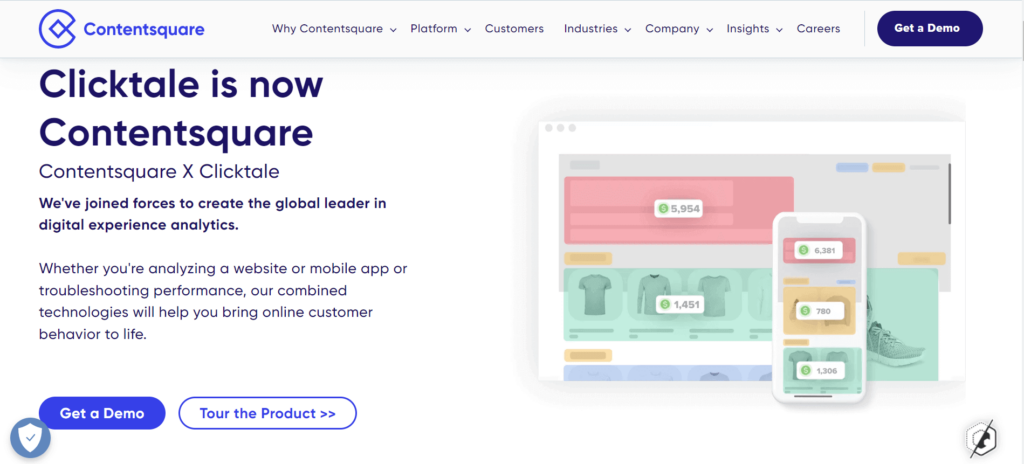 Contentsquare provides you with heatmaps and visitors' session recordings to help you analyze and understand customers' behaviors. You can check how people move around and navigate your website and digital channels and what they click on. It is integrated with Google Analytics (GA). So besides using GA segmentation, you can use ClickTale integration to monitor their behavior patterns.
Disclaimer: However, Contentsquare is not for all businesses. As a management software, it requires a large amount of data to give you a valuable insight into customer experience. Therefore, if your website has low traffic, it's better to move on to other digital customer experience management software.
Contentsquare Features
Customer journey analysis,
Heatmaps,
Session replay,
Struggle analysis.
Contentsquare Pros
Visualizing data to make it easier to understand,
Collecting customers' feedback from multiple channels,
Supporting seven languages: German, English, French, Italian, Japanese, Portuguese, Spanish.
Contentsquare Cons
Some of the features can be a bit buggy.
Data retention period is fairly short.
Extracting heat maps data can be challenging.
There are not enough training videos. Since it's a large platform, you might get overwhelmed with the features.
Contentsquare's pricing is a quote-based plan, so you need to quote for their pricing details.
4. Qualtrics
Here's yet another digital customer experience management software claiming to aid you with delivering a unique business experience.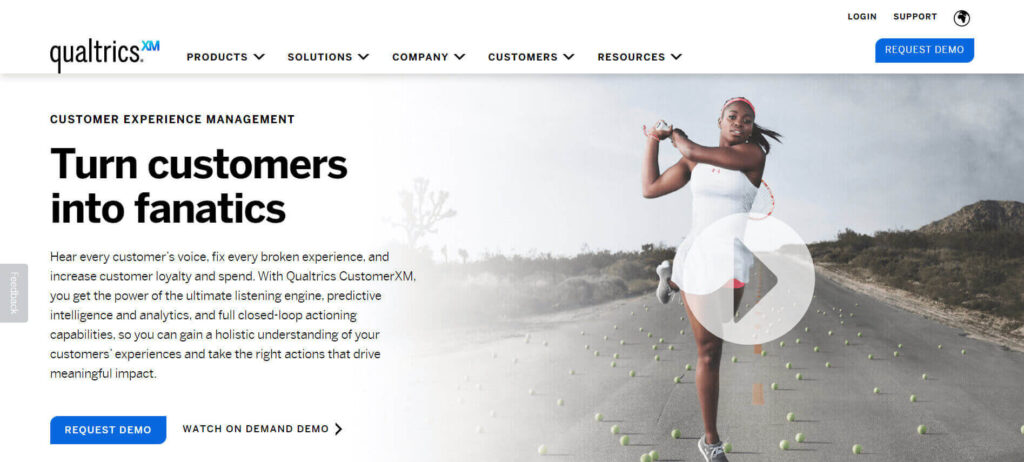 Qualtrics is a digital customer experience management software designed to monitor and analyze customers' touchpoints across the organization, create NPS and conduct transactional and pulse surveys to gather data that you will use for mapping dashboards and making decisions in real-time.
Qualtrics Features
Social listening,
Closed-loop follow up,
Survey Software,
Voice of customer program,
Statistical analysis,
Account management.
Qualtrics Pros
Flexible online survey tool,
Create complicated projects for more in-depth customer experience analytics,
Targeted messaging.
Qualtrics Cons
The pricing is much higher compared to other competitors.
Offline application survey, which requires additional fee, is not satisfying at all.
Qualtrics data visualization lacks a lot.
Qualtrics Pricing Plans
Free Trial: ✔️
Quoted-based plan: Contact them for more information.
5. ResponseTek
This customer feedback management service claims to help businesses provide targeted, personalized responses.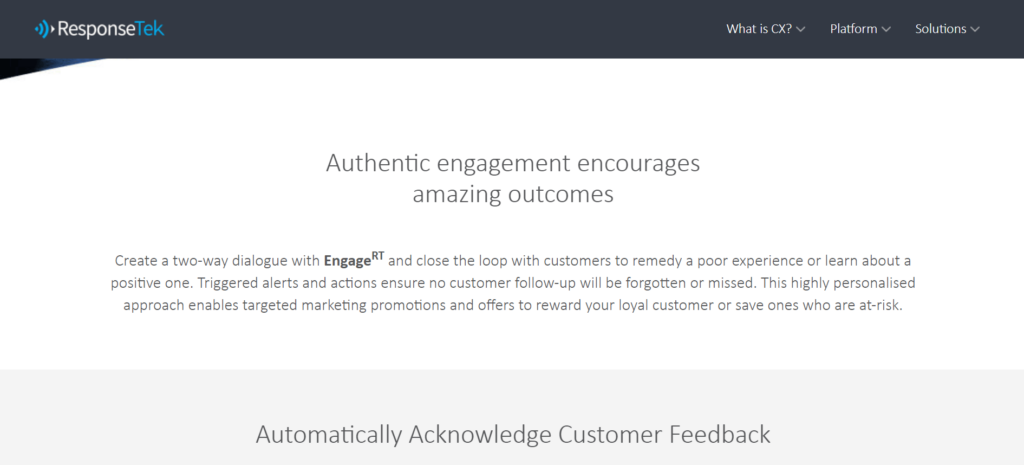 With ResponseTek, you can integrate customer experience data and reporting to create targeted messages and promotions from customers' feedback. This listening platform allows you to capture the voice of customers at scale with five core modules: listen, learn, act, engage, and manage. So you can understand their purchase behaviors and respond to them in personalized and in-context format.
ResponseTek Features
Survey management,
Analytics,
Action management,
Trend analysis,
Feedback management. 
ResponseTek Pros
Sending targeted messages,
Creating feedback loops to keep customers engaged.
ResponseTek Cons
AI bot is not as powerful as those of competitors.
ResponseTek Pricing
Their pricing package is not available on their website, but you can book a demo or try their 30-day free trial.
5. Medallia
As one of the oldest customer experience management tools in the market, Medallia CXM software considered itself as one of the best tools in the market.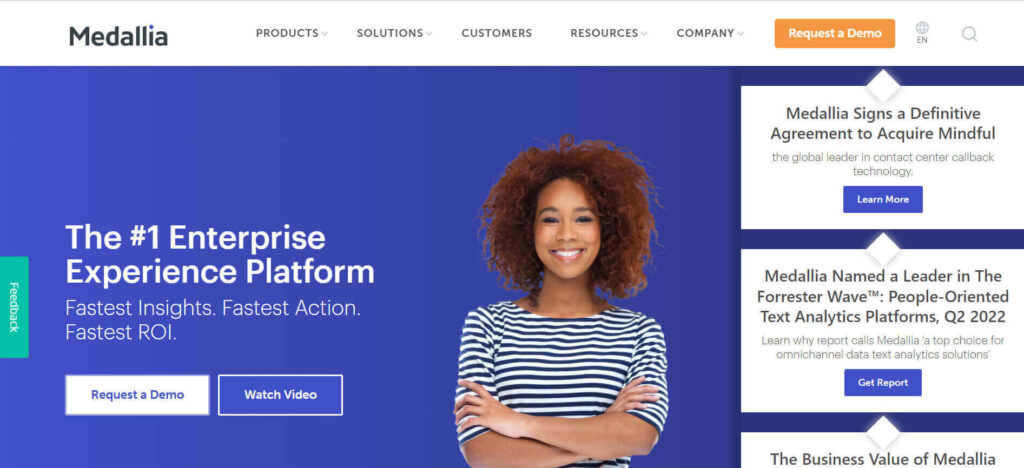 Medallia Experience Cloud is a SaaS platform that lets you collect customer feedback across multiple channels and touchpoints, analyze their current experience with the service you are providing, and react to it in real-time. It allows you to create new surveys and manage touchpoints to receive NPS scores and analytics. Moreover, you can use its closed loop service to follow up with customers and close the loop with every interaction. 
Disclaimer: We have seen customers reporting that the available questions for customization are somewhat limiting, which can affect the accuracy of the results.
Medallia Features
Customer surveys,
Feedback management,
Data analysis tools,
Goal tracking,
Complaint monitoring, 
Real-time data.
Medallia Pros
Giving you a clear vision about how your service is being received by customers,
Pre-written texts to facilitate responding ,
Lots of customized filters to narrow down the feedback.
Medallia Cons
It categorizes surveys as 'good' and 'bad' based on the words written in the reviews, which is not very accurate because it can't analyze the word in the context.
Exporting information requires a lot of manual work.
There is not much you can do about the reviews that are negative and not fair.
Medallia Pricing
Medallia's pricing package is not available on their website.
7. Verified Reviews
This service works somehow differently from other customer experience management tools. Verified Reviews uses customer feedback to increase social proof and improve the customer experience.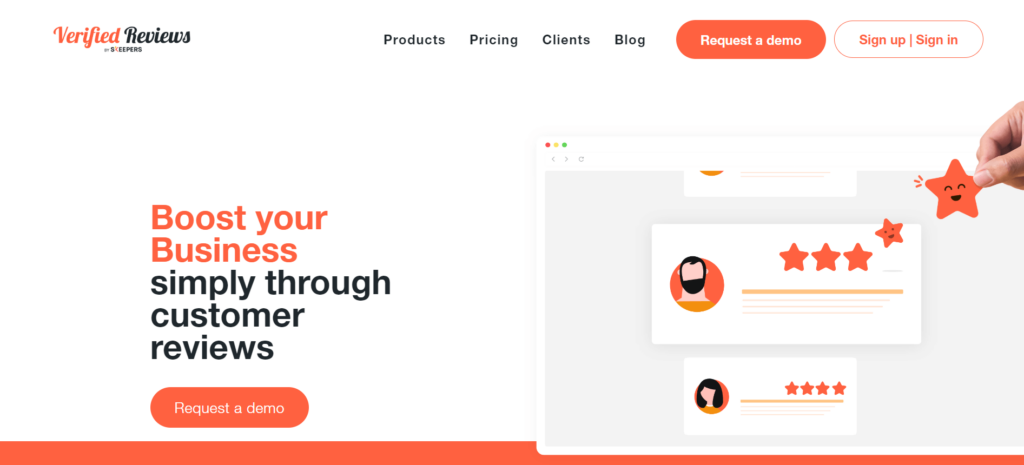 This is a review-gathering tool that assists you in measuring customer satisfaction in real-time and optimizing customer experience through product and website reviews. Verified Reviews can integrate with Facebook, so you can share product and service quality to a wider audience.
Verified Review Features
Rating and reviews,
Video creator platform,
Reputation builders,
Response management.  
Verified Review Pros
It's easily integrable with your Amazon Seller account.
Verified Review Cons
Since it's almost impossible to unsubscribe their email service, it overwhelms your email account.
Some customers stated that Verified Review is dishonest and filters negative reviews.
Verified Review Pricing
Standard plan: Starts from $99 per month.
Enterprise plan: You need to contact them.
8. Salesmate
This platform tries to create a more personalized relationship between businesses and customers.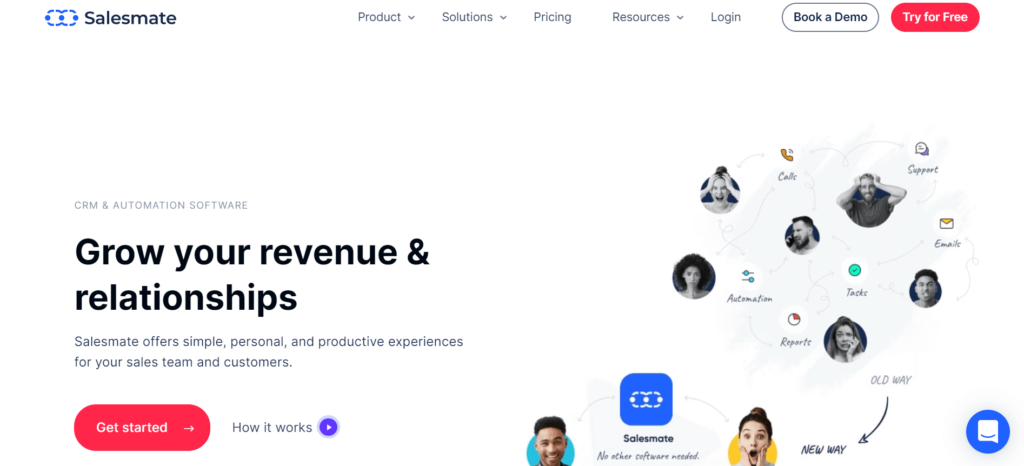 Salesmate is a web-based integrated CRM solution that offers messenger functionality and lets you communicate with customers via emails, chat, and text messages. It also gives you sales reports that help you measure the entire sales funnel from lead to closure and improve your sales performance.
Salesmate Features
Sales activity tracking,
Text messaging,
Email tracking,
Optimizing sale goals and sales reports,
Goal tracking.
Salesmate Pros
Automating workflow for email marketing and lead management,
iOS & Android support.
Salesmate Cons
The product might slow down from time to time,
Every interaction with their support team costs money. Every text message and every minute of phone support will be charged.
Salesmate Plans and Pricing
Starter: $15 per month,
Growth: $30 per month,
Boost: $50 per month,
Enterprise: Contact them for more information.
9. Yotpo
Turning one-time shoppers into loyal customers without customer management is impossible. Yotpo claims their SMSBump and visual UGC creates a solid connection between a brand and its company, which results in more conversion.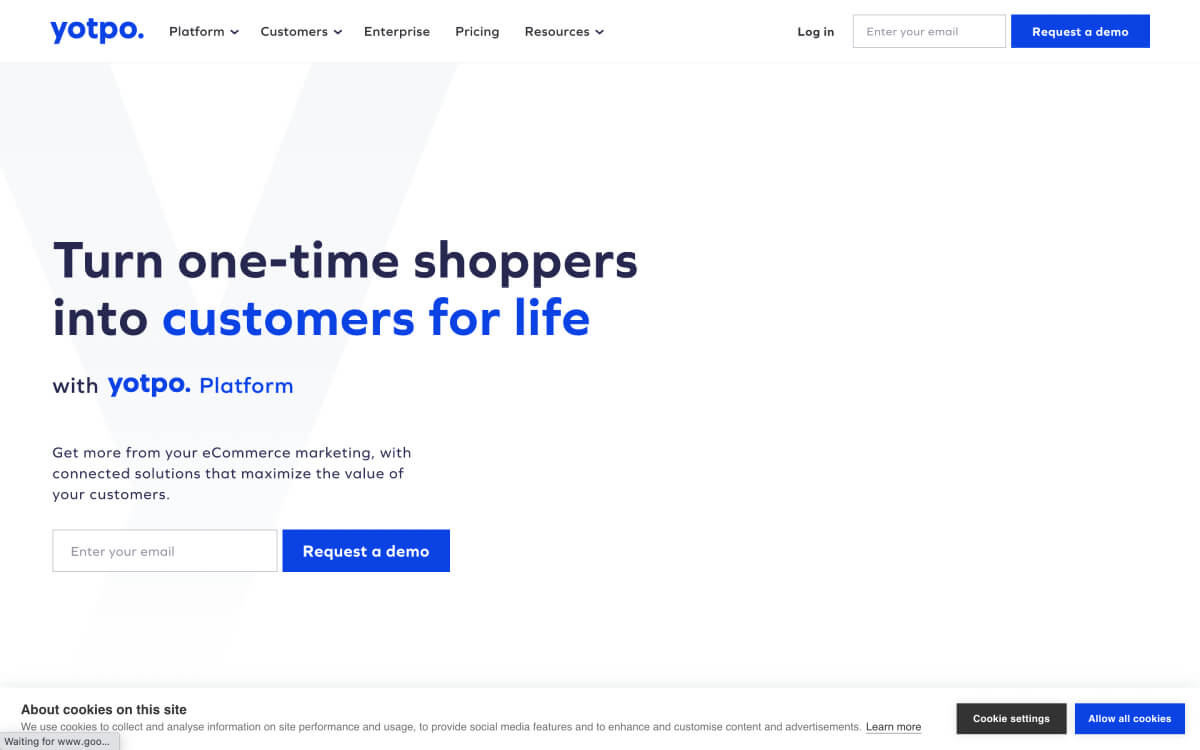 This Platform helps you generate authentic reviews and compelling content. It enables you to engage your customers, receive their feedback, and turn every purchase into a review. Yotpo's visual marketing platform allows you to showcase your customers' photos, videos, and reviews on Instagram and Facebook.
Yotpo Features
SMSBump,
Reviews,
Visual marketing platform,
Loyalty and referrals,
Subscriptions.
Yotpo Pros
It is very fast and easy to reach out to customers about their reviews.
It gathers all of your customer's purchasing and rewards history in one location.
Yotpo Cons
Since Yotpo decided to expand their offering platforms, users experience different bugs from time to time.
On-site customization is very limited and requires CSS coding to work properly.
Yotpo Plans and Pricing
Besides its free plan, there are different plans for each of Yotpo features:
Growth: $19 per month,
Prime: $119 per month,
Premium: Request a demo
Enterprise: Request a demo
10. SoGoCX
This customer experience management solution is one of the main products of its parent company, Sogolytics, for customizing your surveys and building trust and loyalty with customers.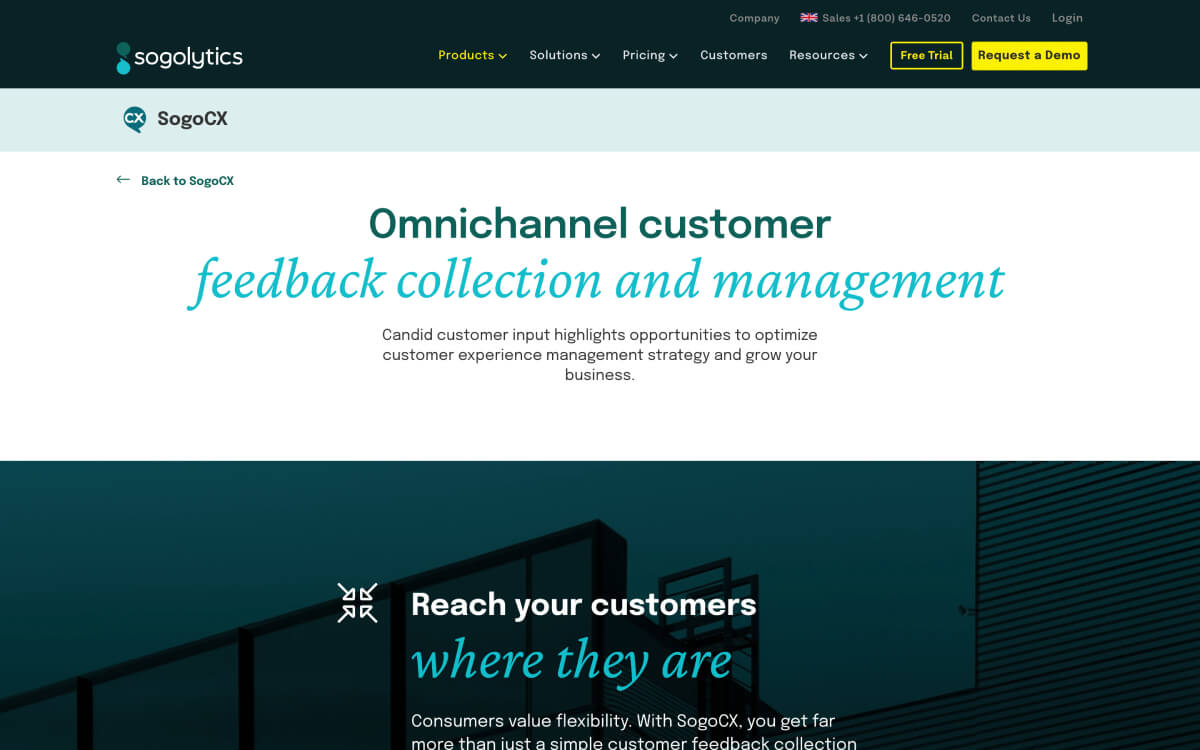 SoGoCX is the last customer experience management software we want to mention. Supposedly, it will assist you in mapping your customers' journeys and gathering information at every touchpoint to work on problematic areas. You can collect their feedback through social media, surveys, phone calls, and feedback forms. Also, You can use its closed-loop ticketing system and follow up with customers to address their issues.
SoGoCX Features
Statistical analysis,
Anonymous feedback collection,
Report distribution,
Test and review programs,
Branding and design control.
SoGoCX Pros
Visualizing customers journey,
Advanced analytics dashboard,
video tutorials and pop-up messaging to inform about features and instructions.
SoGoCX Cons
SoGoCX Pricing
SoGoCX's pricing package is not available on their website.
Best Customer Experience Management Software: Final Verdict
So far, you have got familiarized with the best customer management software, but if you need to weigh up your options, we're here to introduce WatchThemLive as the best one!
We would like to take this opportunity to share with you four reasons why investing in WatchThemLive could be of great benefit:
It gives you valuable insight into your customers' profiles.
WatchThemLive's console recording enables you to fix any warnings that happened in your user's browser.
You can fix any problems that your users face with the assistance of visual live chat.
As a result, it helps you boost your conversions and revenues in no time.
Customer Experience Management Tools FAQs
After discussing the top ten customer management softwares for websites, it's time to answer some of the frequently asked questions rewarding this matter.
#1 Why Do You Need Customer Experience Management Software?
Managing the interactions between customers and companies takes a lot of time and effort. Still, customers need to be heard and respected. With a CXM tool, you are able to hear about customers' pain points and issues, so you can respond quickly and increase the customers' satisfaction. It's a fast forward method to increase the revenue, because happy satisfied customers turn into brand advocates and bring more sales.
#2 Is CRM and CEM Same?
There is a correlation between CRM and CEM, but they are not the same. Customer relationship management (CRM) looks over the interaction between a customer and a brand. While customer experience management (CEM or CXM) focuses on strategies and techniques to improve customers satisfaction and engagement.
In other words. CRM is a lead database. CRM tools create a profile for customers and track their interaction with your brand. On the other hand, CEM measures how satisfied the customers were during those interactions. CEM tools observe and analyze customers' behavior, mostly through direct feedback, to generate data.
Final Words on Customer Experience Management Softwares
Although every marketer tries their best to provide a superior customer experience, you can't do it without any consideration for a customer experience management software. In this article, we discuss the top ten customer experience management software to make the research process easier for you.
The best CXM software in this list is WatchThemLive. Don't forget to give it a shot. I bet you will never regret it.