ClickFunnels is one of the popular sales funnel software that promises to help you implement the essential steps of a successful sales funnel and track important metrics along the way.
However, this is not the only CRO tool available. After using Clickfunnels, I feel confident enough to express my opinion on the matter. If you are serious about growing your business, ClickFunnels may be a good investment for you. So, it is important to ensure that you have all the information before investing hundreds of dollars in this service.
In this ClickFunnels review, we'll cover everything you need to know about this tool. Also, we'll introduce the best alternative to ClickFunnels and its features so that you can make an informed decision as to which one is right for you.
Since we care about your time, if you're too busy to read the whole article, we're here to introduce you to one of the best behavior analytics tools. WatchThemLive is an all-in-one CRO tool that helps you optimize your website and boost conversions in no time. And the best news is, it's free!
What Is ClickFunnels
As a funnel builder software, ClickFunnels offers an efficient and effective service that streamlines the process of creating sales funnels. So, this tool enables you to increase the reach of your businesses by targeting suitable leads and converting them into customers.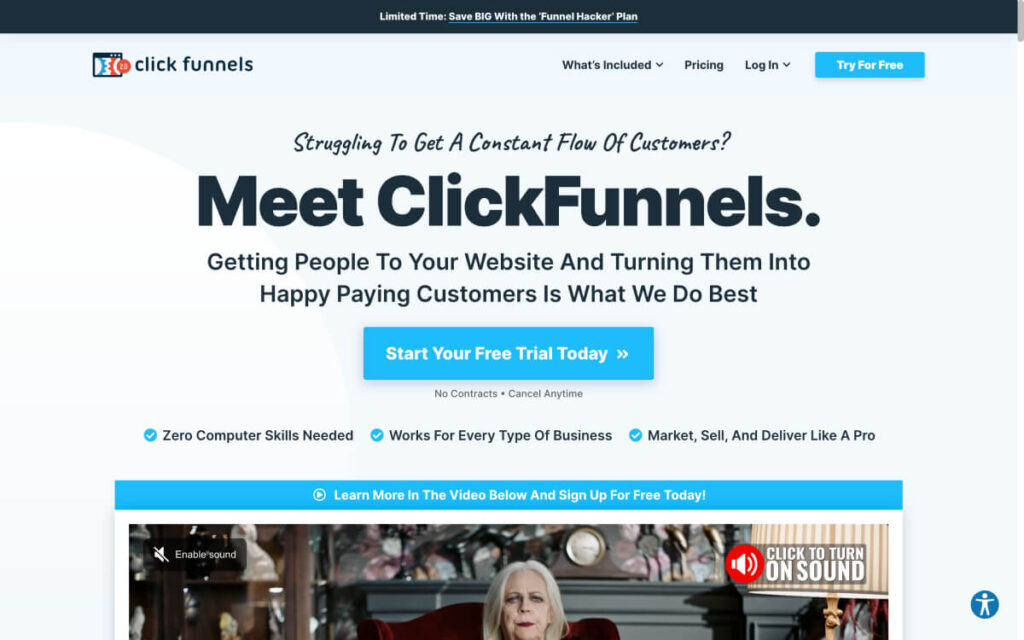 ClickFunnels claims to be the jack of all trades. But, it's master of none. How? It promises to help you with different parts of website design and marketing. However, everything it offers circles around its funnel builder tool.
For example, ClickFunnels' analytics tool doesn't give you information about visitors' location, devices, or browser language (WatchThemLive does). It's more like a goal tracking tool and displays some information about page views and conversion rates of your campaigns.
In the following, we're going to explain more about ClickFunnels. Stay tuned to figure out
How Can ClickFunnels Help You
Along with designing sales funnels, ClickFunnels claims to help you build a website, design high-converting checkout pages, improve the brand relationship with the customers, and run A/B testing on your website, funnel, and email campaign. It can also act as a web analytics tool and measure the performance of your campaigns (which we've discussed in the previous section).
But thanks to its sales funnels, ClickFunnels is mostly focused on generating more leads and turning them into paying customers. It's clear that by designing an optimized sales funnel and well-designed landing pages you can turn more leads into customers. But first, you need leads, to begin with.
ClickFunnels promises to help you generate more leads through social media like Facebook, Instagram, and YouTube. However, they don't explain how they are going to do this.
ClickFunnels Feature
Before we get into the nitty-gritty, let's highlight some of its main features.
Sales funnels,
CRM tool,
A/B testing,
Landing pages,
Email marketing,
Web analytics.
ClickFunnels Pricing
Now, let's look at ClickFunnels plans and pricing to see if it suits your budget.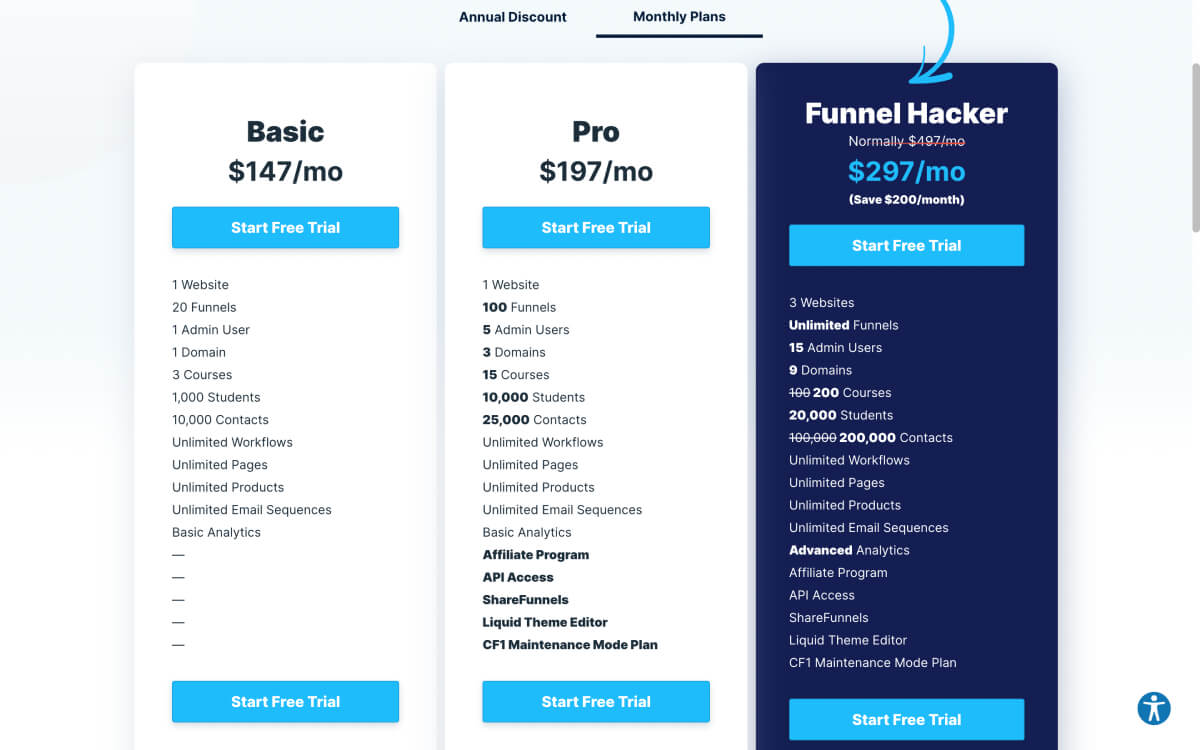 ClickFunnels Pros and Cons
Ready to discuss Clickfunnels' advantages and the reasons why online marketing beginners use this tool?
ClickFunnels Pros
Its visual drag-and-drop editor is optimized for both desktop and mobile screens.
Generating leads through funnels is easy, and your account securely stores each contact's information- including email address- provided by the email service.
This tool enables you to set up A/B testing in order to boost conversion rates.
You can integrate it with many tools, including Facebook, Shopify, Hubspot, etc.
It provides two forms of customer support: support articles and live chat.
It offers a 14-day trial so that you can take advantage of its features and evaluate them.
ClickFunnels Cons
It's too expensive for startups and small businesses.
It doesn't offer behavior analytics tools like session replays.
Compared to WordPress plugin landing page software, it may be too simple for some people.
Occasionally, the Clickfunnels software goes down temporarily.
You can't share funnels in the Basic plan.
If you need an advanced landing page and check out page builders, we can't recommend it.
Best Alternative to ClickFunnels: WatchThemLive
WatchThemLive, as its name suggests, enables you to watch your users live. It is one of the best behavior analytics tools that can be used for a variety of purposes including optimizing conversion rates, personalizing content for individual users, and segmenting customers based on their actions on your site. It has many features, including heatmaps, session replays, visual live chat, page optimization, goal tracking, etc. So, you can easily monitor your users' behaviors and provide a personalized customer experience.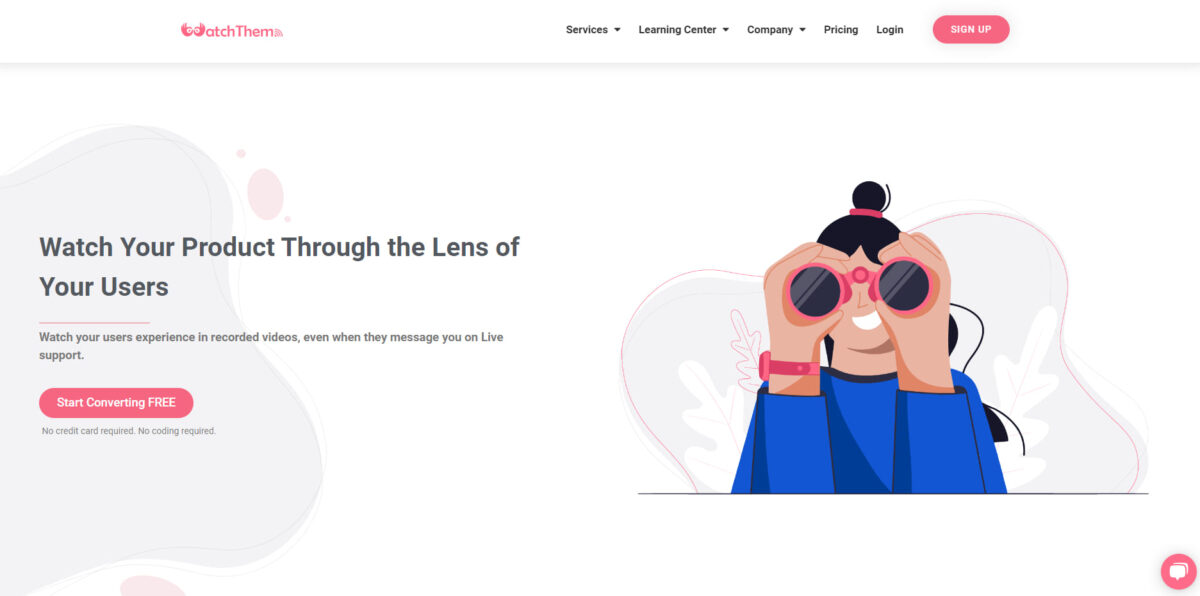 Behavior analytics tools are great equipments for webmasters, marketers, and developers to evaluate user behavior on their websites with. The technology uses practical technology to track user movements, interactions, and activities on websites, providing insights into how people use your website. This data can help you understand what works and what doesn't work when it comes to designing a website or driving more sales from existing traffic.
So, what are you waiting for? Don't waste a second and SIGN UP FOR FREE.
WatchThemLive Features
One major advantage of a behavior analytics tool is its ability to gather data from multiple sources, including heatmaps, session replay, visual live chat, etc. Here, we're going to explain how these features can help you have a better understanding of your users' behaviors.
Heatmaps
A website heatmap tool is a type of data visualization technique used to visually represent large sets of data. Through this method, you can easily identify patterns, trends, and correlations in your datasets. Heatmaps display a matrix of values by assigning colors (on a scale of red to blue) to each value that represents the intensity or magnitude of the data point. In this way, it allows users to quickly compare and comprehend complex information without having to analyze long spreadsheets or tables.
Heatmap analysis is often utilized in business intelligence to study customer behavior such as purchase habits, website navigation paths, and other activities on digital platforms. By doing so, they can gain valuable insight into how customers are interacting with their products/services which can help them make better decisions regarding marketing campaigns and product optimization strategies.
WatchThemLive provides you with a mouse tracking tool and click heatmaps. In its simplest form, click heatmaps provide a graphical view of which elements on an interface are clicked most often by users. This allows you to identify the areas where users struggle, and find out what elements of the page or application they interact with most frequently.
On top of that, a mouse tracking tool enables you to record and analyze the movements and clicks of a user's mouse. So, it provides valuable insight into how users interact with web pages, giving you an understanding of which elements are working well and which need attention.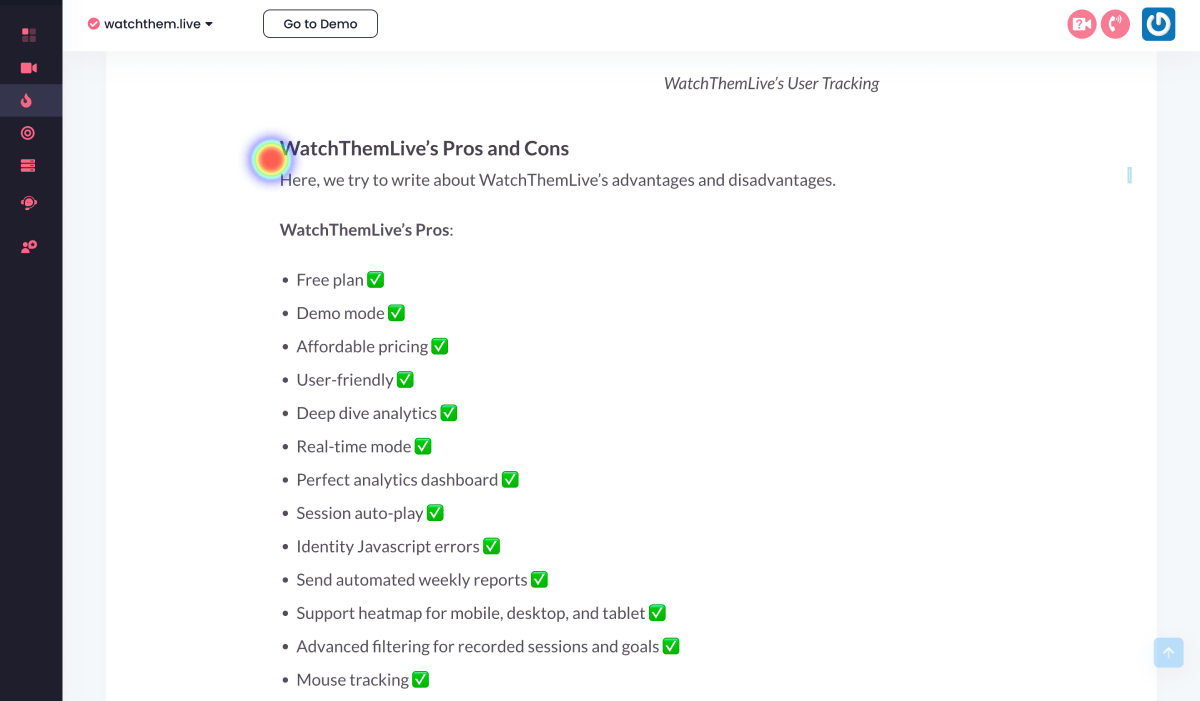 Visitor's Journey
Visitor profiles are important for any website, as they provide valuable information on who is visiting your website and how they interact with it. Knowing this can help you tailor the experience to give visitors what they want, increasing the chances of them returning and making a purchase. WatchThemLive enables you to monitor your visitors' journeys and understand their IP, country, city, OS, user status, the number of sessions, average time per session, first session, and last activity.
The most important thing is you can see their session just by clicking on 'view replay'. We're going to tell you more in the next feature.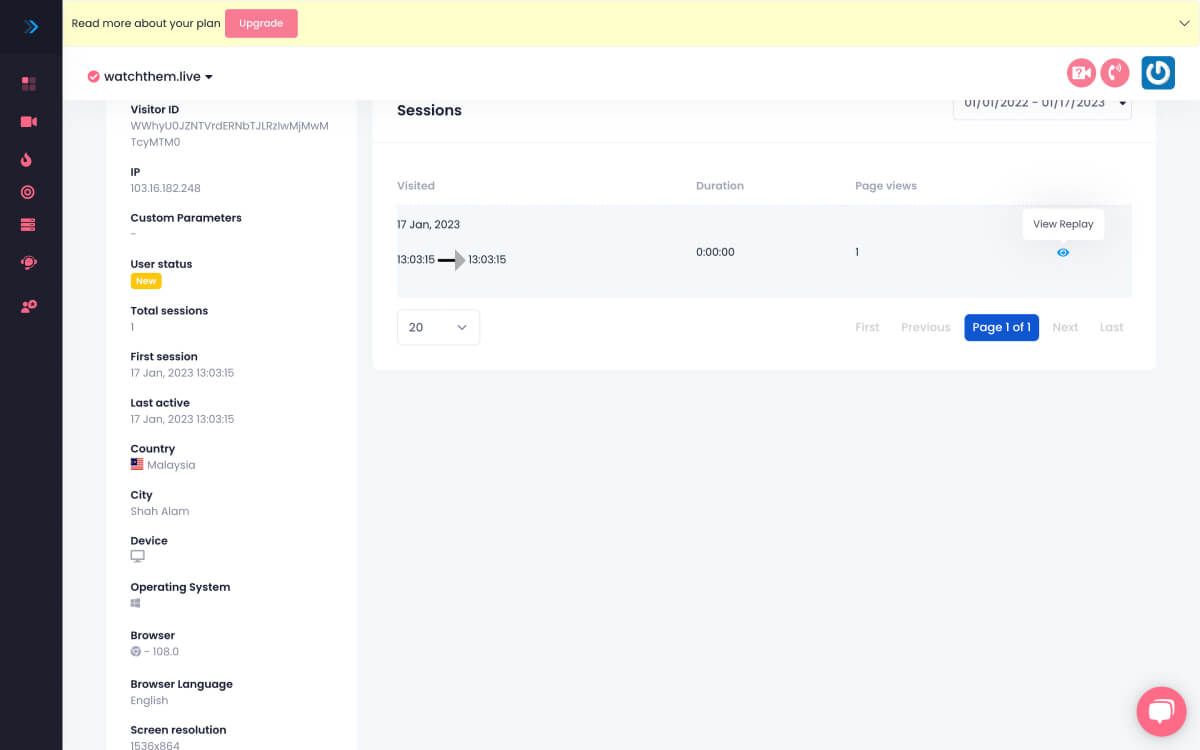 Session Replay
Session replay Software works like a CCTV and is used to monitor and record interactions between users or customers and websites, applications, products, or services. With session replays, you can identify areas of improvement, as well as create personalized experiences that improve overall customer satisfaction.
It records all mouse movements, clicks, page navigations, and more in order to generate an accurate profile of each visitor's interaction with the site. Furthermore, these profiles provide invaluable feedback for understanding how users interact with content and how they respond to different design elements within a given page or application.
What makes WatchThemLive's session replay apart from other tools is that it allows you to skip inactive moments. Moreover, you can play your sessions back to back and auto-play the next video.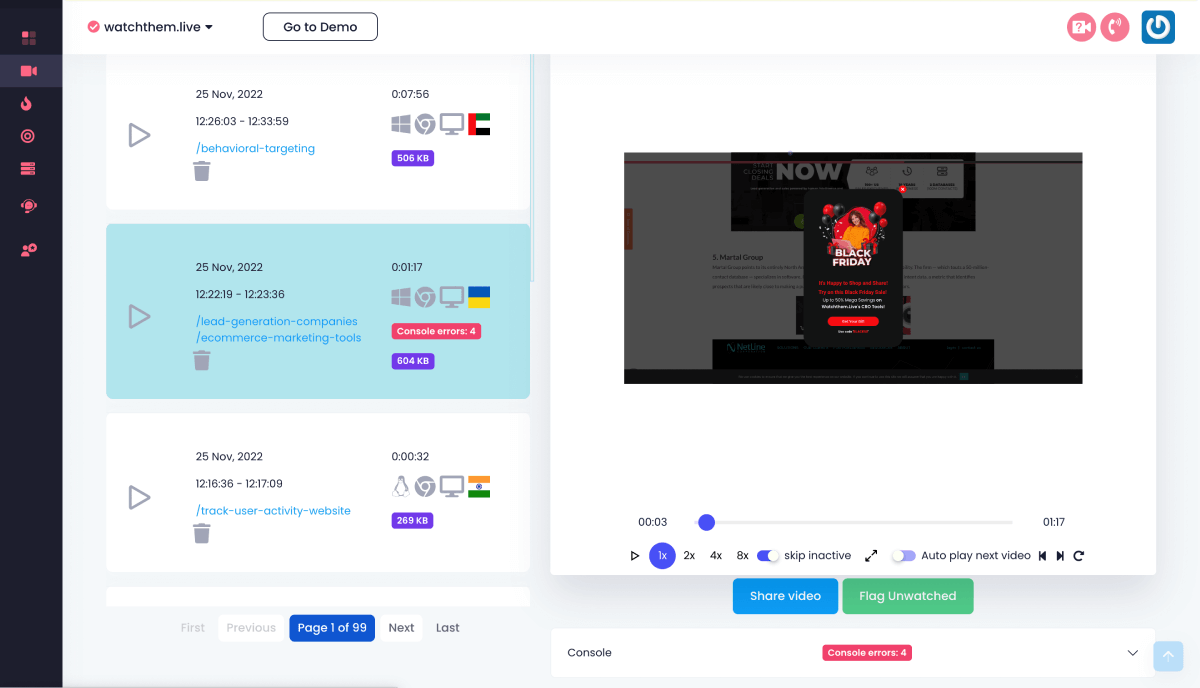 Goal Tracking
According to statistics, approximately 47% of optimizers usually run one or two tests per month. If you want to understand how effective your website is, WatchThemLive's goal tracking can help you. All you need to do is add your goal to your dashboard. For example, if many users leave before completing a purchase or signing up for a newsletter, you can analyze page load times, user flow patterns, and design elements to determine where adjustments need to be made in order to reduce drop-off rates.
With this information in hand, you have the power to make informed decisions about changes that will increase conversion rates and boost overall returns.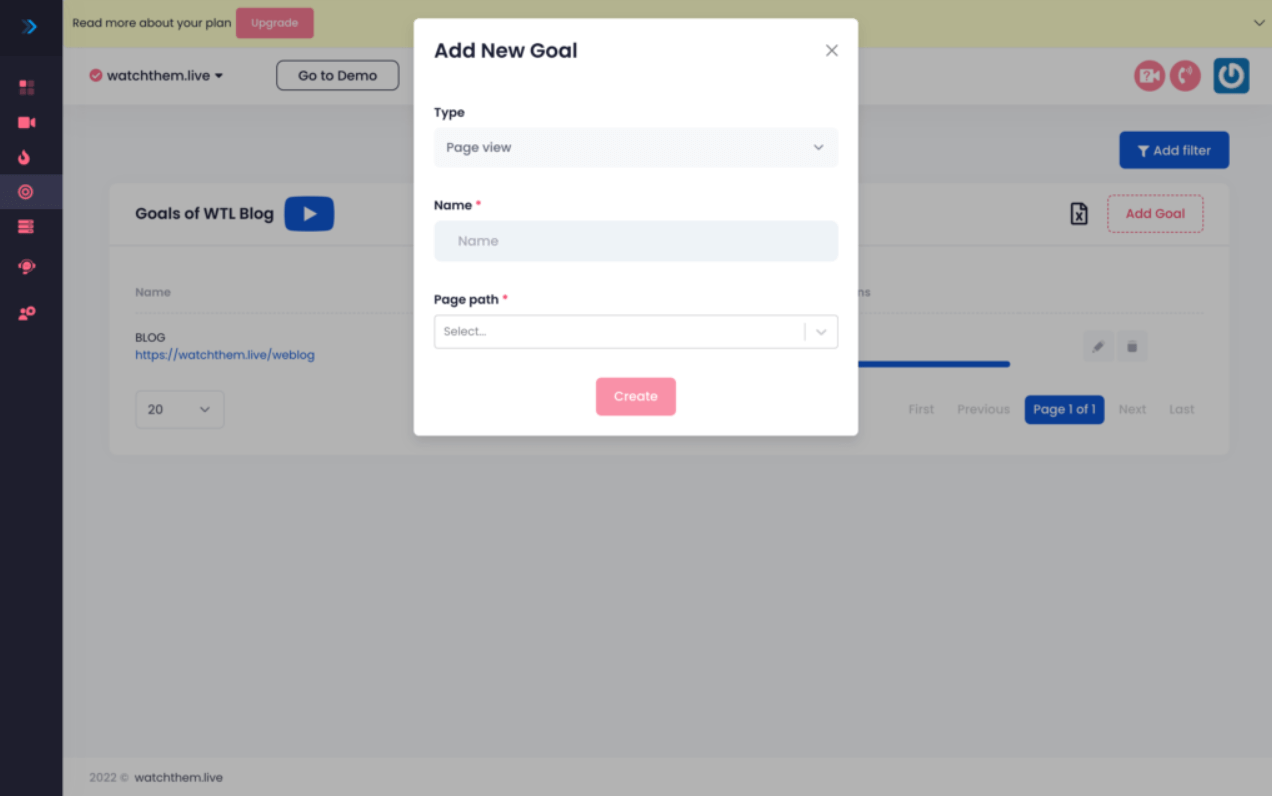 Analytics Dashboard: Historical & Real-time Analytics
Data analytics is a growing field that can offer immense opportunities for businesses, but it can be intimidating for those without the proper knowledge. WatchThemLive's analytics dashboard is deep but simple which means every inexperienced user can understand it very well and analyze data hands down. It offers a historical dashboard that enables you to monitor the number of sessions, page views, visitors, users' countries, devices, OS, etc.
On top of that, you can see how many users are active on your site in real-time analytics.
Related article: Top 20 Web Analytics Tools You Must Know about
WatchThemLive Plans & Pricing
We are delighted to offer highly reasonable prices for WatchThemLive. Good news! It offers a free plan that helps you evaluate your options and upgrade your plan based on your business and needs. Let's take a look at the table below: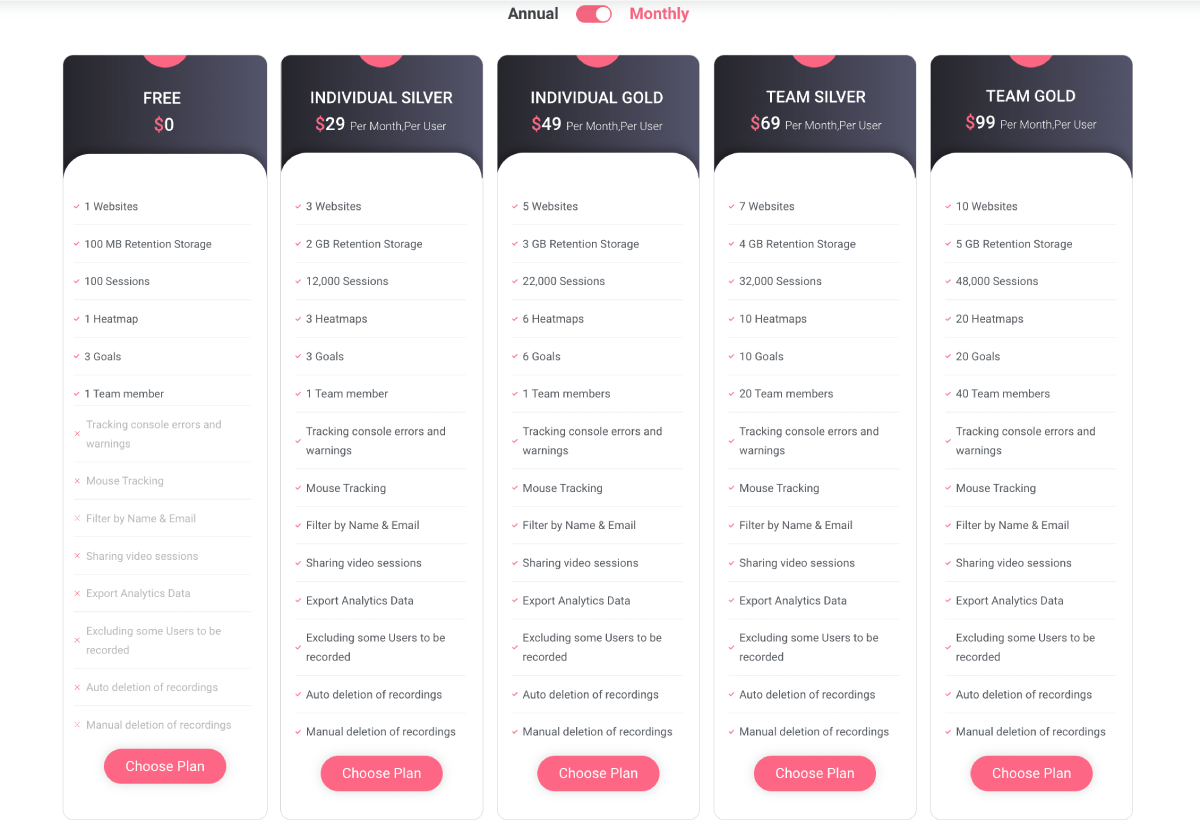 WatchThemLive Pros and Cons
Since we've mentioned ClickFunnels' advantages and disadvantages, it's time to cover WatchThemLive's strengths and weaknesses.
WatchThemLive Pros
It offers a free plan which allows you to try its features for free.
Compared to ClickFunnels, it has affordable pricing.
WatchThemLive's session replay provides you with a console recording feature that lets you fix any errors that occurred in your user's browser.
You can share video sessions with your team members.
It supports heatmap for mobile, desktop, and tablet.
You can export data to CSV and PDF.
Its visual live chat enables you to have session recordings and live chat go hand in hand.
It has advanced filtering which enables you to filter your goals, visitors, and sessions.
WatchThemLive provides a demo mode that helps you understand its features better.
Its customer support team is responsive.
Its goal tracking allows you to set up goals and A/B test your options.
WatchThemLive Cons
It has no funnel analysis.
It's not a good option for those who are looking to analyze the mobile app.
It would be better to have scroll heat maps.
ClickFunnels Review Verdict: Is ClickFunnels Worth it?
There is no clear-cut answer to this question; it totally depends on you. If you need a tool to create funnels and optimize them, ClickFunnels could be an option. But if you want to make big changes to your website and optimize it for better performance, WatchThemLive is the obvious choice.
ClickFunnels Review FAQs
So far, we've covered everything with regard to ClickFunnels. As the icing on the cake, we'll also cover the following frequently asked questions. Let's dive in then, shall we?!
Q1. What Is Better Than ClickFunnels?
Considering all the shortcomings and how this service may fail to fulfill your expectation, you must be looking for the best ClickFunnels' alternative. Among all the tools and apps out there, WatchThemLive has proved to be the best when it comes to optimizing your website's conversion rate.
With WatchThemLive's unique features, including heatmaps, session replays, and visual live chat, you can enhance your conversion rate, prevent cart abandonment, and bring about more revenue. For instant access to these tools, sign up on WatchThemLive for FREE.
Q2. Can You Use ClickFunnels for Free?
No! Unfortunately, ClickFunnels does not offer a free plan to its users; you need to pay to play! However, the service has been generous enough to provide a 14-day free trial on the 'Basic', 'Pro', and 'Funnel Hacker' plans.
So, if you were hoping you could give ClickFunnels a whirl and analyze its features and function before having to pay, you'll have to forget about it! There's no way you could find out how this service performs in the first 14 days!
Q3. How Many Domains Can I Have in ClickFunnels?
Well, that depends on the plan to which you have subscribed. Allow me to clarify: If you have purchased the 'basic' and 'Pro' monthly or annual plan, you can only have one website. However, if you purchase the more costly 'Funnel Hacker' subscription, you can add up to 3 websites.
Conclusion
In conclusion, both ClickFunnels and WatchThemLive offer a great experience with their respective services. ClickFunnels provides an all-in-one platform that makes it easy to build funnels, while WatchThemLive offers a range of useful tools for understanding your users' behaviors and providing a superior customer experience. Which option you choose will depend on the type of service you need and how much time and effort you are willing to commit to it.
Now, if you're looking for a robust CRO tool, don't hesitate to sign up on WatchThemLive!