One of the most important processes that you need to go through to finalize the design of a product before release is usability testing. It's even more important than the marketing phase, or at least that's what Jeff Bezos believes. 
If you don't know where to start and what steps to take, usability testing might sound so overwhelming. But you don't need to worry. By reading this article, you will have a comprehensive usability testing checklist that will guide you through the process and enable you to see what actions you need to take at the time.
But before we get started, I introduce to you WatchThemLive, a tool that will make usability testing as easy as watching recordings of users' activities on your website. More on that later on in the article, but make sure to SIGN UP first just to be safe. *wink*
And oh, by the way, if you think you need a very quick and brief introduction to the core concept of usability testing before diving into this checklist, make sure to check out our usability testing infographic. It won't take much of your time, and it will help you understand the ideas in this article much better.
Usability Testing Checklist
Conducting usability tests can be pretty overwhelming if you're not sure where to start and what steps to take. Use this checklist for usability testing to clear your head and get a general understanding of each step.
1. Define Your Goals
When devising a usability test plan, you first need to make a list of everything you'd like to study. Determine the research's questions, issues, areas of interest, and goals. Which research approach you choose will be determined by your goals.
Usability testing is a great way to collect qualitative or quantitative behavioral data and address design-related problems. If you want to obtain attitudinal feedback, look into other research methodologies that are more suited for that.
Don't take on too many objectives. With every extra question you ask, the quality of your insights into the other study objectives will deteriorate. Only concentrate on the research objectives that will have the most influence on your product.
2. Determine Your Approach
After you've decided what the goal and aim of the study is, the next thing on the usability test checklist is to determine which of the usability testing methods you should choose:
Remote or In-Person
When possible, in-person usability tests are much more preferred and reliable than remote tests. That's because when you have the participants in the flesh, you can observe their reactions in much more detail. But, in-person usability testing might not always be an option since it costs a lot to prepare the requirements. In that situation, remote usability testing is the best and most efficient option for you.
One of the greatest ways to perform a remote usability test without breaking the bank and with very acceptable accuracy is by using session recording software. WatchThemLive is one of the best website visitor tracking tools that includes a session recording feature among its many other useful website tracking features. It will record every step of your website's visitors for you to watch and analyze. Also, it's free, so make sure to sign up and get started.
Moderated or Unmoderated
When the major emphasis of the study is on a few specific parts rather than an overall examination, it is best to employ unmoderated remote usability testing. These types of studies are useful for obtaining info on a specific feature as well as determining the impact of a slight modification.
Also, in unmoderated tests, users can finish the required tasks on their own schedules instead of being forced to finish tasks in a short and determined timeframe.
3. Specify the Participants' Tasks
The next step on our usability testing checklist is deciding what tasks the participants should undertake. Consider the broad aims or objectives of the product's actual consumers rather than making a to-do list. Tasks should ideally be practical, relevant, and precise. The purpose of the test is to see how a participant decides to complete the activity and what challenges they encounter along the way.
4. Prepare the Requirements
At this step, you should prepare the requirements, such as the place you're planning to hold the test, the devices your participants are going to perform the tasks on, and any software you're going to use, for example, screen recorder, etc.
Keep in mind that putting the participants in a natural and comfortable surroundings will make the test results more accurate and reliable.
5. Recruit Participants
Next up on the usability testing checklist is recruiting participants. Depending on the approach you take, your participants will differ. Finding people that represent your user base accurately might be tricky. Create personas that describe your users' goals, needs, and issues, and then find participants based on them.
Also, the number of participants depends on your test's goal, your organization and project's size, and your budget.
The last thing you should know about is incentives. They are things such as gift cards commonly used to encourage people to participate in a usability test.
6. Perform the Test
Now that you have everything prepared, it's finally time to perform the test. You should ask your participants to do one activity at a time without your aid or supervision during the actual research. Don't say anything if they ask you how to do something. You want to see how they manage to use your product all by themselves.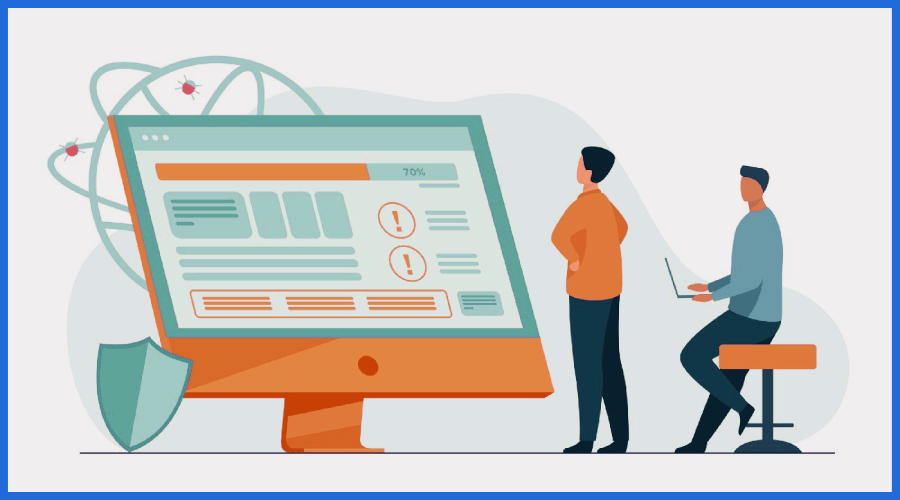 It's also a good idea to ask them to think out loud, so you know what's going on in their heads while using your website or product.
Ask for comments after they finish each activity, such as whether the experience aligned with their expectations or if there's anything that they would change in your product.
7. Analyze and Document the Results
The testing will be useless if you do not properly document and analyze your usability testing results. Gather the findings for analysis once you've completed the tests. Prepare a summary of your findings. Fill up any gaps in your results by listening to the test recordings.
Remember, since some results may be utterly contrary to your expectations, you should always be open to changing the design. That is the goal of user testing; to make your design better.
Conclusion
Well, that's pretty much it. We covered every step for conducting a successful usability test, from determining your goals and approach to performing and analyzing the test. Using the website usability testing checklist above, you will have the basic knowledge needed for starting a usability test.
But remember, there's much more detail to it than just that. If you're serious about doing a usability test, I suggest you read our article on top usability testing practices. There are priceless tips and points there that you should add to your arsenal.
One last thing, make sure to SIGN UP to WatchThemLive It's a free and amazing tool that will help you do usability testing even with the most limited budget. Don't miss out!