Statistics show that 79% of leads are never converted into purchases. Well, that's what you get with a poorly designed conversion funnel! The sales funnel is the most important aspect of any business, and it doesn't matter if they're B2B, B2C, etc.; your sales funnel strategy should be your top priority. That's why we're introducing seven sales funnel examples and what happens at each stage of the funnel. 
Note: WatchThemLive is a behavior analytics tool that helps you improve your sales funnel for good! Keep reading to learn more.
1. Groupon (Email Opt-In Popups)
Groupon is one of the best eCommerce sales funnel examples on our list. When a visitor enters Groupon for the first time, it shows them a CTA popup, asking for their email addresses and giving promises to help them save money by showing the deals near them. Although this is against UX best practices, it works for Groupon because it offers visitors to help them save up to %20 on thousands of deals. They have been using this strategy for many years, and it has clearly paid off since they have successfully grown their audience.
When visitors give their email addresses, it means that they're in the interest stage of the sales funnel. Now the visitors are called "leads." To move them to the next stage, which is the decision stage, Groupon enables users to search for deals instantly. Here, the visitor only needs to click on the deal they like and purchase it or add it to their shopping cart.
The final stage of the funnel is action. To help users move forward toward this stage, Groupon sends them personalized follow-up emails, and this way, they're improving their customer retention as well.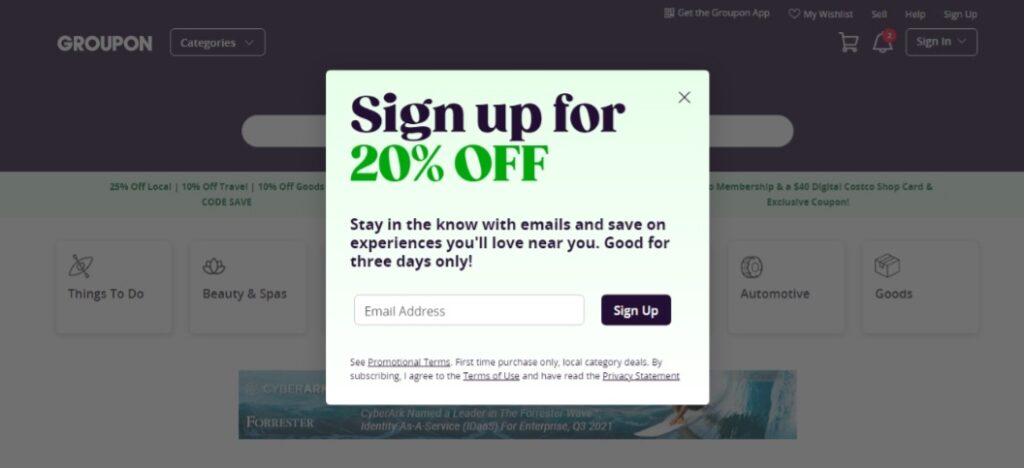 2. Netflix (The Free Trial)
Another great sales funnel example is Netflix. Netflix is a subscription-based service, and it offers a 30-day free trial. A free trial is great for such services since users can test the service first to see if it's actually what they're looking for and whether it's worth their money. Let's see why this funnel works.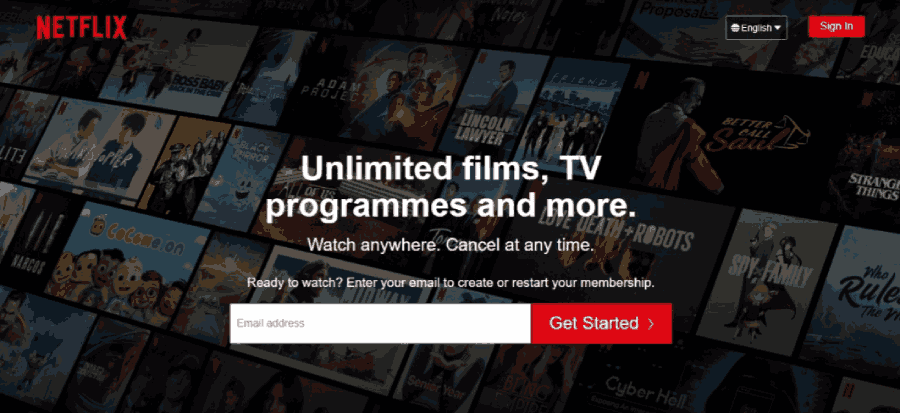 First of all, Netflix advertises itself on social media, podcasts, and television to build brand awareness. Advertising is essential, and even the most popular brands put advertising at the top of their marketing strategy. Next, Netflix offers a 30-day free trial to move its visitors to the interest stage.
Another thing Netflix does in this stage that actually works is that they start users off on their most expensive plan (the best plan) by default as a part of the trial. However, they can later downgrade their plan, but now they know the best that Netflix can offer.
To build more interest, they also include a FAQ section that helps users resolve any doubts. At the end of their free trial, it's time for the decision stage. When the free trial ends, users' credit cards will automatically be charged for the next month, but another smart strategy Netflix uses is that it reminds users that your free trial will end in three days, and you can cancel your subscription anytime if you want to. They believe in themselves and do not push people to use their services.
The next stage is the purchase stage. Netflix has several payment options: credit card, PayPal, Netflix gift card, and debit card. Users can choose any option, and they can even edit the payment information and method. To increase customer loyalty, Netflix gives out its phone number so that users can contact them. Not so many web-based businesses do this. All these features make Netflix a great marketing funnel example.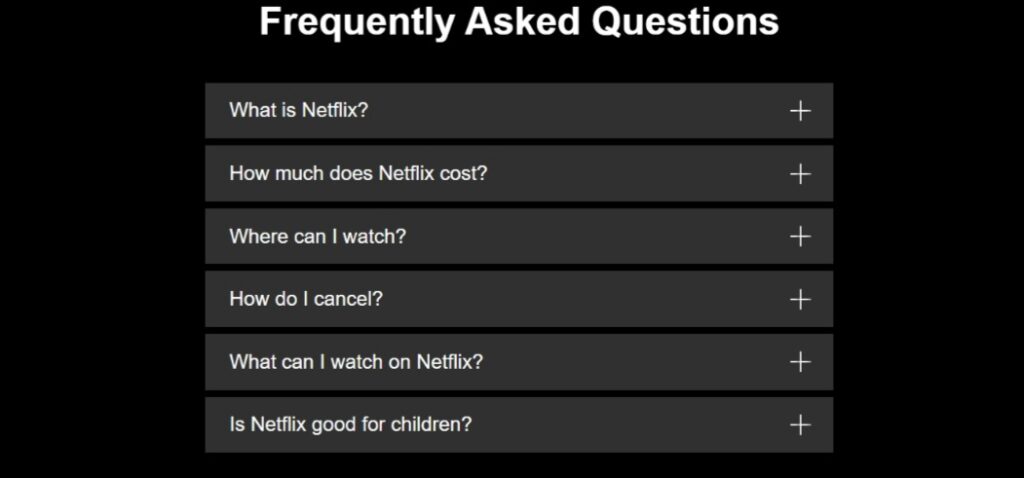 3. Zendesk (Personalized Video Demo)
Zendesk is one of the best B2B sales funnel examples. Zendesk is a platform that offers several tools. So, to help users understand how to work with the tool they want, Zendesk offers personalized video demos.
When you enter their video demo page, you will see a popup. After entering your information, including the name of the tool you're interested in, you will be offered a list of personalized video demos. Let's see why this funnel works.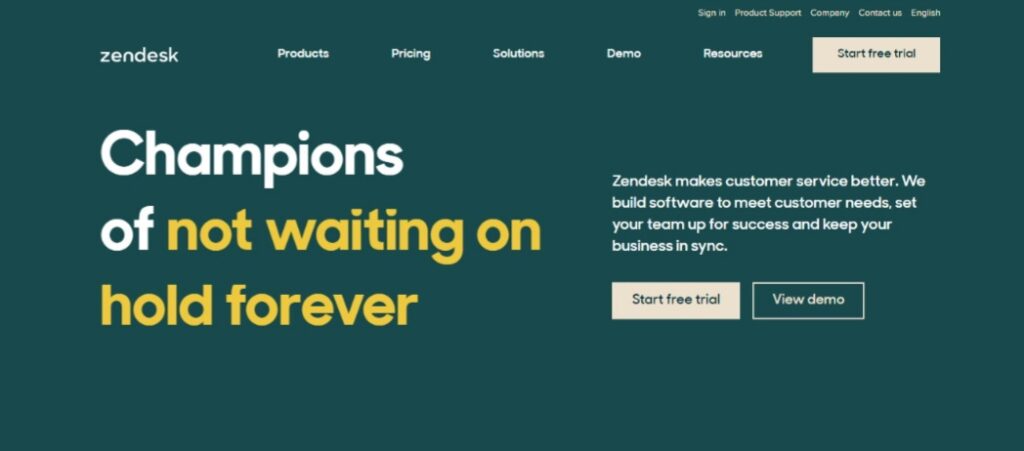 First, to build brand awareness, Zendesk uses PPC ads, social media, blogs, podcasts, etc. Then, to move users to the interest stage, Zendek shows the personalized demos. The decision stage is totally up to the user. In this stage, users decide to subscribe to the services or move on.
4. Basecamp (Visual Feedback)
Basecamp is the next sales funnel example on our list. It is a product management platform with one of the best sales funnel examples. Basecamp attracts users in the awareness stage through PR, blogs, and organic search. After the users enter the website, they will see their copy, which offers a solution for their problems.
They also effectively use social proof, and you can see testimonials from third parties on their landing page. That's how they build interest. In addition, they showcase their product with visual feedback. They also use emoji-inspired logos so that users can feel a connection with the brand. Not only that, they offer a 30-day free trial to wrap it all up. No credit card information is needed.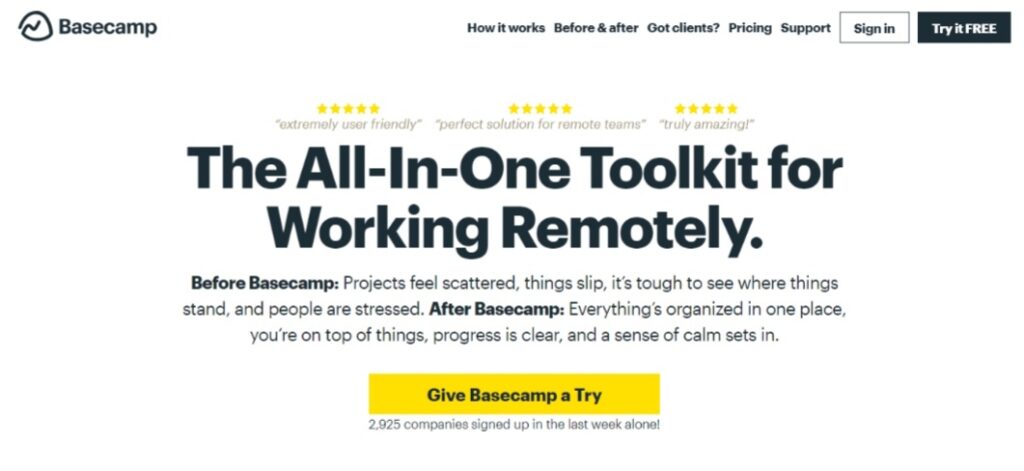 5. Harvest (Guides and Templates)
Another great sales funnel example is Harvest. Harvest is a famous time tracking tool. On their homepage, they showcase their product, testimonials, and features. Harvest supports its users through every step of the sales funnel.
For the users in the awareness stage, they have guides and templates. For the users in the decision stage, there are webinars and live sessions conducted by professionals. In the end, at the action stage, they have a help center to help them with any problems and improve customer loyalty.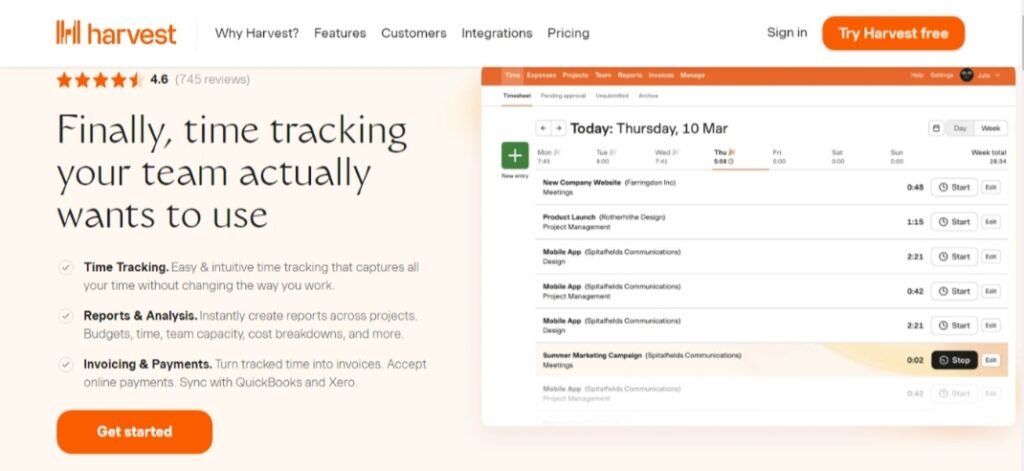 6. Mixergy (Special offers)
Mixergy is another sales funnel example. Mixergy is a company that sells courses and interviews with entrepreneurs. To build brand awareness, they use social media platforms. After that, when visitors land on their homepage, they see a CTA, asking for their email address and giving them nine free video interviews.
On top of that, you can see a CTA on their homepage, which suggests $150 off on their mattresses plus free shipping and returns for the day or special occasions. All these help users to invest more in the product and build interest. Now that Mixergy has the leads' email addresses, they send follow-up emails to convince them to get the premium plan and move them towards the decision stage.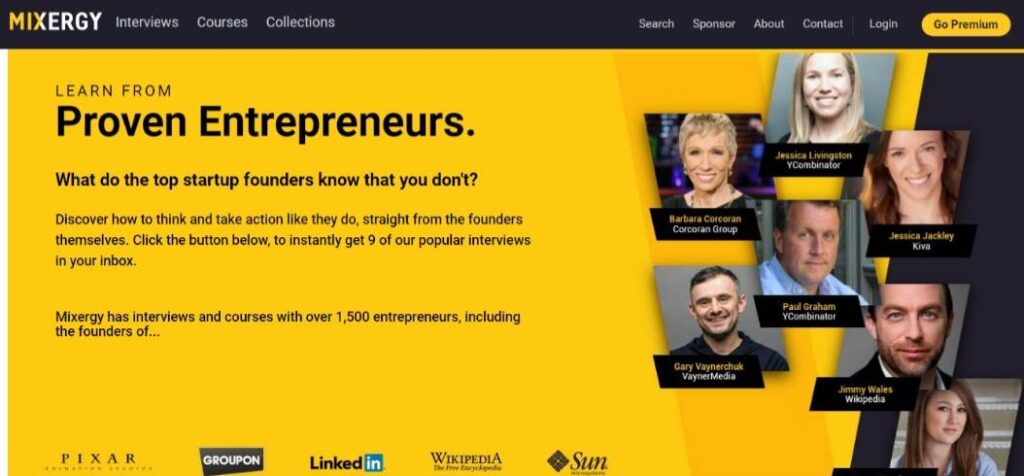 7. Zoma (Content Creation)
Zoma Mattress is a famous sales funnel example. Their sales funnel strategy is based on content creation. They create snackable content for their niche and promote their products within their articles. They primarily attract users through search engines.
Reading the articles builds interest and desire. After that, if interested, users click on the CTA and will be directed to the product's page. Here they can decide whether they want to purchase the product or not.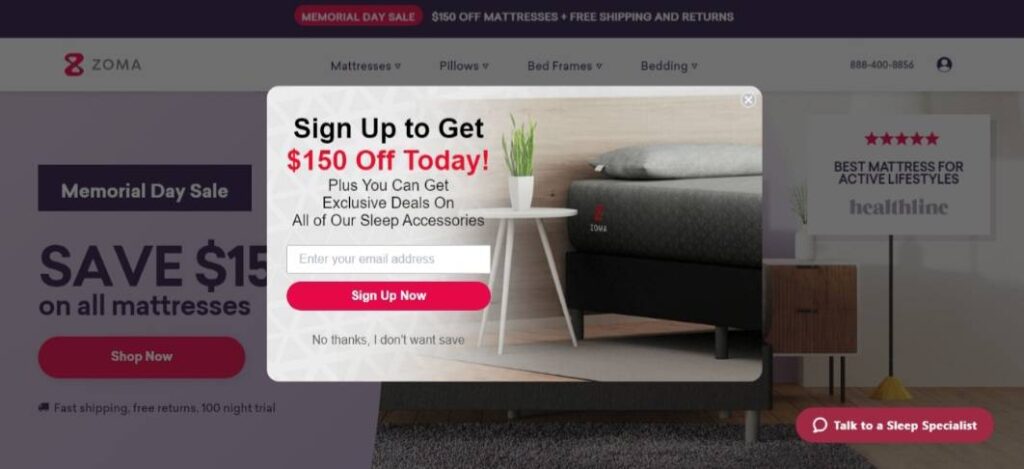 Create Your Sales Funnel with WatchThemLive
WatchThemLive is behavior analytics software that helps you optimize your sales funnel using session replay and heatmaps. Session replay is monitoring software that tracks and records visitors' interactions with your website. Using this tool, you can get access to real and actionable insights.
For example, you can see at what stage of the funnel your users are getting frustrated. If they leave at the purchasing stage, it might be because your checkout process is too complex, your forms have too many fields, or users must sign up to pay. You can see basically everything users do on your website and turn the insights into sales opportunities. Watch this video to learn how they work:
Another feature of WatchThemLive is its heatmaps. Heatmaps are a way of data visualization that allow businesses to understand which areas of their website have the most clicks. When you know the most popular areas of your website, you can place your CTAs there for maximum revenue. You can also figure out if users are clicking on areas that are not actually clickable; that'll help you decide where to put your important buttons and avoid customer frustration.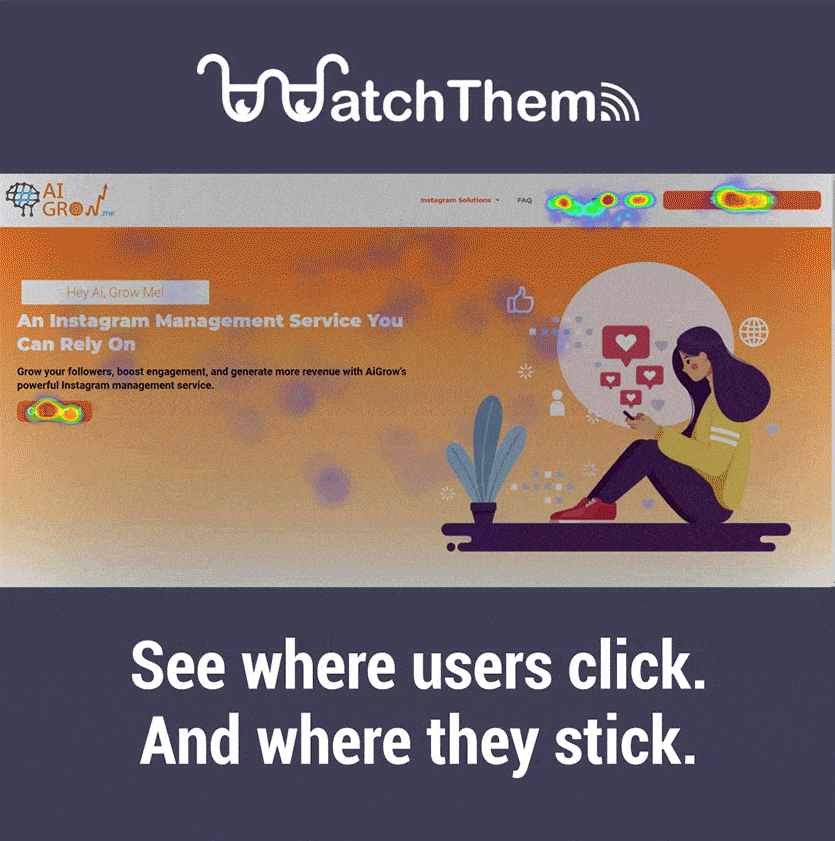 Sign up for FREE and see what's next!
Conclusion
Your marketing sales funnel encompasses almost every aspect of your marketing strategy and should be the most crucial part of it. It is the sales funnel design that will generate revenue and conversions for you. A bad and confusing sale funnel will turn 500 visitors out of 1,500 visitors into customers, while a good one will turn 1,000 of them into leads and customers. That's how important the sales funnel is.
This article showed seven conversion funnel examples that you can get inspired from and build your own perfect funnel.
Good luck!