There's no doubt that the retail industry has become more critical than ever before. Customers are more fickle than ever, as they can easily go to another store and find what they are looking for with little effort. This is why it's more crucial than ever for business owners to focus on creating a great retail customer experience.
It's important to keep in mind that every customer is different, so you will need to cater to their individual needs. For that, you need to have a clear view of who your customers are. One of the best ways to know your target customers and understand the 'why' behind their purchases is by using a CRO tool.
There are many website optimization tools, but only a few have great features with low pricing, such as WatchThemLive. It's a tremendous analytic tool that will help you analyze your customers thoroughly. So sign up for free now and enjoy!
In this article, we'll discuss what goes into creating a great customer experience in retail, as well as some strategies you can use to improve yours.
What Is Retail Customer Experience
Now let's get down to business! A retail customer experience is an overall journey your customers take, starting from the moment they see your store until they leave. The journey includes the exterior branding, every touchpoint within the store, and every interaction with a staff member. It sums up the customers' browsing experience, purchasing, and packaging.
Keep in mind that customer experience doesn't stop in the store and is not only about offline shopping. Regarding eCommerce, measuring the customer experience is different but still as important as being in a physical store. Your digital shop should be user-friendly and easy to browse and purchase from, along with a supporting team to quickly deal with any queries or technical difficulties.
Why Is Retail Customer Experience Important
As it is stated in Price Waterhouse Cooper's study, 73% of retail customers said that a good experience is more important to them compared to price or quality, and they found a positive experience even more influential than advertising. Another interesting thing was that they were willing to pay even more but have a friendly and welcoming experience.
A noteworthy customer experience leads to widespread word-of-mouth recommendation, social sharing, and loyal customers in the long run.
A great experience will help you in developing a personalized relationship with customers and stand out from the competitors. Building an effective retail customer experience strategy leads to:

Better reviews,
A boost in sales and employee engagement,
Increased customer loyalty.
Retail Customer Experience Strategies you Should Consider in 2023
A good CX strategy is supposed to create meaningful experiences that can improve customer loyalty. Check the strategies below for creating a better retail customer experience management.
1- Authorize Your Employees with Data-Driven Decision Making
The most effective way of improving your retail CX strategy is through data analysis and employee empowerment. Giving your employees the data they need will empower them, and it simply leads to better CX outcomes.
Additionally, by using behavioral analytics tools such as WatchThemLive, you can have access to real-time information and customer interaction with your brand and products. WatchThemLive can help you collect both quantitative and qualitative data and its Analytics features can provide you with valuable data, including the number of your website's visitors, their sessions, and the page views.
Moreover, you can use filters to narrow down the data you are receiving. This will help you save time and find the information you need.
There's more! You can also see the number of page views in the 'pages' section. The second column, 'Referrers', gives you information about your traffic sources, and the last one, 'Country section', tells you where most of your visitors are from.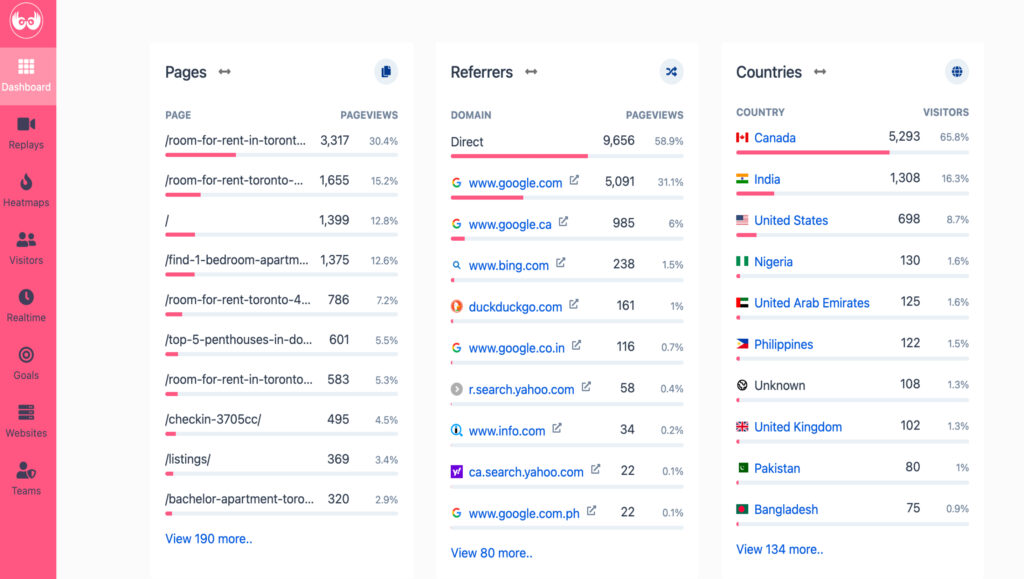 Watch the video below and learn more about WatchThemLive.
If you're interested, sign up here and see what's next!
2- Develop Better Listeners and Encourage Storytelling
Offline store staff have the opportunity to provide a human touch to all interactions a customer has with a brand. This is the number one advantage of offline shopping in comparison to digital counterparts.
You can also take advantage of this favor and train your staff to build a strong relationship with your customers through relevant shopping assistance, information sharing, and personal engagement.
Still, as most customers prefer online interaction these days, retail brands need to take this interpersonal storytelling aspect a step further into the digital world. Social apps such as Facebook or Instagram allow brands to explore storytelling to have a connection with their online customers as well.
Make sure you invest time to train and assess how well your staff interacts with your customers in their buying journey.
3- Focus on the Customer Experience Across Multiple Channels
It's not always possible for retailers to be present in every channel their customers expect them to be, and it can be quite an issue. But fortunately, now there are solutions such as marketing analytics tools that can help us achieve this goal to a degree.
As technology became an inseparable part of our daily lives, it also became much more convenient for consumers to access any brand or retail shop with just a few clicks. It also resulted in higher expectations and difficulty achieving consistency across different channels.
One of the best strategies that can help you is focusing on retail customer experience in every step of your business. Follow your customer experience guide across your operations and see the difference it makes!
Pro tip: you can learn more about omnichannel customer experience here.
4- Provide More Personalized Experiences
It's no secret that providing a more personalized experience will result in happy and loyal returning customers who are more than happy to share their journey with others. Research conducted by Forrester shows that 77% of consumers prefer a brand that offers a more personalized experience and are more likely to return for further purchases or recommend it to others.
Wondering how you can provide a personalized experience for your customers? It's easier than you might think! There are different strategies that will help you deliver the ultimate retail customer experience.
5- Enhance Your Customer Experience Using Artificial Intelligence
AI transforms customer experience through personalization, engaging customers, and dynamic services. Many companies are using this as an advantage, and companies who don't, well, simply can't compete.
AI software such as NLP have the ability to analyze reviews, customer interactions or surveys, and help business owners get the data they need to improve their retail customer experience.
Artificial intelligence helps boost customer satisfaction, speeds up customer support, and enhances overall revenue. Make sure to never underestimate the power of new technologies!
6- Embrace Predictive Analytics
Time stops for no one, and you can't expect to get your desired results using old strategies. Survey-based analytics is no longer the solution and is being replaced with predictive analytics.
According to McKinsey's report, the typical customer experience surveys only sample about 7 percent of a company's customers. That's why it can be limiting and not sufficient.
But the important thing is that neither predictive analytics nor survey-based ones can be helpful by themselves. There should be a combination of both and blend predictive analytics with qualitative data for the best results.
7- Engage Customers in DIY During Purchase
Customization of products is another important strategy for retail customer experience. It gets even better when you let your customers do it all by themselves and match their likes and preferences.
We have seen this business strategy being used several times at restaurants in the forms of 'build your own bowl' or 'Make your sandwich'. These are examples of DIY that you can opt them for your own business and provide customers with a unique and customized experience.
This way, retail brands can let their customers connect better with them.
Types of Retail Experiences that Convert Customers
Attracting customers on the one hand and convincing them to convert on the other are what business is about. Happy customers are returning customers, and this simple fact should always be kept in mind at every stage of the customer experience.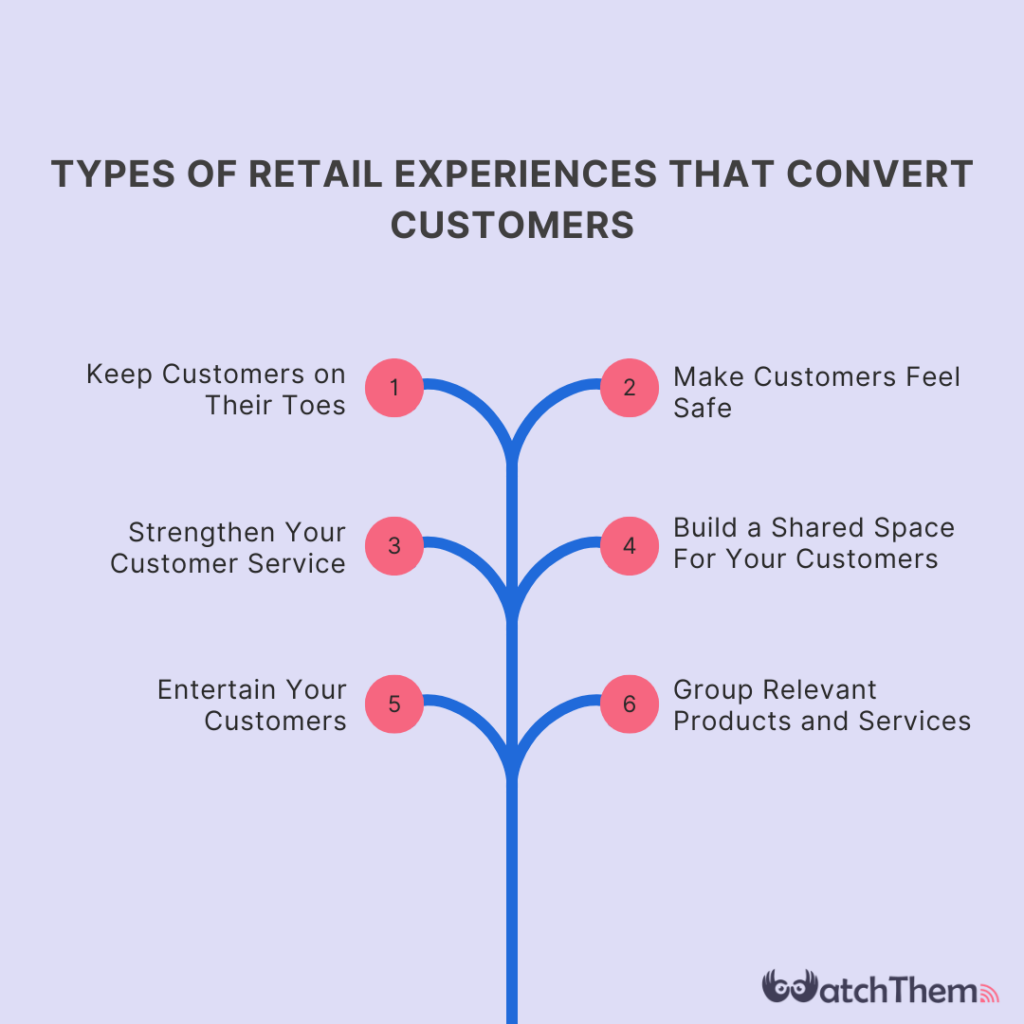 Here are a few strategies to help you convert your customers more than ever.
1- Keep Customers on Their Toes
Keeping your customers excited is the key to providing a great customer experience in retail, and it can be done in many ways; you just need to be creative! New and limited offers that they won't find anywhere else, special deals for loyal customers, or numerous discounts are all guaranteed ways to ignite their excitement.
Keep an eye on the trends and see what sells more. Focus on that, and you'll see how more customers will convert on the spot.
2- Make Customers Feel Safe
Nothing leaves a greater impression on customers than when they see how much you care about their safety and well-being. It's one of the most critical factors you need to consider as it's become the primary concern after COVID-19.
Show them how much you care about safety guidelines and their security to gain their trust so that they come back for further purchases later on.
3- Strengthen Your Customer Service
Whether it's a brick-and-mortar shop you own or an online shop, customer service should always be your priority. It's a given that people always prefer face-to-face communication, and you can take advantage of that. Invest in having knowledgeable and friendly staff to communicate with customers in the best way possible and guide them through their experience.
As online shops are becoming our primary way of shopping, customer service has taken a new form too. Live chats have taken the place of face-to-face communication, and bots have the place of humans. Focus on strengthening your customer service features and always be willing to help them in the best and fastest way possible! Behavioral analytics will help you better understand their needs and desires so that you can fulfill them.
WatchThemLive allows you to deliver the ultimate CX by offering great features such as visual live chat. Using this feature, you'll be able to access real-time session replay of the users who reach out to you through live chat. This will allow you to better understand where and how they are having issues or questions and will be able to guide them through their journey. So waste no time and try WatchThemLive for free!
4- Build a Shared Space For Your Customers
As an online business owner, you need to think of ways to provide a space for your customers to connect with each other and share their thoughts and experiences about your products. Things like community forums or events can help you build this sense of intimacy between your buyers and your shop.
5- Entertain Your Customers
The shopping experience should be more than just choosing a product or service, paying, and leaving. Customers should be entertained and captivated in order to become loyal. So use your imagination and provide them with new entertainment so that every time they enter your retail store, they are surprised!
6- Group Relevant Products and Services
You need to ask yourself what your customer might need related to the product or service they just bought. This way, you can group and provide similar products to your customers, and they can find the things they need through you.
Retail Customer Experience FAQs
Now let's go over some more questions regarding customer experience analytics in retail.
Q1. What Are The Three Components of Customer Experience?
There are three main elements in every customer experience strategy; Discovery, engagement, and delivery.
Q2. What Are Retail Experience Examples?
There are many retail experience examples that convert customers. For example community forums, fast and robust customer service, omnichannel shopping experience, consistency, etc.
Conclusion
In conclusion, the customer experience in retail is essential and can be really influential in the coming years. Retailers need to focus on providing the best retail customer experience, as it can lead to repeat customers and word-of-mouth marketing.
Additionally, happy customers are more likely to spend extra money and recommend you to their friends and family. Improving the customer experience should be the top priority for retailers. In the near future, brands that can't beat their competitors and are unable to improve will be terminated.
Are you looking to take your customer experience to a whole new level? What are you waiting for? Sign up and snag your free plan now!