You might say to yourself, "Yes, we have heard its name so many times, but what do you mean by behavioral analytics?"
Well, the world of business has changed drastically. The enhancements of technology have made so many things possible. Additionally, they have closed the gates on the older methodologies that worked out nearly fine.
Previously, marketing approaches were so expensive. However, they were not effective. They usually interrupted the users with irrelevant ads. This made the users feel unvalued. You knew that the company does not value you, and all they want is to push their product to you. This made you feel negative about the company. Things are different now, though.
Note: WatchThemLive is one of the best behavioral analytics tools. It gives insights into user actions and patterns on your platform. It will help you improve your web conversion rates by giving you a deeper understanding of what your users go through when using the product to deliver a better user experience. Now you have the opportunity to SIGN UP and get a FREE-FOREVER package. Don't miss out!
Customer behavior analytics is a relatively new subfield of data analytics that has gained so much hype around it recently. This article discusses all you need to know about behavioral analytics. Read it thoroughly so you can make your business more profitable.
What Is Behavioral Analytics?
Behavioral analytics is the process of gathering quantitative and qualitative user data and analyzing it. You can then learn how users behave and interact with your website. Additionally, you will find out the underlying reasons behind it.
Behavior analytics help you figure out users' desires and pain points in your product. You can use this data to improve your product and optimize your conversion rate.
The data you generate through this process enables you to answer these questions:
What is interesting for your users?
What are they neglecting?
Where do they get stuck?
What confuses them?
What do they do before they leave?
Where do they struggle?
What are they searching for?
What are they missing?
Raw web analytics data is not enough. You get to know the numbers; you cannot understand why they happen and how to fix them. Here behavior analytics data comes into play. This data tracks users' actions to give you a vision of the full picture. Afterward, the game is afoot. You can implement any UX strategy you see fit to optimize your UX.
Why Is Behavioral Analytics Important?
Behavioral analytics is crucial for every business due to several reasons. In today's world, being efficient is a must. You cannot put a lot of resources at stake and expect a lot of revenue. Additionally, you need to increase your customer acquisition and retention to grow your business. You need to personalize your services to your users to make this happen. One of the most efficient marketing practices that can save you tons of resources and increase your effectiveness is behavioral tracking. Behavioral tracking provides you with the foundation of user behavioral analytics – behavioral data.
Behavioral analytics is different from other types of business analytics because of its processes. User segmentation, mostly psychographic segmentation, and behavioral tracking are combined to bring the most effective results. Behavioral analytics bounds users to the events they fire up. This results in a map of the users' actions.
Whether you view users' journeys alone or in aggregation, you can learn from the stories they tell. You can then improve and tweak your product development and marketing strategies.
Types of Behavioral Analytics
Below are three instances where consumer behavior data can be used.
eCommerce Customer Behavior Analysis
Based on current customer preferences, this kind assists in the production of product suggestions and future sales trends.
App Development Behavioral Analytics
By watching how people use an app, businesses may predict future trends. Companies will provide app upgrades depending on user behavior.
Security Behavioral Analytics
This sort of analytics is used by both government and commercial entities to discover compromised information by detecting unusual behavior all around the world.
How Do You Analyze Behavioral Data?
Integrating behavioral analytics into your company can seem intimidating. You need to make many decisions. Then, you need to tweak and optimize as you go. There is not a one-size-fits-all rule that works out fine. Some parts of the work are technical, while others can be strategic or analytical. These parts can also overlap.
Gathering data, setting goals, and building reports are some of the things you have to do as an online retailer. To succeed, you need to have a tight collaboration between different teams and departments. You should also note that behavioral analytics software is made up of different components, such as session recordings, heatmaps, etc.
One of the best tools that include several necessary features is WatchThemLive. Using WatchThemLive's detailed session recordings can help you go through your user experience, watch each and every detail of your users' activities on your website and optimize it based on your analysis of them. Additionally, WatchThemLive's precise heatmaps can make you sure of where you need to put your CTAs and important buttons and messages to get the users' attention.
Note: Now you can grab your package on WatchThemLive for FREE. Don't miss out and SIGN UP right away!
Whether you are starting from scratch or you already have a comprehensive behavioral analytics stack in place, you need to follow a procedure. Here we will talk about the steps you need to follow: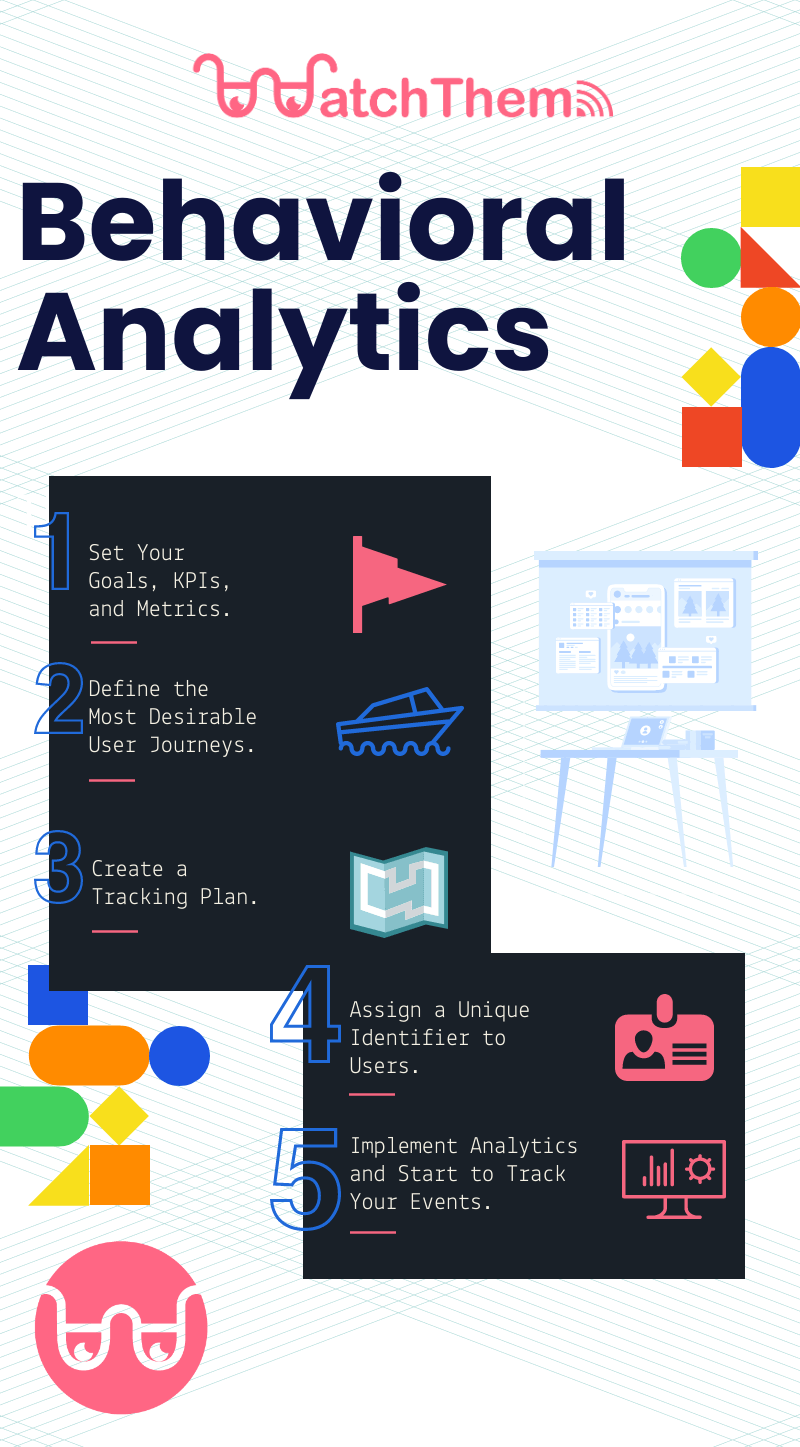 1. Set Your Goals, KPIs, and Metrics.
Setting goals and selecting the proper marketing KPIs and metrics is a vital step toward behavioral analytics. This helps you track and measure your performance and see if your users reach the desired goals.
However, you must be aware that behavioral analytics goals are different from other types of goals. You should center your goals on measurements rather than results. Rather than saying you need to increase your sign-ups from 10% to 15%, it is better to say that you need to track all user journeys from landing to sign-up and find the critical conversion paths.
In behavioral analytics, the macro goal is to capture behavior data precisely. Then and only then can you analyze those behaviors and make decisions about the things you need to change.
2. Define the Most Desirable User Journeys.
User journeys should result in the outcome the customer or the business desires. If you have not yet launched your product, you can use the wireframes of the intended flow. If your product has already been launched, you can use user-generated data (UGC). This way, you can see the most common paths for users to reach their goals.
3. Create a Tracking Plan.
You can decide which events you need to track. Your decision should be based on the user flow. You cannot track everything, however. This is because cluttering the analytics makes valuable information lost. Also, note that some events have many properties.
One of the best practices is to organize events and properties by creating a tracking plan in a spreadsheet. You can use this directory of all the events as a map. This can help you implement analytics tools. Additionally, you will need to revise and update your tracking plan. The reason is that the product, team, and goals change.
If your teams are going to create reports and understand the results, they will need to know how users and events are named. So, it is best to engage all of your teams in drafting the tracking plan. Analytics, product, marketing, and engineering teams should be aware of how things work.
4. Assign a Unique Identifier to Users.
Most digital products are cross-platform. This makes tracking unique users difficult. You should assign a unique identifier to your users so that each one of them does not appear as multiple people.
Every platform and device the user uses in their journey to connect to touchpoints should have this unique identifier. Teams should make sure that their behavioral analytics platform provides users with unchangeable unique identifiers.
5. Implement Analytics and Start to Track Your Events.
The last stage in behavioral analytics is using your analytics and tracking your events. After completing the tracking plan, you can deploy your behavioral data analytics and integrate what you found useful into your products. Then, you will need to assign the unique identifier to users and set up the properties for users and events. Make sure only to deploy your results after you have passed all the tests.
Conclusion
This article provided you with comprehensive data on behavioral analytics. We talked about what behavioral analytics is and why it's important. Then, we discussed the process you need to go through to analyze behavioral analytics data. We learned that setting goals, defining the user journey, creating a tracking plan, assigning unique identifiers to users, and implementing analytics are the steps you need to take.
Make sure to sign up to WatchThemLive for free to gather your behavioral analytics data and then go through the procedure we talked about. We hope you have learned what you were after from this article and can easily implement it.