Nowadays, customers are increasingly interacting with brands through multiple channels. So as a business owner, you need to understand the importance of omnichannel customer experience and provide the best one to give your customers plenty of choices. Omnichannel customer experience is the new standard for customer service, describing a unified approach. It takes heed of all the channels through which customers can reach out to a company, including phone, email, social media, live chat, and in-person interactions.
In this article, we'll explain why you need to make building an omnichannel customer experience a top priority and help you improve it for better customer retention. 
Note: Looking for a way to improve your omnichannel customer experience? WatchThemLive is the best solution to any problem. Let's continue reading to figure it out.
What Is Omnichannel Customer Experience?
Omnichannel customer experience provides a seamless customer experience throughout all channels with the purpose of creating a consistent brand message and customer journey regardless of how or where the customer interacts with the brand.
Here is one of the omnichannel customer experience examples that helps you understand it better: Imagine you want to surprise your partner with a SmartWatch. Unfortunately, your transaction fails, and you need to contact their support. After being placed on hold for a while, you get connected but face poor customer service who can't recognize you and answer your questions. Definitely, you expected a better customer experience, so you turned it into another store. As you understand, the benefits of providing a superior customer experience are clear.
In the following section, we will explain why providing an omnichannel customer experience is important.
Why Is Omnichannel Customer Experience Important?
As you know, customers interact with brands differently, and they expect a seamless, omnichannel experience when engaging with a company – whether they're shopping online, in-store, or using a mobile app. 
An omnichannel customer experience provides customers with the convenience and flexibility they crave and when done right, you can improve operational efficiencies and understand your customers better.
Despite the many benefits of an omnichannel approach, many companies still struggle to get it right. The solution is to understand each channel uniquely and apply its own strategy. By taking the time to create a comprehensive plan, businesses can ensure that their omnichannel customer experience is truly best-in-class.
How Can You Improve Omnichannel Customer Experience?
Here are seven ways that can help you improve your omnichannel customer experience in the blink of an eye: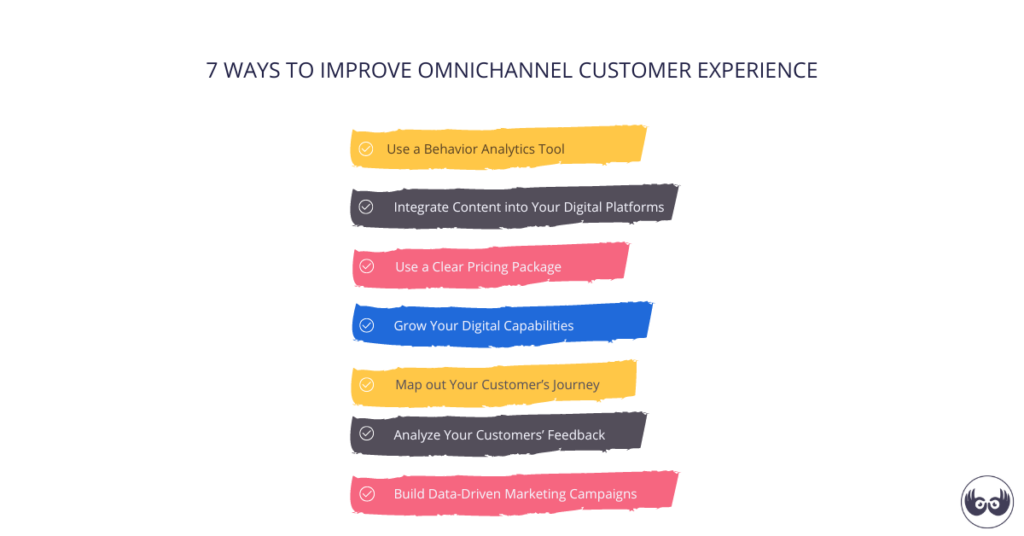 1. Use a Behavior Analytics Tool
A behavior analytics tool can assist you in improving your omnichannel customer experience by giving visibility into how your customers interact with your brand across all channels. With these insights, you can make informed decisions on how to optimize your customer's journey and improve their overall experience.
As a result, you can identify issues and pain points early on and take steps to fix them quickly. Moreover, it allows you to segment your customers based on their behavior to target them with personalized messages and offers.
Now, it's time to introduce one of the best tools in the market for customer experience analytics which you can use to make changes and improvements. WatchThemLive provides many useful features such as heatmaps, session replay, etc. Let's take a look at some of their features:
1) Heatmaps
As the world of customer experience (CX) becomes more complex, businesses are turning to heatmaps to help them better understand their omnichannel customer journey. Heatmaps can help you improve your omnichannel customer experience by identifying and filling gaps in your customers' journeys, understanding where customers are getting frustrated or disengaged, and optimizing your website and touchpoints for a better customer experience.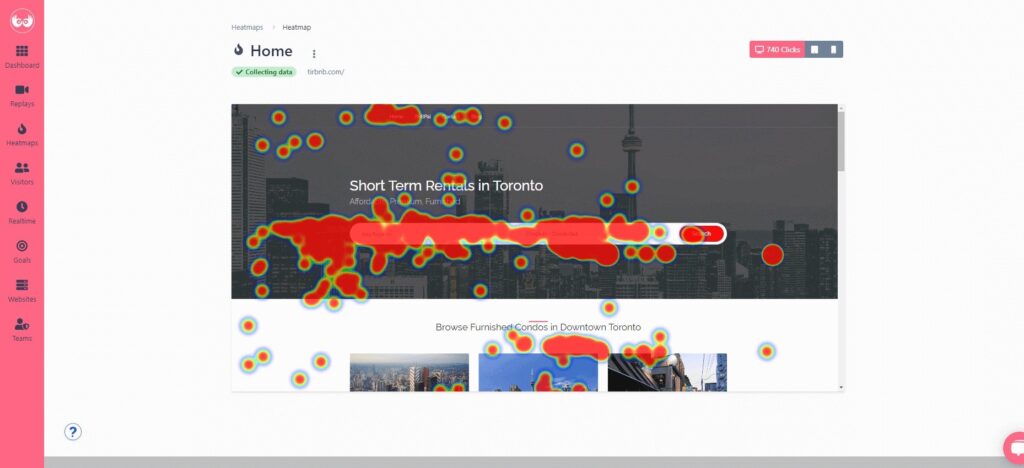 2) Session Replay
Session replay is a powerful tool that can help you understand your customer's interactions with your website or app. WatchThemLive's session replay lets you record and auto-play sessions and sees exactly what your customers are doing on your page. These valuable insights can help you make necessary improvements to your omnichannel customer experience, ensuring that your customers have a positive experience with your brand every time they interact with you.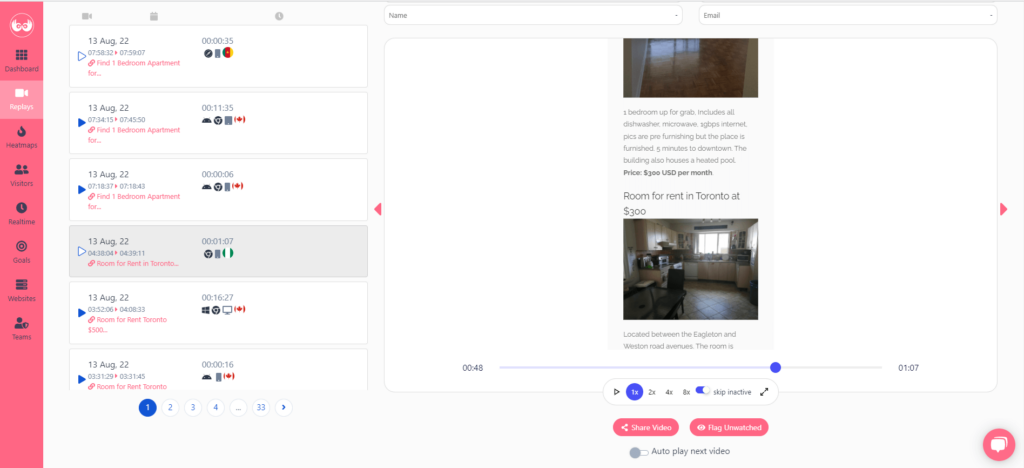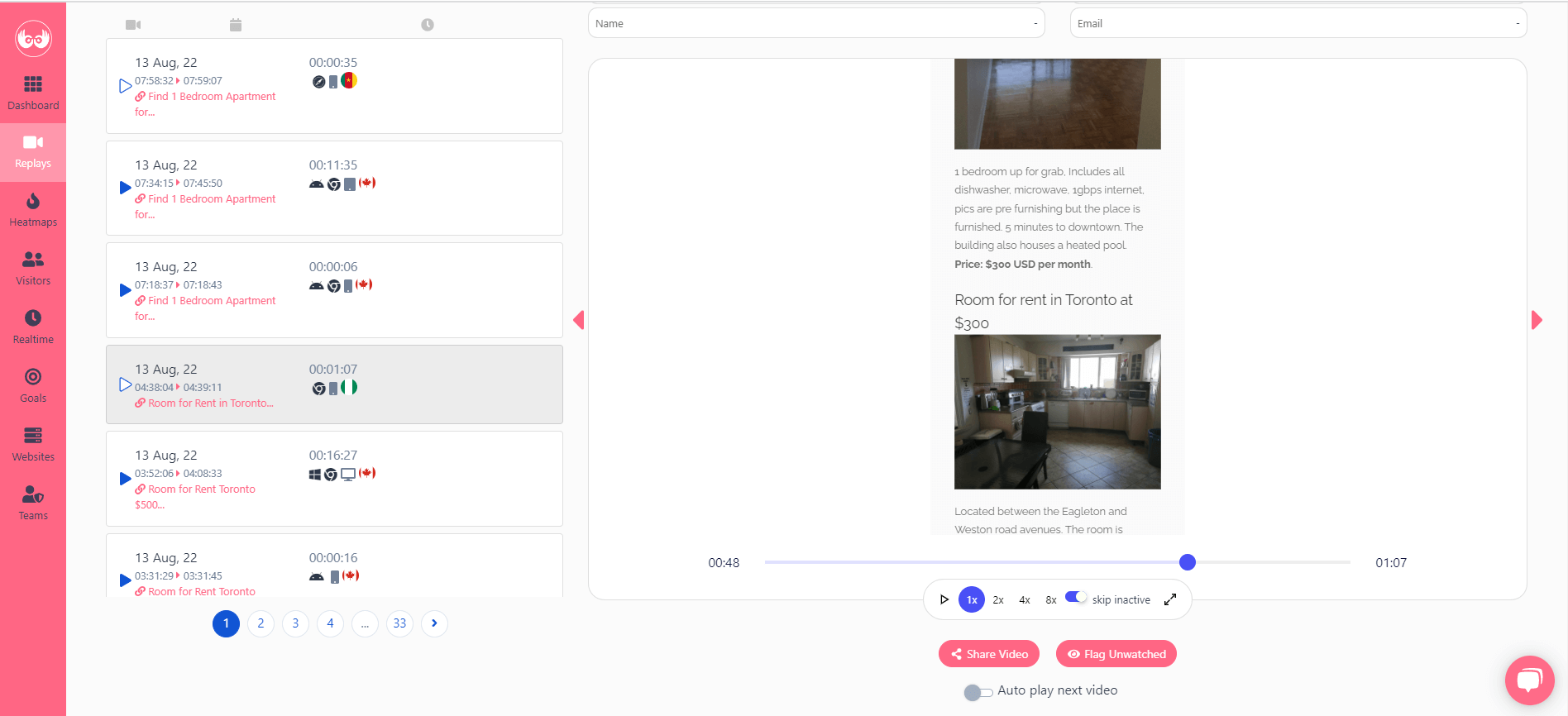 Don't miss the boat and sign up to see with your own eyes.
2. Grow Your Digital Capabilities
All businesses try to use the best technologies and analytics tools to keep up with the competition in today's marketing world. Besides customer experience software, you can improve your omnichannel customer experience by growing your digital capabilities. Moreover, developing your digital capabilities helps you increase brand awareness and allows you to understand your customers and their needs better with access to more data.
3. Integrate Content into Your Digital Platforms
Meeting customers' expectations is not enough today, and you must go above and beyond their needs. While trying to provide an exceptional experience across all channels may seem daunting, one way to improve your omnichannel customer experience is to integrate your content into your digital platforms.
Content integration allows businesses to provide a consistent message and experience across all channels. It also makes it easy for customers to find the information they need. Additionally, it can help businesses personalize their customer experience and create loyalty among customers.
4. Map out Your Customer's Journey
Customer experience optimization helps you solve your customers' problems. In order to improve the omnichannel customer experience, you need to map out your customer's journeys to identify any potential pain points that your customers may experience and enhance their overall experience by making necessary changes. So you can provide a more seamless and consistent experience for your customers across all touchpoints.
You can map your customer journey through various methods, such as surveys, interviews, reviews, and customer feedback. Once you map out their journeys, you can take a closer look at each touchpoint and see where it is better to make improvements. By making even small changes at each touchpoint, you can greatly improve the overall omnichannel customer experience.
5. Use a Clear Pricing Package
Who doesn't want a seamless, convenient, and personalized experience every time they interact with your brand? To improve the omnichannel customer experience, you can offer clear pricing packages by being upfront about the total cost of an item, including shipping, taxes, and any additional fees. Some customers pay attention to the pricing packages more than the features or services a company provides. So you need to make it clear before they commit to a purchase. 
Moreover, when customers know exactly how much an item costs, they're less likely to abandon their cart or return items later.
6. Analyze Your Customers' Feedback
Businesses need to be proactive in soliciting feedback and then using that feedback to make necessary changes. Plus customer experience metrics, you can collect your customers' feedback and take the time to analyze them carefully. So you can identify areas where improvements need to be made and improve your omnichannel customer experience.
7. Build Data-Driven Marketing Campaigns
In order to build data-driven marketing campaigns that improve omnichannel customer experience, you need to focus on creating personalized content, understanding customer needs, and preferences, and using data to segment their audiences.
By personalizing content, you can ensure that each customer feels like the campaign is speaking directly to them. This can be done by using data such as purchase history, demographics, and web browsing behavior. Understanding customer needs and preferences can be accomplished through surveys, interviews, focus groups, and other research methods.
Finally, you need to segment their audiences to create more targeted campaigns. Segmentation allows you to send the right message to the right people at the right time.
Conclusion
In this article, we've shown you 7 ways to improve your omnichannel customer experience plus one of the top omnichannel customer experience software. But you shouldn't be content with them and avoid trying new strategies. Don't forget to give WatchThemLive a chance to optimize your customer experience, hands down. Make sure to sign up.