Sometimes, everything doesn't go well and you need to decide in which areas of your business you should invest now. The top priority of many businesses is to provide a superior customer experience because when customers are satisfied with your brand, they'll return to make more purchases. If you are looking for a way to improve the performance of your business with a limited time or budget, what is better than providing a great customer experience?
In this article, we'll discuss what customer experience is, why it is important, and introduce five customer experience benefits to you.
Note: Many companies try their best to leave a lasting impression on their customers. Like you, they want to make sure that every customer is satisfied with their products, customer service, sales staff, and marketing materials. You can enhance your website's performance and customer satisfaction only by looking at their entire journey.
If you look for a keen eye to see the world through the eyes of users, we highly recommend WatchThemLive. It allows you to resolve all technical issues on their way and improve sales and retention. Stay tuned to find out.
What Is Customer Experience?
Customer experience, also known as CX, refers to all customers' interactions with every touchpoint of your business – before, during, and after a purchase. A superior customer experience is vital for any business. Let's take a look at how Starbucks creates value for its customers. The key success of Starbucks is that they use a personalized experience. You may have noticed that every time you go to Starbucks, the Barista asks for your name and write it down on your order. So what's the point? Starbucks began writing customers' names on their cups since 2012. First, they did this because they receive massive orders and they mix them up, but later they realized that writing names not only improved their work efficiency but also left a good impression on customers and create a personal connection with them. And this is how Starbucks made the brand stand out from the others.
What Are the Benefits of Customer Experience?
Before explaining the five benefits of customer experience, you need to know that customer satisfaction does rely on a good customer experience and a good customer experience makes everyone satisfied – your sales team, your support team, and your existing customers. As Dharmesh Shah says, "The more advocates you have, the fewer ads you have to buy." So investing in customer experience has many benefits. Let's deep dive into it.
1. Customer Experience Improves Your Conversion Rate
An effective way to boost your conversion rate is to focus on your customers' journeys. Nowadays, one of the most important things that many companies are competing for is providing a superior customer experience. To boost your conversions through a better customer experience, you need to keep your customers satisfied and meet their expectations. Since keeping old customers is easier than finding new ones, you should design a customer experience that provides value through each touchpoint of the conversion funnel and builds a long-term relationship with them. Increasing your conversion rate is just one of the customer experience benefits. Read on to find out more. Here are some tips that you should follow:
Know your target audience
Focus on customer lifetime value
Provide a great customer service
Use personalization
Reward loyal customers
Using WatchThemLive is another way to increase your conversion rate hands down. One of the effective ways to improve your conversion rate is to eliminate your website distractions and provide a seamless customer experience. Some elements on your website may distract your users from conversion points. If you are curious to see how to remove unnecessary CTAs on your website, we suggest using a behavior analytics tool like WatchThemLive.
One of their useful features that can help you remove distractions is Heatmaps. A Heatmap is a data visualization that allows you to see where and how users interact with your website. It highlights the areas with the most interactions by using warm colors and uses cold colors to show the areas with less activity. So you can easily identify the best place to put your CTAs. This was just one of their features. To become more familiar with their other features, check the video below:
If you would like to start your journey toward success, sign up before it's too late.
2. Customer Experience Increases Customer Engagement
Brand loyalty originates from customer touchpoints. The more you engage your customers, the better you build mutually beneficial relationships. One of the helpful ways to engage them is through emails and social media. Not only can you get more feedback but also you can create a good atmosphere for customers to share their needs and problems with you, so you can fulfill their demands and provide better customer service.
3. Customer Experience Reduces Customer Support Costs
Instead of guessing your customers' needs, try to build a customer-focused culture. Many companies test various hypotheses to change their CX strategy without having any clue about their customers' needs. A true customer-focused culture allows you to understand at each stage how to deliver the best customer experience. As a result, you can reduce your marketing costs while increasing your sales and customer satisfaction because you know how to spend your money and time wisely.
4. Customer Experience Increases Customer Loyalty and Retention
As previously mentioned, people are looking for high-quality products and services. According to Statista, 61% of customers in the US claimed that they would be willing to pay more for quality customer service on the condition that you provide extra value through each transaction. To measure customer loyalty, you need to focus on their journeys. So you can understand why they stop purchasing or how satisfied they are with your service. The more you improve customer experience, the better results you will get.
5. Customer Experience Impacts Customer Acquisition
As Jeff Bezos says, "If you do build a great experience, customers tell each other about that. Word of mouth is very powerful." Media plays an essential role in customer acquisition to cultivate trust. The Nielsen Global Trust in advertising survey demonstrated that 92% of consumer trust is conducted through recommendations from friends and family. So if you want to get the true power of mouth recommendations, ensure you provide a great eCommerce customer experience and build a strong bond with your customers. This is the only way you can turn them into advocates.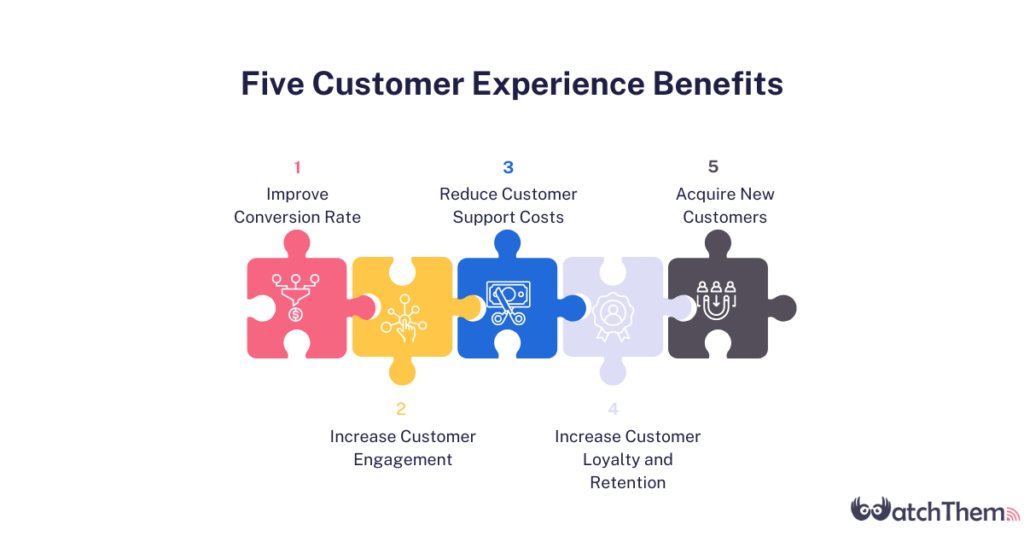 Why Is Customer Experience Important?
Up to now, you discovered five customer experience benefits. Let's talk about why it is important. Customer expectations can highly impact your business because they are higher than before and if you don't fulfill them, customers will stop purchasing and your sales will be decreased. You have no idea how much a negative customer experience can repel a customer for life. It is enough to share their negative experiences on social media channels, and you're done! So customer experience is important because it highly impacts your customer satisfaction and it is customer satisfaction that drives massive profits.
Conclusion
Therefore, providing a great customer experience is important not only because it increases your brand loyalty, but also because it increases your sales. In this article, we discussed five customer experience benefits and why customer experience is important. Even if you keep your eyes on customer experience metrics, to create an effective customer experience, you need a behavior analytics tool like WatchThemLive to see what you can't see. Try WatchThemLive now and sign up for FREE.