If you put yourself in your customer's shoes, what makes you decide to purchase a product? The whole decision-making process depends on how that brand creates value for you as a customer. The success of every business depends on many factors. One of the most important factors that determine your future success in the eCommerce world is the eCommerce customer experience. Great eCommerce companies try to have a superb eCommerce customer experience for their digital audience. Although the effects of product quality are not deniable, providing a valuable experience to your target audience is not any less important.
In this article, we'll discuss everything you need to know about creating an exceptional eCommerce customer experience in the business. But before we start, you need to know what eCommerce experience means.
Note: When a user arrives on a site, they most probably have some kind of goal in mind that doesn't always translate into actual conversions, such as completing forms, making purchases, or even just clicking on ads. WatchThemLive enables you to measure users' steps when interacting with your product. So, you can deliver a better customer experience and increase your conversion rate.
What Is eCommerce Experience?
The term eCommerce customer experience (ECX) is part of digital customer experience. It includes all your customers' interactions and engagements from the moment they get to know your brand to the moment they stop making purchases from your brand or stop their online shopping experience. The point is their experience as customers are different in various brands and industries. So, there's no determined pattern to create the best eCommerce customer experience for your digital audience which is usable for every business.
Why Does eCommerce Customer Experience Matter?
The primary goal of eCommerce is to increase the number of both sales and customers. So what will happen next? The competition will ramp up and the one with the best eCommerce customer experience wins. The importance of customer experience in eCommerce is obvious because as much as you might lose returning customers, you can absorb new ones.
How to Improve eCommerce Customer Experience
For the growth of your business, you need to know how to improve your eCommerce customer experience. There are seven ways you should consider to gain success in your business. These elements let you absorb more customers and also enable you to increase your eCommerce conversion rate optimization simply:
1. Put Your Focus on Customers
How can you be customer-centric if you don't pay attention to your customers? Your customer feedback can help you improve your customer experience in eCommerce. For more information, you can reach out to your customers on social media and keep in touch with them. Even reading their comments enables you to make proper changes in your customer service. So, surveying your customers lets you improve your eCommerce customer experience.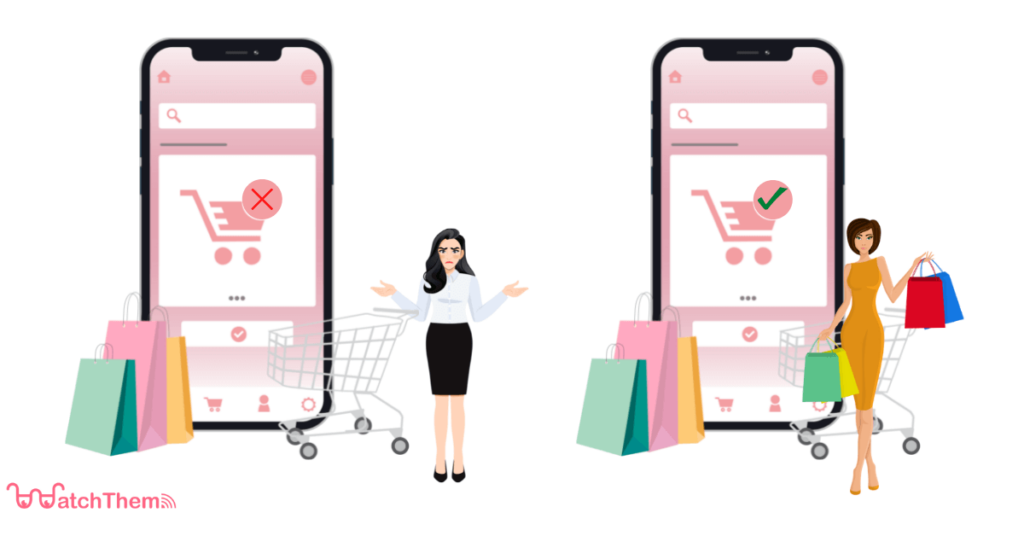 The point is that it is not easy to track every customer's path to purchase and fix the pain points or problems that they deal with on your site, so we highly recommend WatchThemLive's heatmaps and session replay software to watch your customer's journey from one point to another. Heatmaps help you recognize which areas are ignored by your customer or which areas are better to put your CTAs. Session replay also allows you to replay the entire journey from one user to another. So do not hesitate and get instant access to WatchThemLive now.
2. Build Reliability
If your customers don't trust you, they hesitate in making a purchase. So what makes a brand trusted? You must make your customers engage with your brand at every touchpoint of your site or application by delivering consistent value. Gaining your customer's trust is an important factor that causes your brand to be recognized by others provided that you presented the best customer experience design.
3. Become Customer-centric
It is important to make the best decisions and then test those decisions in order to move forward in your business. But first of all, you need a team who are customer-centric and data-driven. The point is you should rely on your customer data to make your decisions instead of relying on other data to rationalize a decision after the fact.
For example, imagine you want to add a new feature to your website, but you are hesitant. Checking your customer data not only shows you whether they will like it or not but also helps you avoid wasting your time and get the best results.
4. Personalize the Customer Experience
If you personalize your eCommerce customer experience, you will definitely be on the pig's back. Imagine yourself as a customer who wants to make a purchase and receives an email that suggests a helpful recommendation according to their previous purchase. How do you feel? It definitely makes your purchase easier. By knowing your visitors, you can offer them better options. Analyzing the customers' journey helps you better understand your customers.
But how? Is there any possibility to monitor specific pages or your customer's journey? Yes, WatchThemLive allows you to track the customers' journey with session replays. You can even filter the session replays by a specific page to watch the replays that include that page. This way, you will find out how that page affects the journey to optimize it.
Sign up and try WatchthemLive now!
5. Create a Unique Selling Proposition
Your customer experience can determine what makes your brand different from others in the business. You should overtly state what makes your brand unique and why your visitors should choose you. Regardless of the uniqueness of your product or services which you offer to your customers, you can offer something valuable like discounted gift cards to make your brand memorable. Look at how Death Wish Coffee company developed a product based on a unique selling proposition in the coffee market and offers " the world's strongest coffee".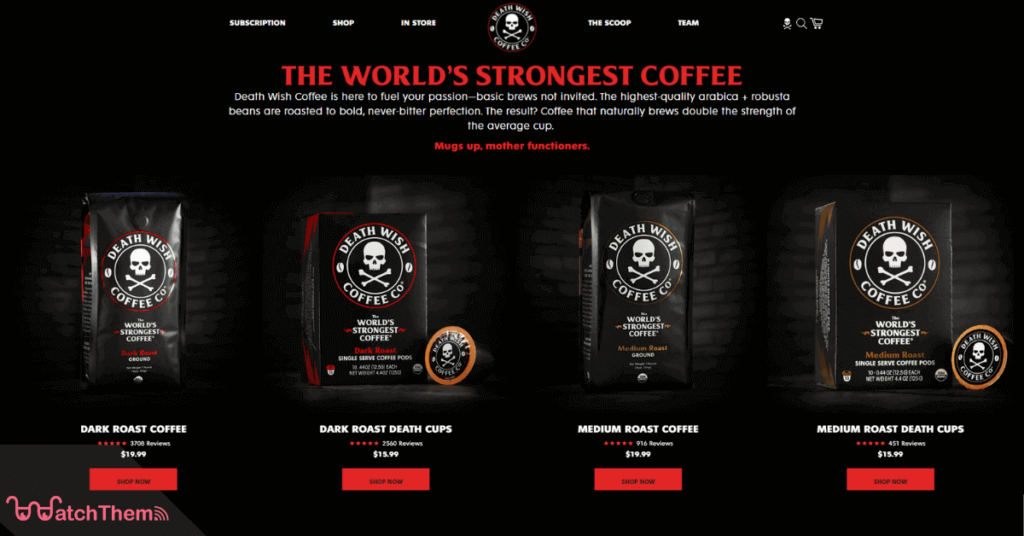 6. Focus on Business Progress
Providing the best eCommerce customer experience helps you to achieve your goal of setting up a successful company. As a result, both your purchase frequency and average order value will increase. As R.Edward Freeman says, the purpose of business is not just making money; you should create value for stakeholders. Therefore, you make your loyal customers satisfied.
7. Provide the Best UX Design
Seeing your product from your customer's perspective helps you make your decisions better. If you put yourself in your customer's shoes, you may ask yourself, "Is my content attracting enough customers in order to make them move forward in their journey?", "Can they find what they want simply?" and "Do they immerse themselves in making a purchase on my site?" So you have to consider your content, site navigation, search option, and immersive experience.
Conclusion
In this article, we discussed seven key elements that help you to improve your eCommerce customer experience. It is not easy to keep an eye on each customer and make everything perfect according to their needs and desires. So WatchThemLive paves the way for you. Sign up and start your journey toward success!