Have you ever received an email or text message from a company you did business with before? It makes you feel special and cared for, right? That's why businesses are using email and SMS marketing tools to generate new leads and keep their existing customers. Klaviyo is one of the platforms that can help you with your marketing plans in this regard.
In today's time, you can't expect to reach your business goals by relying on your old strategies. You need the help of the new technology. Using platforms such as CRO tools or email marketing services is a no-brainer when it comes to e-commerce!
Digital marketing is a brutal race and the competition is fierce. Luckily, there are many services to aid you in increasing your conversion rate and maximizing your revenue. WatchThemLive is a behavioral analytic tool that allows you to monitor and analyze your users and the reason behind their actions and purchases. So make sure to sign up for free and win the competition!
In this article, we'll explain everything you need to know about Klaviyo's email and SMS marketing, its features, and pricing. We will also introduce some of the best Klaviyo alternatives, and let you decide which platform suits your business best! So read this article before you decide to search for Klaviyo's login page!
What Is Klaviyo
It's an e-commerce marketing tool that allows businesses to expand their companies, generate new leads, and deliver personalized customer experience.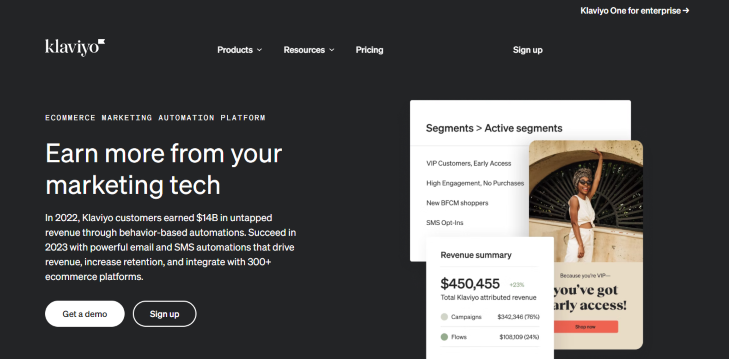 By offering features such as email and SMS marketing, website analytics, and A/B testing, Klaviyo can be part of your conversion rate optimization strategies. But is it your best bet?
Like everything else in this vast world, Klaviyo's email marketing is not perfect. There are disadvantages to this software too that you need to know of in order to make the best decision. But don't worry!
Even if you don't find Klaviyo the best choice for your business, we'll introduce other similar platforms! So keep scrolling to find out more about Klaviyo's pricing, features, and best alternatives.
Klaviyo Features
Knowing who your customers are and what they want is the first step to personalizing your marketing strategies, and that's why behavioral analytic tools are on the rise now!
As we mentioned earlier, Klaviyo offers different features that enable you to connect with your customers and send them targeted messages.
So let's go over Klaviyo features together!
Email Marketing
It's a direct marketing optimization method that allows businesses to share their new products, news, and offers. It's one of the most profitable marketing channels. But you may think it takes a lot of time and energy to send emails to your customers, right? 
Of course not! You don't have to send each email by yourself. Marketing automation is on the rise now and that's how Klaviyo helps you. You can use various templates to write the emails you want and send them to your targeted customers.
SMS Marketing
It's a given that people tend to open their text messages much faster than other forms of messages. Therefore, SMS marketing is one of the most profitable ways for promoting your business.
Klaviyo offers automated SMS marketing and users can benefit from it greatly. Because it's not only fast but also has a high open rate!
You can choose from Klaviyo's pre-built template libraries and send your desired texts and promote your business.
Automated A/B Testing
You can test different variables of your emails, texts, and sign-up forms to find the best version of them. This will allow you to save time and resources and invest in the versions that work best.
Segmentation
The sea of customers is too vast to cover and no business can target all of them. That's why audience segmentation is the key pillar of every market.
Klaviyo offers a segmentation feature that allows users to segment their target audience into groups based on their similarities. Then, they'll be able to target and identify customers much easier and faster.
Klaviyo Pros and Cons
Now let's go over the list of Klaviyo's pros and cons. But first things first! Before we get to the list, there's an important issue that you need to know.
Klaviyo has a history of being hacked and the sensitive information of many of its users has been leaked. It makes you wonder whether this platform is reliable and trustworthy or not.
Now let's dive into the list!
Klaviyo Pros
Offers a free plan,
+300 pre-built integration,
Email outreaches can be automated,
Wide range of email templates,
Intuitive design.
Klaviyo cons
Inflexible pricing plans,
Unresponsive and inconvenient customer support,
No real-time support,
According to reports, sometimes Klaviyo email previews fail to show an accurate picture of the final product,
According to reviews left by real users, even though Klaviyo email reports show that the emails are delivered, they're actually NOT, and customers find them in their spam folder, which is a huge disadvantage,
This platform has many bugs and users have trouble using Klaviyo to its fullest potential,
Poor list management.
Klaviyo Pricing and Plans
Now that you know all about Klaviyo, it's time to see what kind of plans they offer and at what cost. So here's Klaviyo's pricing and plans!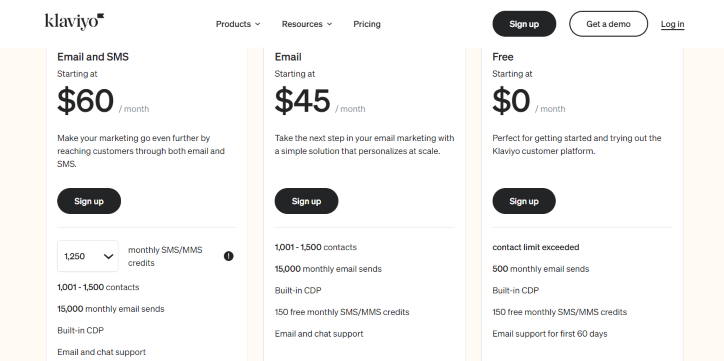 As you can see, Klaviyo offers a free plan that allows you to send 500 emails per month, and 150 free SMS/MMS credits.
Klaviyo's pricing structure is not very flexible and changes based on the number of your users. So, if you own a big company with many customers, you might find this tool to be expensive.
Klaviyo Alternatives
In this article, we provided all the information you need to know about Klaviyo, and also explained the advantages and disadvantages of this tool to let you decide on your own. Now it's time to learn about some of the best alternatives to Klaviyo.
Mailchimp
As the first Klaviyo alternative, we're gonna introduce Mailchimp. It's a marketing automation platform that is well-known all over the world.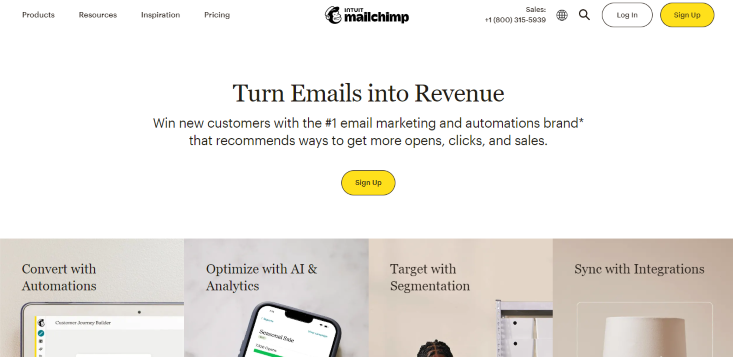 Mailchimp allows you to talk to your customers, clients, and users, send personalized messages to get more conversions and get AI suggestions to make the most engaging content.
Mailchimp Features
Now let's take a look at the features provided by MailChimp! Here's a brief list to help you better understand this tool.
#1 Website Analytics
You can track your sales funnels and campaigns through easy-to-understand reports. You can also share these reports with your team to monitor your progress.
#2 Marketing Automation
Build automated email marketing campaigns, deliver exceptional customer experience, and integrate with other tools to get the most out of your marketing strategies.
#3 Creative Tools
You can use +100 email and landing page templates, use the power of AI to get on-brand designs, and get real-time help with your subject line to send the right message to the right audience.
#4 Audience Management
Discover new ways to generate new leads through customized sign-up forms and predictive insight into your audience. You can also segment your users based on their similarities and shared traits.
#5 A/B Testing
Using this feature, you can test different variables of an email and find the best version to send out!
Mailchimp Pricing
This platform offers a free plan for users who are just starting with email marketing. Mailchimp offers three categories on its pricing page: website and e-commerce, marketing platform, and transactional email. Based on your business strategy, you can choose more than one plan to satisfy your needs.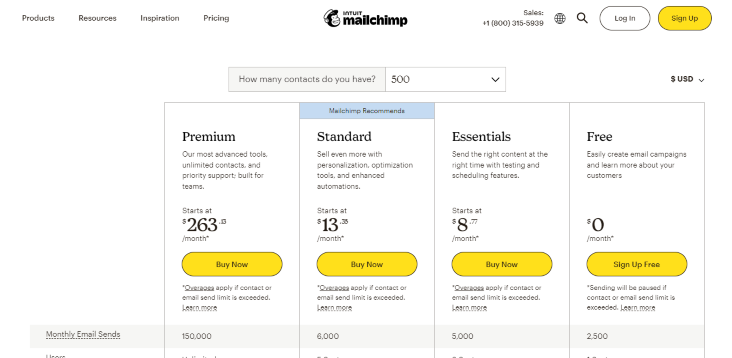 ActiveCampaign
Like Klaviyo, ActiveCampaign is also an e-commerce marketing platform that offers different features for each step of the customer journey. So let's go over some of its features and see how it differs from Klaviyo.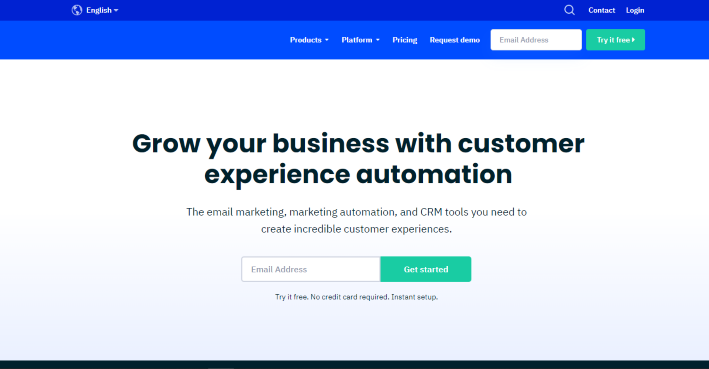 ActiveCampaign Features
In the following, we provide a list of ActiveCampaign services so that you can better decide whether it's the best option for your business.
#1 Marketing Automation
As we explained earlier, this feature allows you to generate and send targeted emails to your audience to help you promote your business and generate new leads.
#2 Site Tracking
You can track your visitors to better understand what they want. Then, you can offer them exactly what they need to gain their love and trust!
#3 Integration
By integrating with platforms such as Shopify, BigCommerce, and WooCommerce, you can better engage your customers throughout their journey.
#4 Forms
Through various forms across your website, you can collect valuable information about what engages your visitors more. Then you can use this data to find out what triggers your customers to take meaningful action.
ActiveCampaign Pricing
This software offers 4 categories with different purposes: marketing, sales, bundles, and transactional email. There is no free plan but you can use a free demo to get familiar with this tool.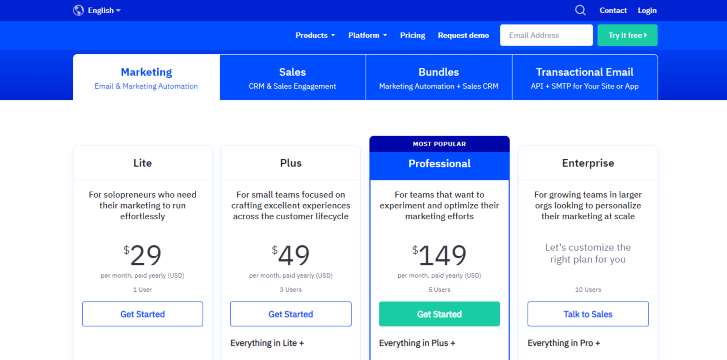 Constant Contact
Now to the third tool on our list! Constant Contact is also an online marketing company that helps businesses build customized emails and websites, and run A/B tests.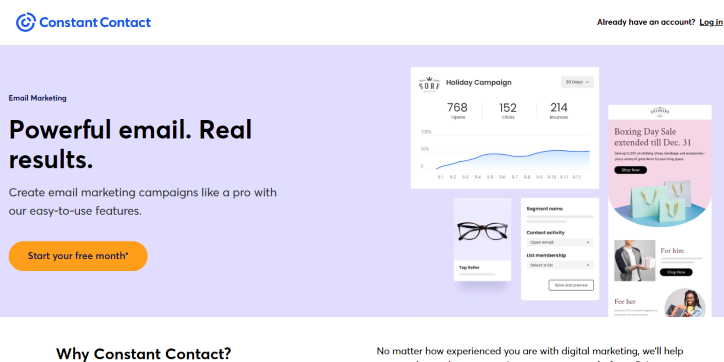 Constant Contact Features
By now, you must be familiar with all the features that most marketing platforms offer. Now let's take a look at Constant Contact features! Then you can decide which one better suits your business!
#1 Marketing Automation
You can create and send targeted emails to potential leads, and persuade them to become paying customers! Find new customers through sign-up forms, and segment them to send your emails to the right group.
#2 Design Templates
Engage customers more than ever by designing interesting, look-at-this email templates. Browse through +100 templates to find the right one and send them out!
#3 A/B Testing
As we mentioned earlier, A/B testing allows you to test different variants of your emails and discover the best version.
#4 SMS Marketing
Just like Klaviyo, Constant Contact also offers SMS marketing services to help you send out text messages to your customers and connect with them more than ever!
Constant Contact Pricing
Unlike other tools and software, Constant Contact has a pretty straightforward pricing structure that starts at 9.99$ per month. There is no free plan provided, but you can use a free demo to learn more about this company.
In the following picture, you can see Constant Contact's pricing and plans and compare them to Klaviyo!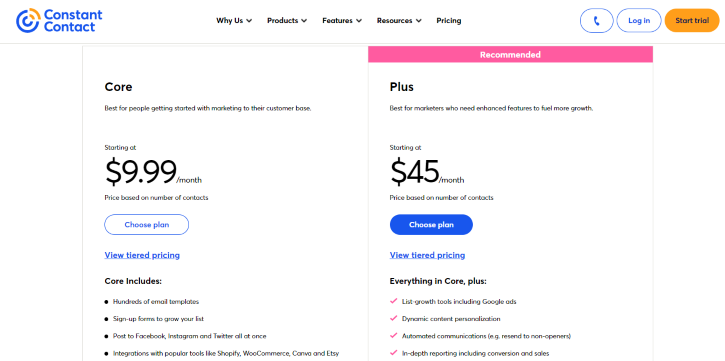 People Also Asked
Now that you know everything about Klaviyo pricing, features, and best alternatives, it's time to see what other questions people have asked about this matter! So pay attention because one of them might be yours.
Q1. What Is Klaviyo Used for?
It's an online marketing platform that companies use to send meaningful and targeted emails and SMSes to their audience. This way, businesses can promote their business and build a closer connection with their customers.
Q2. How to Cancel Your Klaviyo Account?
Canceling your subscription won't delete your data. It will just stop your payments. To do so, you need to choose your organization name in the lower-left corner. Then, click on account & billing. Now navigate to billing preferences.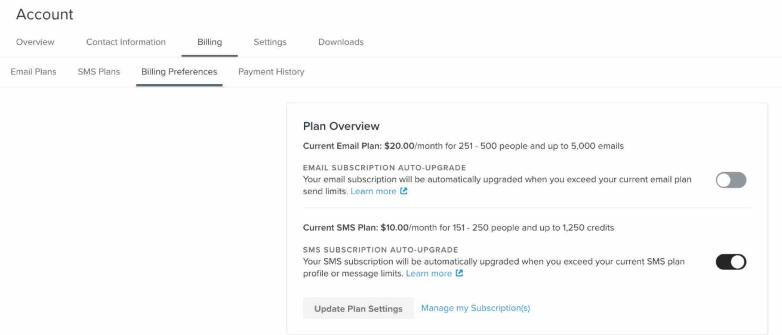 Here, select manage my subscription and choose the subscription you want to cancel.
Now you need to click on continue, select a reason for canceling your subscription, and again, click on continue.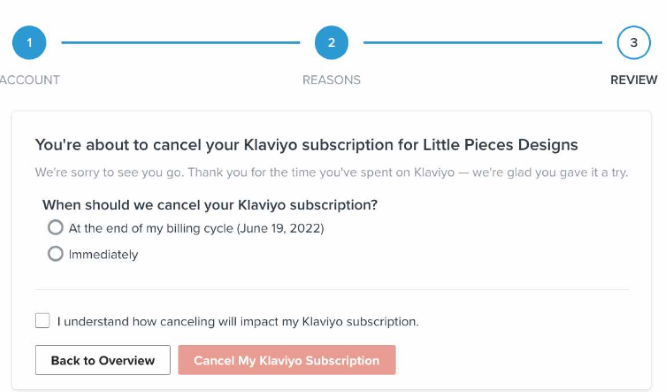 Now, you should choose when you want your cancelation to perform. Confirm, and you're done!
Q3. Is Kleviyo Better Than Mailchimp?
There's no definite answer to this question as every tool is different and might be right for one company, and not suitable for another. So, first, you should know what you're exactly looking for, how much you're willing to pay, and which service offers relevant features to your business.
Conclusion
With each passing day, online marketing keeps getting more popular; therefore, your competitors keep getting stronger. That's why you shouldn't stay behind and use new technologies to your advantage.
As an email marketing software, Kleviyo can be one of your options for sending targeted emails to your audience. In this article, we delved into Klaviyo and its alternatives to help you make the best decision.
If you're looking for a strong CRO tool to help you optimize your website and skyrocket your conversion, WatchThemLive is a great option for you. So don't waste another minute and sign up for free now and stand on top of all your competitors!