For good reason, conversion rate optimization (CRO) is the most important factor in the eCommerce sector. Let's face it: getting people to visit your online business is not the major difficulty; it is getting them to make purchases!
This is where Conversion Rate Optimization and growth hacking techniques come into play. By using these strategies, you can be certain of a solid rise in your conversion rate without any mysterious work. All is science here.
Additionally, we've gathered the most effective CRO techniques for you to use in your eCommerce business to increase conversion rates.
Note: WatchThemLive is a user tracking platform that provides you with multiple conversion rate optimization tools. Continue reading to find out how.
What Is a Good Conversion Rate?
This may be your question too. Anything above 3% is considered to be a good conversion rate. However, this number greatly varies from business to business.
But when making a direct comparison, it is very challenging to determine what a decent conversion rate actually is. People in the same sectors may have diverse traffic sources, client relationships, tools they use for optimization, and websites that are poles apart from one another. These are all part of growth hacking techniques that will be discussed in the next part.
Best Tools For Implementing Growth Hacking Techniques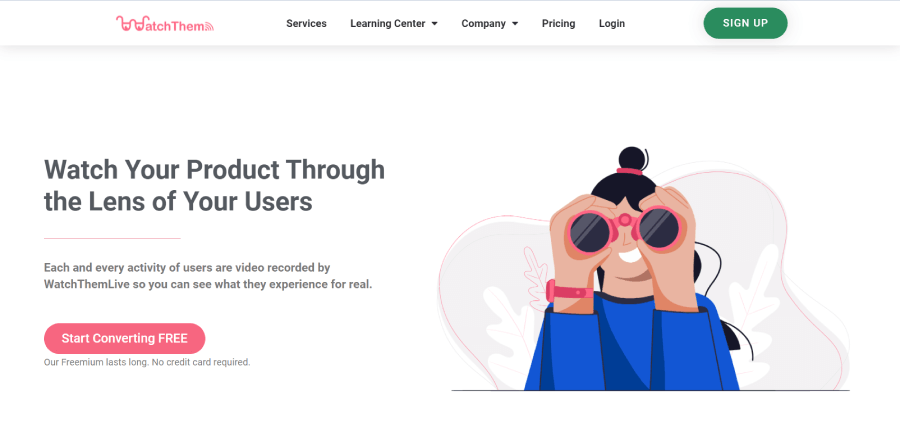 If you want to use the growth hacking techniques that will come in the next part, you need to get help from experienced people and platforms dedicated to this matter. As a result, we will introduce you WatchThemLive. One of the best software in the market that can help you out in a significate way.
WatchThemLive is a user tracking platform with lots of great tools to help you out with your quest for increasing conversion rate. There is nothing that WatchThemLive can't do for you. Their session replay feature is a fantastic example. You can easily watch your customers' movements when they are on your website. This way, you will be able to grasp details about your website's strengths and weaknesses and fix them. All you need to do is sign up here for free and start using these features.

Powerful Growth Hacking Techniques for Conversion Rate Optimization
You need to have a distinct understanding of your objectives and target audience when it comes to conversation rate optimization. What does your website aim to achieve? No matter what you are selling, you must specify the goal of what you consider to be a successful conversion. You must follow these stepsto make sure you are heading on the right path.
Here are 7 powerful growth hacking techniques to help you out on this path:
1. Effective Headlines
When someone visits your website, they usually read the headlines first. Your entire sales pitch can be condensed into one strong sentence with the help of a headline. It is intended to arouse visitors' curiosity, provide information, address an issue, or impart knowledge.
It is crucial to remember that without a well-written headline, you run the danger of losing a lot of potential customers.
2. Strategic CTAs
A landing page's objective is to get feedback from its audience. Be it generating leads, creating an email list of subscribers, collecting contact information, or, more crucially, making sales. A CTA, or call to action, is a tool you can use to encourage visitors to take certain actions. Using clever CTAs and placing them correctly can make a difference in whether or not you increase the proportion of visitors that convert.
3. Simple Navigation
Conversions depend critically on navigation. This is one of the trickiest growth hacks. Although you might not know it, you should be catering to more visitors than just the direct traffic that comes to your landing page. Contrarily, the easier it is to navigate a website, the more likely it is that users will return to the landing page and call to action. Read this article to know some of the best eCommerce navigation practices: eCommerce Navigation: 7 Best Practices You Must Know
4. Loading Speed
How quickly your page loads has a big impact on how effectively your site converts. Folks, it's 2022, and patience is a thing of the past. We all anticipate that pages will load instantly, so when they don't, the first thing we do is click the back button. Simply put, your conversion rate will typically increase with the speed of your website.
5. Verified Payment and Trust Symbols
The foundation of establishing trust between people is rapport-building. It has been used as a sales principle and has been shown to boost both online and offline sales. Building trust is a great way to increase conversion rates online. Displaying verification tags and photos of their payment systems can be used to do this. Building trust with your leads can be greatly impacted by this seemingly insignificant element.
6. Time Limit
The longer people think before making a choice, the more likely it is that they will reconsider or become sidetracked by other offers to shop elsewhere. Reduce the amount of time it takes someone to decide to respond to your CTA if you want to increase conversion rates. This makes things seem urgent. Adding a time limit to your offer is a really effective way to achieve this accomplishment.
7. Mobile Optimization
One of the crucial growth hacking techniques is mobile optimization. It almost goes without saying, but in 2022 it's more crucial than ever to optimize your website for smartphones. This could involve checking if your website is responsive and doing A/B tests on different elements for mobile and desktop. It is a reasonably well-known fact that more than 50% of internet users are currently using mobile devices. So the importance of mobile optimization shouldn't be neglected if you want to boost your conversion rate.
Conclusion
As we said before, the conversion rate is one of the most important factors that represents the success or failure of a business. In this article, we discussed some of the best growth hacking techniques that you can use in your business. The direct impact of using these techniques will be seen in your conversion growth rate.
Another way to increase your conversion rate is using a behavioral analytics like WatchThemLive to understand your customers' wants and needs. Start your journey to conversion rate optimization and sign up now!