There are many ways to optimize website conversion rates, and one of them is personalization. With personalization strategies, you can better meet customers' expectations,
In this article, we will talk about if personalization can improve your conversion rate optimization or if you should put your focus somewhere else. 
Note: One way to give customers tailored experiences is by tracking their behavior. With WatchThemLive, you are able to do that. Keep reading to learn how.
What Do CRO and Personalization Mean in Marketing?
CRO marketing is the process of increasing the percentage of visitors who convert and take a desired action on your website. This could be filling out a form, signing up for the weekly newsletter, or purchasing.
To do CRO marketing, you need to follow some steps to be sure you're on the right path. Let's review them together.
1. Preliminary Research
First, you have to determine which desired action is your main goal. Here are some examples:
Downloading your e-book
Signing up for your weekly newsletter
Partaking in your surveys
Purchasing a product
Reading specific articles
Spending a specific amount of time on your website (time on site)
Clicking on a specific link
Depending on your business and business goal, your conversion goal can be any of the above or something else.
2. Hypothesis
Before implementing CRO strategies, you need to understand which part of your website needs optimizing. To do this, form a testable hypothesis that focuses on which element needs to be changed and which portion of your demographics should be targeted.
For example, changing the add to cart button placement will increase the conversion rate by 30% because customers will find it easier.
3. Test the Hypothesis
Don't just implement your hypothesis. Test it first to understand if it actually works. To test two versions of one element, you need to conduct A/B testing or split testing. A/B testing helps you understand if the new version works better or not.
4. Analyze the Results
In this stage, you're going to determine if your hypotheses were correct or not. If they were correct, were they in line with your goals or KPIs?
Keep in mind that your results should be examined by different factors, such as the total number of visitors or conversion rate between two variables.
5. Revision and Repeat
Sometimes you have to go back to the previous steps. This way, you may understand that you need to change your goal in order to get better results.
What Is Personalization in CRO?
Personalization in CRO marketing means giving customers tailored experiences based on their previous behavior.
To track visitors' behavior, you need to collect user behavior data. You can do this by using behavior analytics tools like WatchThemLive. This tool offers session replay software that allows you to understand what kind of product customers likes the most, where they click, what they ignore, and what kind of content they interact with the most; basically, you can see each of their actions on your website. This way, you can easily give them tailored experiences. Watch this video to learn how they work:
Sign up now and snag WatchThemLive's session replay now.
Why Is Personalization Important in CRO?
Personalization in CRO has several benefits for both customers and businesses. For example, it improves customer experience. Have you ever visited a website and searched for a specific product or category, and the next time you enter that website, see content relevant to your search? That felt good, right?
Customers feel understood when they see products matching their tastes and become loyal customers. It also helps businesses sell their products faster and drive more revenue.
You also have to create consistency across all your marketing channels. Sometimes customers visit your social media page and then purchase from your website. For this reason, customers should have an omnichannel experience while interacting with your social media, website, emails, and other channels.
Top 3 Personalization Hacks for CRO Growth in 2022
For having a successful personalized CRO strategy, you need to follow some rules; here are some of them.
1. Collect Data
There are four types of relevant data that you can gather to give customers personalized experiences.
Contextual data: It involves collecting data involving visitors' properties such as device type, browsers, location, etc.
Behavioral data: This can help you understand what visitors click on, which page they visit, and what they do on your website overall.
Demographic data: It includes visitors' emails, location, name, age, gender, etc.
Firmographics data: This involves information about businesses such as their company name, number of employees, revenue, etc.
Psychographic data: It includes data about buyers' values, interests, motivation, and attitudes. With psychographic segmentation, you can understand how your customers see your brand and what motivates them to purchase from you.
Collecting this data also helps you with your marketing automation.
2. Sending Personalized Emails
You should know that email marketing is not dead! The average open rate of emails in marketing and advertising is 17.38%. Customers love personalized, relevant emails that offer them value and solve their problems.
3. Sales Personalization
Personalization in sales greatly affects customers' experiences since you give them what they want and look for. Most businesses do not use personalization, and that's why they're missing out. Don't be like them!
Analyze Customer Behavior for Better Personalization to Improve CRO
Analyzing customer behavior plays the most important role in personalization. Let's see how you can do this:
Segment your audience based on their age, interests, location, gender, etc.
Analyze each segment based on their needs and the reason that makes them purchase your products. You can understand this by running surveys or open-ended questionaries.
Collect qualitative data as well.
Compare qualitative and quantitative data so you can find customers' behavioral patterns.
Analyze the results by measuring metrics such as conversion rate, CLV, time on site, page views, etc.
One way to analyze customer behavior is using session replay software that records visitors' interactions with your website. For example, you can see if they click on a specific page or ignore a CTA button. It also gives you quantitative data such as visitors' device types, browsers, operating systems, etc.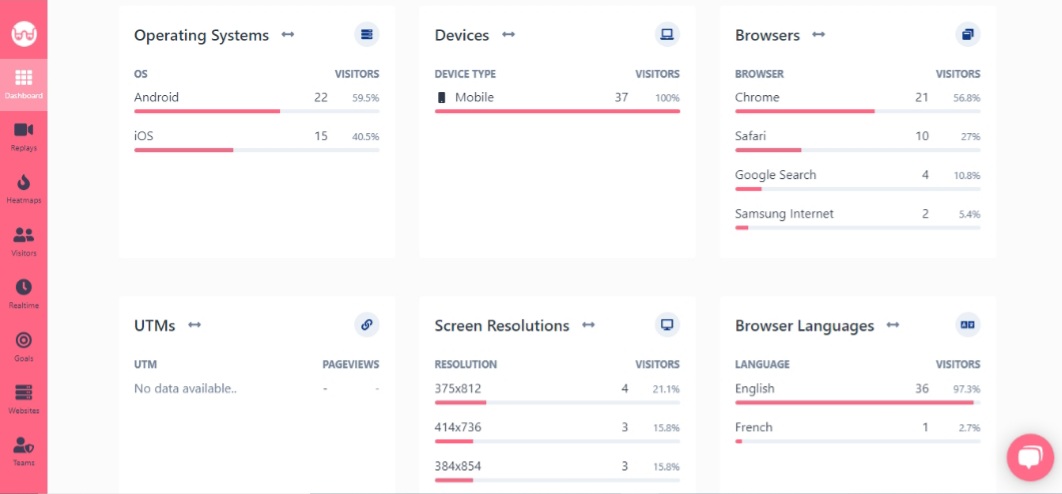 Interested? Sign up and start personalizing your website now!
Conclusion on CRO and Personalization
Personalization has several benefits for your CRO efforts and your business overall:
Creating tailored experiences for customers
Increasing conversion rate
Creating personalized content
Enabling customers to find what they came for faster
So try to leverage personalization to increase your conversions and make your customers happy.
Also, don't forget to sign up to WatchThemLive and track customer behavior to create personalized experiences for your customers.