Today we are experiencing rapid growth each year for eCommerce businesses. So if you have eCommerce, you will have more competitors every day.
As a result, eCommerce businesses must be at the top of their marketing game and develop effective eCommerce strategies to be competitive in one of the world's fastest-growing industries.
If you want to see growth in your eCommerce business revenue, read all tips that we gathered here for eCommerce strategies.
What Is An ECommerce Marketing Strategy?
Your eCommerce marketing strategy is a comprehensive written manual that will lead the marketing efforts of your whole team and keep your business running for long-term success.
25 Simple ECommerce Marketing Strategies
Let's know more about eCommerce strategies to decide which are worth your time and investment.
Setting up an e-commerce shop is only the first step in selling online. To attract and engage customers, you must have a strategy and track key eCommerce metrics.
Here, I will reveal successful eCommerce strategies proved to help grow eCommerce businesses. And what's even better is that any eCommerce firm can use these marketing plans. The purpose of your eCommerce strategies should not only be to close sales. Also, it should be to provide your customers with an online shopping experience that increases customer loyalty and creates future brand ambassadors. It is also essential for increasing your eCommerce conversion rate.
1. Establish Your eCommerce Goals
The first step in developing your e-commerce strategy is identifying goals. So, you'll be able to analyze the performance of your online store and the efforts of your e-commerce campaign.
Be sure to set measurable benchmarks and compare your goals against industry standards.
Setting objectives and key results is a smart place to start. The aim is described by goals, and the means to get there are defined by key results.
Here's an example:
Objective:

Become a well-known and well-liked fitness clothing firm, similar to Nike.

Key results:

Each quarter, we must attract x number of qualified clients to our online store.
Create a loyal following.
Responsive, helpful, and delightful customer service to improve customer satisfaction.
Create a genuine social media presence to engage with the target audience.
2. Develop Your Buyer Personas
Knowing your target market is important to the success of your eCommerce strategies.
Creating personas will guide your marketing plan while also setting the voice and tone for your online shop. On the other hand, marketing to the incorrect audience will reduce your capacity to generate sales while wasting your time and money.
In the eCommerce business, consumers have risen to power. So your company must stand out and try to meet customer expectations. As a result, it's more crucial than ever to tailor your user experience (UX) to your target audience's needs. This is also important for your overall brand strategy.
Make your efforts more personal by learning about your consumers. People enjoy it when they feel special.
3. Establish Trust
Running a successful eCommerce shop requires a high level of trust. That's why establishing trust is one of the most important eCommerce strategies.
Use the HTTPS protocol to encrypt all data transferred to and from your website. Because your clients are trusting you with their sensitive information.
Be completely transparent about the pricing of your products or services, and shipping, tax fees, and return/exchange policies.
Add trust badges to your eCommerce pages, such as payment processor logos, SSL certificates, security badges, and third-party endorsements.
4. Identify Your Unique Value Proposition
Customers who shop online often do a lot of research before making a purchase decision. This implies that they will most likely be comparing your products or services to those of your competitors.
Every eCommerce buyer has a critical question: "Why should I buy from you rather than your competitors?"
Determine your brand's unique value proposition and present it to potential customers to answer this question.
It can refer to particular benefits such as how your product is eco-friendly, cost-effective, includes speedy shipment, or using it is easier and more convenient.
When designing your value proposition, keep your buyer personas' needs and wants in mind.
5. Create A Visual Style
Your brand's visual identity is crucial in the world of eCommerce. It is one of the factors that will set you apart from competitors in your market. There will always be many other companies in your business, no matter what you sell. So if you are distinctive in one glance, you will be more recognized.
Consider any way you can use graphics to stand out and create a familiar sense anywhere your consumers may interact with your brand. So that anytime a customer sees one of your items, they know it's from your company.
6. Original Content
One of the first steps to developing an eCommerce website is to create content for it. Creating high-quality and unique content will set you up for success because it will engage your customers to tempt them to interact with you, buy from you, and follow you.
Promoting unique content is one of the best eCommerce strategies that enable you to leave a lasting impression on the user's mind.
Why not take an extra step, put in a little effort, and produce something exciting? It's a long-term eCommerce strategy. A few well-written pages can drive income for years.
If you're ever stuck for ideas, talk to your consumers. Use a user feedback tool offering pop-up chat messages to ask, for example:
What are you looking for?
What do you want to learn more about?
What are your concerns?
What brought you here today?
Create Content To Generate Backlinks
Let's explain this with an example. Death Wish Coffee uses its blog to cover a wide range of coffee-related subjects.
Its content ranks high in Google for coffee-related terms such as "how to make coffee," "how to use a coffee maker," and "how to drink coffee black." As a result, they can increase traffic and brand awareness.
Having your blog rank for industry-related topics provides benefits beyond increasing traffic to your blog. By giving excellent content, you may also gain backlinks, which will increase your domain's authority and ability to rank for keywords with buying intent.
7. Content Marketing
Content marketing is an excellent method and one of the most effective eCommerce strategies for growing your business.
Content marketing is developing content specially designed to attract customers and is promoted to get their attention.
Develop a list of all sorts of content you want to create, brainstorming with your teams, such as blog entries, videos, newsletters, podcasts, and infographics.
You can also generate content based on Pareto's 80/20 rule, which states that your content should be 80% informational and 20% promotional. Moreover, all of the content you create should be relevant, engaging, and one-of-a-kind.
8. Optimize Your Website's Layout
Following the launch or redesign of your eCommerce site, it is important to test the layout, tone of voice, and positioning of key components. In addition, when clients visit your website, you want to make sure it's quick and straightforward to check out, that they're naturally motivated to buy your products, and that it's obvious how to do so.
You should test the tone of voice used on your landing and product pages, as well as the one used in your conversion elements. Moreover, check if the icons and elements are positioned strategically. You may use a variety of usability testing methods to do this. WatchThemLive's heatmap service, for example, displays useful patterns in client activity on your website based on visitors' clicking activity data.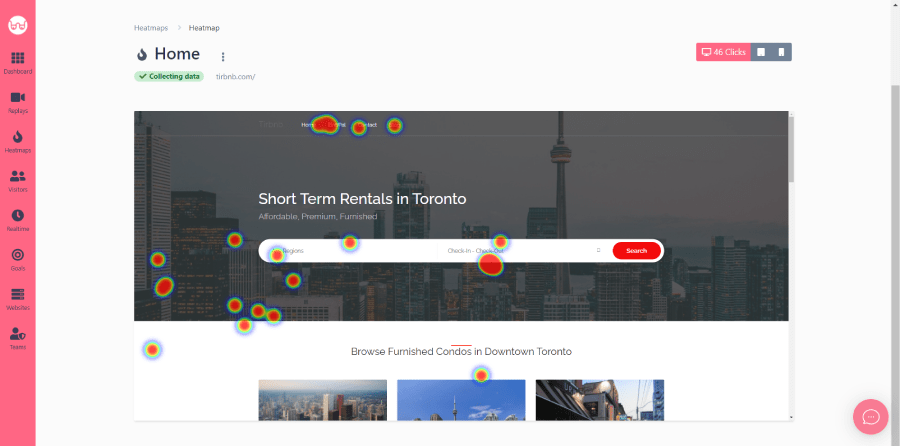 Heatmap's color will show you where your clients spend the most and least time! If a specific region of your website receives greater attention, try relocating your conversion elements to those more places to enhance click-through rates (CTR).
You should also use a tool for conversion funnel analysis and optimization. You may use this to assign pages on your website to a funnel and assess how people move through the journey.
Certain pages and funnels will perform better than others. You may also watch session recordings of users who dropped out or converted to better understand their experience.
Want to try out WatchThemLive's Session Replay and heatmaps to boost your eCommerce sales? Sign up now and get started.

9. Social Media Marketing
Social media marketing is one of the most effective eCommerce strategies. It enables you to interact with your industry, customers, and market on a personal level, but also publicly. As a result, you may use social media to increase interaction, drive visitors to your website, and build a larger consumer base.
Using several social media channels for various objectives also offers a strong presence for your firm, diversifying your abilities and efforts. This will eventually assist you in catering to your consumers' demands in a way that will help your company grow over time.
Maintaining a consistent tone and brand personality through social media is critical since consistency is what builds trust among your audience.
10. Offer Subscription
With the growth of eCommerce subscriptions, you have a big chance to develop your business and create recurring revenue.
The best thing about repeat business is predictability. When you know how many clients are paying for recurring plans, you can safely begin employing, spending money, and expanding your firm.
Consider what you may give clients on a recurrent basis before using this eCommerce approach in your firm. Here are some examples:
If you own a clothing business, consider offering a monthly accessories package.
If you own a florist shop, consider offering a weekly flower delivery membership.
If you have a travel eCommerce firm, send a guidebook for a different area or a souvenir from a new country every month.
11. Try Delivery Promotions
According to Statista, shipping prices cause 60% of shoppers to abandon their online shopping carts. Unfortunately, that's how serious shipping expenses may be for anyone running an internet business.
If you're not careful about how much you charge for shipping, you may be losing thousands of dollars in sales without even realizing it. Overcome this risk by offering free or reduced delivery expenses.
Here are some tips to make this work:
Try free delivery as a limited-time offer to see how it affects your sales and earnings.
Offer free shipping solely to those who create an account in your store.
To motivate customers to spend more, provide free delivery if their order meets a certain amount.
12. Use Urgency To Encourage Action
Limited availability is one of the best eCommerce strategies to boost sales. According to Sumo, scarcity may increase sales by up to 226%. Why? Because we hate losing.
Take Amazon Prime Day, a 36-hour sales event held each July.
Amazon sold more than 100 million products and exceeded $1.5 billion in sales with limited-time and limited-stock offers, making Prime Day 2018 the most important sales day in Amazon's history.
13. Add Reviews And Ratings
According to eMarketer, product reviews can help you sell expensive items. Positive evaluations are the most crucial factor in making users pick a higher-priced choice.
Consumers want to know that they can trust your brand and that your goods will provide precisely what is described on your sales page before they part with their money.
Reviews are the most effective way to establish trust.
On the other hand, customers aren't always open to giving feedback. So in most cases, you must put in the effort to receive feedback.
Amazon, for example, sends follow-up emails after each transaction, pushing buyers to post product reviews.
Once you've collected several client reviews, put them to good use by displaying them across your website, especially on product pages.
14. Create Offline Experience For Customers
Despite the numerous benefits of eCommerce for consumers, many still prefer to purchase in person. In addition, there's still a clear preference for shopping in physical locations for most product categories.
You may be an online firm, but you can also provide excellent service to your consumers in person.
According to Popup Republic data, the pop-up store industry has risen to more than $50 billion in sales. (Source)
You might look into running a pop-up store in your neighborhood to raise some awareness about your company or meet some of your clients in person.
If holding an event in a physical place isn't your thing, consider other ways you might provide unique offline experiences for your clients. You can make a catalog to send to your clients. For example, customers of the online soccer shop Pro Direct receive a yearly Boot Bible.
15. Make Your Clients Feel Special
According to Amy Gallo in HBR, depending on whose research you trust and what industry you're in, getting a new client is 5 to 25 times more expensive than maintaining an existing one.
Offer Exclusive Sales
You'll need to attract customers to return to your store if you want to establish a successful eCommerce business. One of the most effective eCommerce strategies to do this is through exclusivity and the development of unique offers and discounts for your current consumers. What's fantastic about this is that you already have information on your existing consumers.
According to an Accenture report on tailored shopping experiences, 59% of users prefer to get promotional offers for things they seriously consider buying.
A personalized sale, offer, or product recommendation will be received far better than a general message delivered to your whole consumer base.
Amazon, for example, may offer you tailored product recommendations based on your purchasing history.
Consider how you can create an eCommerce strategy that rewards existing consumers and keeps them coming back for more.
Packaging
Consider how you may improve your unboxing experience if you want to make a fantastic first impression every time a consumer gets one of your products.
Great packaging can help convince your clients to buy from you again.
Build A Loyalty Program
As earlier said, keeping a client is far less expensive than obtaining a new one. This strategy helps to keep your clients coming back.
A customer loyalty program helps to maintain your customers by providing:
Discounts
Giveaways and free items
Coupons and vouchers
Early product access
Content and sales that are unique
For example:
Customers who join up with "My Starbucks Rewards" will earn:

Drinks on the house
Special discounts on popular goods
Early access to the newest items
With its mobile app, you can pay quickly and easily.
These things motivate people to go back to Starbucks instead of checking out other coffee shops.
Launching a loyalty program is not as hard as you would think. If you're eager to get started with this plan, the most critical questions to consider are:
What would you reward your consumers for?
This will involve making purchases in most situations, but you may also consider using rewards for bringing friends, posting product reviews, and other acts that assist your business.
What will be your rewards?
You may give away free items, provide discounts on future orders, or provide free delivery for a limited period.
This list is endless, but it's critical to provide something that:
Makes financial sense for your company
Inspires your customer to join up
How are prizes redeemed?
Customers must actively collect their rewards, or will they be activated automatically?
16. Optimize Your Product Description
Product descriptions are an important part of eCommerce success that is sometimes forgotten. It's simple to add a new product to your store, put together a quickly written description, or duplicate the manufacturer's description. But please do not. Just because most product descriptions are poor doesn't mean yours should be too. In fact, this implies you have a big chance to stand out.
Your product descriptions allow you to provide information about product features and specifications to assist customers in answering their questions. Nike does this very well.
Consider the following ideas while writing product descriptions:
Write proper subheadings.
To draw attention, use bullet points.
Increase readability by using larger font sizes.
Provide videos and images for your goods.
To make the description more readable, pay attention to white spaces throughout the content.
Along with your explanations, it is also critical to include high-quality images. A sale may be made or lost by the visuals. So have as many photos from various angles to help your clients better understand your products.
17. Run Retargeting And Remarketing Campaigns
Many visitors to your online company will not make a purchase the first time they visit. About 69% of online shoppers abandon their shopping carts. (Source)
To recapture their attention and remind them about their incomplete purchase, use retargeting advertisements on other websites or social media platforms to highlight the items or services they were previously interested in.

18. Optimize The Checkout Process (Fast Checkout)
Customers will have the greatest experience if they can check out and pay quickly. Conversely, a poorly constructed checkout procedure can result in a high percentage of cart abandonment.
Make sure that the checkout process is as simple as possible. Provide a quick sign-in option via different social media for a more pleasant experience, and don't demand numerous pages of form filling. Allow consumers to view what's in their virtual cart and make it simple to make last-minute changes.
ASOS allows users to register with an email address, Facebook, Twitter, or Google account.
They also have a one-page checkout that includes billing address, delivery address, delivery type (such as standard or faster delivery options), and payment details (including PayPal), which makes for a highly efficient checkout.
Some websites, such as JohnLewis, allow customers to check out as a guest while also allowing them to register an account later.
In fact, research by Baymard returned the following reasons for abandonments during checkout. As you can see, asking to create an account is the second reason people left their carts.
Here are the main reasons why consumers in the United States abandoned their orders during the checkout process in 2021:
19. Identify Upselling and Cross-Selling Opportunities
Upselling is one of the most successful eCommerce strategies used to get a customer to spend more by buying an upgraded or premium version of what's being purchased.
For example, upselling happens when an airline provides the cheapest travel alternatives while simultaneously presenting you with the more costly trip options with more benefits. (See below)
It is a good idea to display side-by-side comparisons so that the buyer can compare the features and value of the more expensive alternatives.
On the other hand, cross-selling is a sales tactic used to urge a consumer to spend more money by making a purchase related to what they are currently buying. According to reports, Amazon owes up to 35% of its sales to this method.
Here are some examples of phrases used for cross-selling:
"Customers who bought this item also bought this"
"Frequently bought together"
"Related items"
This strategy can be used on the checkout pages and in the follow-up emails. This is an excellent way to boost income while improving the client experience.
20. Offer Instant Discounts to New Customers
How many people visit your website and then leave within a few seconds without making a purchase? My guess is that it's 90% or more.
You may believe there is nothing you can do to persuade customers to buy from you.
According to a study from Sumo, a flavored water company, shows this pop-up for new visitors.
This pop-up has received almost 49,000 email addresses, and the 15% discount has been redeemed 5,239 times, resulting in a stunning $335,288 in sales.
Consider how you could capture your visitors' interest and convert them into a lead – or, even better, a straight sale.
21. Email Marketing
You are losing a lot of money if you have an online business, and your business plan doesn't include email marketing. Instead, use the sign-up form to gather emails and provide something in return, such as a discount code.
Just be sure to check with the customer to know if they are happy to receive emails. Otherwise, your email ends up in the email spam folder, which is terrible for your brand.
Sign-up forms should be included at the end of your blog articles or buying guides. If the visitors like the content you present to them, they will want to stay in touch and get information about news, discounts, and promotions. So, they will be interested in leaving their email addresses. Also, as a part of the checkout process, include an option for the customer to join your mailing list.
22. Optimize Your eCommerce Site for Mobile Devices
One of the most critical eCommerce strategies is to ensure that your website is adaptive to any user layout. Mobile users dominate internet usage, particularly in eCommerce, and it is crucial to meet their requirements to create a pleasant user experience (UX) for everyone.
Below you can see the most popular devices used to search the internet:
PC/Laptop
Smartphone
Gaming console
Tablet
The following Pixel Union statistics emphasize the significance of optimizing your website for mobile:
Mobile eCommerce sales will account for 54% of all eCommerce revenues by 2021.
70% of mobile searches result in an action within an hour.
67% of customers confess to "digital window shopping" on their mobile devices for fun, and 77% of those make impulse purchases.
According to Shopify, 69% of sales were made on phones or tablets during the Black Friday Cyber Monday weekend, while just 31% were made on desktop computers.
You must optimize your eCommerce site for mobile devices to provide your website users with the best experience possible.
Mobile Marketing
You may also use mobile marketing tactics to mainly target mobile consumers. For example, geo-targeting, which advertises to mobile users depending on their location, is one of the most popular marketing techniques. This strategy allows you to reach out to consumers within a certain radius of your business and provide them a reason to stop by or make a purchase.
Then, use geo heatmaps to evaluate the efficacy of your regional marketing. You may also use these geo heatmaps to plan which locations to target.
Moreover, consider multilingual marketing if you want to enter a new region. This will allow you to communicate with the audience on their own terms.
23. Explore Partnerships
Creating partnerships is one of the most effective eCommerce strategies to spread the word about your company and reach out to new clients.
To have an effect, you don't have to do anything about the size of the partnership between Marvel & Netflix. Partnerships of any size can provide results for your company.
Consider other firms that have audiences that are relevant to yours:
A local sports club might be a fantastic partner if you offer cool drinks.
If you provide car accessories, a local auto repair shop may be able to assist you in promoting your goods.
There will always be partners for you, no matter your niche.
24. Implement User-Generated Content
The concept of UGC (User Generated Content) is simple: Customers publish online material that is available to the public (video clips, images, reviews, and blogs) about your business, brand, or product on social media and other sites. Organically generated content provides an excellent opportunity for online stores. As you can see below, UGC may help you attract more leads to your website as part of your eCommerce strategy because this type of content is 9.8x more likely to affect people's purchase decisions than influencer content.
How can consumers generate content for you? Here are some helpful ideas:
Organize product competitions on social media and encourage people to share how they are using your products.
Ask customers about how they believe you can improve your product.
Include branded company hashtags in social media campaigns to inspire people who love your brand to share photographs with your product and tag you.
Try reaching out to new potential clients and see if there are any viral social platforms that you are not already using.
On your website, display customer images and quotes. This way, you will increase your customers' social recognition while increasing brand loyalty and trust.
25. Seek Advice From The Experts
Because no one can be an expert in everything, having consultants, advisers, training providers, and service partners you can trust and follow is one of the most critical eCommerce strategies. Ecommerce does not become easier with time. And winners are those who act on the best advice on strategy, tactics, and business growth.
Conclusion
The eCommerce strategies we've provided are only a tiny part of the options available to your company for reaching out to additional clients online. Every strategy in this post shows a concept that may be turned into a successful sale.
Analyze your website, test the eCommerce strategies we've suggested, and discover what works well for your company and what needs to be improved. You can also read about eCommerce optimization tips for more information.
Keep in mind that growth does not happen by chance. So take action and begin raising your revenue right away.
If you want your eCommerce shop to succeed, you must implement an efficient e-commerce marketing plan. Expecting to create revenue merely because you have an internet business is unrealistic.
You can try any of the eCommerce strategies mentioned in this article and use WatchThemLive services to track the impact on your website.
I hope you found the article helpful and that you now have some ideas for boosting your digital channels and platforms.