Before diving into defining customer experience marketing, think back to your last memorable customer experience. As a consumer, was the company helping you to solve your problem? Were they providing exceptional customer service? Were you satisfied with the service throughout the process of purchasing?
If all the answers are "yes," you are more likely to become a loyal customer and recommend that company to your family and friends.
Spoiler: One of the best possible strategies you (and especially site owners) can adopt is to build a marvelous customer experience is to create a flawless, bug-free user journey. After all, your website is among the most critical digital fronts and a key part of your revenue generation efforts. To create that class A site journey, you want to make sure it's highly optimized to automatically push users from one stage to another.
That's where an all-in-one conversion rate optimization software like WatchThemLive will come in handy. With a free account, you get access to your CRO lab and get to use a wide variety of CRO features like heatmaps and session recordings specifically engineered to help site owners boost their website conversion rates.
What Is Customer Experience Marketing?
Customer experience marketing is the technique of putting your customers at the center of your marketing strategies and trying your best to fulfill all your customers' needs. You want to improve how your customers encounter and interact with your products and services. To achieve such a goal, you need to consider every step your customers take, from their first interaction to having them as loyal customers.
Customer experience marketing focuses on satisfying customers by meeting their expectations, providing them with a pleasing experience, and positively engaging with them. There are many features you can use in order to perform better in customer experience marketing. For example, making use of features like session replays and heatmaps can also boost your marketing. Session replays are best used for a real-time recording of users interacting with your web pages and heatmaps can show how users interact with your web pages and which elements they click on the most. In this case, WatchThemLive offers the best session replays and heatmaps. Interested? Sign up now and see WatchThemLive's other great features!
What Is Digital Customer Experience?
Digital Customer experience refers to the total number of online interactions a customer has with your brand. In other words, the term can be used for any channel where the touchpoint is virtual; Including mobile apps, chatbots, and social media.
A good DCX should be fast, responsive, and frictionless to provide a consistent online experience and delight customers.
Successful Customer Experience Marketing Examples
Marketing and customer experience have become a crucial part of every business. Generally, buyers are more likely to pay more if they get a better customer experience. Here are some examples to give you a hint to build up your own customer experience marketing strategy.
1. Southwest Airline Happy Customers
Southwest American Airlines has a reputation for maintaining an excellent work culture to make their employees happy and comfortable. They believe having happy employees can lead to excellent customer service and being considerate of customers. 
Once, a man traveled to Denver to visit his grandson and got stuck in heavy traffic on the way to the airport. He could make it to the airport 12 minutes after the plane was scheduled to take off, but the pilot decided to wait for the man.
2. Coca-Cola's Share a Coke Campaign
In 2011 Coca-Cola added the phrase "share a coke with" followed by a person's name. The result was massive consumer popularity and a considerable increase in the company's sales.
It became this popular by turning it into a super personalized and shareable customer experience.
3.Insomnobot3000 Artificial Intelligence
Insomnobot uses a chatbot that is only active between 11 pm and 5 am. The bot may give you some advice or start a conversation. Another thing about the bot was its ability to collect data such as email addresses and phone numbers to send promotions and product information.
Adding Al chatbots wisely and making a data bank of your customers can give you an excellent hand for your future advertising.
4. McDonald's Store Overhaul
In its latest upgrade, McDonald's introduced digital self-order kiosks and table services to help people not stand in long, time-consuming queues. In doing so, McDonald's showed its understanding and responsiveness by respecting people's precious time and has elevated its overall customer experience.
5. The Toronto-Dominion Bank Appreciates Customers
The TD bank developed a customer appreciation campaign to thank customers by giving them money. Later, the bank created a TD Thank You account where customers received personalized thank you messages on their phones or ATMs.
You should appreciate your customers by having new offers for them and developing an emotional connection, which can increase customer loyalty and brand credibility.
Customer Service Vs. Customer Experience Marketing
Customer service and customer experience marketing are different and usually mistaken. In short, customer service is when a customer requests help or ask for a refund. So it is all that happens after a customer's purchase. However, customer experience is the whole customer journey starting with the purchase and going on even after the purchase is over. So we can conclude that customer service is a part of the customer experience.
Why Is Customer Experience Marketing Important?
Customer experience marketing is essential to all businesses. When customers have a positive experience with your company, they are more likely to advocate your brand. Having customers who are promoting your brand can result in more customers, higher revenues, and brand loyalty.
Strategies to Increase Revenue
Revenue is the amount of money a company makes; It could be the income from sales or any other additional income such as bank interest. To increase a company's revenue, you need to increase its sales and add sources of income. We have listed ten strategies here:
1. Consider Your Customer's Journey
Not many customers would make a purchase as soon as they find out about your brand; normally, they start interacting to learn more, and if your brand could satisfy them, they decide to convert. So, you need to consider every single aspect of your customer journey and do your best to create a better experience to convert leads to conversions. You can then optimize your website pages and provide users with what they need to know in order to convert to loyal customers.
2. Understand Customers' Preferences
Visitors will convert to customers if they can meet their needs, not what you need to sell.
They need to get what they want, in their preferred way and time. You first need to understand what your customers are looking for, provide it for them and then use the data you have gathered to provide customers with what they want sooner than they expect.
3. Link Marketing Analytics with Product Analytics
You should ensure that you are bringing in data on how your customers interact with your software product into your CRM. You want to tailor your customer communications based on their behavior. You should also see if any customer has stopped logging in after a period of frequent use, and make sure you haven't lost any. Additionally, if there was a drop in your customers' participation, you may need to look for the reason and offer them something so they will get back to you.
4. Give Customers a Voice
Your customer feedback is valuable data and you should use it to shape your marketing strategy. For sure, you run surveys to gather data, but remember to include open-ended questions and if you are running a multiple choice test, add an "other" box for those who have something more to tell. Let your customers talk, and you just try to be a good listener.
5. Respond to Customers ASAP
When you receive a call, email, or any kind of message from your customers, respond immediately. They probably need help or are ready to make a purchase, but they need information. Never make them wait! Your customers belong to this digital era and expect responses in real-time. If you can't give them what they expect, they will turn to your competitors for a faster response and service.
6. Automate Where Possible
With automation, you can reduce cognitive load. There are many steps in the customer journey that can be done without human involvement; for instance, you can set automated reminders, scheduling, feedback requests, etc. The more you utilize automation for the basics, the more time your staff has to make a personal connection with the customers. This is a smart way of improving the overall customer experience.
7. Analyze Customers' Behavior
Never underestimate the impact of analyzing your audience's behavior on your website. You can analyze your audience and see if they have dropped out of your sales funnel or not and take a look at their interaction with your website.
You can use website analytics and session replays to track your audience's behavior on your website. As a result, you will be able to improve your website pages and understand what the best strategies are for delivering a better customer experience. WatchThemLive has the best session replays and website analytics you could ask for. Sign up here and seize your FREE plan!
8. Implement Customer Satisfaction Surveys
Customer satisfaction surveys and reviews will give you a better understanding of your customer's feelings about your brand, products, and services. They can help you to identify areas of improvement for a better customer experience. You may want to ask customers to fill in a satisfaction survey or leave reviews. After a couple of days of your customers' purchase, you can send them a thank you email and ask them to leave feedback on your website.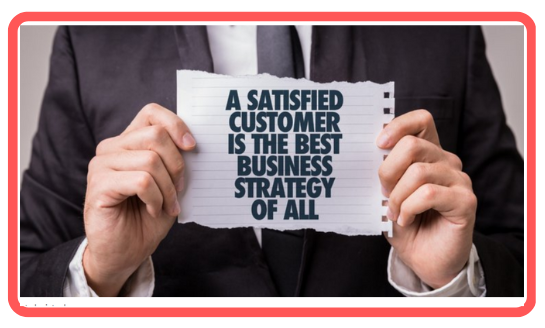 Conclusion
Here in this article, we have defined the term "customer experience marketing" and shared strategies to improve your revenue. For good customer experience marketing, you must follow a customer-centric approach and develop new ways to grow your business. To achieve such goals may need to use customer experience analytics to collect customer feedback and analyze what boosts this process.
Keep in mind that happy customers will come back, increase brand awareness, and are probably the best advertisers for your business. Put customer satisfaction as your number one priority.
With the help of tools like WatchThemLive, you can track and analyze your customers' behaviors. Sign up and start optimizing your customer experience.