Bugs. Little nightmares, lurking in the shadows and waiting to jump in your hair when you least expect them. That's the kind of experience no one wants to go through. The scary part is, you're not safe even in the comfort of your computer! Bugs are everywhere and platforms such as Bugsnag help get rid of them.
Facing bugs anywhere on your platform is nothing new, and developers are always trying to find ways to identify and fix them as soon as possible. You can use different methods to identify errors and bugs your customers face when using your software. For example, using session replay tools is the best strategy for business owners who want to point out their flaws, and provide a healthy platform for their users!
WatchThemLive is an excellent solution for every online business that wants to optimize its conversion rate and deliver a bug-free experience. As an all-in-one CRO tool, WatchThemLive guarantees a drastic boost in your revenue, and keeps you company every step of the way.
So make sure to sign up today and claim your free plan!
What Is Bugsnag
As we mentioned earlier, you can use different website analytic tools to better identify pain points, and track and fix any miscalculations. Bugsnag is an error and stability monitoring software. It monitors app health and helps build a better, more efficient platform.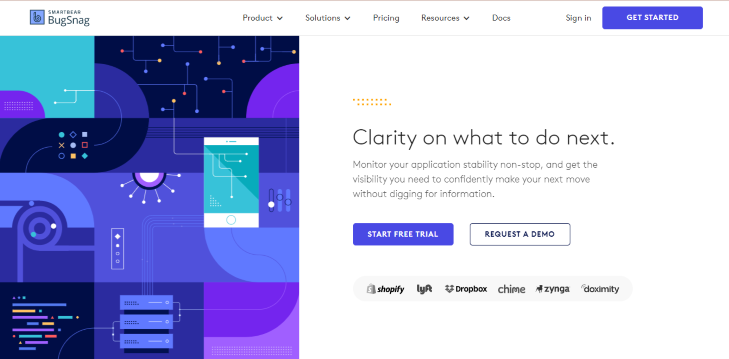 Using this tool, you'll be able to make data-driven decisions on how to operate your business, when to introduce new features, and where to put your focus with observability insight to enhance the purchasing process.
Bugsnag runs end-to-end diagnostics for errors to find crashing lines of code. In addition to that, it will prioritize bugs with the most impact on your software so that you can fix the ones worth fixing.
How Does Bugsnag Help Your Business
Customers are the heart of online businesses, and we all know how important it is to provide the best customer journey to keep them engaged and satisfied. In that matter, UX analytic tools are a great advantage as they can ensure a smooth and straightforward conversion funnel.
Bugsnag takes another approach and optimizes customer experience by monitoring your application, providing insight into the errors and bugs, and improving the stability of your software.
Bugsnag Features
As an error monitoring platform, Bugsnag offers different features to help you identify any glitches. So in the following, we'll introduce Bugsnag features and let you decide whether this tool suits your business. After that, we recommend other Bugsnag alternatives so that you have a wide variety of options!
Stability Management
So, how exactly do you stabilize your app? If you already know the answer, you're probably familiar with the effect debugging has on stabilizing your platform and optimizing your marketing plans.
Bugsnag allows you to track your app stability, and intervene when it drops. With a proper stability management technique, you can better decide whether your team should focus on launching new features or prioritize fixing existing bugs.
Retracing user actions leading to an error is also possible with Bugsnag. You can let your team know whether their debugging activities are paying off or not, and determine if a new release has introduces new bugs with real-time error visibility.
Bugsnag supports source maps, dSYMs, and ProGuard which allow them to provide a readable stack trace from minified or obfuscated source code. But you can't see what your customers see on your website, so in some cases, you might miss a few important details.
So what's the solution? How can you maximize the efficiency of your app or website?
The answer is simple: WatchThemLive! This tool is always our recommendation to business owners who want to increase their revenue and enhance their customer journey. WatchThemLive is an excellent behavioral analytic tool that offers valuable insight into who your customers are, and how they interact with different elements of your website.
WatchThemLive has many great features to help you better understand the motive behind your customers' actions and purchases so that you can build your sales funnels accordingly, and avoid any guesswork. So let's get familiar with WatchThemLive features!
Session replay. This feature allows you to monitor your platform through the lens of your customers. You can see every action your customers take throughout your website, identify any possible bugs, and trace them back to their starting point.
Heatmaps. The best way to understand where your users scroll or click on most is by using heatmaps. They present crucial data visually and show you the most engaged parts of your website with warm colors. The warmer the color, the more clicks it got.
Goal tracking. Using WatchThemLive, you can set your desired goals and keep track of every step you take toward it. By doing so, you can have a deeper insight into what you need to do to reach the best possible outcome.
Visual live chat. This is another unique service that WatchThemLive provides and is extremely helpful when it comes to debugging your platform. With this feature, you can access the real-time session replay of users who reach out to you using live chat. Therefore, you can exactly see where and how they're facing errors or problems.
Video testimonials. Ask your customers to share their feedback about your products or services through WatchThemLive video testimonials. After that, you can share the videos on any platform and show the world how happy and satisfied your customers are!
Another advantage that makes WatchThemLIve stand out from other competitors is fair pricing and a freemium plan! So make sure to sign up today and start optimizing your website right away!
Search and Segment
The truth is, not every bug or error is worth spending time on. Bugsnag allows you to search and segment errors by attributes, the number of occurrences, or SLA.
Another interesting Bugsnag feature is its ability to segment errors by subscription tier for VIPs and key customers. Using this service, you can deliver exceptional customer experience.
Stability Score
We've already talked about Bugsnag stability management. It's time you learned how Bugsnag allows you to measure app stability through simple colors and scores!
By going over these reports, you can compare your releases, have a better understanding of your progress, and enhance your retail customer experience.
Integrations
Bugsnag integrates with more than 40 platforms so that users can access the tools they need easier and build more effective conversion rate optimization strategies
Bugsnag Pricing and Plans
Now we get to the good part! Bugsnag has a pretty simple pricing structure, and you can find your way through it.
There's a free plan with 7.5k events and 1 sit per month, which can be limiting for some businesses. If you want to upgrade this plan to 150k events and 5 seats monthly, you'll be charged 39$ per month.
The standard plan also offers 150k events and 5 seats per month, but the difference is that it's more suitable for mid to large-sized businesses. It's 76$ per month, but if you want to upgrade it to 450k events and 15 seats per month, the price will increase to 263$ per month.
If you're looking for a more customized plan, you can contact their sales team for the enterprise plan.
Here's a picture of the Bugsnag pricing page.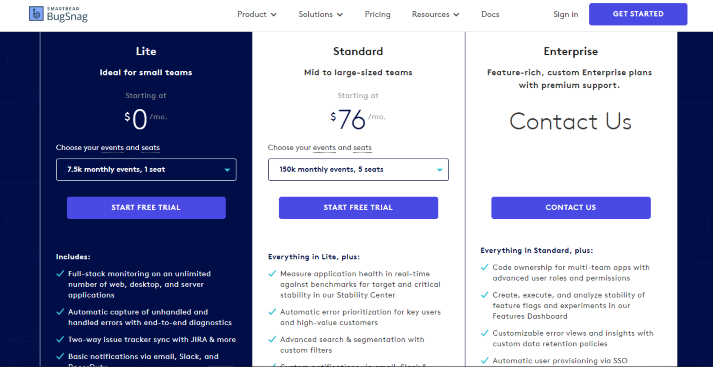 Bugsnag Pros and Cons
So far, you've learned about Bugsnag pricing and features. Now it's time to see what are its advantages and disadvantages to determine whether it's a good bet.
Bugsnag Pros
Offers a 14-day free trial, and a free plan,
Intuitive dashboard,
Easy to navigate UI.
Bugsnag Cons
Undeveloped survey support,
Can be expensive when upgrading your plan,
Sometimes the stack trace doesn't give you the full trace, enabling users to find the source of the error.
Bugsnag Alternatives: Which One Should You Choose
There are many different platforms that you can choose from if you can't find your desired features in Bugsnag. So here's a list of top Bugsnag alternatives! First stop: Bugsnag Vs. Sentry. So keep up!
Sentry
It's an app monitoring platform that provides answers regarding your crashing codes and errors. Using Sentry features, you can identify and fix any miscalculations, and offer a healthy, responsive app to your users as it's one of the key factors that influence your conversion.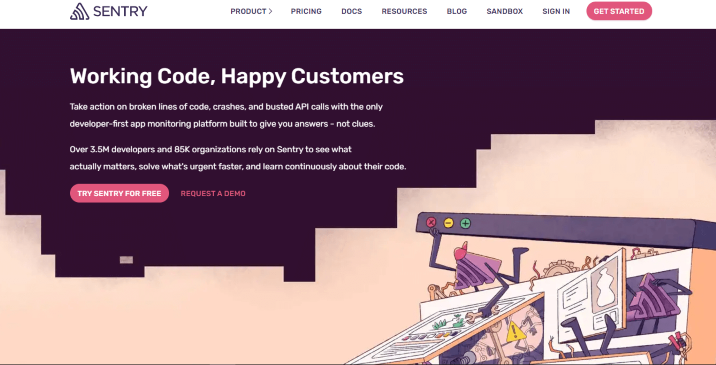 Here's a list of Sentry features and solutions!
Sentry Features
Custom queries. You can build and share custom queries with your team to determine which line of code needs fixing and where your engineering team should focus on. You can also track release frequency, quality, etc. and segment errors by different attributes.
Application dashboards. They provide a visual representation of errors and transactions. You can have a clear view of the critical parts of your business.
Cross-project issues. You won't have to surf through different projects to find the issues you're looking for. You'll be able to view errors or issues across multiple projects in a single view.
Distributed tracing. You can find the source of each error and issue. In addition to that, you'll be able to learn about suspect spans, trace performance issues to poor-performing API calls, or slow database queries.
Track releases. By monitoring your releases, Sentry will show you exactly when your errors started occurring.
Breadcrumbs. They show you the events in which errors have occurred so you can fix them. Breadcrumbs don't collect any personal information so no need to worry about the privacy of your users!
Issue owners. Using this feature, you can set rules to determine which user or team should handle an issue. This way, your projects will be in the right hands.
Sentry Pros and Cons
So it's time to go over the pros and cons of Sentry and weigh one against another.
Sentry Pros
Offers a free trial,
Real-time alerting,
Range variety of supported platforms.
Sentry cons
Most users face a learning curve when they first want to use this platform,
Sometimes, Sentry's data are inaccurate for languages outside of Python,
The app crashes sometimes, and users don't find troubleshooting helpful.
Sentry Pricing and Plans
It was a tough battle between Bugsnag vs. Sentry, right? Now let's see how this software differs pricing-wise.
Just like Bugsnag, Sentry also offers a free plan and free trials. Their Team plan starts at 26$ per month, and the business plan is 80$ monthly. You can also contact their sales team if you want a more customized plan.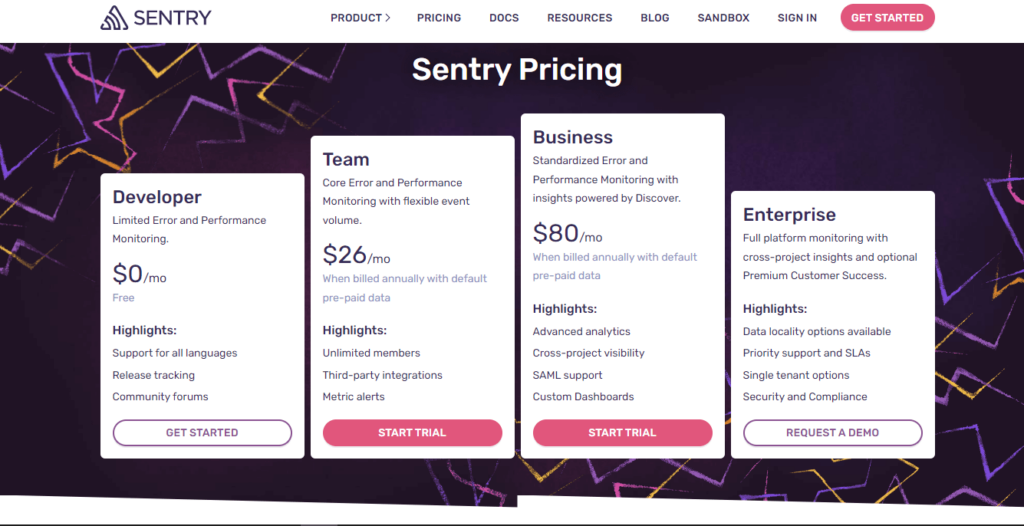 Now, who do you think is the winner between Bugsnag vs. Sentry? It's too soon to decide because we're about to introduce another Bugsnag alternative. So keep scrolling.
Rollbar
It's an error monitoring platform that provides real-time data to help you discover and fix bugs and issues before your customers face them.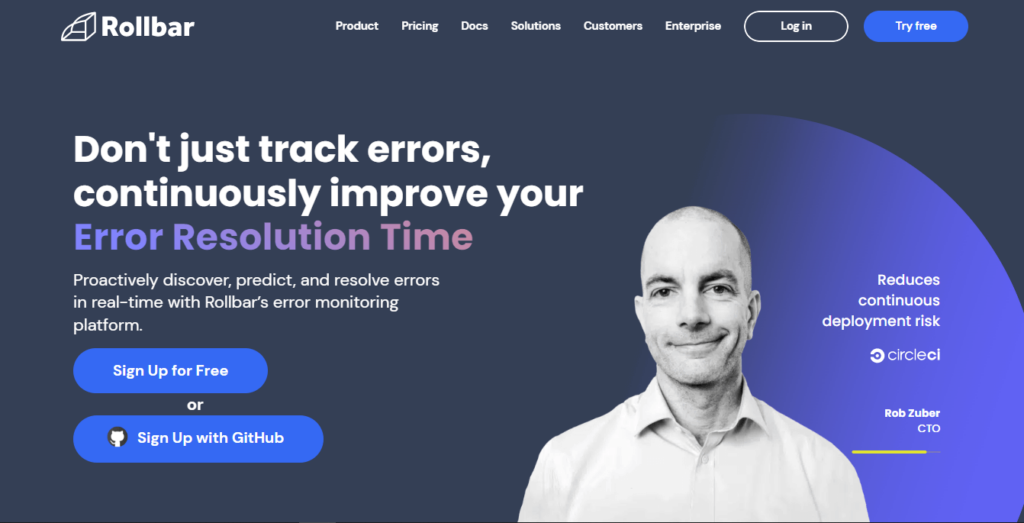 Rollbar allows you to turn errors into signals so that you can trace and resolve them more efficiently, and observe the impact of your issues with metadata.
Rollbar Features
Like how we did with Bugsnag and Sentry, it's time to show you the features and services Rollbar offers.
Real-time error reports. Stabilizing your app is much easier when you can access real-time data on your bugs and errors. You can also use intelligent filters to segment issues by framework, project, environment, similarities, or versions.
Prioritize. Know which errors and bugs are worth resolving, and which ones are not a priority. Rollbar can prioritize your issues and assign them to the right team. This software shows which errors are occurring to which users, how often they occur, and where they're coming from.
Rollbar provides you with all the code context you need to identify and fix any errors right away. It does so by showing you the exact line of codes that keep crashing so that you can fix the problem from the root.
Automation. Rollbar uses machine learning to identify issues and errors more accurately. This will take all the guesswork and replace it with reliable data.
Analytics. Bugs look harmless until you see a group of them. Rollbar allows you to analyze large amounts of bugs and errors to better understand the time you need to resolve them, and the number of customers impacted.
Rollbar Pros and Cons
Every platform has its pros and cons, and it's time to go over Rollbar's!
Rollbar pros
Easy to set up,
Easy integrations,
Allows you to monitor a variety of projects at the same time.
Rollbar Cons
The user interface is sometimes slow and laggy,
Grouping features should be improved as it sometimes puts different errors into similar groups,
Automatic results are not always accurate.
Rollbar Pricing and Plans
Fortunately, Rollbar offers a free plan with 5000 events per month.
The essentials plan is 15$ per month, offering 25k events monthly.
The advanced plan offers up to 100k events with 99k events.
Companies with enterprise requirements can contact sales for further customization.
Here's a picture of the Rollbar pricing and plans page.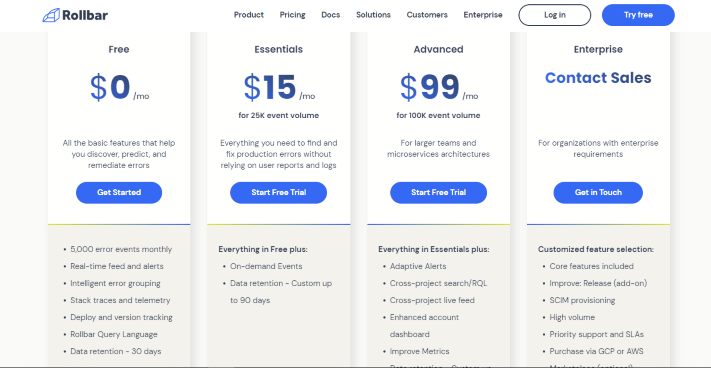 Which Software Is a Better Option for You
Digital marketing is an endless sea, and every business is unique. That's why software that works for a business might not work for another.
As every platform is different, and each one offers various features and plans, you need to have a clear understanding of who your customers are, what you offer, and what goals you have. Only then you can choose the software that suits your business best.
People Also Asked
We tried to answer all your questions regarding Bugsnag pricing, features, and alternatives. Here are a few frequently asked questions so that there are no vague topics!
Q1. What Is Bugsnag Used for?
This software monitors errors and bugs in your app and helps you identify and fix them. Developers can use Budgsnag to trace errors back to their roots and discover the crashing line of codes.
Q2. Who Uses Bugsnag?
Online business owners and developers who want to identify and resolve any errors and bugs on their platform can use Bugsnag.
Q3. Is Bugsnag Open Source?
Yes, Bugsnag supports open source community as it offers a free plan for users who want to start with error monitoring.
Final Verdict
Finding errors and bugs in your app is one thing, fixing them is another. Both can be a struggle for engineering teams. Therefore, platforms such as Bugsnag can be a good solution. With features such as stability score and management, you can offer a healthy app to your users.
But make sure to also pay attention to other aspects of your online business such as conversion optimization as it's the key factor of a successful app.
WatchThemLive offers great features such as session replay, heatmaps, video testimonials, visual live chat, etc. to make sure you always leave a great impression on your users and generate new leads more than ever!
So make sure to sign up and activate your free plan today!