UserZoom, formerly known as YouEye, is a UX insights system that promises to help you deliver a better user experience.
This platform is among many other UX analytics tools that try to improve your conversion rates, mostly by providing insight into what customers think and feel during their navigation on your website.
But, how successful is UserZoom in delivering its promises? How much does it cost? What are its Features? And is it the best option for your business?
In this comprehensive UserZoom review, we'll discuss everything about this UX analytics tool including its features, pricing, plans, pros, and cons. And in the end, we'll introduce you to the best UserZoom alternative, WatchThemLive.
WatchThemLive is an all-in-one CRO tool that provides you with everything you need to boost your website user experience. The best thing about this tool is its free plan which makes it a perfect option if you wish to stretch your budget and it only takes two minutes to sign up. So waste no time and start your journey.
What Is UserZoom
This platform is a user research tool that is broadly used by design, research, and marketing teams to create a better user experience and improve website design mostly through usability testing. This usability testing tool promises to help you with improving the digital experience of your website, application, and other digital platforms.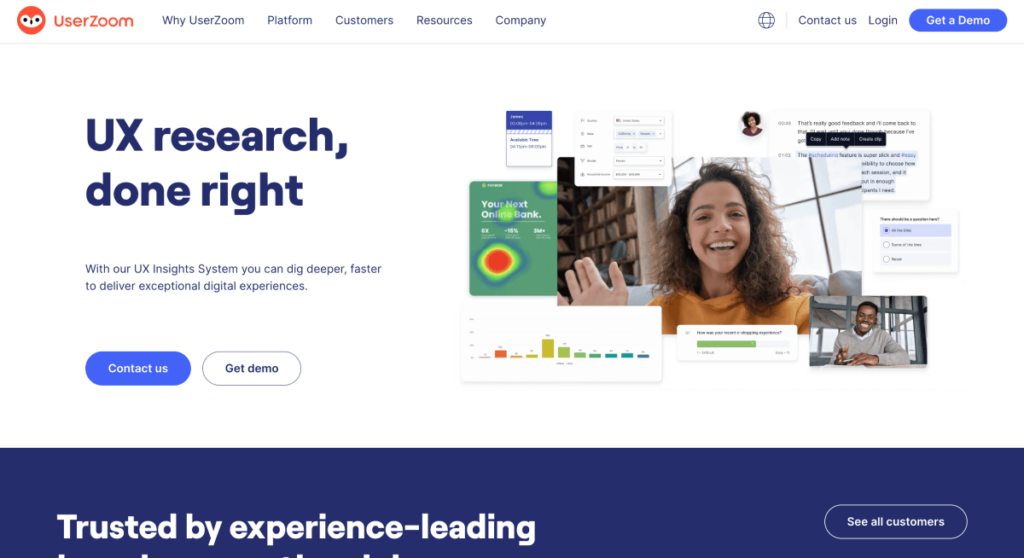 Moreover, it allows you to evaluate how real users experience your product. After all, everything about this CRO tool is related to usability testing.
UserZoom Go
Apparently, UserZoom Go, formerly Validately, is a solution that acts as a communication channel for talking and listening to users. With this service, you can run moderated and unmoderated studies and make data-driven optimization on your products. Furthermore, UserZoom Go enables you to interview the users who are testing your products.
But when we tried to learn more about this service, we found out that their website is down!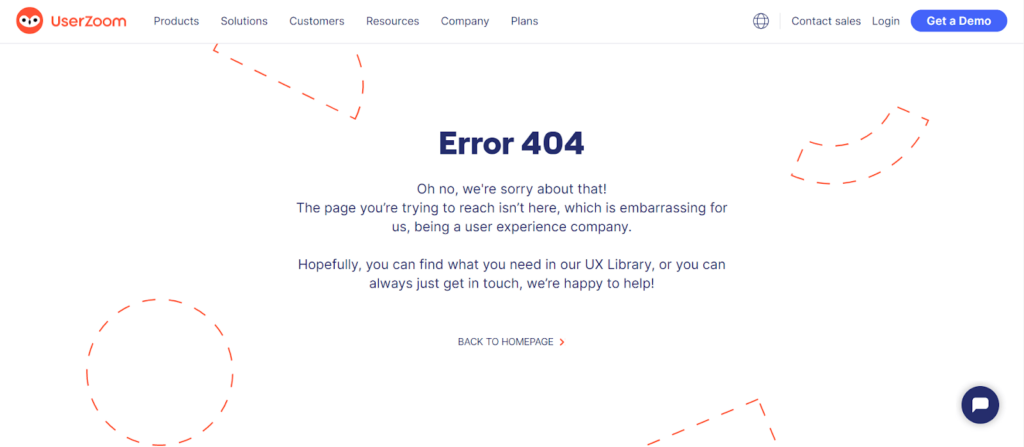 What's unusual about it is that it claims to be the best in many digital experience fields. I hope they fix the problem soon.
UserZoom Features
As a website analytics tool, UserZoom offers solutions that can be useful for product managers, researchers, designers, and marketers. These features include A/B testing, usability testing, survey & feedback, activity dashboard, and heat map tools.
UserZoom features enable you to:
Measure user experience,
Perform quantitative and qualitative research,
Get counsel from professional UX designers.
UserZoom Pricing & Plans
We searched every corner of the internet for UserZoom prices. But, they are nowhere to be found. This platform is very secretive about its prices. And according to UserZoom reviews, there is a high chance that you get surprised about how much it's going to cost.
Yet, if you want to know about their prices, you need to fill out a form and book a demo for the plan you intend to purchase. Then, you have to wait for a while so they accept your request.
UserZoom offers two general plans that we'll elaborate on separately.
UserZoom Quick Start plans
This plan is recommended for 'Individuals and small teams interested in gathering quick video-based feedback'.
Usability testing and live interviews are available in this plan. But, there is no news of surveys, click testing, and mixed-method studies (quantitative and qualitative research). And its click paths and heat maps require extra payment.
In this plan, It offers video analytics tools and auto-generated study results, but both of them come with limitations. And their support service is restricted as well. For an unlimited UserZoom experience, you should upgrade your plan to enterprise plans.
Enterprise Plans
This plan is suitable for teams and companies that want to research on a great scale and run multiple experiments rigorously. So, UserZoom's enterprise plan is not suitable for most of the eCommerce stores because it's designed for research teams.
All their heatmaps, click maps, demographic filters, surveys, click testing, and card sorting is available in this plan. They also dedicate a research partner to help you with data analysis.
It was much easier to decide which plan was a better choice if we could find out how much they would cost.
UserZoom Pros & Cons
Weighing up the advantages and disadvantages of any tool speeds up the decision-making process. There is a short list of UserZoom's advantages and disadvantages.
UserZoom Pros
Running free webinars about different subjects such as conducting research.
Advanced filtering for segmenting users that fit your demographics.
The ability to record and transcribe interviews with users.
UserZoom Cons
Their screening tool is a bit clunky.
Poor UI/UX design. It's kinda contradictory that they promise to improve your services' UX, but their own platform dashboard is suffering from confusing UI/UX.
This platform is expensive compared to other UserZoom alternatives.
Its pricing strategy is unclear.
UserZoom Reviews
What disappointed me most was these two reviews below. If you look at them, you understand that they are the same, which means you can't trust UserZoom's reviews on their website. I suggest that you read all reviews and try their free trial to make up your mind. Look at the reviews below. They seem to use fake reviews on their website!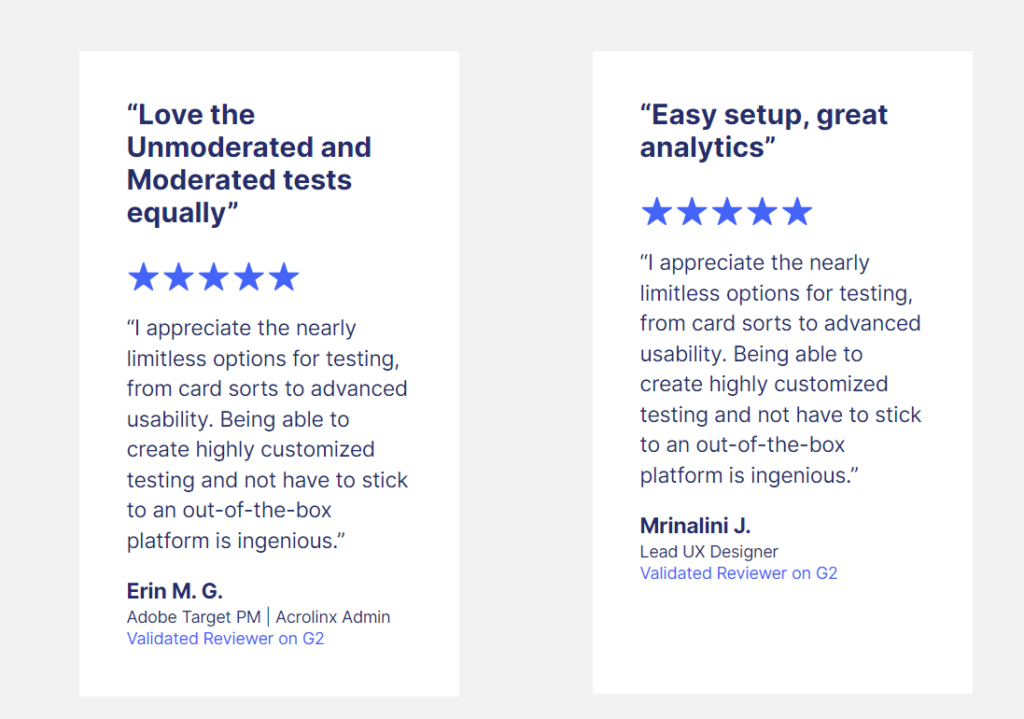 Now, let's take a look at what users like and what they don't like about this tool. This is what Nathan.B, product designer, said about this tool.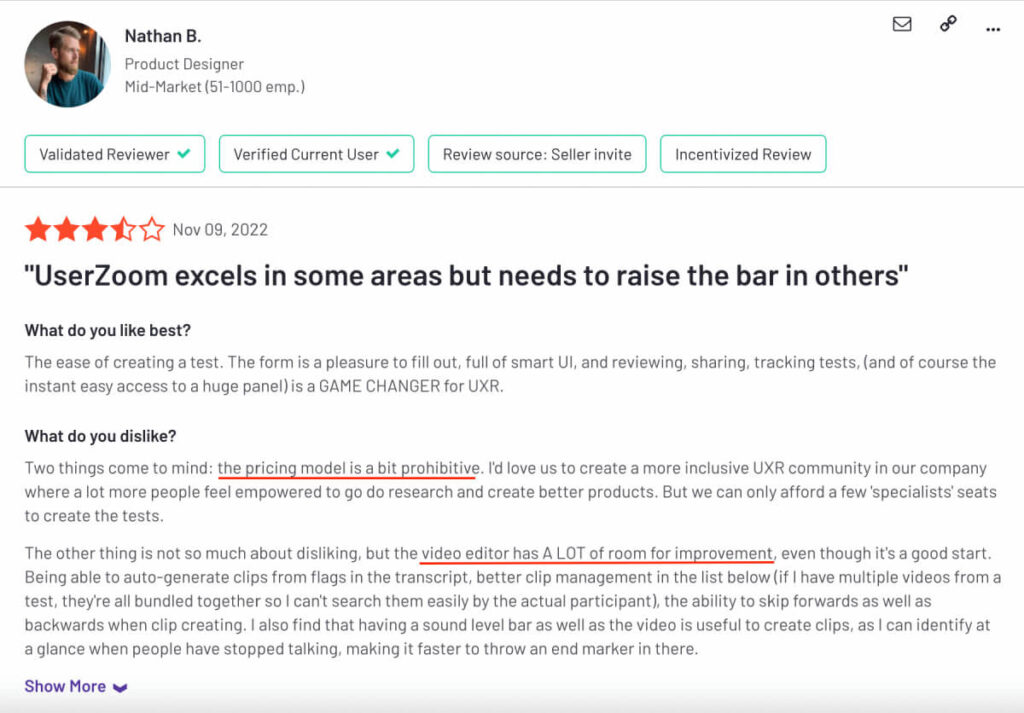 Guido. J also shares his view below: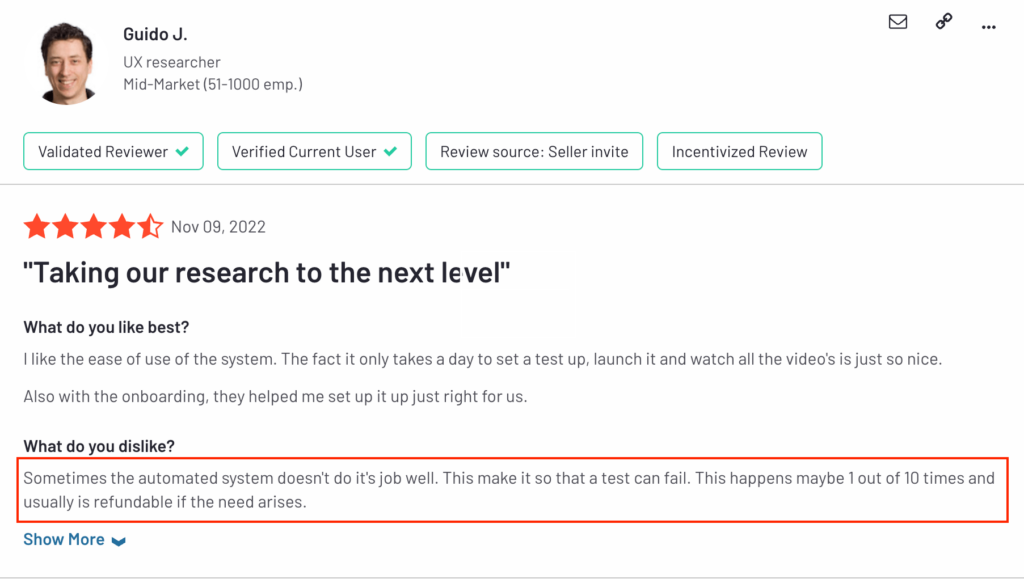 UserZoom Review: Final Verdict
Although UserZoom claims to stand out among its competitors by offering the useful features mentioned above, business owners are increasingly finding themselves confused and overwhelmed by its ambiguous pricing packages available to them. The lack of clarity in pricing packages is often confusing for those looking to purchase services or products online.
Furthermore, Since not all the features you need are offered in one single package, you may find it hard to choose the right plan for your business needs.
WatchThemLive: The Best UserZoom Alternative
WatchThemLive is one of the best behavior analytics tools that provide the same user experience as the popular UserZoom, but with unique features. WatchThemLive enables you to see your visitor's journey. Interesting?
For businesses, understanding who their website visitors are is essential for success. Knowing the characteristics of a visitor – such as demographic data and interests – allows you to tailor your content to meet the needs of the people viewing your site.
Through detailed analytics, WatchThemLive enables you to see your visitor's profile and provides analytics reports including IP, custom parameters, user status, total sessions, first session, last active, country, city, device, OS, etc. That's amazing!
With this data at hand, you can build a more comprehensive understanding of which viewers are most likely to become customers or supporters in the future.
On top of that, it's just the beginning. Below, we're going to explain more about WatchThemLive's features.
WatchThemLive Features
Our behavior analytics tool offers many features including heatmaps, session replay, visual live chat, and others. We are delighted to introduce some of its features below.
Session Replay
The concept of being able to monitor users' screens is a dream that has recently become true. Through the use of technology, businesses are now able to observe user behavior, measure productivity, and gain access to valuable data.
Session recording is a video from the website visitors' screen that allows you to monitor every move of your visitors to understand what makes them drop off or what makes them stay on your website.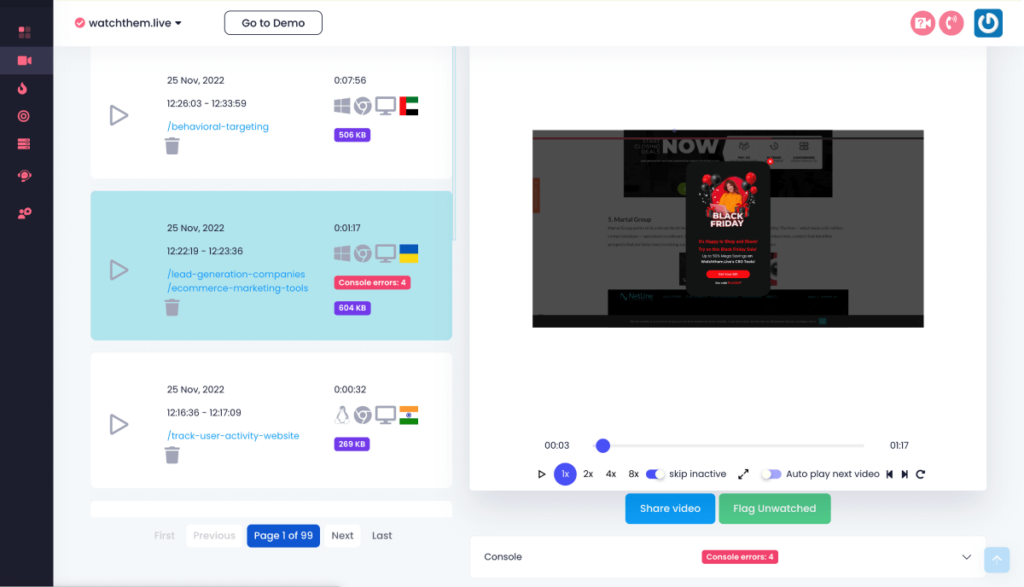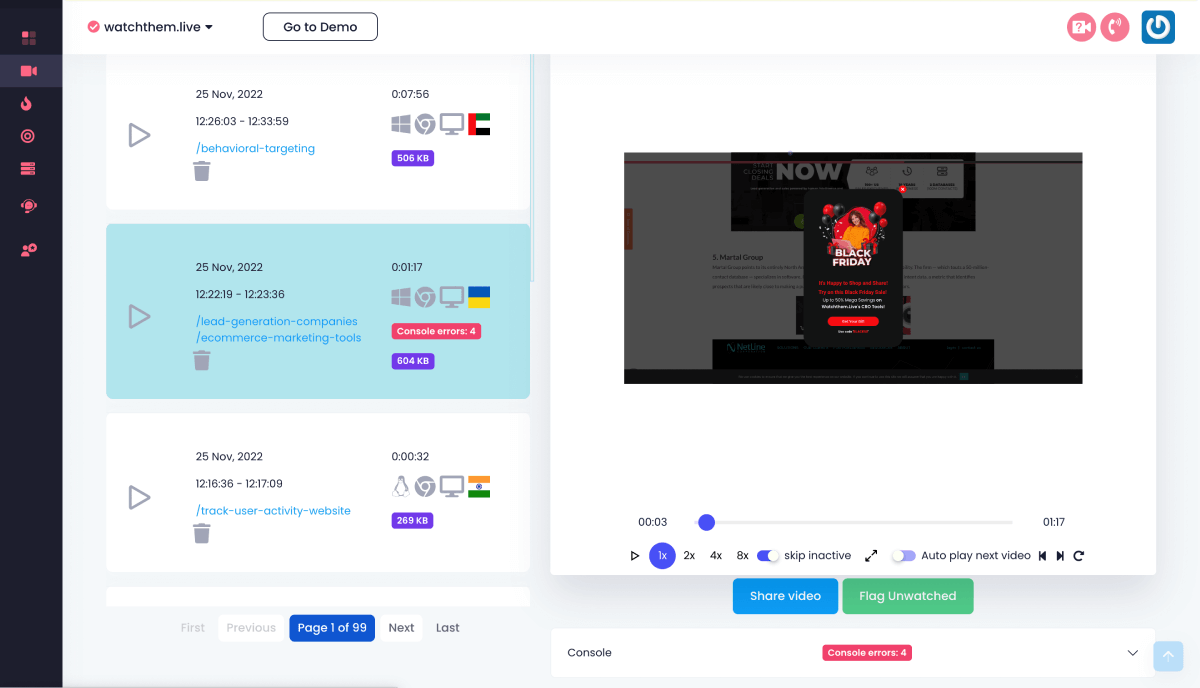 WatchThemLive's session replay has a console recording feature that allows developers to discover any errors and warnings in your user's browser.
Heatmaps
A heatmap collects all users' interactions and clicks. WatchThemLive's heatmap tool enables you to recognize the most and the least engaging areas of your website by using a scale of colors.
Besides its click heatmap, it offers a mouse-tracking tool that grants you permission to monitor your visitors and improve their experience on your site. You can also identify areas of interest and confusion for users as they navigate a page.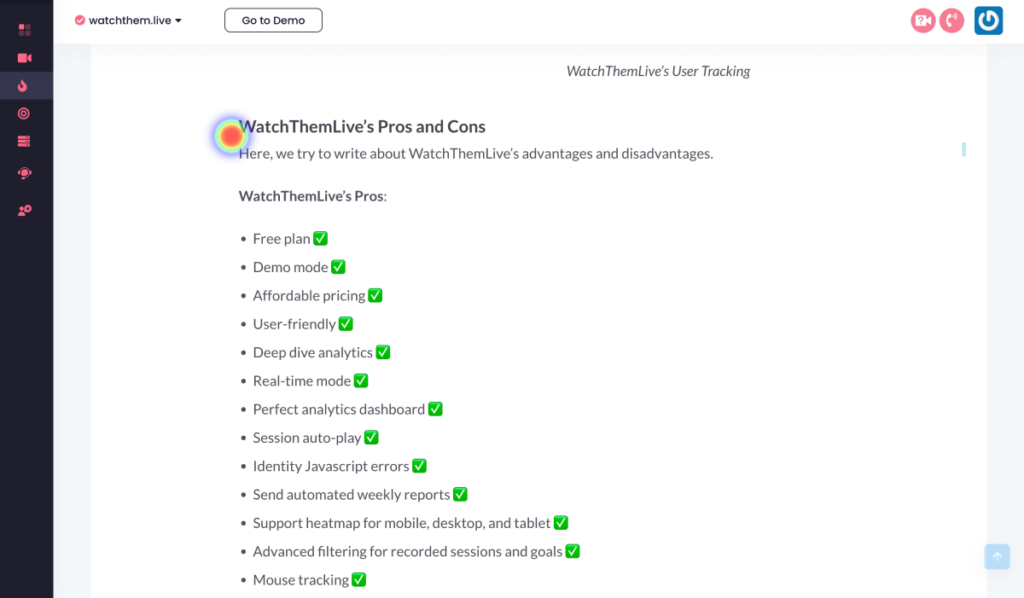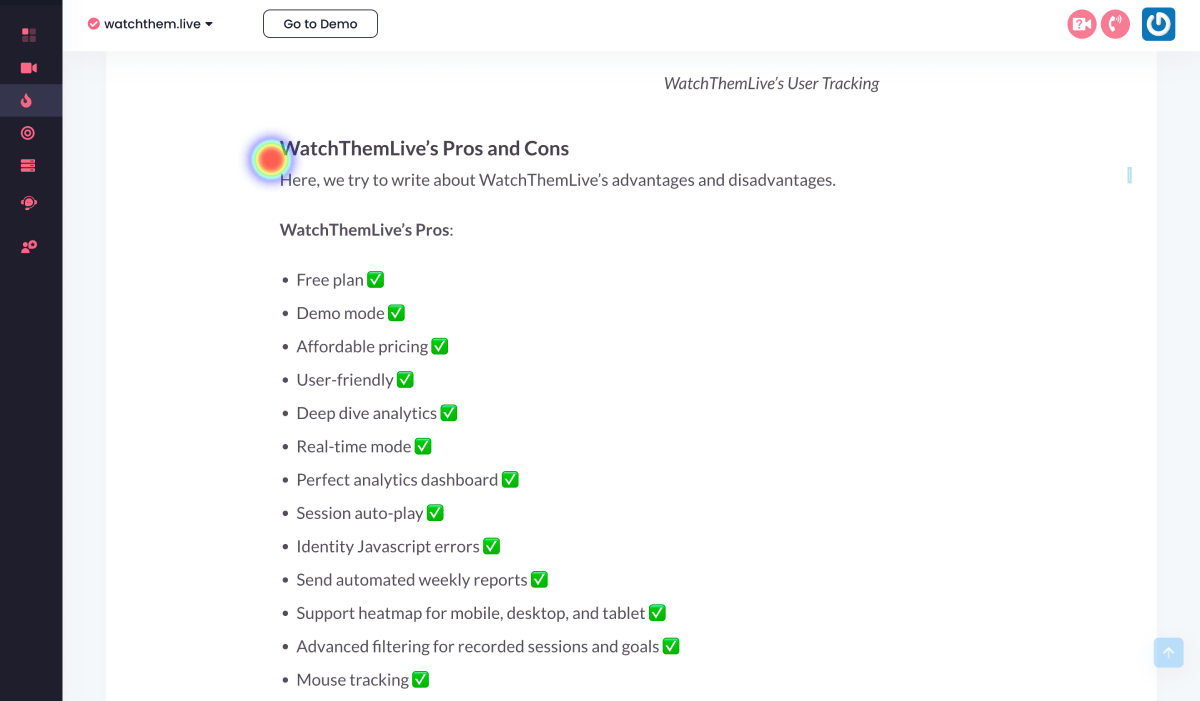 Goal Tracking
Setting goals is essential for every business. Besides, tracking these goals is necessary for understanding whether your website engages visitors or not. With WatchThemLive's goal tracking, you realize how many visitors have completed your desired actions and how many ignored them.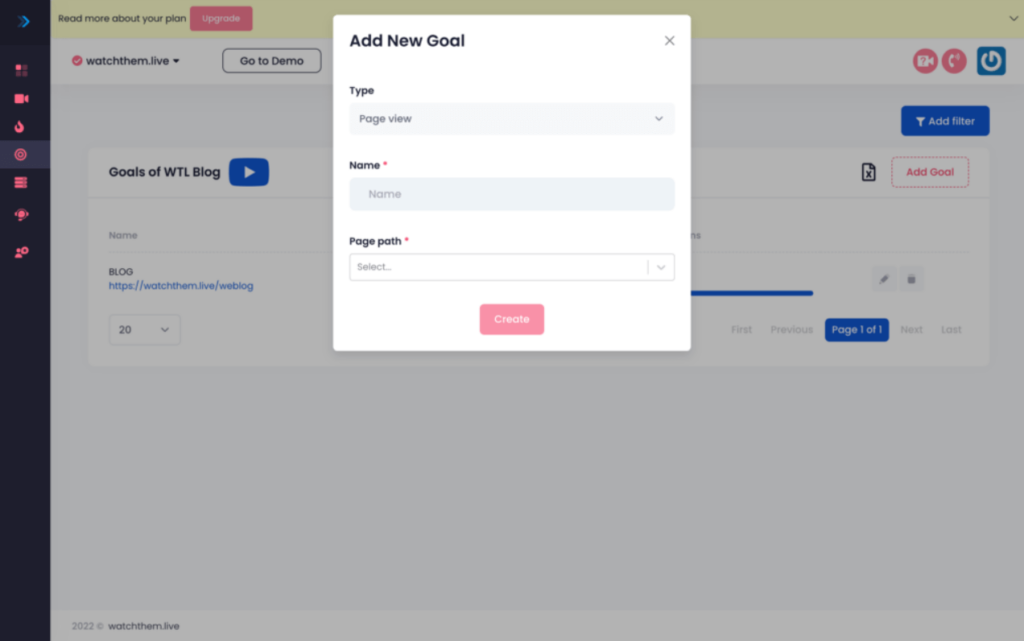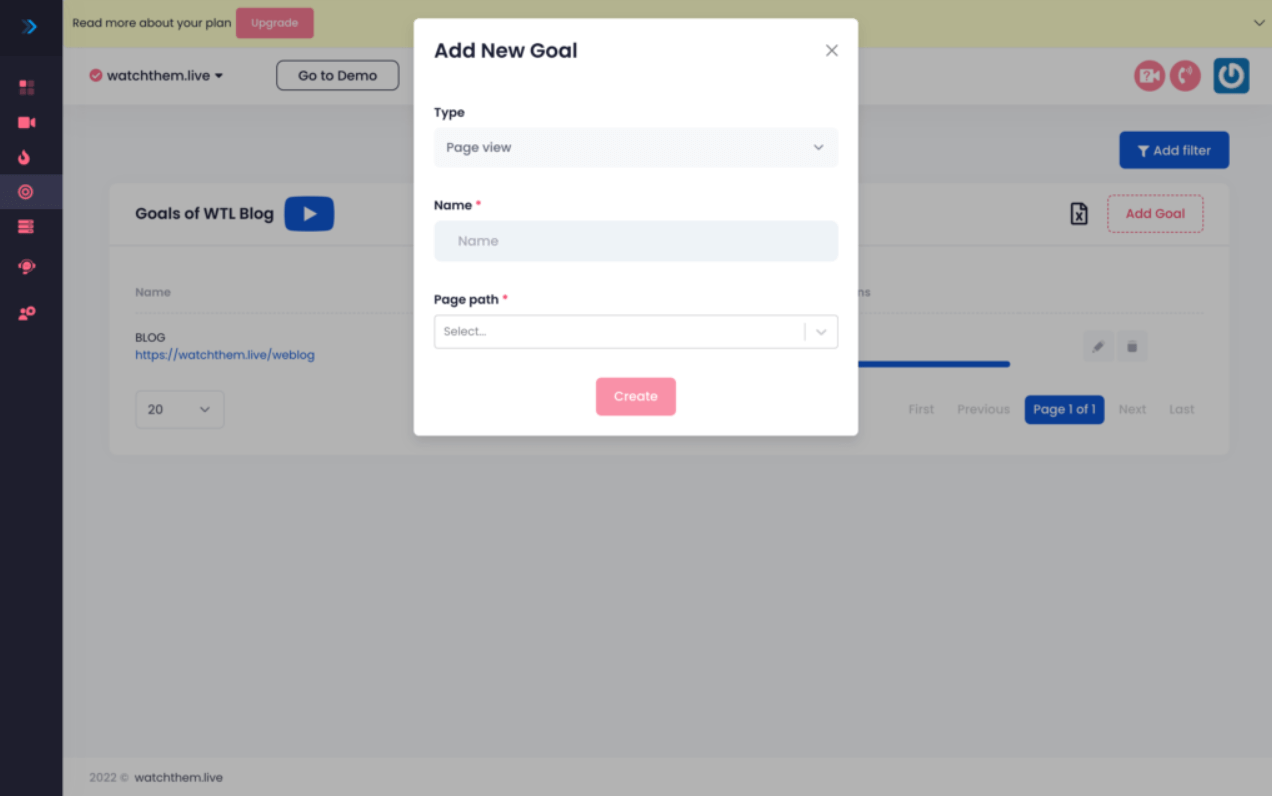 Visual Live Chat
Customer support is essential for any company wishing to provide quality service and excellent customer experience. To make sure customers receive the best possible help, it is important to provide them with an efficient and up-to-date support system.
WatchThemLive allows you to pair session replay with visual live chat. This combination of tools gives customers the best of both worlds: they are able to get immediate help as well as access a detailed history of their interactions with the company.
By pairing session replay with visual live chat, companies can offer superior customer service that helps build trust and loyalty in the long term.
All features you need to track your user activity are in one tool. So, Sign up on WatchThemLive and use its free plan to make better decisions.
WatchThemLive Pricing & Packages
In contrast to UserZoom, WatchThemLive has a clear pricing package.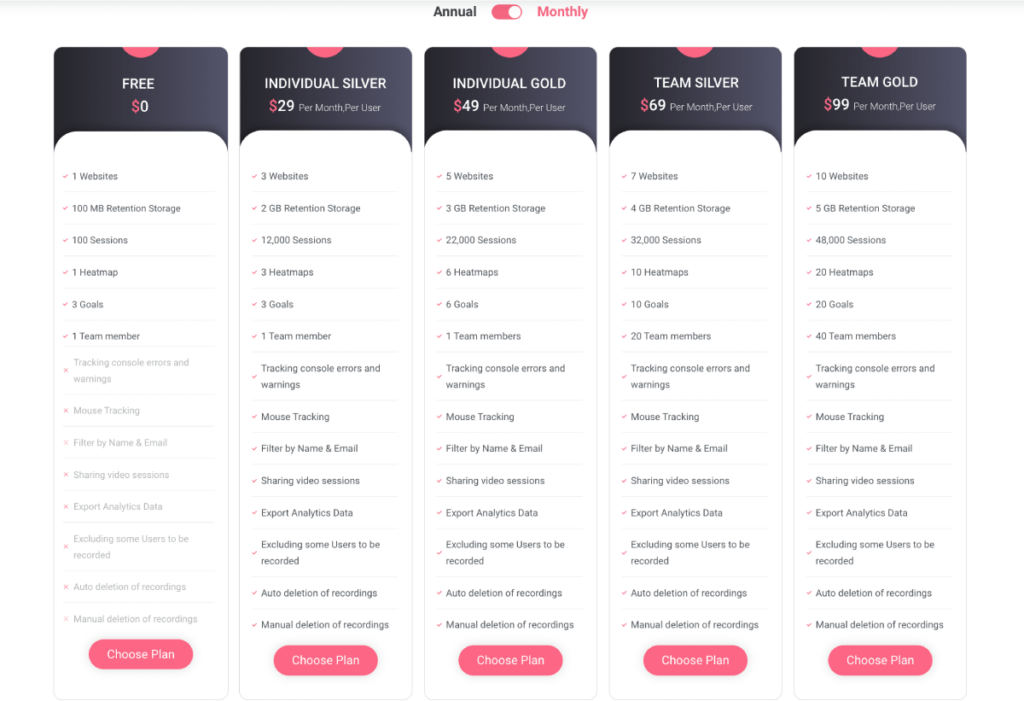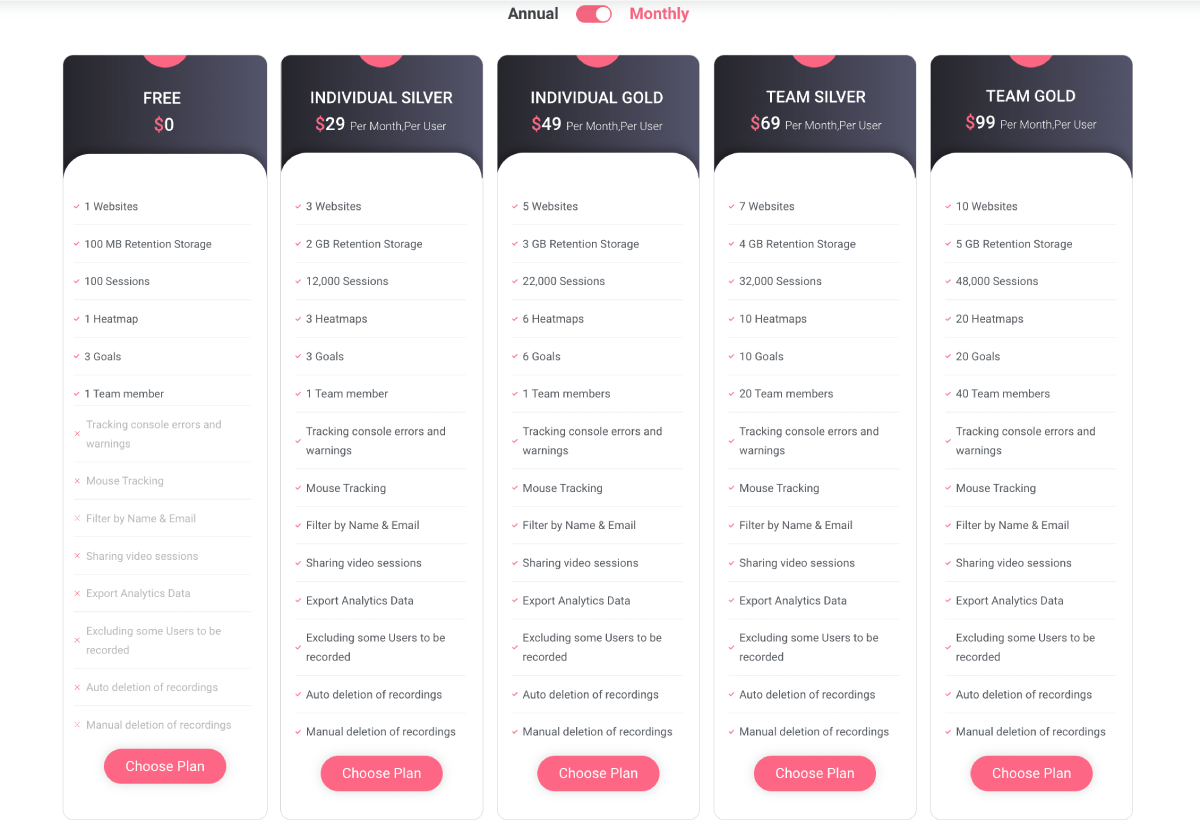 People Also Asked about UserZoom
So far, you know everything about UserZoom. Below, we answer some common questions that people asked.
Q1. What Is UserZoom Used for?
UserZoom is used for several different purposes. In the following, we're going to explain how it can help you:
It offers live interview software to help you efficiently gather and analyzes video insights, enabling you to easily share them for moderated user research.
You can conduct user testing throughout the product development lifecycle in order to make the right design decisions.
With tree testing, you can make sure users can find the information they look for on your website easily.
You can ensure your design is accessible to users with the help of click testing.
It helps you collect feedback.
Q2. Is UserZoom Free?
The short answer is no. UserZoom does offer a free trial, but in order to access the full suite of features, users must purchase a monthly subscription.
Last Words on UserZoom Review
In this article, we've discussed all you need to know about UserZoom. But is it worth buying? The answer to this question totally depends on your needs and budget. But you need to know that UserZoom's plans and pricing are ambiguous.
As a startup, you can't risk upgrading your plan. So, if you're looking for a better alternative to grow your business, WatchThemLive can help you without a doubt. Don't waste a second and sign up for free to see with your own eyes.