Have you ever done your best to build your new store on Shopify, but the result was not as expected? Maybe, there is a problem with your product offer page or your conversion funnel. The first step you need to take for selling your product through Shopify is creating a good Shopify sales funnel. To set up a good Shopify sales funnel, you must perfectly optimize each stage, which we will discuss in this article.
Note: To make better decisions for your business, you need to know your target audience and their behavior. WatchThemLive enables you to watch every step of your target audience and helps you boost your conversion rate. Read on to find out more.
What Is Shopify Sales Funnel?
Shopify sales funnel is part of your marketing funnel that shows your customers' journey from the moment they become aware of your brand to the moment they go down your funnel and make a purchase. We have different conversion funnels for each business, but regardless of the type, you need to optimize your conversion funnel in every stage to generate maximum sales.
A marketing funnel has five stages:
Awareness stage
Consideration stage
Conversion stage
Loyalty stage
Advocacy stage
In the first stage of the Shopify funnel, people notice your brand's existence, visit your website and go to your product page. In the second stage, after seeing your products, they decide to make a purchase and add their favorite items to their shopping cart.
Meanwhile, you can upsell or cross-sell items and convince them to buy more items. In the third stage, they start the check-out process and make a purchase. In the fourth stage, if they come back to your website after a while and decide to repurchase something, you can make sure that they are happy with your products and services, which means they reach the end of your Shopify funnel.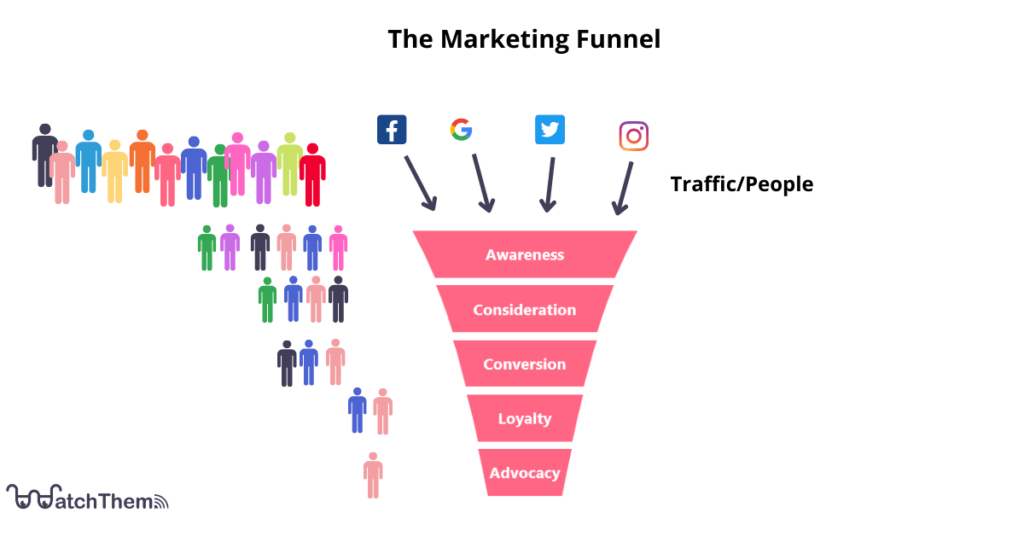 But what if your product page is not interesting enough? Users won't move to the next stage, and you will lose them at the initial stage of the Shopify sales funnel. Even though you know which funnel metrics you should measure, it's not easy to optimize all these stages according to your target audience's expectations. But don't worry! WatchThemLive's services, such as heatmaps and session replays, let you follow your target audience's route toward your entire Shopify funnel. How can you use these features for analyzing your user's behavior?
Heatmaps: heatmaps are data visualization that shows you what areas are most popular by using colors. You can also realize what elements distract your users to change their places or measure the effectiveness of your CTAs.
Session replays: session recordings allow you to see your users' navigation through your website to understand whether they engage with your content or not.
Interested? Sign up and try WatchThemLive for free.
What Pages Are Important in Your Shopify Sales Funnel?
Before creating a valuable Shopify sales funnel, you need to know that to guide customers further down your Shopify funnel and make a purchase; you should optimize your product page, collection page, and landing page.
1. Product Page
Your product offer page is one of the important pages on your entire website because this is where your customers make their buying decisions. So if you don't pay enough attention to your product offer page, you've got no shot at converting them.
Product Page Structure
Learning how to design your Shopify store enables you to absorb more visitors. In this section, we will explain the structure of your product page, which is one of the important pages of your store.
1. Header
The header of your product page allows you to categorize your website's different sections perfectly. It should include your search option, shopping cart, and your CTAs.
The header optimization for desktops and smartphones is not the same. For having a more functional smartphone header, the header should not take up more than 10% of your screen and should include labeled buttons, a search option, and your main bar. You can also add a scrolling down button as a quick way to get back to the top of your page on mobile devices.
For the desktop header, you can add more options because you have more space; but pay attention to the length of your header. It shouldn't take up more than 15% to 20% of your screen.
Don't forget to bring your brand tagline at the top of your header because it reaffirms your brand's identity. You should also add your brand logo in your header because people know that it takes them back to your homepage when they click on it.
Look at the product page below, which has one of the best headers.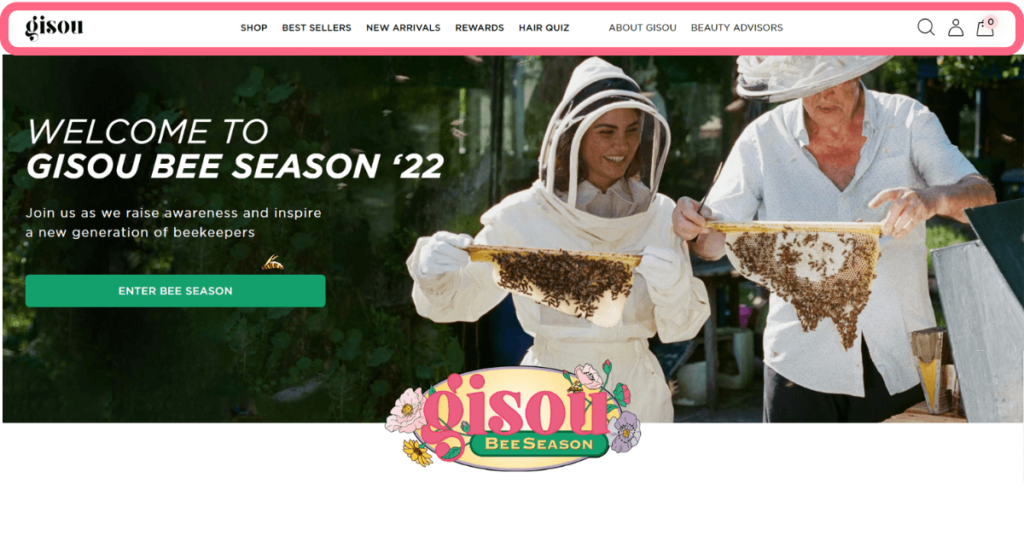 2. Carousel
In this section, you should show off your products with images in multiple forms and angles. You'd better use at least four looks of each product and optimize those images for quick loading time.
3. Buy Box
When people enter your product page, the main goal is to guide them perfectly to go down the Shopify sales funnel to make a purchase. In your buy box, you can explain what makes you different from others or talk about the benefits of your product. You can also use related information such as ingredients, sizes, volumes, and colors.
Pro tip: Use an isolation effect on your CTAs. This means that if you want to grab more attention, you can use a different color for your CTA in contrast to the rest of your page.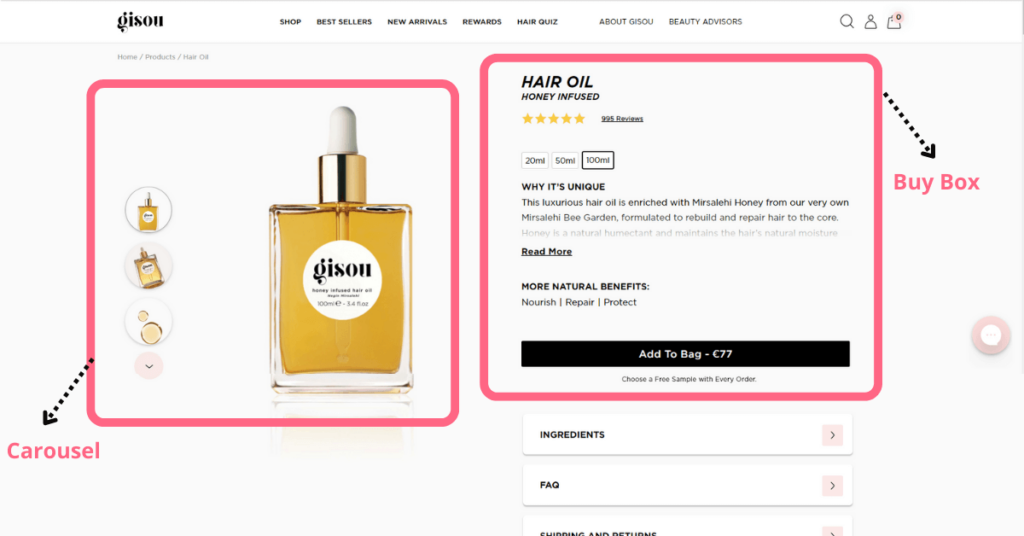 4. Creative Content Support
This section is designed to support you in selling more products, demonstrating credibility, and overcoming any objections. You can create a comment box that lets your customers share their experiences or use FAQs to prevent complaints about your products. You can answer all possible questions that customers probably ask you and boost your conversion rate.
2. Collection Page
These pages are the first pages that grab your customer's attention while using your website. If you categorize your products, you're making it easier for your customers to make purchasing decisions. Look at how Gisou sorts its collection by best-sellers to demonstrate its top products.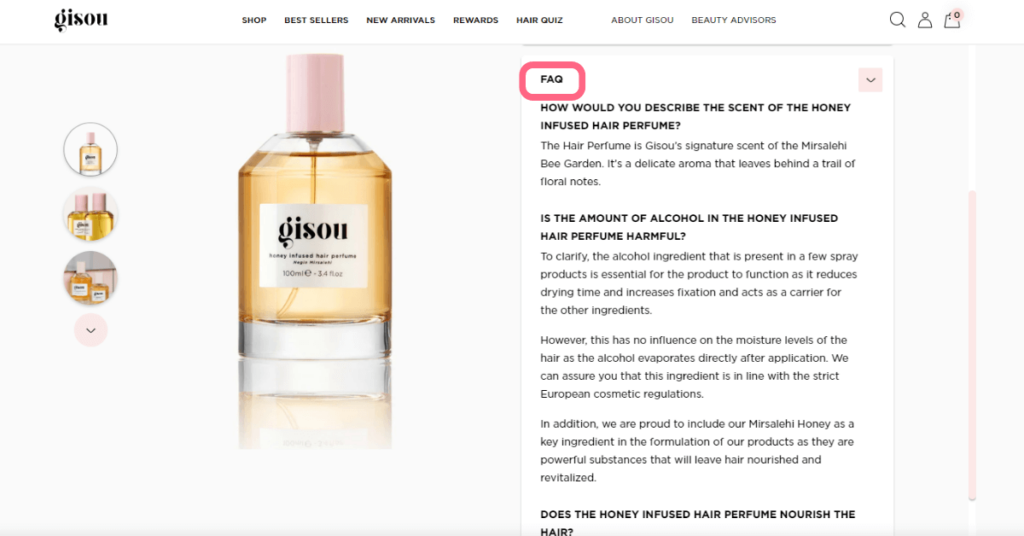 3. Landing Page
If you want to share more information about your store, you'd better create a landing page to provide your customers with more information. You can bring testimonial videos, your brand history, social proof, and additional product information.
How Can You Create a Sales Funnel with Shopify?
If you want to have a good Shopify sales funnel, you should build a strong product page to increase your revenue, but you also need to create a well-built sales funnel that keeps your customers interested through the end. How? Let's take these steps together.
1. Attract the Right Target Audience to Your Shopify Store
The first thing you need to do is attract the right visitors in the awareness stage of your Shopify conversion funnel because this is where you can generate leads and build their trust to go further down your sales funnel. To build a strong brand presence, you can run Facebook and Google ads and use social media like Instagram.
2. Make Your Products Stand Out from Your Competitors
You must convince your visitors that your products are unique and the best choice available in the consideration stage of your Shopify sales funnel because this stage is where they evaluate your store. So you need to explain your products' features and benefits to prove that they are right for choosing you. Here are some suggestions that help you to stand out your products:
1. Write a Clear Product Description
For writing a good description, you should answer these questions: What is your product? How does it work? Why is it worth purchasing? Then, simply you can write about your product's features and benefits. It's better to write your description in a friendly tone.
2. Select Social Proof Images
Bringing social proof can be an influential factor in increasing your Shopify conversion funnel. It makes no difference what your social proof is. Sometimes, social proof can be a quote, a source, and even a logo.
You can even ask influencers, your customers, friends, and even celebrities to talk about their experiences with your brand and upload them on your website or use your social proofs as a short quotation for each product and bring them in your buy box or.
3. Select Qualified Images for Your Carousel
If you use heatmaps, you see that your carousel images get more clicks because our brain receives 90% of information visually, and 93% of customers decide to purchase according to what they see in the buy box. So you should spend more time choosing the best photos for your buy box.
If you want to know which areas are important to focus on, we highly recommend WatchThemLive's heatmaps that allow you to recognize your website's popular areas. Sign up for FREE!
For a valuable carousel, you need to use two images: a pure product on white or a lifestyle image that shows your product being used by a model or an influencer.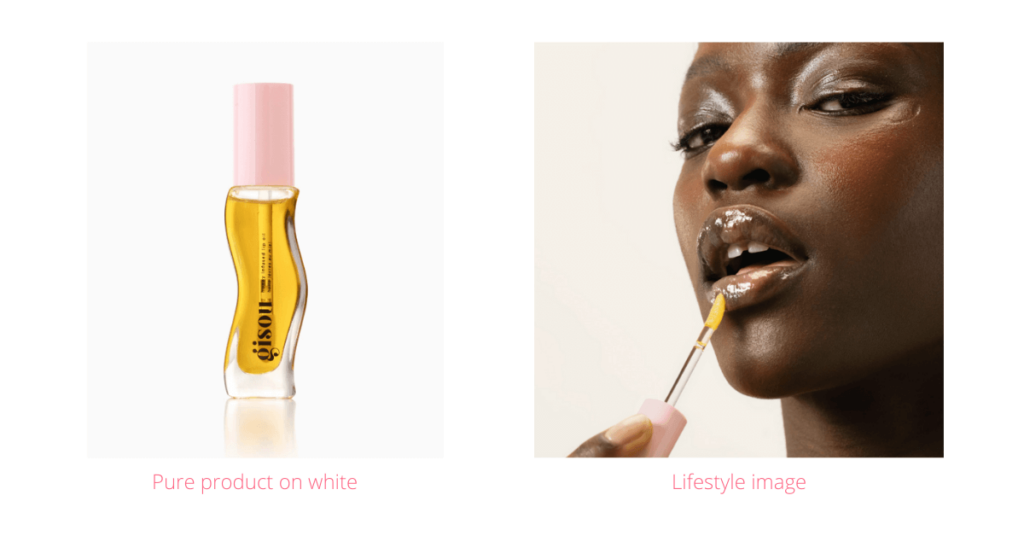 4. Show Them Other Items
If you don't want your visitors to leave your store empty-handed and go down your Shopify sales funnel, you can suggest other items.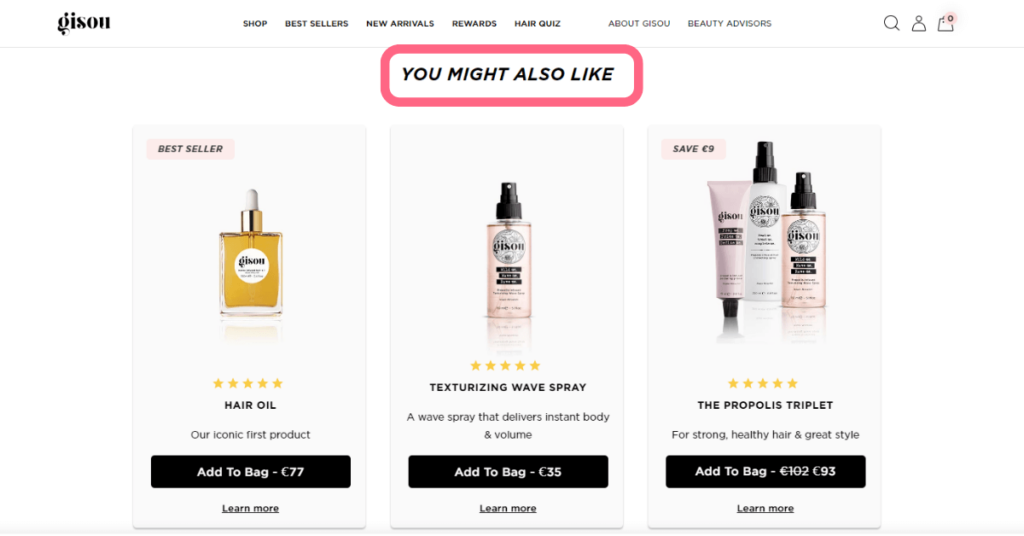 3. Turn Your Visitors into Customers
The most important stage of your Shopify sales funnel is when your visitors decide their final decisions and make a purchase in the decision stage and turn into actual buyers. In this stage, you should do your best to sell your products effectively in no time. The suggestions below enable you to convince them to make a purchase.
1. Create a Short Form Product Demonstration Video or GIF
Besides your social proof, bringing a demonstration video or gif that shows how to use the product can effectively influence your customers' buying decisions. However, it depends on your brand's products. Some products don't need a demonstration video or gif.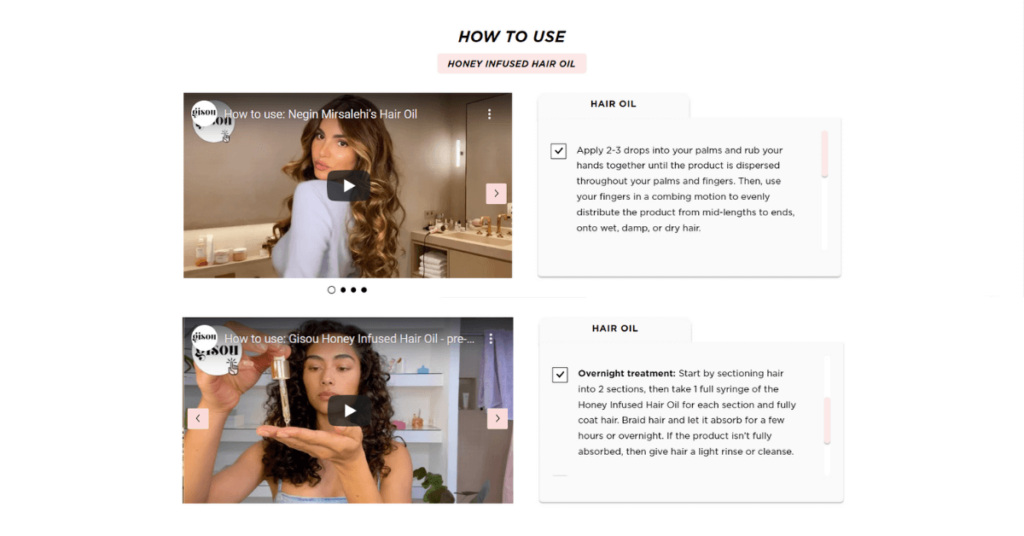 2. Decide on USPs
If you have a unique selling proposition, use it in the image or text format and put it under your CTA in the buy box.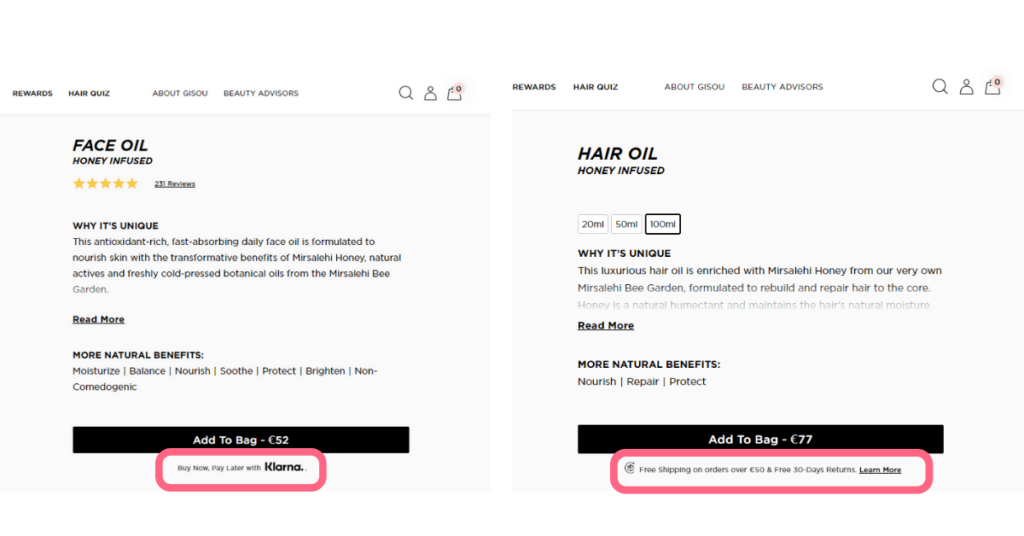 4. Make Your Customers Happy
Absorbing new customers is not easy, so you should try to retain your current customers in the loyalty stage and make them satisfied to not only return to your website again but also recommend you to others. For making your customers happy, we suggest you:
1. Decide on Guarantees
You can build your customers' trust by giving them quality guarantees in case of any problems. If you let them get back their money, change their order, cancel or return their order, you can absorb more customers, and it will impact your business's customer service.
2. Light Box Pop Up or Exit Intent
You should do your best to persuade your customers to make a purchase. Sometimes, free shipping, gifts, and coupons can change their minds. Here, Gisou offers 10% off on customers' purchases, incentivizing them to purchase before they leave the website.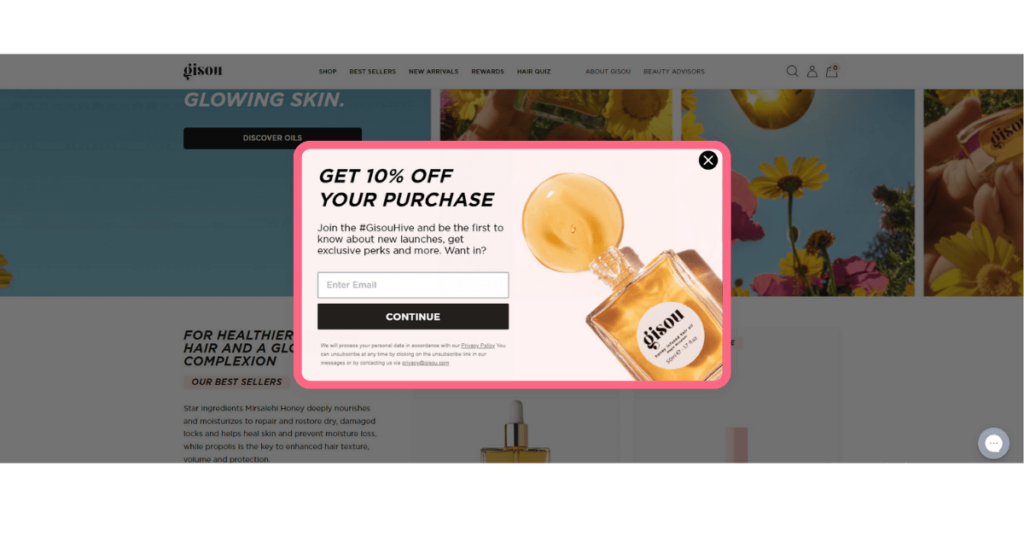 3. Set Live Chat
Setting a live chat 15 seconds after people land on your product page makes them feel important and encourages them to chat with you and share their problems.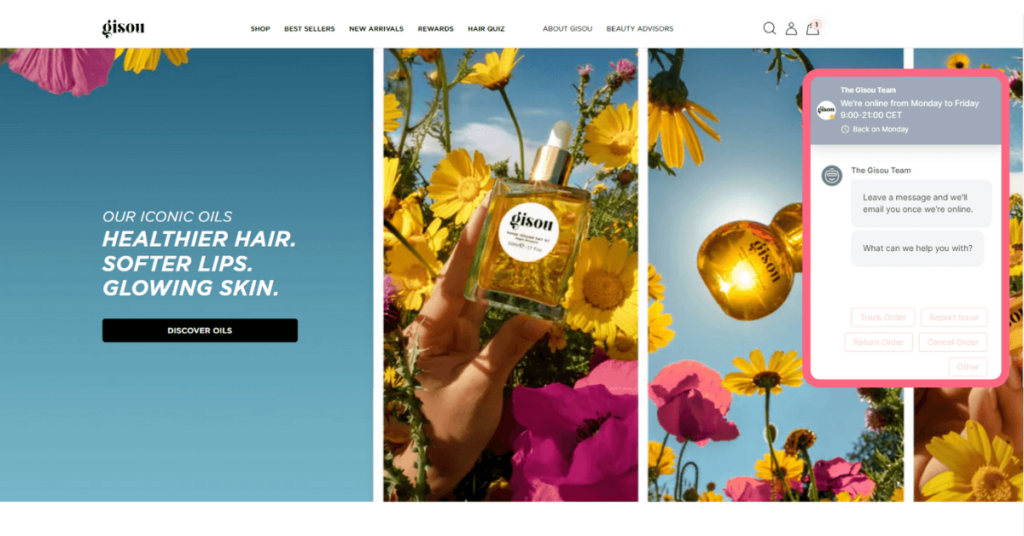 Conclusion
In this article, you learned four steps that you need to take to create a good and valuable Shopify sales funnel. When you want to design or build a Shopify sales funnel, focus on optimizing all stages of your marketing funnel, then pay attention to your product page because this is where your customers finish their journey and decide whether they want to buy something from you or not.
To pay attention to all these steps, you need a behavioral analytics tool like WatchThemLive to help you keep your eyes on your customers. This tool lets you understand where or when they have problems and why they leave your website empty-handed. Ready to try? Sign up for Free!