Have you been searching for the best Shopify apps? Shopify is an on-demand eCommerce platform that allows you to create and manage an online store from anywhere with an internet connection.
What sets Shopify apart from other eCommerce platforms is its vast selection of apps designed to help any individual. Like eCommerce marketing tools, Shopify apps are categorized into many different groups. Moreover, it allows you to group your products by category, brand, type, and price. So, your customer can find them easier.
In this article, we're going to introduce the top 10 Shopify apps that you should consider using for your store.

Pro Tip: If you own a Shopify store and would like to turn it into the best, sign up on WatchThemLive now to quickly analyze and optimize your store! All you need to do is create a free account on WatchThemLive, add your Shopify store, and wait for the analysis and data to show up!
What Is Shopify and How Does It Work
If you're looking for a way to initiate, expand, and maintain your business and come into the digital age, Shopify is an online e-commerce platform that can help you. But the question is how can it do so.
Shopify allows users to create custom stores with features such as payment processing, product management, and analytics. Additionally, it offers a wide selection of apps from third-party developers that can be integrated into the platform for further customization.
With Shopify apps, users are able to add functionality like email marketing automation or live chat apps. Each app has its own pricing model which makes it easy for business owners to find a package that fits their needs and budget.
For example, Shopify enables you to have the ability to run different email marketing campaigns directly within the platform. Or you can offer customer service for the Shopify store without a live chat.
How to Install Shopify
First-time users should begin by creating an account on Shopify's website. After successful registration, users can choose various pricing plans available that best fit their business needs and budget. Once they select a plan, they will be taken through a series of steps to complete the setup process. During this stage, users will be asked to provide some personal information as well as payment details in order for them to sign up for the service.
Need more information? Check this out!
Top 10 Shopify Apps
As eCommerce keeps growing and the Shopify apps continue to evolve, it can be difficult for entrepreneurs to stay on top of the best tools for their online store. As we head into, there are certain Shopify apps that have become essential for optimizing the customer experience and running a successful store. Here are our picks for the top 10 Shopify apps:
1. WatchThemLive: The Best Shopify App for Understanding Users' Behavior
WatchThemLive is one of the best CRO tools that enable you to track every step they take through your targeted action. It grants you many useful features, including heatmaps, session replay, visual live chat, goal tracking, etc.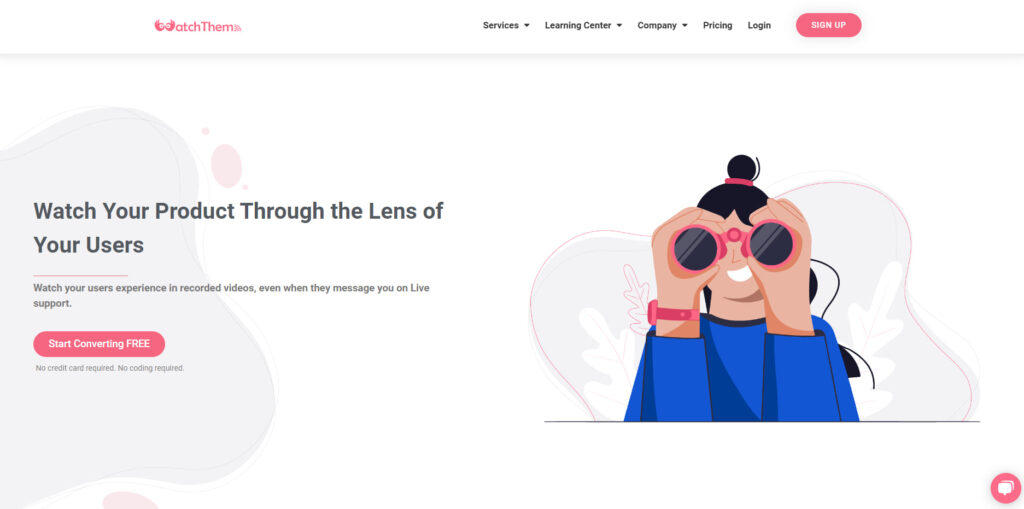 Besides its affordable pricing, What I like about WatchThemLive is that it provides you with a free plan. So, you can use its main features in order to realize whether it suits you or not.
Below, we're going to explain more in detail
Session Replay
Session replay works like CCTV that record every step your users take. This is an invaluable tool for Shopify store owners who are looking for a powerful app that allows them to observe customers' activity on your website in real-time and gain valuable insights into how they navigate their website. This helps you understand the customer journey and make tweaks to improve conversion rates.
By leveraging session recording software, shop owners can identify areas of friction or drop-off in the customer journey and sales funnel and make improvements accordingly. For example, if customers are having difficulty placing an order or navigating around the website, session replay reveals this information so it can be addressed quickly.
Additionally, it allows you to see what products customers are interested in, but not purchasing, so you can adjust the pricing or product descriptions properly. Moreover, through session replays shop owners can monitor user engagement, track trends, test out new features, and measure their return on investment (ROI).
Visual Live Chat
As Shopify apps become increasingly practical, customers now have access to a comprehensive range of live chat-based services that can enhance their shopping experience.
We all know that live chats give customers the opportunity to ask questions and receive almost instant responses from customer service. This provides helpful guidance regarding product selection and even tips on how to use products effectively. What makes WatchThemLive's live chat app different is that you can chat with your customers while watching their sessions.
As a result, you can share product information and promotional offers directly with customers in order to increase conversion rates. Or you can share product demos or provide recommendations based on previous purchases or browsing activity.
Heatmaps
A website heatmap tool provides a visual representation of customer behavior on your site, allowing you to quickly identify what pages visitors are interacting with and where they're clicking the most.
By using heatmaps, Shopify owners can gain insights into customer behavior that can help them make better decisions about their online stores, from product placement to checkout processes.
WatchThemLive Pricing
Customers can choose from a variety of plans to enjoy exclusive access to the features offered by WatchThemLive. It also provide a free plan with 1 heatmap and 3 goals, and other paid plans are as follows:
Overall, WatchThemLive provides a comprehensive view that enables you to develop successful strategies that keep customers engaged and drive long-term growth.
Signing up for WatchThemLive is easy – simply create a free account using your email address and choose from one of our convenient payment plans.
So what are you waiting for?
2. Oberlo: The Best Shopify App For Efficient Order Fulfillment and Product Sourcing
Oberlo is one of the popular Shopify store management apps for dropshipping businesses. The process of dropshipping begins when an online retailer receives an order from a customer. The retailer then purchases the item from a third-party supplier at wholesale cost and forwards the order details directly to the supplier who then ships the item straight to the customer.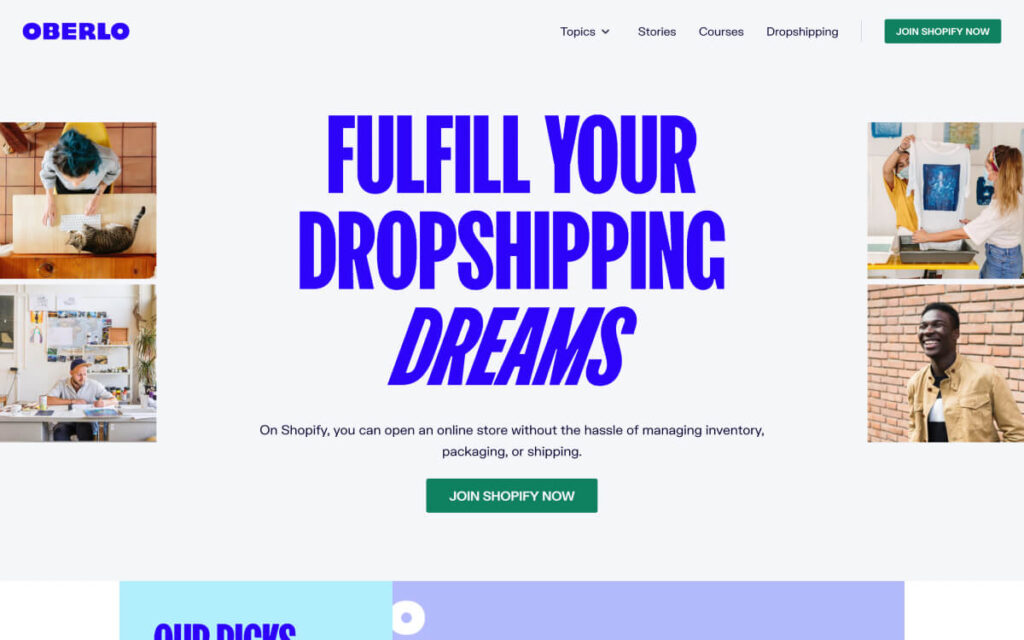 It simplifies the process of setting up and managing an online store and enables entrepreneurs to quickly find, import, and sell products from AliExpress, a global marketplace of suppliers. Oberlo's user-friendly interface requires no technical expertise or coding knowledge to get started.
The first step is connecting your existing Shopify store with Oberlo's platform. With a few clicks, you can activate the app and start searching through AliExpress' extensive product catalog for items that fit your business needs. Once you've found the right products, they can be imported into your Shopify store with just one click. Oberlo also takes care of all orders by automatically syncing customers' information, tracking inventories, and processing payments securely – all without having to leave the interface.
It could prove beneficial if you're considering dropshipping with Shopify and AliExpress. However, I strongly suggest exploring other options as Oberlo's app is great, but there are more reliable choices available. Below, we're going to explain some of its cons.
It doesn't offer compatibility with other eCommerce platform providers. It only works with Shopify and AliExpress.
Unfortunately, shipping may take up to 30 days.
All items are only imported from AliExpress, even when utilizing the internal marketplace.
Competing in the Bestselling category may present a challenge.
Oberlo Pricing
We are delighted to inform you that Oberlo's starter plan is available at no cost, with upgraded subscriptions beginning at $79.90 per month. They offer a 30-day free trial, allowing you to use Oberlo at your chosen price point to choose your business model.
3. Yotpo: For Collecting Reviews from Customers
Shopify merchants can now benefit from Yotpo, one of the well-known Shopify apps. This review app in Shopify offers an extensive suite of customer-generated content that is tailored to enhance your marketing presence across channels. This includes reviews, as well as photos, videos, and Q&A from satisfied customers.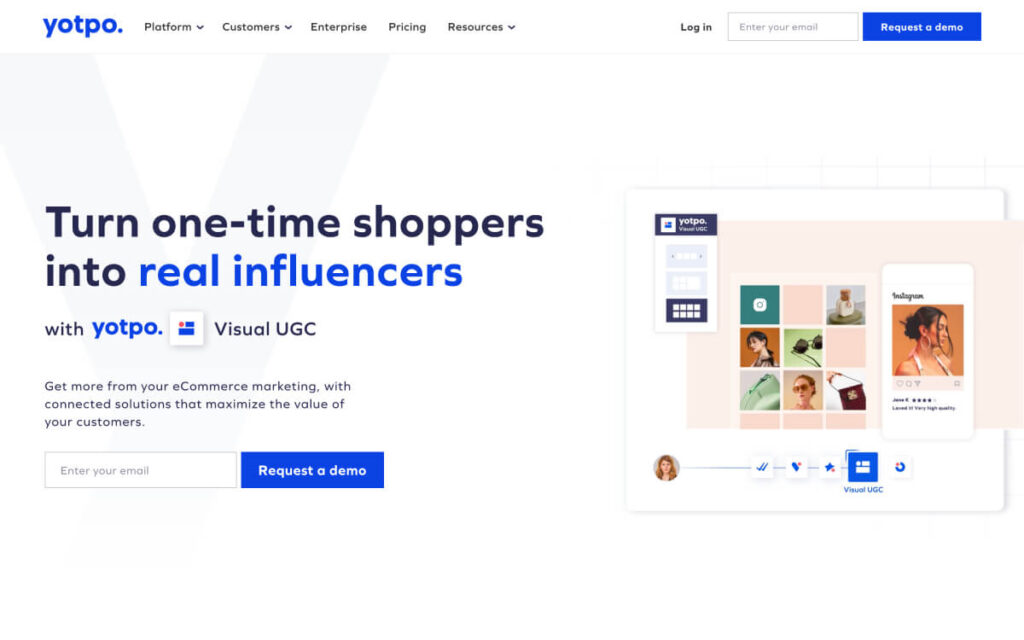 It is possible to strategically showcase customer feedback on the home page and highlight the star ratings displayed under each product and at checkout to upsell products.
On the downside, there is no way to control the display of reviews on social media. Also, paid plans are too expensive.
Yotpo Pricing
Besides its free plan, other paid plans are as follows:
Growth: $19 per month
Prime: $59 per month
Powerhouse: $199 per month
4. Loop: For Managing Subscription Models
Loop is a Shopify app that was designed to help store owners manage their subscription models. It offers a comprehensive subscription program that helps DTC brands acquire new subscribers, retain their existing customers and reduce subscription cancellations.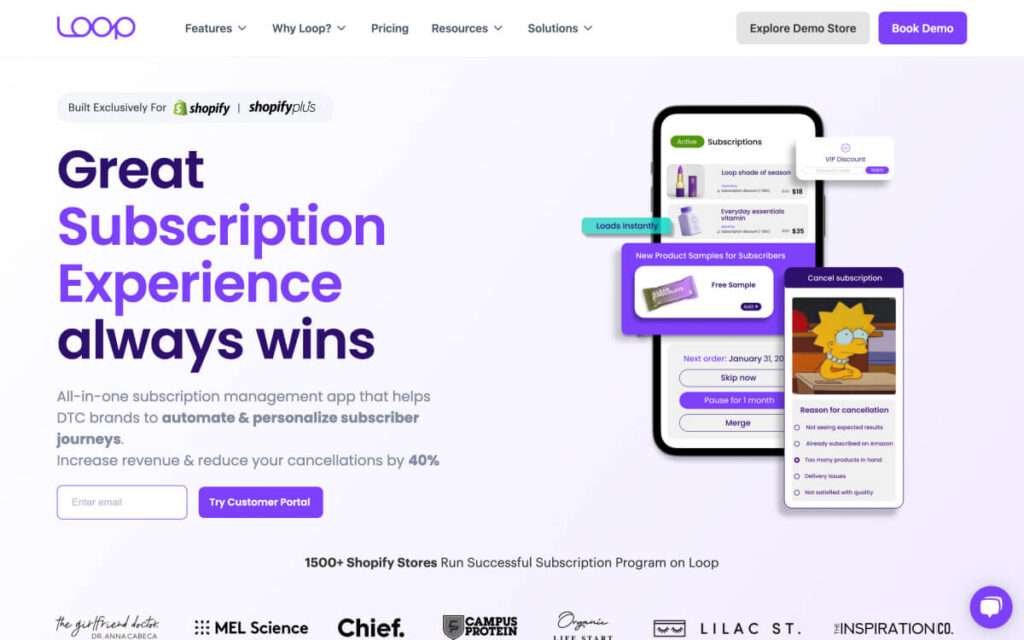 With this app, store owners can create a great subscriber journey for their business by using this well-designed and fast-loading subscription widget. You have the ability to include TikTok and IG videos in your exit surveys.
Additionally, you can automate personalized discounts, rewards, trials, and gifts for customers on orders.
It allows you to establish various types of subscriptions, such as auto-ship, gift, trial, bundle, and box subscriptions, customize, and manage them. They have a passwordless subscriber portal. As a result, DTC brands can make it easy and convenient for their customers to manage their subscriptions.
The good news is that they release new subscription flows and features every week! What I don't like about this tool is that the Free and Growth Plans do not provide access to as many advanced subscription features.
Loop Subscription Pricing
It has a free plan along with a 14-day free trial. But other paid plans include:
Growth: $99 per month
Enterprise: $399 per month
5. Returnly: For Streamlining Returns and Exchanges
Returnly is an eCommerce return management system for customers and retailers. It is one of the best Shopify apps available, used by thousands of online stores worldwide.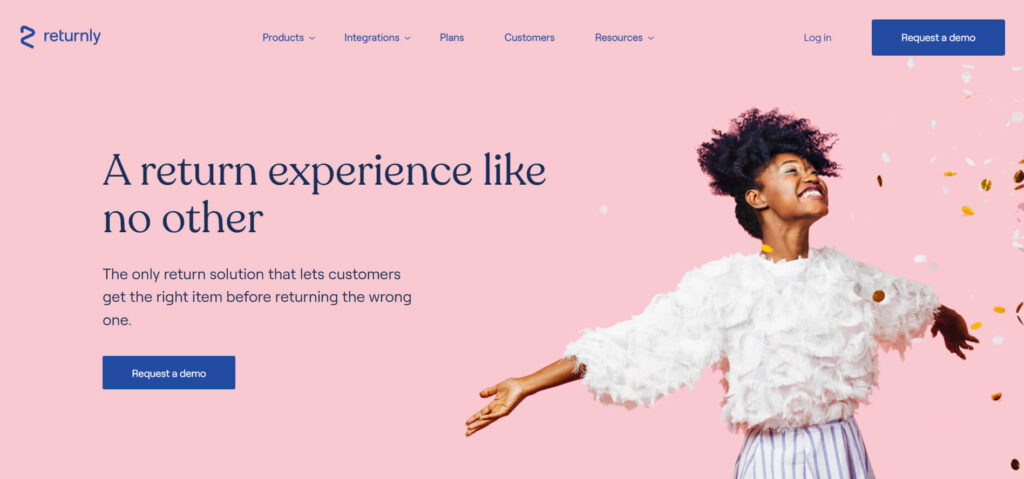 It promises to help you provide a smooth experience from beginning to end. With Returnly, shoppers can manage returns easily and conveniently. Customers have the option to initiate a return at any time, with straightforward drop-off options using QR codes through the mail.
Furthermore, with their tailored policies and automation rules, you can ensure that returns are handled in the most efficient manner according to your customer's specific needs.
According to their claim, they provide an instant exchange experience. So, customers can exchange any item from your store. If your customer chooses to receive a refund instead of an exchange, Returnly offers an Instant Credit service as an alternative so that they can find something else while waiting for their return to be processed.
Although it provides return analytics, it doesn't provide easy logistics to compare. Also, it would have been better if they had clear pricing packages.
6. Carts Guru: For Automated Marketing Campaigns
Cart Guru is an eCommerce automation marketing tool that promises to help you grow your business by targeting customers where they're most likely to open and make a purchase. It provides cart abandonment campaigns, customer win-back campaigns, and post-purchase campaigns. So, you can build and customize each campaign for all stages of the customer journey.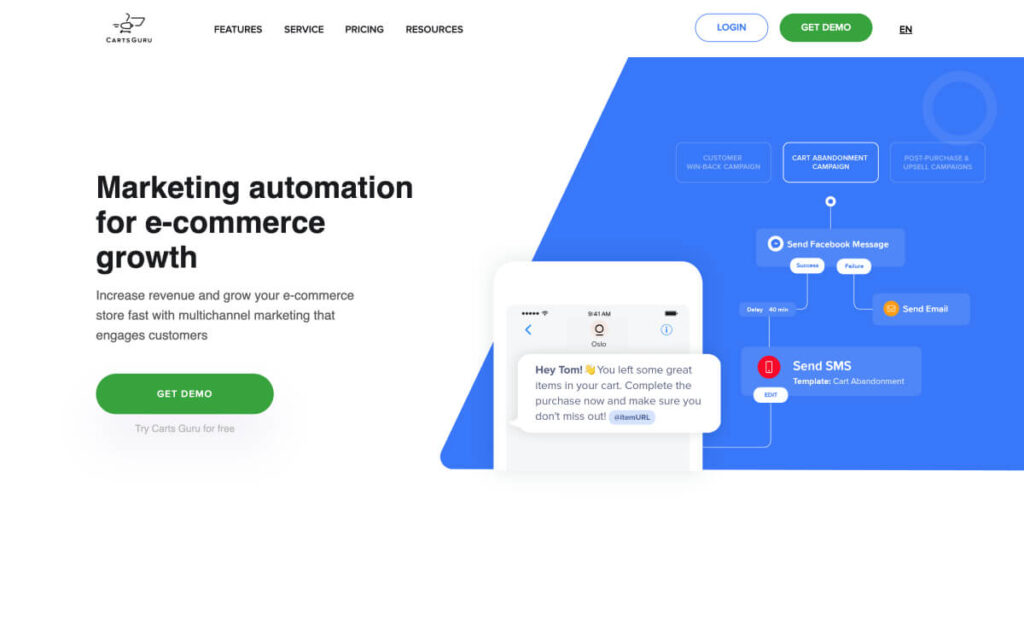 Also, it grants you an analytics dashboard that enables you to find and analyze all the relevant eCommerce metrics you need. You can analyze average order value, revenue per contact, customer journey, and global communication figures.
On top of that, Cart Guru provides many multi-channel capabilities that allow you to combine SMS, email, and Facebook Messenger into one campaign. So, you can maximize your returns by connecting with each customer on their preferred platform in order to provide them with the best possible services.
It looks like their customer service is not responsive. And unfortunately, they have not been able to offer a refund.
Cart Guru Pricing
It starts at $300 per month with 150,000 emails for 10,000. But it's customizable and you can choose the number of emails you want.
7. SendCloud: For Calculating Shipping Rates and Labels Printing
SendCloud is a shipping automation platform that connects your online store to shipping carriers. It provides its shipping software and services for businesses across Europe, providing a range of reliable carrier partners for Germany, Austria, the Netherlands, and Belgium.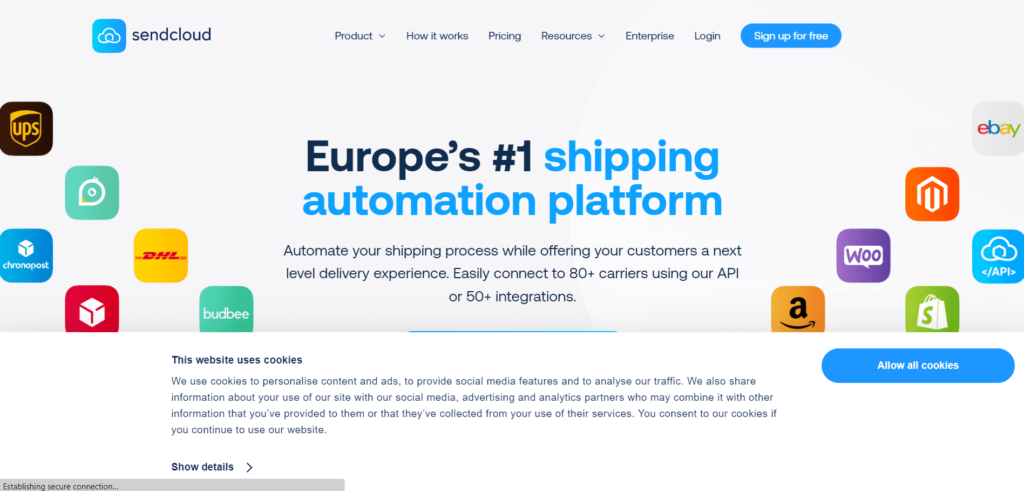 They offer customers access to a number of useful services, including tracking, returns management, label creation, and picking and packing tools. They also present a variety of shipping options for your checkout module.
Remember, all the hard work you have put into increasing your sales will culminate in the checkout page, where your customers will make payments and complete their shopping experience.
SendCloud provides an easy-to-understand analytics dashboard with charts, numbers, and timelines. And you have full control over carriers, shipping methods, and messaging.
Good news! You have the option to integrate it with the most highly-regarded eCommerce platforms.
It would have been better if they could consider creating a mobile app for SendCloud and possibly offering more free shipping options.
Related article: 11 Simple Strategies to Optimize Shopify Checkout Page
SendCloud Pricing
Besides its free plan, it has a customizable pricing package. Other paid plans are as follows:
Small shop: € 40/mo
Large shop: € 89/mo
Business: € 179/mo
8. Tido: For Better Connecting with Your Customers
If you're looking for a tool to incorporate live chat, chatbots, emails, Messenger, and Instagram into one shared inbox, Tido is one of the best Shopify live chat apps that provide an efficient way to correspond with your customers in a timely manner. It provides you with a free live chat with unlimited contacts and conversations to communicate for your website.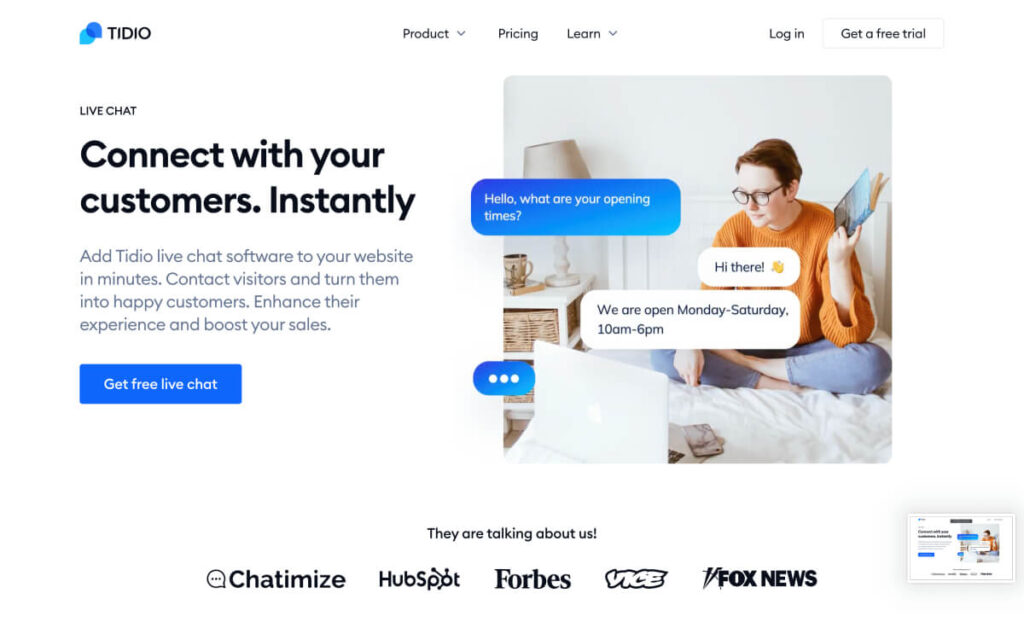 This tool integrates seamlessly into messenger and your email mailbox, allowing you to easily manage incoming customer queries and provide real-time responses.
It will help you quickly resolve customer issues and improve your customer's shipping. You can also use their live Visitors List, allowing you the possibility to proactively engage with potential buyers in order to increase sales of your products and services.
On the bright side, you can customize the live chat to match your brand. But you need to know that Tido does not provide support for managing client chats through Whatsapp or Twitter.
If you are responsible for managing multiple e-commerce businesses, it may be a bit of an inconvenience to have all your messages from different sites showing up on one tab.
Tido Pricing
Alongside its free subscription, other paid plans mention below:
Communicator: 19 EUR/mo
Chatbots: 39 EUR/mo
Tidipo+: 289 EUR/mo
9. Marsello: For Email & SMS Campaigns
Wondering how you can get new customers to shop again? Marsello can help you. This is one of the great Shopify apps that enables you to send targeted emails and SMS based on their shopping behavior.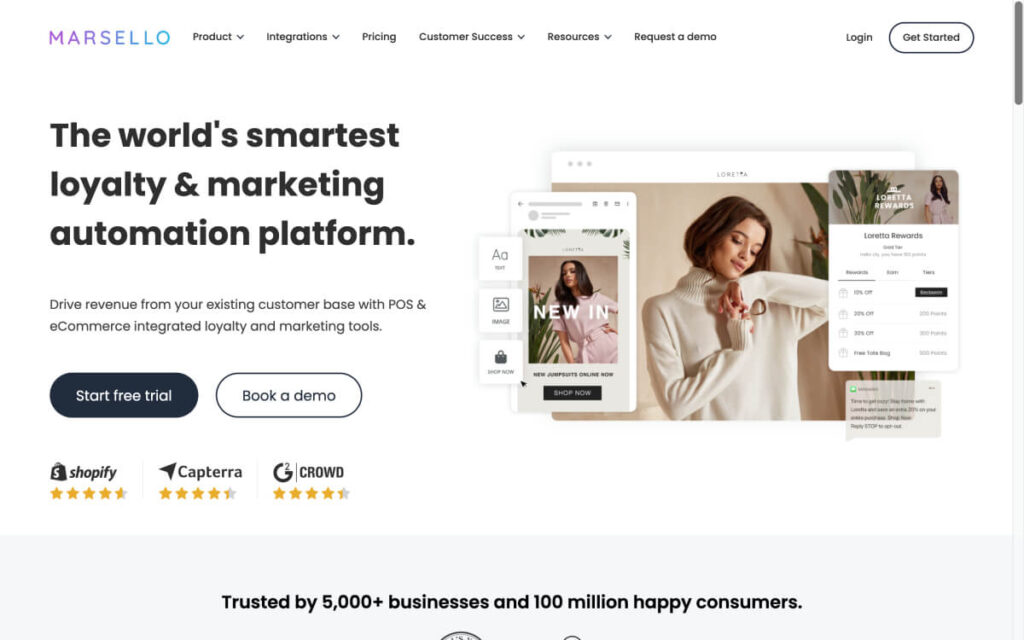 One of the great ways for making positive impressions is to send thank you messages after their first purchase. Marsello provides you with the chance to automate an email flow and encourage them to keep making purchases.
On top of that, it provides you with valuable feedback in order to measure your customers' satisfaction. You can use feedback question forms and ask them for private feedback. As a result, you can improve their journeys with the help of feedback reporting.
Marsello integrates with other marketing tools such as Mailchimp, Shopify, and Klaviyo, making it easy to leverage existing data for greater insight into customer behavior. Also, the platform offers automated email campaigns to reward loyal customers and increase engagement levels.
When one considers the disadvantages, they come across a few cons:
The tool can be expensive for small businesses with limited budgets.
Some of the features may be too complex for smaller businesses with fewer resources available to utilize them effectively.
Marsello Pricing
Its pricing starts at $100 per month. Marsello's pro plan includes:
Loyalty Programs,
Social Scheduling,
Email Marketing,
SMS Marketing,
Marketing Automations,
Google Reviews,
Sign-up Forms,
Feedback Surveys.
10. PushEngage: For Sending Customization Push Notifications
PushEngage is an extremely powerful application that gives you the capability to generate and manage push notifications for both mobile and desktop users on a range of different browsers.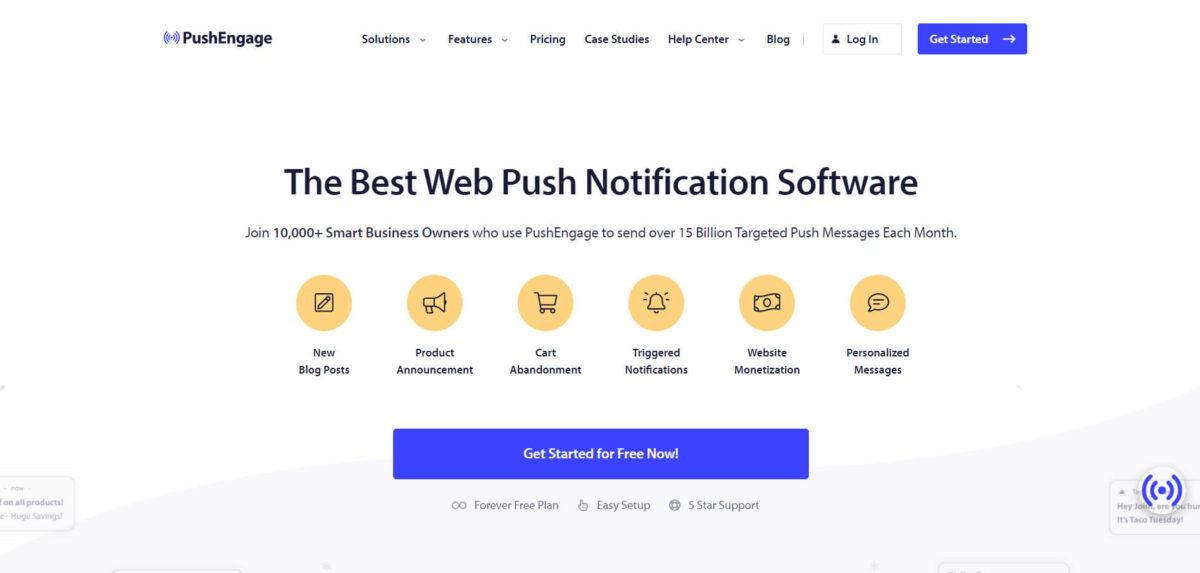 It can be integrated with WordPress and other CMS platforms. PushEngage offers a lot of features, including triggered notifications, A/B testing, goal tracking, analytics, etc.
It allows you to create push notification broadcast messages. They allow stores to send automated messages to customers that remind them of what they've browsed or purchased in the past.
For example, if a customer has viewed a certain item several times without purchasing it, a push notification can be sent out with an enticing offer or discount code. This can help convert prospects into buyers and encourage customers to come back and make repeat purchases.
Moreover, if you want to measure your push notification campaigns, PushEngage offers advanced analytics.
But you need to know that these notifications take a long time to reach users. And PushEngage offers Drip messaging in its expensive plans.
PushEngage Pricing
It has a free plan with 30 campaigns and 200 subscribers. Other paid plans include:
Business: $9/mo
Premium: $29/mo
Growth: $49/mo
Shopify Apps Reviews
Shopify apps can be a great way for businesses to enhance their sales and productivity. However, it is important to make sure that you are selecting the best app for your business needs by doing a thorough research and reading reviews.
Shopify offers user ratings based on customer experience with each app, allowing potential customers the ability to read what other users have experienced before downloading the app themselves. This can provide valuable insight into whether or not an app might be beneficial for their own store's needs.
Furthermore, another great resource for finding great Shopify apps is review websites such as Capterra or Trustpilot which offer detailed evaluations of various Shopify apps from industry experts in order to help retailers make informed decisions when selecting appropriate tools and solutions for their online stores.
Shopify Apps FAQs
Thus far, we have discussed everything related to Shopify apps. To provide the finishing touch on our discussion, let us now cover some of the most commonly asked questions. Let us begin, shall we?
Q1. What Do Shopify Apps Do?
These tools are designed to help merchants customize their stores and improve sales. They allow store owners to add features, automate processes, integrate services, and customize the look of their store. With the right Shopify app, businesses can reduce their workload while creating a better shopping experience for customers.
Shopify apps can help merchants increase conversions by providing a range of features such as payment processing options, discount codes, customer reviews and ratings, social media integration, product recommendations, shipping methods, and more.
Furthermore, they make it easy to manage inventory and track orders. This allows business owners to stay on top of their operations with ease.
Additionally, Shopify apps come with analytics that allows users to understand their customers better so they can optimize marketing efforts for maximum returns on investment (ROI).
Q2. Do Shopify Apps Cost Money?
The answer to this question depends on the app you choose. There are both free and paid Shopify apps available for download in the Shopify App Store. Free apps are generally limited in terms of features and functionality but can provide basic solutions for those looking to start an online business with minimal investment.
Paid apps offer more advanced features such as additional customization options or automated processes like order fulfillment or marketing campaigns, but come at an extra cost.
Q3. How Do I Manage My Shopify App Subscriptions?
Managing your Shopify app subscriptions can be a daunting task, but it doesn't have to be. With easy-to-follow steps and helpful resources available, you can easily stay on top of your app subscriptions while still running a successful online store.
First, determine which apps are necessary for the success of your store and which are not essential. Then, review the pricing plans for each app; some may offer annual or monthly subscription options with different levels of features available. This will help you decide if a particular app is worth investing in over time or if you'd like to try out a free trial first.
Finally, use Shopify's App Subscription Manager to track all of your active subscriptions in one place. With this tool, you can manage billing details, view usage information, and cancel any unused services with ease.
Conclusion
In conclusion, Shopify has revolutionized the way businesses operate by providing an array of helpful tools to help them succeed. With the best 10 Shopify apps in 2023, you can take advantage of all the features you need to increase your website visibility and maximize sales. These apps have been carefully chosen and tested to ensure that they provide the most powerful and efficient solutions for any business type. Meanwhile, WatchThemLive is one of the best of these tools.
Don't waste a second and sign up for FREE!