The goal of every businessperson is to boost their revenue by adopting certain conversion funnels regardless of how small or big a business is. The importance of sales and marketing funnels can not be denied, however, you should know that there is a fine line between the sales funnel and the marketing funnel. That's why separating them from each other is not an easy task because both functions are interweaved.
In this article, we'll discuss a challenging topic: sales funnel vs. marketing funnel. We will explain these terms and their difference.
Note: Want to know whether your sales funnel works well or not? WatchThemLive's session replays software allows you to track your funnel functionality. Read on to find out more.
What Is a Funnel in Business?
Before getting to the sales funnel vs. marketing funnel topic and explaining each, first, you need to know what a funnel is. A funnel includes the whole actions that your user takes before becoming an actual buyer. Many people may have entered your funnel but left without making a purchase. So you should consider optimizing all conversion funnel stages to have a well-defined funnel.
Who doesn't want to have a perfect e-commerce conversion funnel? Many businesses optimize their sales funnel by testing, tracking, or analyzing each of its stages. If you want to evaluate the function of your funnel, you can use session replays software such as WatchThemLive. This feature allows you to watch every step of your leads through each stage of the sales funnel. The video below will help you understand better.
Interested? Sign up and get started.
Considering your funnel functionality, remember to optimize your sales funnel which can directly impact your marketing strategies and your conversion rate.
What Is a Marketing Funnel?
The marketing funnel is a journey that your customers take from the moment they become familiar with your brand to the moment they make a purchase. The purpose of a marketing funnel which is sometimes referred to as a purchasing funnel or sales funnel is to turn leads into customers.
As you can see in the picture below, the classic marketing funnel includes two separate phases which are named lead generation and lead nurture.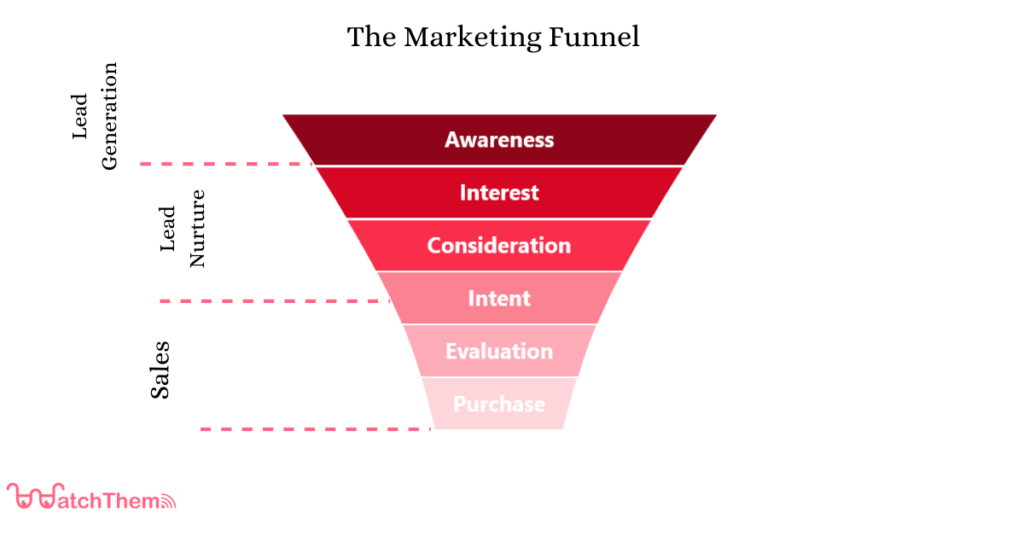 Lead generation: The upper-funnel marketing refers to lead generation which deals with building brand awareness.
Lead nurturing: When someone notices your business or offer, they decide to find out a bit more about you so you should nurture those leads, develop their interest, and build a relationship to persuade them to make a purchase. This phase is also about building trust, so they can investigate whether your business is credible or not. Finally, transferring those leads into paying customers happens when they decide to become a customer.
The Time's Impact on Your Marketing Funnel
Time dimension can directly impact your business. Building customer trust is not an easy task. Once you gain their trust, they begin to investigate and willy-nilly give you more time.
Pay attention! You should give prospects the right information in a short time. If you bombard them with information, you will lose them.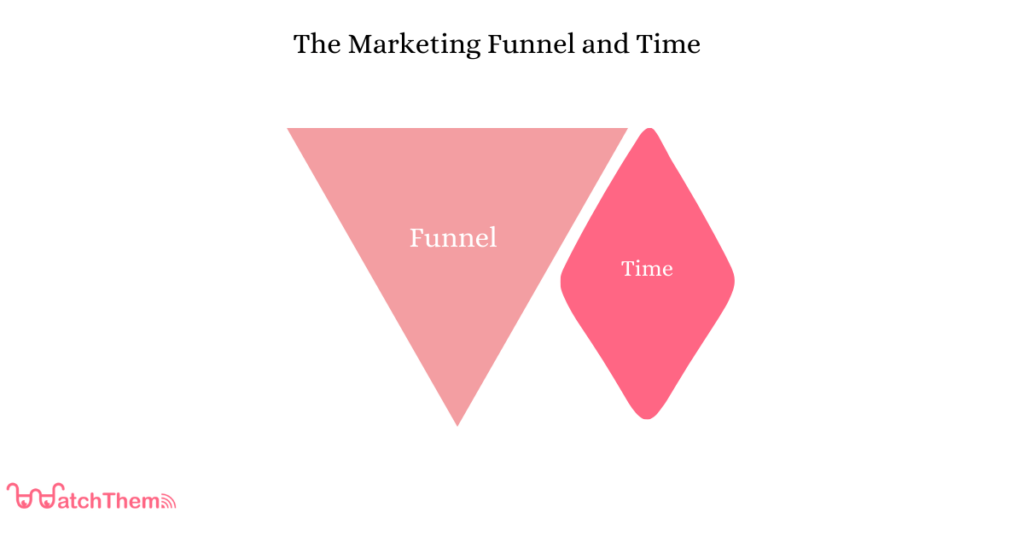 The Marketing Funnel: Emotion and Logic
The top of your funnel begins with using emotions to capture the lead's attention. Then you need to use logic to prove they are right for choosing you. Again, you should use emotions to persuade them to go further down the funnel and make a purchase.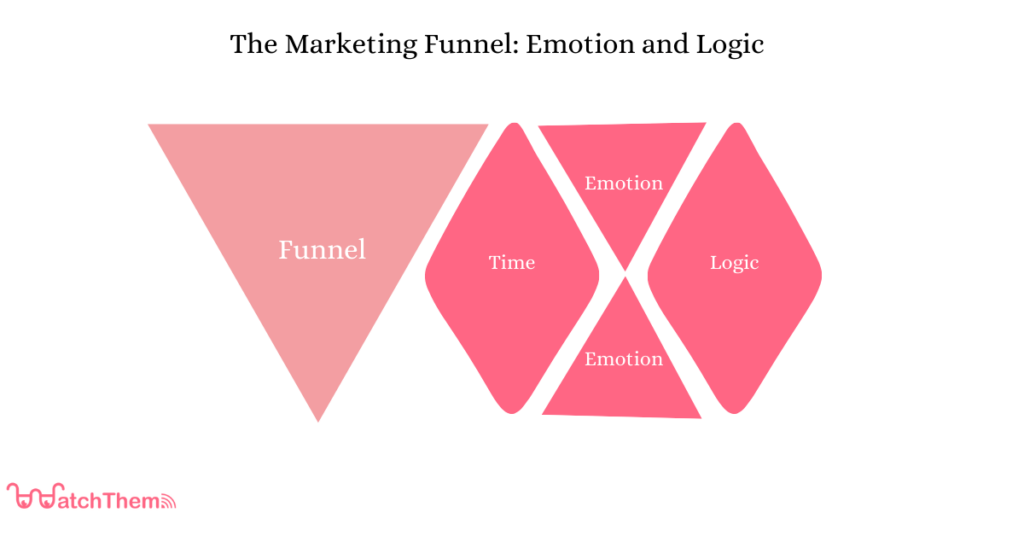 An Example of Marketing Funnel
The first stage of the funnel is the awareness and in this part of the funnel, businesses try to grab people's attention and convince them to go further in their funnel.
Imagine, you run into one of WatchThemLive's videos on YouTube; at the end of the video, an offer is presented on your screen. This offer suggests you watch WatchThemLive's testimonial video. The video tells the story of Klaus Grosser who has been happy with the company and concluded results while using WatchThemLive.
So you become interested and browse WatchThemLive's website, then start navigating to find the best plan for your business. You can start using the services for free, as a result, you decide to register on WatchThemLive and test the tool. At the end of the month, you're enjoying the company's services, move on to the paid plans and become an actual customer.
What Is a Sales Funnel?
One of the most important concepts to consider for the success of your business is your sales funnel. In every stage, you may lose some of them but when your prospects are identified and have shown their interest in the product or service, they have entered the sales funnel. Then, the conversion funnel or sales funnel leads them to become actual buyers.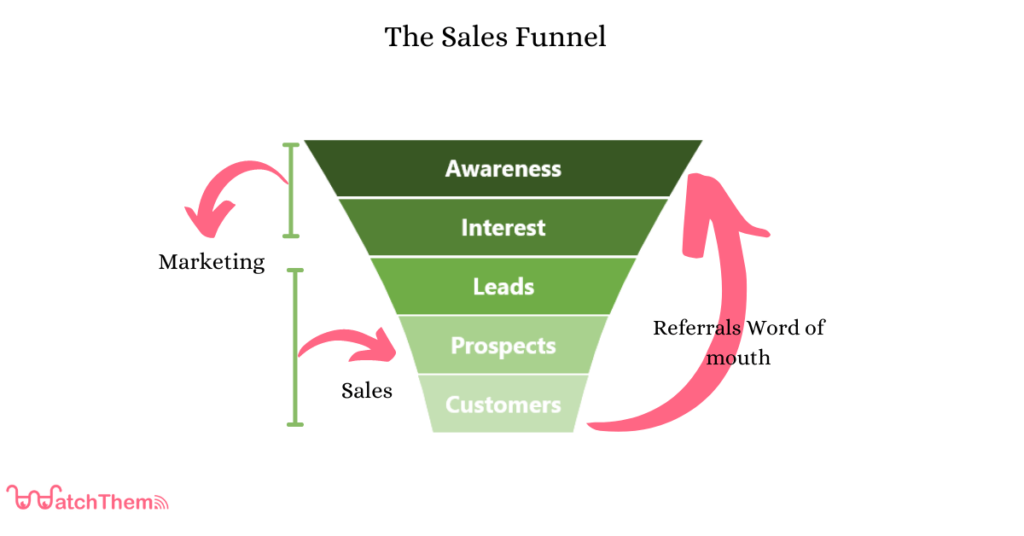 Remember, try to keep your customers satisfied and measure customer satisfaction metrics because customers do marketing efforts on your behalf. If they're happy with your business or brand, they definitely introduce you to others. As far as we've explained both those terms, now let's analyze the sales funnel vs. the marketing funnel.
What Is the Difference Between a Marketing Funnel and a Sales Funnel?
Sales funnel vs. marketing funnel is one of the challenging topics because these terms are used interchangeably. It is hard to draw a distinction between sales and marketing funnel and as a result, many businesses integrate these terms and their functions. These two terms only have differences in their context of use. Both of them have their journey map to understand your customer's perspective.
Conclusion
In this article, we discussed what sales and marketing funnel are, their differences, and examples. One of the most significant differences between the marketing funnel and the sales funnel is that the marketing funnel is more general to inform you about the business organization, whereas the sales funnel is necessary for each step of your journey.
If you need a tool to optimize your sales funnel and boost your conversion rate, we highly recommend WatchThemLive's services. Sign up for Free!