The ultimate goal of any business is to become more successful and generate more sales. Besides having a good conversion funnel, creating a mobile application is a great idea for business growth. But the problem is people don't surf on the App Store or Google Play all the time. So how do they find your app? Moreover, if they download your mobile application, they may never open it. How do you move people through your mobile app funnel? In this article, we will explain how to build a successful mobile conversion funnel and implement it in the right place.
Note: If you want to know whether your users are interacting with your web app or not, we recommend WatchThemLive, which has all features you need to track your user behavior. Continue reading to figure it out.
What Is a Marketing Funnel?
A marketing funnel is a roadmap that shows your users' activity from the moment they become aware of your existence to the moment they reach your conversion funnel and complete their purchase. The main goal of the funnel is to encourage potential customers to take action.
What Is Mobile App Marketing Funnel?
The mobile app marketing funnel has five stages. It indicates your users' journey from the moment they become familiar with your app to the moment they finally download your paid app and turn into retaining customers.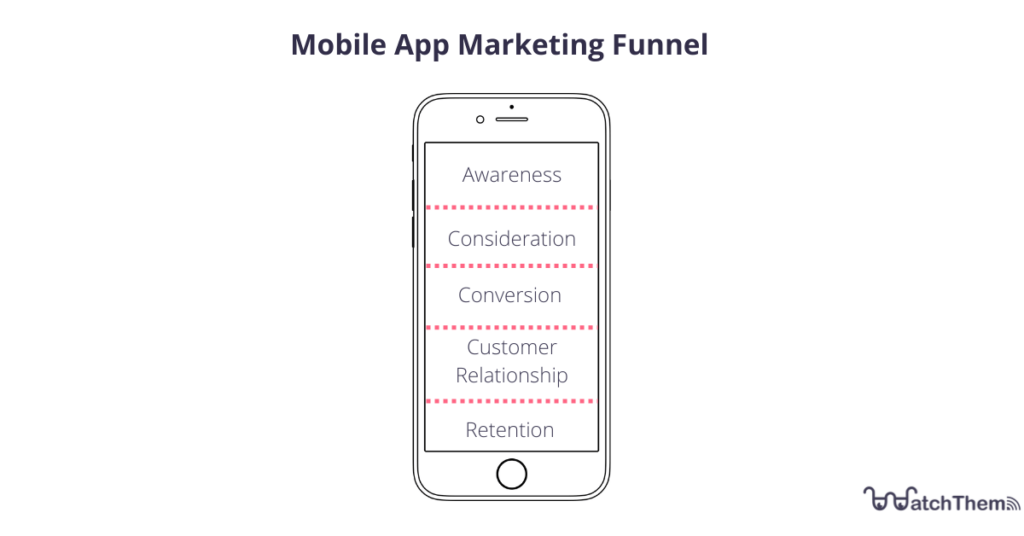 Stage1: Awareness and Discovery
In this stage, your customer becomes aware of your application through content marketing, social media, web browsing, and paid advertising. All you need to do is focus on your app's discoverability. It helps users find your app amid many apps in the App Store or Google Play and increases your chance of getting more downloads.
But what if they don't discover your app? There are some organic and paid ads that can help your potential customers get to know your app. You can create organic ads like unpaid posts on social media channels with an ad creator or use App Store optimization.
For Paid ads, you can use app install ads or retargeting ads. Retargeting ads show display ads to your potential customers who visited or installed your app before or you can use pay-per-click advertising, in which advertisers pay a fee when a user clicks on one of their online ads.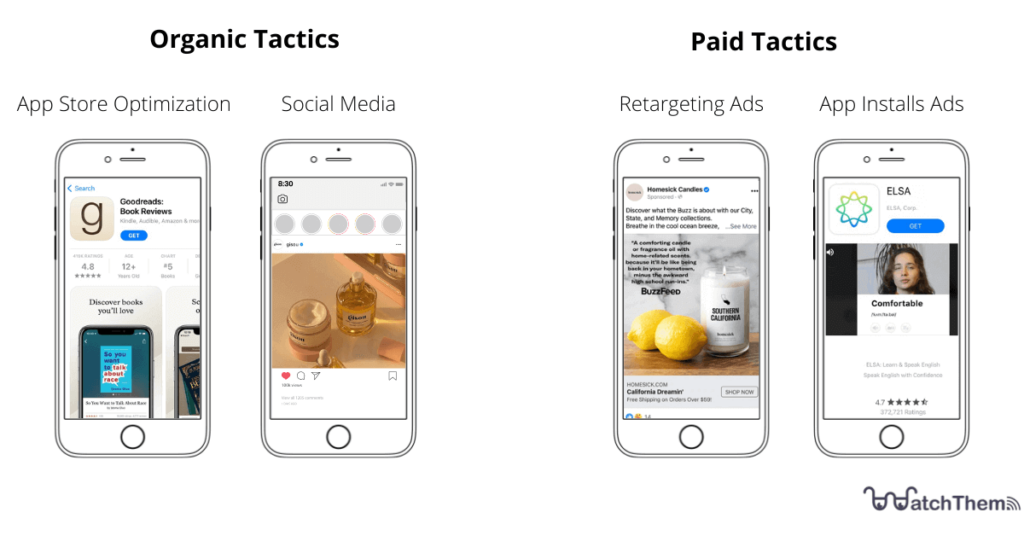 If you want to analyze your user behavior on a web app, we highly recommend WatchThemLive's session recordings which are the best way to track your user behavior and their interactions with your web app. It helps you record your user session from the moment they enter your web app to the moment they quit. Give WatchThemLive a try and sign up for FREE!
Stage 2: Consideration
You must gain your customers' trust in this stage. The consideration stage for the app funnel is not similar to the consideration stage of the eCommerce conversion funnel because your customers can trust you via app ratings, reviews, and social proof on App Store or Google Play.
In this stage, you should send trust signals to people. App Store allows you to use press reviews, your raving fans' quotes, or even promotional videos which inspire your viewers to take action on your App page.
Remember, app ratings and positive reviews highly impact your conversion, so try to get your ratings up to at least four stars and respond to negative reviews to build credibility.
Stage 3: Conversion
The conversion stage is not the same for all mobile funnels, and it depends on what types of mobile apps you have. For some mobile apps, the conversion stage is where your viewers decide to download your app or make an in-app purchase and for others, it can be setting up an account or signing up for an in-app subscription.
Before choosing and applying new tactics, it's better to identify spots of strength or weakness by looking at your current conversion metrics. If you want to increase your conversion rate, you should ensure your users' onboarding process is easy and demonstrate your app functionality.
Moreover, you should pay attention to the UX, and visual design of your CTAs to impress your potential customers and improve their engagement with your application.
You can also provide them with in-app purchases; so they can pay for additional features or functionality within your app.
Stage 4: Customer Relationships
To build customer relationships, you should provide your clients with more value. It's important to keep your retaining customers satisfied and build customer relationships with them. Many marketers spend their time acquiring new customers; as a result, not only do they lose their retaining customers but also lose the new ones.
For building customer relationships, you should provide users with an in-app feedback opportunity that allows them to share their problems and improve their engagement. Moreover, you must deliver excellent customer service or send push notifications to users and remind them to take action.
Stage 5: Retention
Creating opportunities for building customer loyalty depends on how you manage your customer relationships. You get more loyal customers if you provide great customer service and respond to their feedback.
Moreover, you can send a quick word of thanks by email or notifications and update your application by adding new features or freshening your content.
Why Is the Mobile Marketing Funnel Important?
The goal of both marketing and advertising is to convert leads; the mobile app funnel makes it easier for you because nowadays, the use of social media and mobile technologies has increased. So you can easily reach your potential customers through social media channels or online reviews. All you need to do is build a successful converting mobile funnel.
Conclusion
In this article, we explain the structure of a mobile app marketing funnel along with strategies that you can use across each stage. Besides all those tactics, you need a behavior analytics tool like WatchThemLive, which helps you find insights about your user behavior and boost your conversion rate. Sign up and track your users' whole customer journey.