In 2016, ACSI interviewed 4,786 customers to evaluate the largest fast food restaurants based on their recent experiences. According to ACSI's restaurant report, McDonald's faced a big problem because of its poor customer service. The ACSI's report demonstrated that McDonald's ranked in last place with a customer satisfaction score of 69 out of 100. This was while Chick-fil-A ranked in first place with a score of 87. And this caused McDonald's sales to decrease.
As you see, customer experience is critical to your business growth, and an effective customer experience program can help you in this process. In this article, you'll discover how to kickstart a customer experience program to deliver a great customer experience and increase the number of your loyal customers.
Note: Looking for a tool to guarantee your success and ensure that customers will get what they want by using your product or service? We highly recommend WatchThemLive. Stay with us to see how.
What Is a Customer Experience Program?
Before deep diving into how to launch an effective customer experience program, the first step you need to take is to design an effective customer experience. A customer experience program is a systematic approach for customer experience management in order to improve customer interactions with your company and build brand value for them.
Why Set up a Customer Experience Program?
One of the biggest factors that can grow your business quickly is adopting word-of-mouth marketing strategies. When your customers have a great experience with your company and you meet all their expectations, they'll freely recommend your products or services to others.
As Michael LeBoeuf said, "A satisfied customer is the best business strategy of all." So, the importance of customer experience is not deniable Loyal customers are five times more willing to purchase compared to new customers.
The problem is you can't wholly control the customer experience because customers play a role in defining their own experience. All you can do is manage all parts you can control and use product management tools to understand your customers' needs and behavior in the purchasing process.
WatchThemLive is one of the best user behavior analytics tools that gives you a glimpse into your customers' minds. This platform shows how customers move through different pages and how they interact with your products or services. User tracking is the simplest way to gather information about your customers' events (clicks, scroll depth, etc.) and this is ideal for digital marketers, eCommerce managers, and UX designers.
One of the best features that you can use with user tracking is session recording which enables you to watch and replay every movement of your users from clicks to mouse movements. So you can identify any bugs and pain points and easily fix them in order to fulfill users' expectations. Sign up before it's too late. 
How Do I Create a Customer Experience Program?
The first step you need to take is to figure out what you want to achieve with your customer experience program. Do you want to improve customer satisfaction, increase loyalty, or drive more sales? Creating a good customer experience program is not an easy task and it may take too much time and money. Here are five steps to launch an effective CX program:
1. Be an Effective Change Agent
The first thing you need to do is to talk to your customer service team in order to take note of all the steps your customers need to take on their journeys. The most important parts of the customer experience program are to implement a process that includes collecting feedback and gathering experience data from your customers. The second one is to mobilize your team to take action to change or improve customer experience.
2. Start by Making Your Customer Experience a Priority
Although CX highly impacts your bottom line, it's not about just keeping your customers satisfied. Along with all the involved factors, delivering clear and measurable ROI is important as keeping customers happy. People aren't afraid of leaving negative comments about the bad customer experience they have with your company as they share the positive ones on social media channels such as Twitter or Instagram.
Delighted customers are more likely to recommend you to others, whereas unhappy customers don't forget the company that fails to solve their problems. So, map out your customer journey and try to identify the various touchpoints and interactions customers have with your company to improve customer experience and get more loyal customers by the word of mouth marketing.
3. Collect Data on the Customer Experience
The next step you need to take is to understand your current customer experience. Try to find drop-off points and some specific points that distract your customers from conversion. Look for why they abandoned your product page. Besides implementing customer behavior analytics tools like WatchThemLive, you can use customer experience surveys which are designed to demonstrate both quantitative and qualitative data. So you can identify and improve the pain points based on the collected data. Here are a few examples of customer experience surveys:
CES surveys: Besides keeping an eye on product metrics, this survey helps you measure the ease of customer's experience with your brand and the difficulty of your features, so you can identify specific features that are easy or difficult to use for customers and improve them.
NPS surveys: This survey helps you measure customer satisfaction and gives you feedback and scoring data on why people have left your website.
4. Find Actionable Customer Experience Insights
As you know, insights without actions are a waste. Actionable insights which can be generated from customer feedback result from analyzing data. When you gather data on customer experience and collect feedback, you need to turn that data into actionable insights through deeper data analytics. Then, you can use them to make strategic decisions that can drive positive change in your business.
5. Use Improvement Strategies for Customer Experience Constantly
Now it's time to act. Sometimes your customers are confused while using your features or having problems in their sign-up process, so you know what to do because the solutions are straightforward. But sometimes, you can't understand what's going on and need to make a bigger effort to figure out where the problem is. Here WatchThemLive will take the stage and help you improve UX by page optimization feature. Now, Sign up and start optimizing your web pages for free.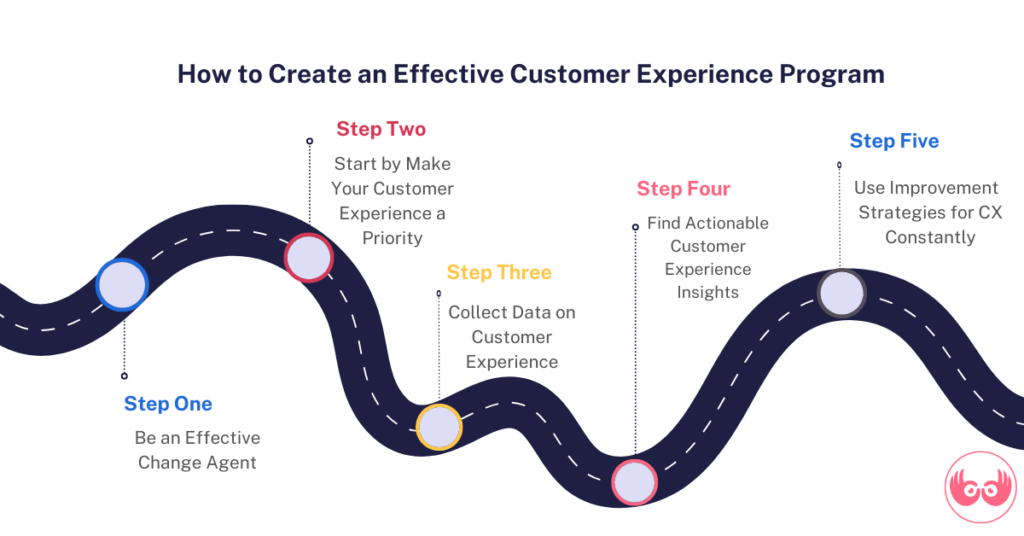 Conclusion
In this article, we discussed how to create an effective customer experience program. To put it in the nutshell, first, define what you want your customer experience to be like. Second, identify the touchpoints where customers interact with your company. Third, create a plan for improving the customer experience at each touchpoint. Fourth, train your employees on how to deliver a great customer experience, and fifth, measure the results of your customer experience program and make changes as needed. Also, WatchThemLive is here to help you to improve your customer experience in the blink of an eye. Sign up for free.