The most important thing in digital marketing is to convert your visitors into customers. As a CRO expert, you maybe ask yourself, "What conversion metrics should I measure to see if my marketing efforts were successful?"
The goal of marketing campaigns is to increase their conversion rate; with the help of conversion metrics, you can determine if you met those goals. It is one of the most important factors for measuring your marketing performance.
Here in this article, we discuss how you can measure conversion metrics as a CRO expert.
Note: Conversion is one of the primary goals of any startup. WatchThemLive helps you boost your conversions by giving you a deeper understanding of the unique path of each user on your website.
What Is Conversion Rate Optimization?
CRO stands for conversion rate optimization, a process for boosting the percentage of visitors who take the desired action on a website. These desired actions include signing up for a weekly newsletter, filling out a form, or purchasing a product.
If you want to calculate your conversion rate, check out this page: How to calculate your conversion rate.
Conversion Metrics You Need to Measure
There are different conversion metrics you should be measuring to understand if your website is doing well or needs optimization. But which ones are important to pay attention to? We discuss the best conversion metrics here to help you gain more insights. Here are some of them that we will review:
Bounce Rate
Page Load Time
Click-Through Rate (CTR)
Interactions Per Visit
Exit Pages
Average Time On-Site
Users
1. Bounce Rate
Bounce rate is the percentage of website visitors who leave your website without any action, such as clicking on a link. They don't even bother themselves to scroll down on your website. So, bounce rate is an important metric that you should measure.
A high bounce rate means people don't get what they want and leave your site soon as they arrive, but a low bounce rate means people are satisfied with your content and page.
So what causes a high bounce rate?
Page load time and your content can highly affect your bounce rate. If people abandon your page, it means your content doesn't satisfy them, your page takes a lot of time to load, or you have a poor user experience.
Want to reduce your bounce rate? A behavior analytics tool such as WatchThemLive can show you the ropes. You can see your site's usability through the user's eyes and improve your conversion rate with heatmaps, session recordings, and web analytics. Sign up and get started with WatchThemLive now!
2. Page Load Time
Your page speed is another metric you should pay attention to. You should improve your page load time, not only because people may leave your site but also because it affects your SEO.
3. Click-Through Rate (CTR)
Click-through rate (CTR) is a metric that measures how many users click on your website's links or your ad. You can calculate CTR by dividing the number of people who clicked on a specific link on your website or ad divided by the number of whole visitors.
Tracking your CTR helps you look deeper at the function of your ad copy, meta descriptions, headlines, etc.
4. Interactions Per Visit
Another helpful conversion rate optimization metric is interactions per visit which help you understand visitors' interactions on your site and enables you to track your visitor's journey. Remember, if your visitors don't click on your CTAs, it doesn't mean that they don't like your content or topic. Sometimes, leaving a comment on a blog post can show their engagement with your website.
5. Exit Pages
With Exit pages, you can realize which pages your visitors are exiting from. It means your user clicks on more than one page and then exits somewhere else. It is important to determine where they are exiting from on your site; otherwise, you will lose your new visitors.
6. Average Time on Site
Average time on site is one of the valuable website conversion metrics that measure your site's average visitor duration. It refers to how long your visitors stay on your page.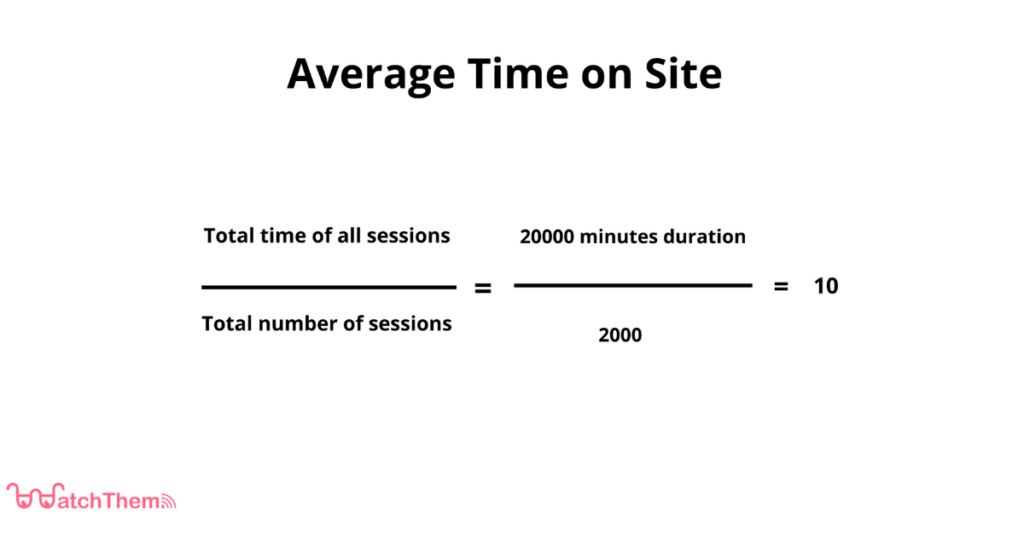 7. Users
You surely want to know your new visitors and returning visitors who arrive at your site each month. It is essential for conversion rate optimization because you can figure out whether your site is engaging your target audience or not. So it is obvious that returning visits show a higher level of interest because they visited your site repeatedly.
With WatchThemLive you can Understand your visitors individually and see how long it takes to complete their purchase.
Interested? Sign up and get started.
Conclusion
In this article, we have discussed conversion metrics in digital marketing. The key success of your business is your conversion rates. The better you understand your target audience's desires, the higher your conversion rates will be.
One way to understand your customers' wants and needs is using a behavior analytics tool like WatchThemLive. Sign up for FREE and start optimizing your conversion rate now.