Consumer behavior trends are constantly changing and if you want to stay ahead of the curve, you have no choice but to adapt to change. Therefore, it's very important to detect how customers' habits and digital marketing are evolving so you can adjust to it.
Thanks to the rapid development of technology, people are more interested in online shopping these days. So, most of the marketing strategy trends for 2023 are related to improving your online presence. Therefore, it's crucial to focus on your website and social media platforms to attract more customers.
But getting more visitors to your site is not enough to increase the revenue. You can optimize your customer experience and boost your conversion rate by keeping a close eye on the customers' actions. A session replay software would be a perfect tool to get the job done. In addition, these tools help you analyze users' behavior and gain valuable information about them.
Analyzing the customers' behavior in the past three years gave us a clear insight into what you should expect to face this year. So, keep reading to find out about the top consumer behavior trends marketers should watch in 2023.
What Is Consumer Behavior
Generally speaking, customer behavior is the study of individuals buying habits. In other words, it's a marketing strategy that concerns how different people make their buying decisions and what factors are affecting their decision-making process. In order to understand consumer behavior trends, researchers segment customers according to different factors such as demographics, personality lifestyles, and behavioral variables.
The outcome of the customer behavior study results in understanding the reason behind consumer strategy and trends for each year. And according to that, marketing strategies should be planned. In the rest of the article, we'll discuss top five consumer behavior trends in 2023.
1. Consumers Want the Ability to Choose Online or In-Person Shopping
According to the statistics, at least 75% ordered something online in 2022. And, since online shopping is getting more popular day by day, the number of online sales will increase even more in 2023. However, only 25% of consumers shop online rapidly. So, it's too soon to shut down your physical store altogether.
It's worth mentioning that 65% of customers prefer in-store shopping to avoid shipping costs. Plus, in-store shopping is very popular because buyers can touch, feel, and even try the items they are buying.
Therefore, it's better to give a hybrid view of shopping to boost your revenue. However, it's obvious that in the near future, most of the customers choose online shopping over in-store shopping. Therefore, you should start running your online store right now. And if you already have an online store and wish to increase your conversions, you can go for CRO tools to boost your revenue.
WatchThemLive is an all-in-one CRO tool that helps you analyze visitors' behavior and generate more leads, customers, and sales. This platform provides you with a different set of features to give you a clear insight into users' behavior and how they are interacting with your website.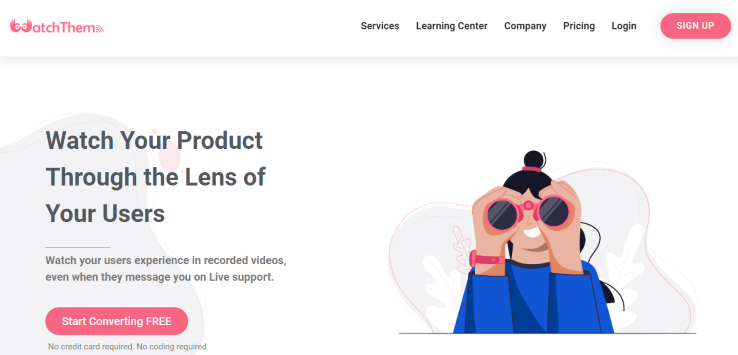 WatchThemLive's features include:
Session recording,
Heatmaps,
Analytics dashboard,
Goal tracking,
Video testimonials (on-page survey),
Visual live chat.
WatchThemLive offers a free plan so you can try everything and see for yourself. Click here and give it a try!
2. Customers Want a Variety of Payment Options
One of the main reasons behind shopping cart abandonment is the limited options for payment. Customers prefer online shopping because it's supposed to help them get what they want faster and easier. However, when they find out their favorite method of payment is not available on your site, they are going to be disappointed.
By offering multiple payment methods, you are respecting your customers. You are making them feel valued and safe. Therefore, there is a higher chance that they come back to you and choose you as their favorite online store.
⚡Pro tip: If your e-commerce is suffering from a low conversion rate, you need to find out which part of your website is not optimized enough to get the users to take your desired action. Therefore, it's crucial for you to track your website's visitors and analyze what is holding them back from converting. Here is the list of the best website visitor tracking tools for eCommerce.
3. Buyers Need to Feel Connected to Your Brand
One of the best strategies for creating positive feelings towards your brand is by delivering an enjoyable buying experience. With customers getting busier these days, everything should be flawless on your eCommerce so they can finish their purchase in a few minutes and get back to their daily lives.
In order to build a strong online presence, your website should have a perfect UX design to keep customers happy and loyal. One of the best solutions for analyzing e-commerce UX design is website heatmap tools.
Heatmaps are visualized representatives of data that show you how visitors are interacting with your site. This way, you can understand which parts of your design are performing as they should and which parts require improvement.
By delivering an amazing buying experience you'll gain respect from your visitors and you can turn them into loyal customers.
4. Customers Rely on Influencers to Discover Products
During the last five years, social media platforms have massively influenced customer behavior trends and marketing strategies. Influencers are the best brand ambassadors these days.
Influencer marketing is a growing channel and its value increased from $6.5 billion in 2019 to 16$ billion in 2022. This shows how powerful this marketing strategy can be in attracting customers to your brand. However, to get noticed, you need to strengthen your social medial presence. It's difficult to strike the delicate balance between being well-known and annoying people. Think through how often you want to interact with users and schedule Instagram posts accordingly. Thus, the audience will understand better what to expect from your brand.

Everybody looks at Instagram influencers for new companies to buy from. They are directly affecting our judgments about different brands. Influencers can easily increase social value and brand equity just with a few posts and stories. We often expect these people to give us valuable pieces of advice or share crucial experience. Even if the matter is how to unlock an IPhone or other trivial things. Users tend to pay more attention to influencers or people with sufficient social capital.
With so many people using Facebook, TikTok, and Instagram to discover and review products, you should definitely include social media platforms in your marketing strategy.
5. Sustainable Products Will Grow in Popularity Even More
One of the main trends among Gen Z is paying more attention to the environment. So, by paying more attention to eco-friendly products, you can increase your brand value. According to reports, two third of the customers would pay more for sustainable products.
Since customers demand more green products, as a supplier, you can seize the opportunity by offering more environment-friendly products. With this strategy, not only have you increased your revenue, but also you have protected public health and the environment.
Marketing Strategy and Trends: Final verdict
Since you are doing everything to provide customers with whatever they need, analyzing their behaviors for planning your marketing strategy and campaigns is crucial. In this article, we explained the top 5 customer behavior trends in 2023 that every marketer should watch.
We also offered WatchThemLive as an amazing tool for analyzing customers' behaviors and improving conversion rates. This service is a perfect CRO tool for eCommerce websites that are looking for a way to increase sales. It's worth mentioning that along with its affordable paid plans, WatchThemLive offers a free plan to help small brands and start-ups improve their businesses.