Many businesses use Google Analytics to better understand their customers. However, due to fierce competition, they will need more comprehensive data and deep insights to make informed decisions to stand out in the market. That's why website visitor tracking tools have been on the rise in the last decade. More and more businesses are using these tools to monitor user behavior and understand market trends.
In this article, we will look at two of these tools: WatchThemLive and FullStory. We will discuss all you need to know about these two super great analytical tools and provide an in-depth comparison. We'll compare WatchThemLive and FullStory in terms of their features, pricing, and more so you can decide what suits you better.
Let's get started.
Take a look at the following table for a quick comparison:
| | | |
| --- | --- | --- |
| | WatchThemLive | FullStory |
| Free Plan | ✅ | ✅ |
| Session Recording | ✅ | ✅ |
| Heatmaps | ✅ | ✅ |
| User Profiling | ✅ | ❌ |
| Intuitive User Interface | ✅ | ❌ |
| Live Chat Support | ✅ | ❌ |
| Browser Console Errors | ✅ | ❌ |
| Trustpilot Rating | 4.8 Stars from 5 | 2.6 Stars from 5 |
Note: Are you looking for an intuitive and cost-efficient website visitor tracking tool? Try WatchThemLive for FREE today!
What Is FullStory?
FullStory is a digital experience intelligence platform that can tell you what you want to know about your customers' digital experience. It helps you identify any problems on their way and allows you to troubleshoot them and fix costly bugs.
What Is WatchThemLive?
WatchThemLive is a behavior analytics tool that was founded in 2020. It enables you to track user behavior flow and understand how they behave on your website by providing the most accurate and comprehensive data. As the result, you can improve your user experience, increase conversions, and expand your business in no time.
WatchThemLive vs. FullStory: User Interface
When it comes to user interface, WatchThemLive is intuitive and easy to use. Everything is designed as simply as possible, and you will be very impressed when you work with it. It's quick to get started and master it.
What makes WatchThemLive different from other tools is that it has a clear and easy navigation menu. Contrary to other tools, you don't get confused when you open up your analytics dashboard.
On the other hand, when you visit FullStory's dashboard, you are presented with too many things in different places. It is a bit cluttered and overwhelms you. As a result, it might take you some time to understand how to get started with it.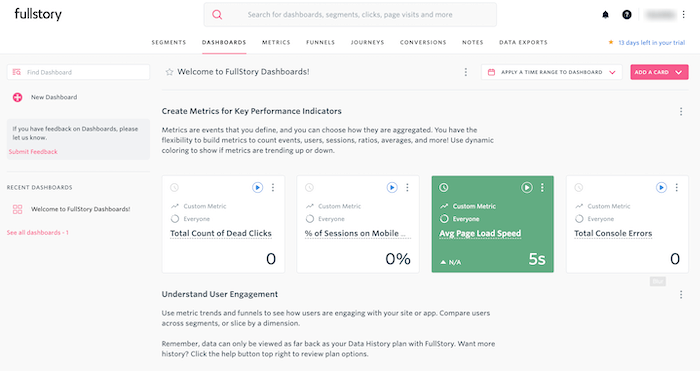 WatchThemLive vs. FullStory: Features
Let's compare WatchThemLive and FullStory's features.
Session Recording
WatchThemLive and FullStory both offer session recording features.
WatchThemLive's session recordings:
With this tool, you can watch every on-screen activity of your website's visitors. If you don't want to track specific visitors, WatchThemLive enables you to exclude them from being recorded.
The best part of using WatchThemLive's session replay tool is you don't need to click users' sessions one by one, you can play all of them back to back by clicking on the 'Auto-play next video.'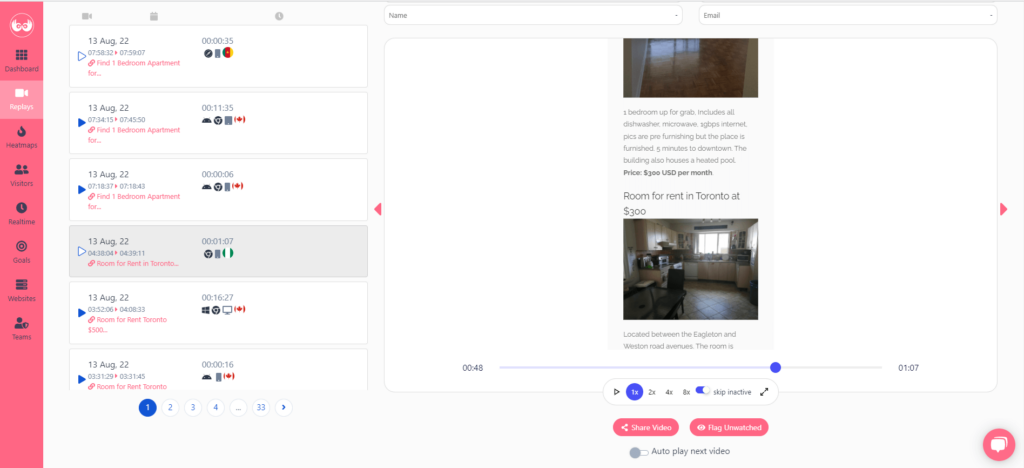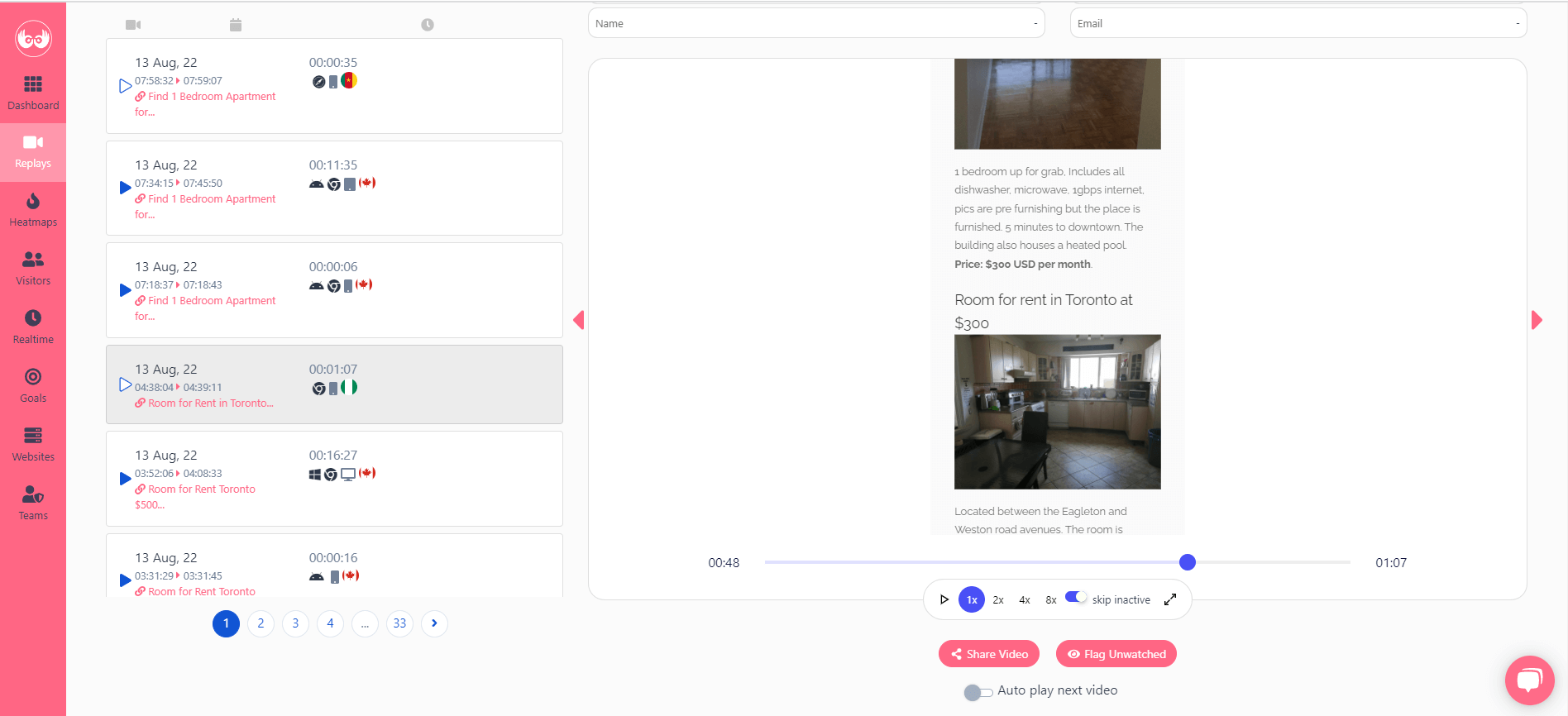 With WatchThemLive, you can profile users' journeys from beginning to end, and you can also see all the users who visited a given page. Thus, you can see how all types of users do on, let's say, your checkout page.
WatchThemLive lets you handpick a specific day or a particular period of time to watch and playback all the recorded videos by that time. This can help you find out whether occasion marketing campaigns impact your customers or not.
You can also add filters to only watch specific recordings, including the user's name or email, a given web page on your website, country, browser, devices, screen resolution, and many more. Moreover, you can see all the tracked events for each video.
Filter by name or email: Every business has extra-special and VIP customers. WatchThemlice allows you to filter the recordings by your VIP customer's name or email and check and analyze their journey to engage new customers based on your VIP customers' conversion action.
Filter by page: If you want to see how your visitors navigate through a specific page, you can use page filters to drill deep into their navigation.
Filter by country code or browser language: This filter helps you target visitors from a specific country and see their interaction through your website.
Fullstory's session recordings:
FullStory's session recording feature is geared toward the needs of software developers and those who need more technical information with some information from the console section of a web page.
It has easy implementation and intuitive UI which allow your team members to become involved very quickly. And tagless auto-capture can capture every swipe, click, scroll, and page view, so you never have to be concerned about data points slipping through the cracks. But unfortunately, you will be disrupted by slow page loads while watching your recordings.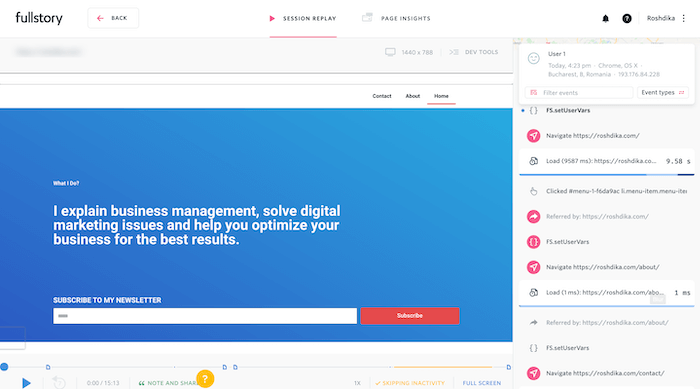 Our opinion: WatchThemLive would be a better and more comprehensive choice if you need to segment users and watch their videos. Usually, marketers, analysts, and UX designers like WatchthemLive better.
Heatmaps
WatchThemLive lets you visualize users' clicking and tapping on your website with heatmaps. You can see your heatmaps for different devices: desktop, tablet, and mobile.
Depending on the plan you choose, WatchThemLive allows you to create heatmaps for as many web pages as you want:
Free plan: 3 heatmaps
Individual Silver: 5 heatmaps
Individual Gold: 10 heatmaps
Team Silver: 30 heatmaps
Team Gold: unlimited heatmaps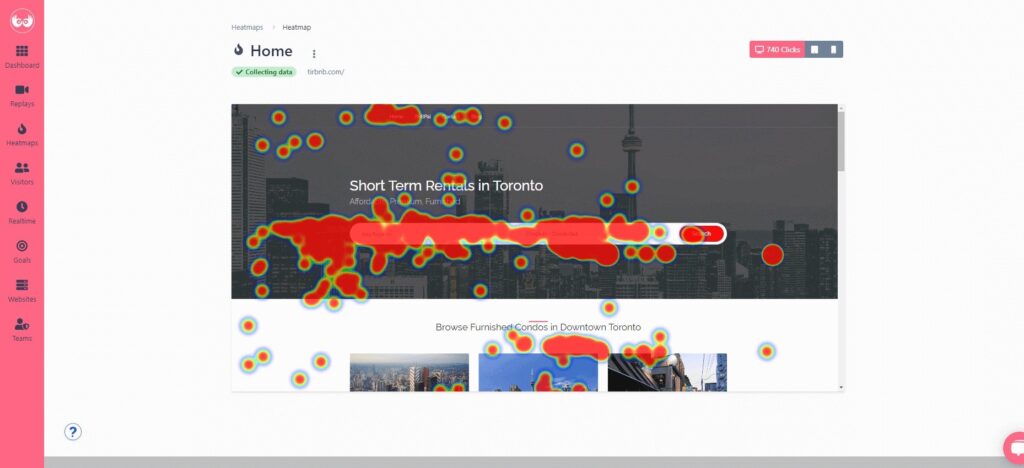 FullStory's heatmaps provides both click map and scroll map. Click map can be filtered by most clicked, most error clicked, most rage clicked, and most dead clicked areas.
FullStory's heatmaps can be accessed by clicking on page insights when watching a session replay. For each specific moment of the session, you can go to page insights to see user engagement data for the current page.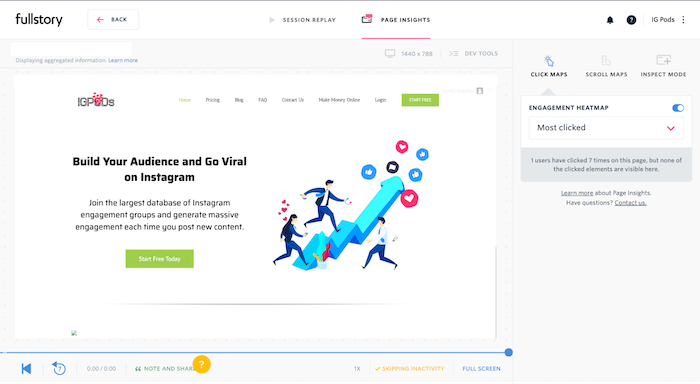 Unlike WatchThemLive, you can't create heatmaps for specific pages and see the heatmap for a particular page. You have to find it through session replays.
Analytics
WatchThemLive is popular for simple analytics but a deep vision. With WatchThemLive analytics, you can see all metrics on a single page which is easy to follow. WatchThemLive's analytics feature provides you with deep insights while keeping it as simple as possible. It is a simplified version of Google Analytics.
You will find valuable data on your website and its visitors, including:
Pageviews
Referring domains
Visitors' countries
Visitors' operating systems
Utms
And many more data in a simple way.
Moreover, WatchThemLive allows you to download your data as PDF and CSV files.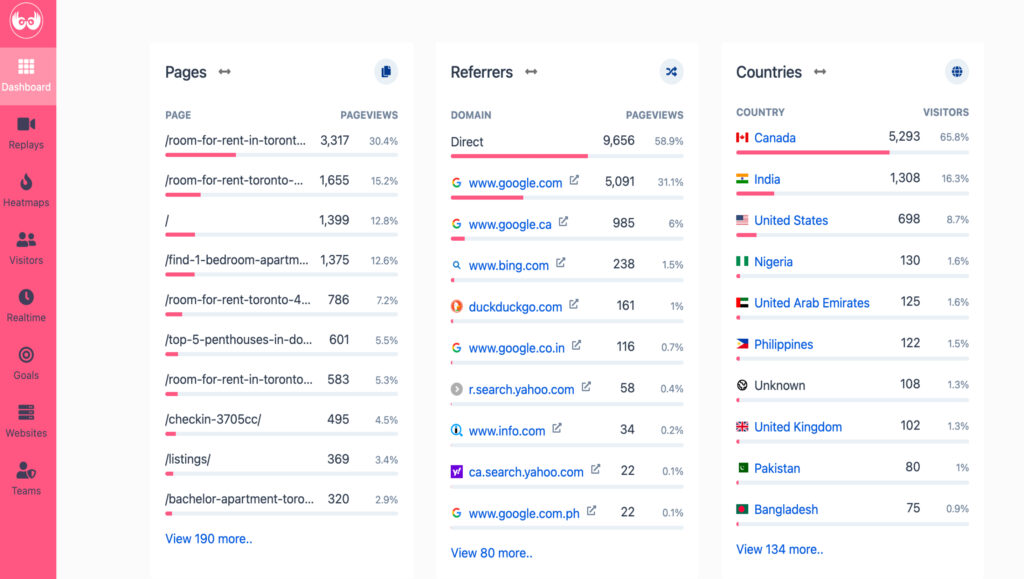 Only focus on what matters with WatchThemLive Analytics. Create your FREE account and get started!

FullStory also provides visitors' screen resolution, browser, device, etc. You can also create cards and metrics to visualize and track the data you need.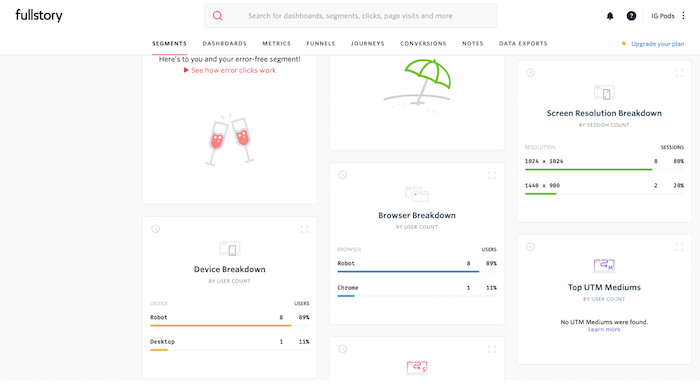 FullStory allows you to track a variety of data. However, the dashboard is not as intuitive as WatchThemLive's.
Conversion Tracking
With WatchThemLive, you can create goals and track conversions. You can set the goal as a pageview or a customer event such as a button click, form submission, etc. Thus, you see how many visitors complete a desired goal and optimize it based on their interactions.

FullStory enables you to track conversions by searching for a specific action. Unfortunately, this means you can't define the goal yourself, and you have to turn it into a FullStory search.

If you want to use this tool for advanced conversion tracking, you should use their dedicated conversion product available if you purchase the Enterprise plan.
User Tracking
WatchThemLive provides you with users' profiles in a way that none of the other behavior analytics tools offers. So for each user, you can follow and analyze their whole journey throughout your website or web app.
Each user profile includes some information about the user (date of the first session, country, device, etc.). Here, you also get access to all the user's session recordings and see all the events in each session.
To put it simply, you can combine visitor behavior tracking with session video recording to track user behavior flow and get better results.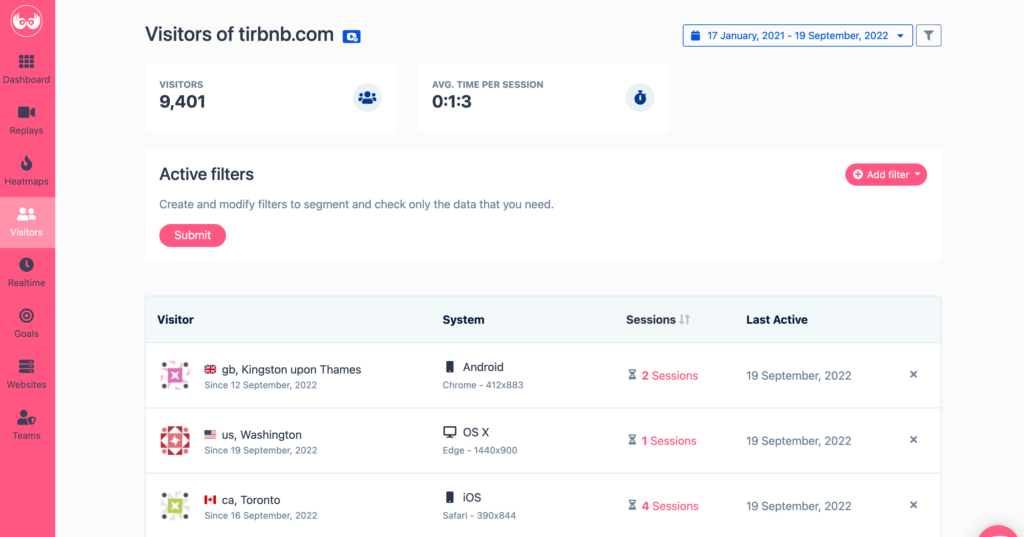 Privacy Challenge with Fullstory:
To track a specific user with FullStory, you have to use a JavaScript function to give them an id. However, remember that you shouldn't use guessable unique ids for users, such as their email addresses. That's because attackers can change your data if they get to access your private IDs. For example, they can attribute a user's session recordings to another user.
WatchThemLive vs. FullStory: Integrations
On WatchThemLive, you have choices via Google Tag Manager, CMS dashboard, or HTML coding to integrate your tracking code.
You can also integrate WatchThemLive with MyURLs.bio, an Instagram link-in-bio tool. Again, this is a feature that no other platform of this type offers. With this integration, you can easily track user behavior on your link-in-bio page to improve its design and increase conversions.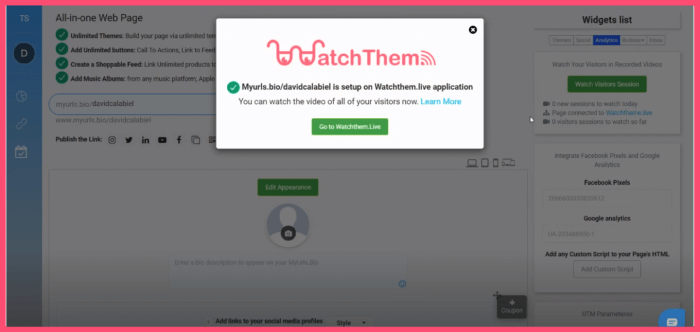 As for the integration of FullStory, you can use a set of tools to access your information across different platforms.
WatchThemLive vs. FullStory: Plans and Pricing
WatchThemLive offers a limited plan that includes 1,000 session replays, three heatmaps, and 50,000 visitor event tracking. The tiers and their prices are listed below:
Free plan: ✅
Individual Silver: $29/ mo
Individual Gold: $49/ mo
Team Silver: $69/ mo
Team Gold: $99/ mo
To save a great deal of money, you should purchase annual or lifetime, but monthly is always an option. You can also get more discounts on multiple website purchases.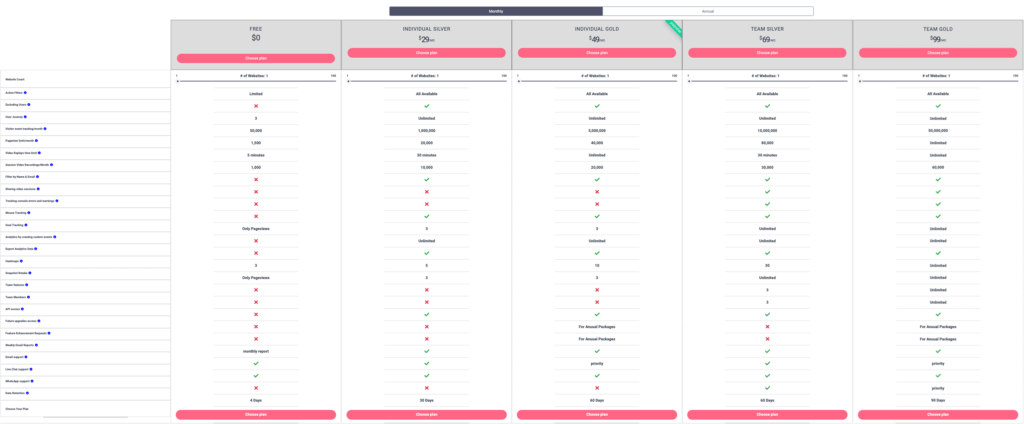 Pricing for FullStory is geared toward large websites, and it starts from $849/ mo (billed annually).
FullStory offers two paid plans: Business and Enterprise, that include a two-week free trial. Unfortunately, FullStory doesn't provide any pricing information on their website, and you need to contact them for more details. However, the pricing will increase if you want more sessions to be recorded. Based on our research, their minimum package increased from USD $199 to $899.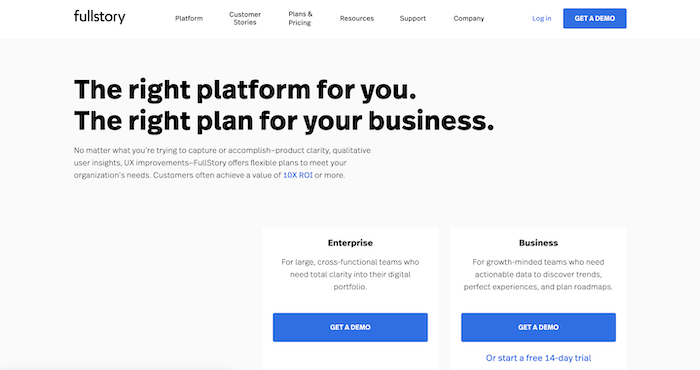 When you need a cost-efficient tool, WatchThemLive is the right choice for you. Also, you can use their limited free plan to choose the best tool without any risk. Their free plan offers the features below:
3 user journey
50,000 visitors event tracking
1,500 page views for session recordings
1,000 session video recordings
3 heatmaps
5 Reasons Why Customers Prefer WatchThemLive Over FullStory
Here, we give you five reasons why you need to choose WatchThemLive over FullStory:
1. WatchThenLive helps You Keep Your Website in Your Own Control
WatchThemLive helps you to take control of your website by using WatchThemLive's session recording which allows you to delete or keep the recorded videos and share them with your web developers to make improvements in case of any changes required.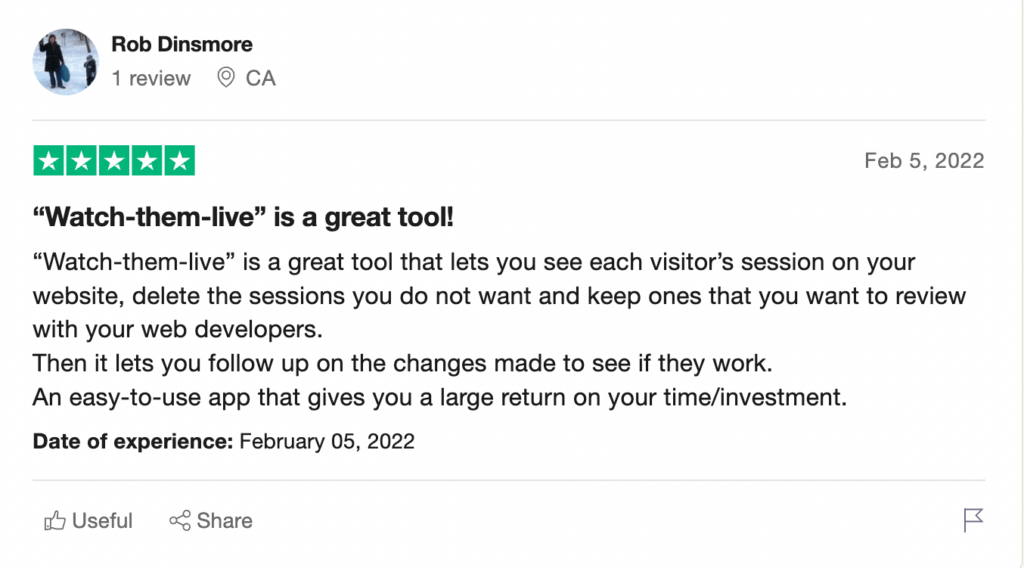 2. WatchThemLive Has an Affordable Pricing Package
WatchThemLive offers some of its main features in its limited free plan that helps you make a choice.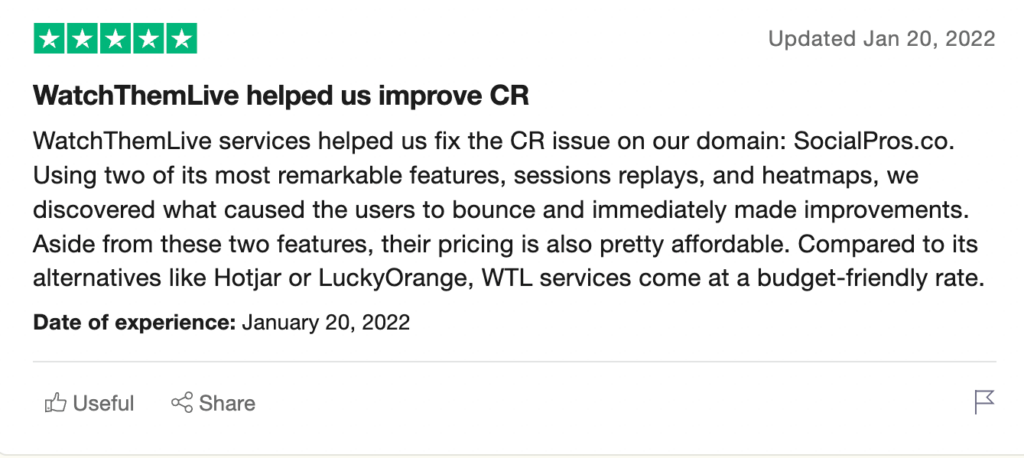 3. WatchThemLive Has a User-Friendly Inerface
WatchThemLive tries its best to design a user-friendly interface to decrease users' search time and enhance their engagement.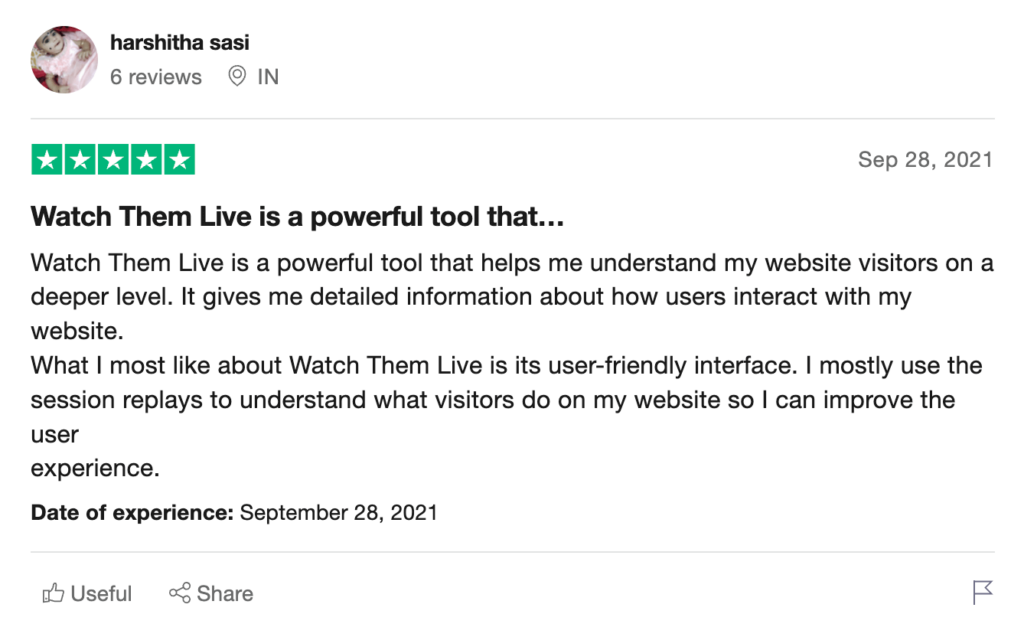 4. WatchThemLive Has Reliable Session Recording
In order to discover user pain points, you need a tool that captures all your users' activities. WatchThemLive has this option and records every move your users make on your website.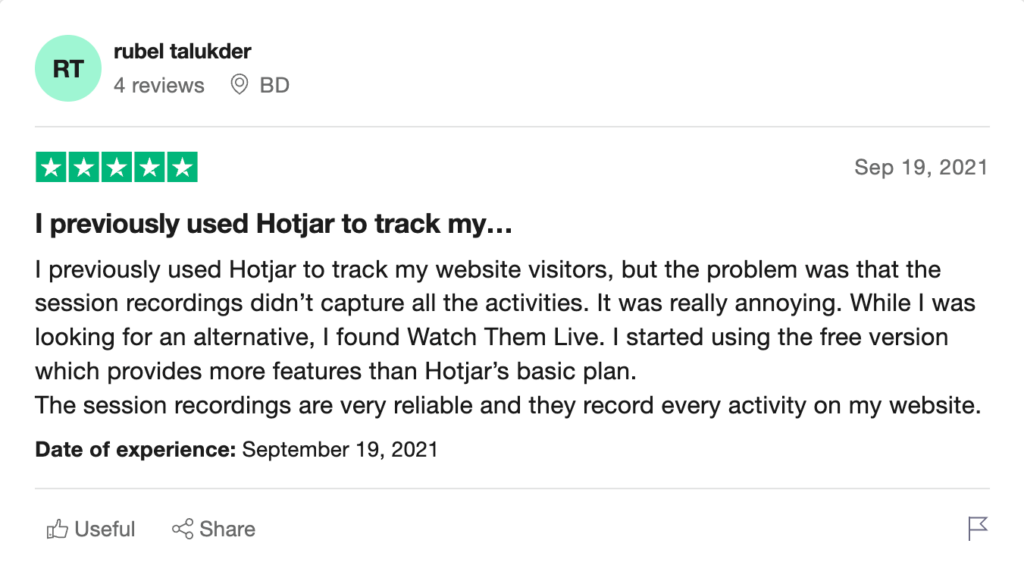 5. WatchThemLive Gives You Optimal Results
WatchThemLive helps you see faster results half the time. You just need to determine your strategy and pinpoint your goals and the best tools for your business.

Conclusion: WatchThemLive or FullStory?
Each tool has its own capabilities, and it's all up to you to choose the right one according to your needs, type of business, and objectives.
FullStory is a good tool if you are a developer or looking for more technical information as it provides dev tools. So, if you are looking for a simple tool with an intuitive interface and tons of handy features for marketing and analytics, you should consider WatchThemLive, as FullStory has a steep learning curve, and it takes some time to understand how to use it properly.
FullyStory is extremely expensive and only works for large companies with deep pockets. WatchThemLive is the most economical option in the market.
Moreover, WatchThemLive has some unique features, such as user profiles and jump page (MyURLs.bio) integration, and it's more cost-efficient. It also has a promising roadmap and there are more cool features on the way! Stay tuned.