Saas marketing or marketing for software as a service is a unique and developing area. The most important things in this area include the product features, user experience, and the support you provide.
It is a distinct and challenging marketing subset, mainly because of its nature being intangible. Saas model work based on two key elements; competitive software and exceptional customer support.
Having these two elements makes your software easy to sell. But you need users who know about you and to be attracted to your product and engage with it.
You just want to entice users to give it a try so that they experience your great product and support.
Besides being intangible, another challenge of Saas marketing is its different use cases. B2B Saas marketing varies for each sector, and showing examples of each use case to various prospects is vital.
In this article, we are going to discuss Saas marketing definition, strategies to implement a Saas marketing plan, and insights.
What Is Saas Marketing?
Saas marketing refers to a sort of marketing that aims to generate leads and persuade them to subscribe to software. Saas is a method for businesses to offer their goods through cloud-based apps with frequent upgrades and enhanced features.
It is different from tangible and one-time purchase products. Saas offerings are intangible products that must constantly persuade existing and new users it's worth the monthly charge.
Saas Marketing Plan
Building an outstanding product and establishing product-market fit doesn't guarantee the success of a SaaS startup. Marketing is critical for companies to achieve long-term success and development.
Here are the five steps that anybody can follow to plan and execute effective Saas marketing strategies:
1- Set Your Marketing Goals
Before considering techniques and channels, the first stage in any marketing plan should be to identify clear quantifiable targets and deadlines for achieving those goals.
Simply, consider the following points in setting your Saas marketing goals:
The Saas marketing goals should follow the SMART goal model. It means that they should be Specific, Measurable, Achievable, Relevant, and Time-bound.
Focus on one metric that matters (OMTM) when setting your marketing goals

Divide your ultimate goal into smaller, more manageable time limits (it guides you to set your short-term targets and workflow).
2- Know Your Target Audience
Your next step will be identifying your target audience or target market. Determine your ideal user by first learning about who they are, how they think, and where they are.
Moreover, try segmenting your customers based on various customer segmentation data. Pivoting your Saas marketing strategies for each customer segment is what makes your marketing efforts effective. So, in this step, define your valuable customers based on the following attributes:
Demographics

Behaviors

Transactions
Hence, adding these characteristics to your Saas marketing plan helps you create weekly and daily tasks to attract each segment.
3- Select Your Channels
How to develop channel marketing for Saas is crucial to the success of your marketing plan. Identify the channels that will assist you in achieving your goals. As a Saas marketer, you should attract and keep profitable customers for your organization.
In other words, you need to check and analyze the profitability of each channel. Also, it is important to note the level of scalability for each channel.
4- Track your Progress
While you are working through your Saas marketing plan, keep track of your progress. Remember that development is a dynamic process that evolves. And acquisition methods that are effective now may not be effective tomorrow.
You will know if you are on track and see new opportunities if you keep an eye on your progress. Thus, while implementing your marketing strategies, make sure you are always improving them.
5- Scale your Saas
After you've established your promotional strategies and channels, and tracking them, it's time to explore scaling opportunities. While looking for new opportunities to scale your Saas, it's better to consider the following to prioritize the best opportunities:
Profitability potential

Size of the market

Scalability
Don't forget to scale your business only when your Saas business is growing, and not in the startup stage.
Saas Marketing Strategies and Tactics
The basis of the Saas marketing plan is the strategies and methods. These strategies provide you with the insights necessary to lead your business toward your goal.
The stage of your Saas business determines your marketing strategy. For example, if you are still in the early phases, your major strategy should be to:
Brand awareness

Validating product-market fit

Lead and customer acquisition cost analysis
Product-market fit refers to when your product effectively meets the demand of your target audience. It is important to know where you stand in terms of product-market fit (PMF) to better define your strategies.
Also, there are some general Saas marketing tactics to help you promote your products:
1- Saas Inbound Marketing
Saas inbound marketing is an approach that creates valuable content to attract Saas users. You may start a Saas inbound strategy by developing your buyer personas and defining main buyer qualities.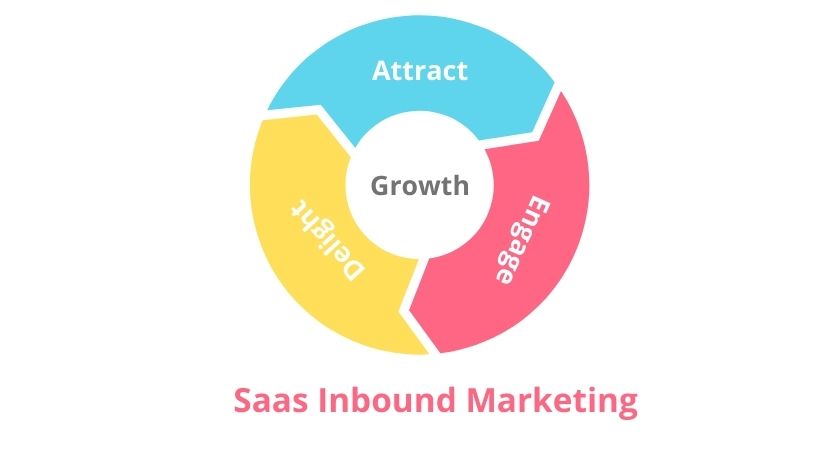 These personas have an impact on every phase of the Saas inbound marketing. They provide information about their preferred communication channel, online behavior, and unique needs.
The next stage is to generate material for them to answer their needs and assists them in solving problems.
Successful Saas companies concentrate on their customer challenges and offer solutions to them by inbound marketing strategy.
Related Article: Persona Mapping: What Is It and Why It's Vital
2- Facebook Ads
One of the greatest aspects of Facebook advertising is the ability to target users in a variety of ways. Facebook's data tracking is quite comprehensive. So, it allows you to target individuals who have visited your Saas business website without converting. Also, you can choose them according to their precise profile information.
You may refer to your buyer persona to describe exactly the sort of customer you're searching for. Then, you can target those prospects based on a range of variables such as purchasing behavior, interests, etc.
Other benefits of advertising on Facebook include its powerful statistics, and the Facebook advertisements may be tailored to any budget.
3- Google Ads
Google ads have a massive reach that is beneficial to any marketing campaign. It allows for targeting users based on relevant keywords. That's how Google ads can help you reach the prospects that have a relevant problem they want to solve. 
So, it provides you the chance to welcome to engage with your Saas product with a free-trial sign-up.
Moreover, you can use tools like Watch Them Live's session replay to analyze how each visitor interacted with your business. This is essentially helpful for your next Google ads campaigns. Session replays can provide you with the prompt feedback you need to get from your Google ads.

Conclusion
Although Saas marketing differs from other sectors, you can still increase your profitability using robust marketing strategies.
In this article, we discussed Saas marketing definition and steps to prepare your marketing plan. They include defining goals and your target audience, to select the best channels to reach them.
We also introduced some tactics like inbound marketing, Facebook, and Google ads that help you promote your Saas company.