It's been eleven years since the founder of Apple, Steve Jobs passed away. Steve Jobs believed that customers do not always know what they want. Apple's product development strategy is derived from this idea. They knew that people were willing to pay for their higher-priced products. Although many people think Apple has become a financially-focused company and isn't innovative anymore, others believe it is still worth buying.
Along with all the positive and negative tweets and reviews, Apple reached a $3 trillion market valuation today. So what is the key success factor of companies like Apple, Google, Netflix, or Amazon? This question can be answered in different ways, but one of the most important factors is their product development strategies. In this article, you're going to discover what product development strategy is and why it is important.
Note: Many companies think they have a great product development strategy, but can they meet their customer's expectations? If you want to take the right steps to provide a superior customer experience to fulfill their needs, WatchThemLive is here to help you. Keep reading to see how.
What Is Product Development Strategy?
Product development strategy refers to methods and activities used to develop new products, bring innovative offerings, or upgrade existing products.
In the picture below, you can see four main parts of the product development strategy:
Create a strategy and a product plant
Start building a product
Execute a product launch
Introduce the product into the market (GTM)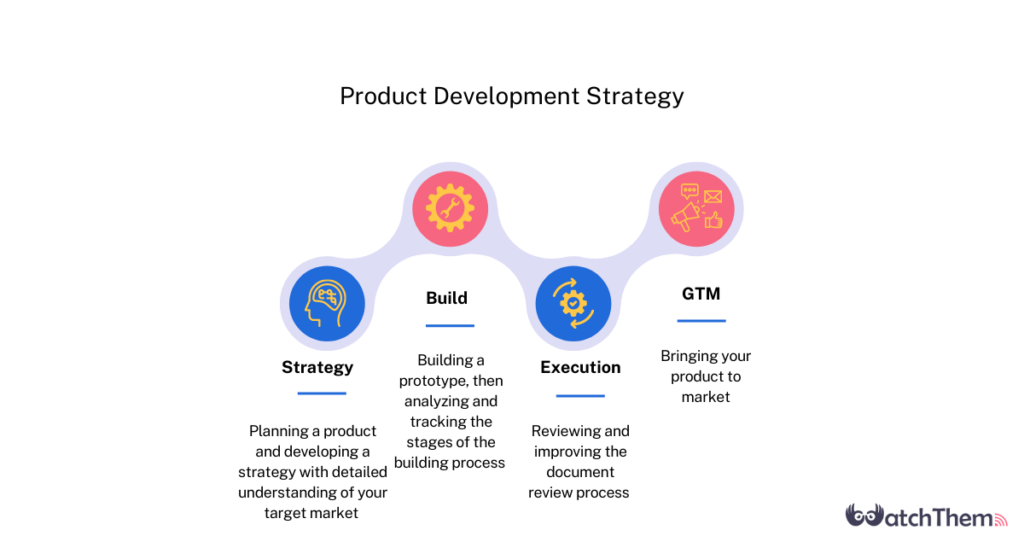 Why Product Development Strategy Is Important?
Product development strategy helps a company drive its business forward, disrupt the market competition, and satisfy customers by placing product offerings in a suitable position and improving their current product's quality and price.
Customer delight is one of the important factors that affect your customers' purchase decisions and customer loyalty. No matter how hard you try to provide superior customer experience, there is always an unsatisfied customer who doesn't complain. So how can you realize that let alone look for a solution to win back your frustrated and unhappy customer? Today, product management tools take the stage, they are software systems that help you improve your product life cycle.
WatchThemLive is a behavior analytics tool that enables you to create an effective customer journey. This platform has many useful features, such as session replay that allow you to monitor their journeys and identify and overcome customer pain points. Session replay or screen recording creates video-like recordings of your customers' journeys to show you how they interact with your products. It can capture things like clicks, page scrolls, and mouse movements, so you can discover all pain points to improve their journeys hands down. 
If you are interested, try WatchThemLive's session replays now and sign up for FREE.
What Are the 5 Product Development Strategies?
Before deep diving into product development strategy examples, you need to become familiar with different types of product development strategies:
1. Pricing Strategy
This is used when a company wants to set the most suitable price for its product or service according to different pricing strategies. Here are five main types of pricing strategies:
1) Value-Based Strategy
The value-based strategy is a strategy businesses use to set a price based on customers' perceived value of products and services, especially compared to other competitors.
2) Competition-Based Strategy
The competition-based strategy is a strategy used by businesses to set a price after observing the prices of competitors in their niche.
3) Cost–Based Strategy
The cost-based strategy is a strategy businesses use to set a price for their products and services based on their production costs.
4) Dynamic Strategy
The dynamic strategy is a strategy businesses use to set a flexible price for their products and services based on the economic principles of customers' demands and changes in the market.
5) Margin-Based Strategy
The margin-based pricing strategy is used by businesses to understand how much they need to sell a product to make a profit. This means constantly monitoring prices and costs to ensure that the company will reach the highest profit margin.
2. Innovation Strategy
This is a clearly-defined strategy to create new value for products and services and build competitive advantage to achieve business growth.
3. Time-To-Market Strategy
Time-to-market or TTM refers to how long it takes for a company to launch its products.
4. Market/Customer-oriented Strategy
This is an approach to aligning your business's goals to your customers' needs.
5. Platform Strategy
It enables you to use a platform to provide your products to a wider range of customers.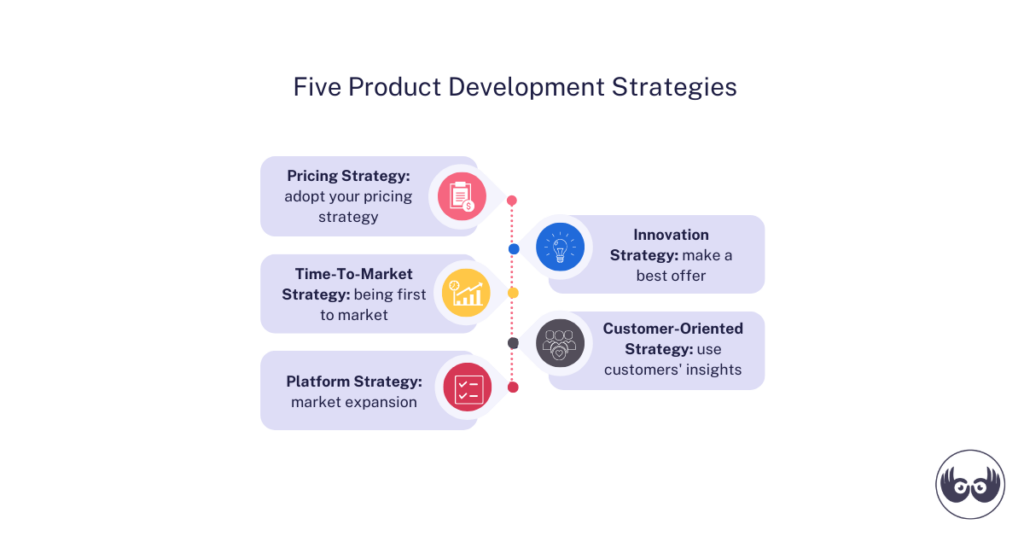 What Are Product Development Strategy Examples?
In this section, we select two successful companies to show you how they developed their strategies:
Netflix's Product Development Strategy
Netflix is an American streaming service that enables you to watch movies and series online. This platform has over 200 million subscribers. Netflix is a subscription, including unlimited access to the high-quality original content. In the beginning, Netflix's product development strategy was to get big on DVD, but as the business grows, they focus on a profit-margin strategy and original content. This is the key success of Netflix.
Coca-Cola Product Development Strategy
In 2017, COO James Quincey, the president of Coke, said, "If we embrace where the consumer is going, our brands will thrive, and our system will continue to grow. This is Our Way Forward." As you've noticed, Coca-Cola has a customer-oriented strategy and puts its focus entirely on customers' demands. It tries to listen to the voice of its customers and respond to them based on their needs. 
What Are the 7 Stages of Product Development?
In the section above, you became familiar with two good examples of product development strategies. Now it's time to discuss its different stages. No matter what business you're in, the product development process is crucial for any business. If you want to make your business withstand heavy competition, you need to stay up to date with current trends. In this part, we'll explain five phases of the new product development process:
1. Idea Generation
In this stage, you need to focus on ideation and brainstorming according to several sources, including competitors, business customers, and periodicals. It's not easy to take the first step to building something new and innovative. You may get stuck in this phase or successfully pass the initial phase. Many aspiring entrepreneurs are focused on creating something new and putting aside their existing products, but many of the best ideas originate from an existing product redesign. Just look around to identify and meet people's needs like David Bannett, who founded PopSockets in 2012. 
2. Research
No one likes to spend time and money on something that doesn't work. So you need to validate the idea in your mind by researching to make sure you're creating a product that people will pay for it. You can validate your product idea in these ways:
Creating online surveys to get feedback
Consulting with your friends, employees, and family
Launching a coming soon product page to grab people's attention
Doing research based on your marketing trends
According to the results and feedback you get, you can win hands down.
3. Planning
As Dale Carnegie said, "An hour of planning can save you 10 hours of doing," you need to spend some time planning before building your prototype. You can easily get lost in the process if you don't clearly understand what you need. So you can make a list ranging from your product's design to different components or materials you need, then focus on brand positioning and marketing strategy. Before you take your next step, ensure you gain a major foothold in the market.
4. Prototyping
The fourth stage is to create a prototype before mass production. In this stage, you've got to try building several versions of your product and measure product success. You should weigh up your options and make improvements until you get satisfied with the final sample. Creating a product prototype enables you to refine the functionality of your sample and build something more valuable for your target market.
5. Sourcing
In the fifth stage, you should build your supply chain. If you are satisfied with the results of the previous phase, you can start gathering the materials, and manufacturers, looking for suppliers, and all you need to create a product and announce a new product in the market. In this stage, you must decide whether you want to use an international or a local supplier for your materials. So compare the two options to find out which one is better based on your product type.
6. Costing
In this stage, you need to make a list of what it will cost to produce your product ranging from market research to shipping costs, then you can determine a retail price.  During this stage, you should select your pricing strategy if you want to make a profit. Here are 10 of the things you should pay for in new product development:
Ideation process
Industrial design
Prototyping
Electronic engineering
Mechanical engineering
Certifications and testing
Packaging design
Mold tooling and manufacturing setup
Production batching
Shipping and importing costs
7. Commercialization
In this stage, if everything goes well in the previous phases, 90% of your work is done. All you need is to introduce your product to the market considering the timing and the location of the product launch. Running a successful go-to-market is important. If you run out of the budget and you have no money for expensive ads, you can use the following tactics:
Use influencer marketing
Send product launch emails
Enable Instagram shopping
Promote your product or service as a gift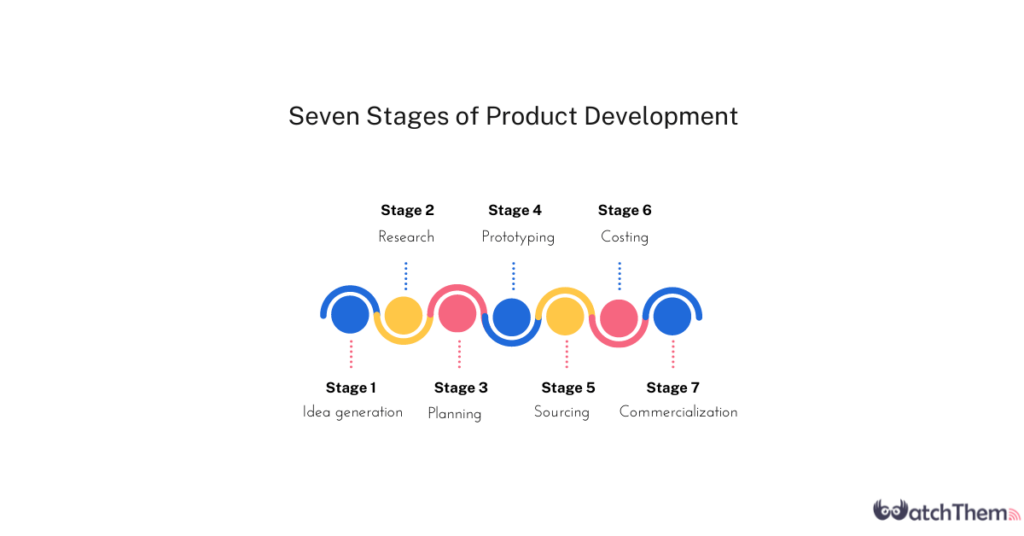 Conclusion
In this article, we discussed what product development strategy is and how it can impact your business growth. But there is a point that you should consider, every industry has its unique way of creating a new product. Don't try to be like others, be unique, and think creatively. Then you'll be surprised by the results you receive. Meanwhile, use WatchThemLive as your right-hand man to find out your customers' needs. So you can address their issues by creating an innovative product. Don't let your competitors win your customers, and sign up before it's too late.