Are you spending a lot of money on your marketing funnel but only a few customers complete your sales funnel? It's sad news, but you've got a leaky sales funnel. So how can you realize if you have a leaky funnel? Don't worry; there is a range of tools, strategies, and tactics that allow you to identify those cracks in your conversion funnel. 
In this article, we explain what sales funnel leakage is and how you can fix it.
Note: Want to map out your entire sales funnel? WatchThemLive enables you to fix all cracks in your funnel. Keep reading this article to figure out how.
What Is Sales Funnel Leakage?
The worst thing that can happen for any business is having a leaky sales funnel. All stages of your marketing funnel are connected to one another; according to the picture below, even a small crack in one of the stages will come at a price. Therefore, you might lose half your leads because of your leaky funnel. Finding leaks and repairing them is not an easy task, so you should focus on funnel analysis to realize where there could be a leak.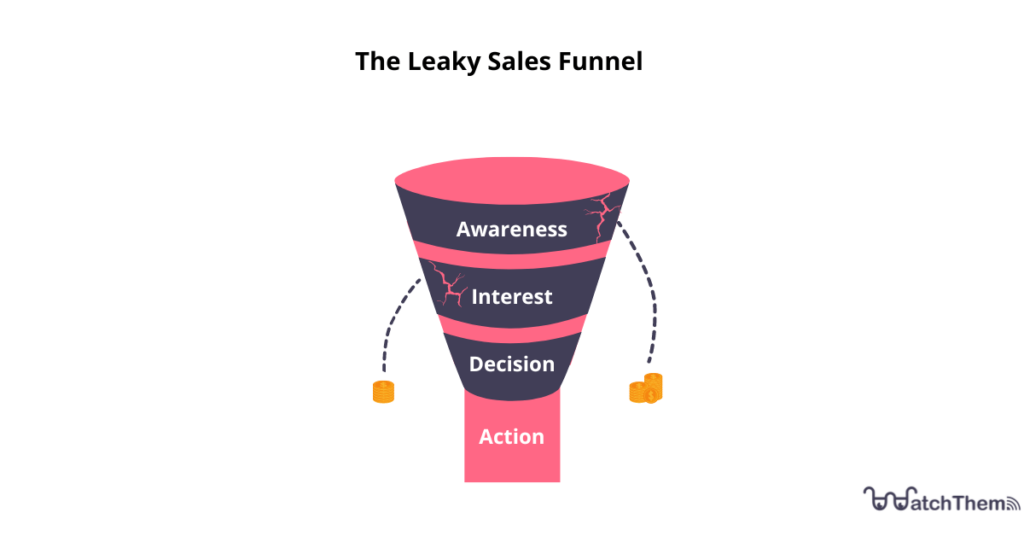 Why Is Sales Funnel Important?
The purpose of a sales funnel is to generate leads, then nurture them and convert them into actual buyers in order to generate more sales. One of the biggest challenges for businesses is to improve their sales funnel. So if you want more money, you should consider building a successful sales funnel. That's why the sales funnel is so important.
How to Recognize Your Sales Funnel Problems
Before we explain how you can fix your leaky sales funnel, you need to identify where the sales funnel leaks come from. You can use Google Analytics to help you see where people are dropping off on your website or use a behavioral analytics tool like WatchThemLive. This tool provides you with different services such as heatmaps or session recording which allows you to monitor your customer's journey and see how much they are engaged with your content.
Heatmaps: Heatmaps are a data visualization method in the form of a map that measures your customer engagement with your website. If you want to recognize which areas are the most and least popular, you can use this feature.
Session recording: If you want to watch the actions taken by an individual user, you can use this feature to record each user's on-screen activity.
Interested? Sign up and give WatchThemLive a try now.
How Do You Fix a Leaky Sales Funnel?
Recognizing a leak is just the beginning of the story. A leaky sales funnel can be one of the biggest obstacles to growth in your business. In order to identify opportunities for improving your business, you need to optimize all of the stages of your funnel continuously to find where the sales leakage could come from. Your sales funnel has four stages:
Awareness stage
Interest stage
Decision stage
Action stage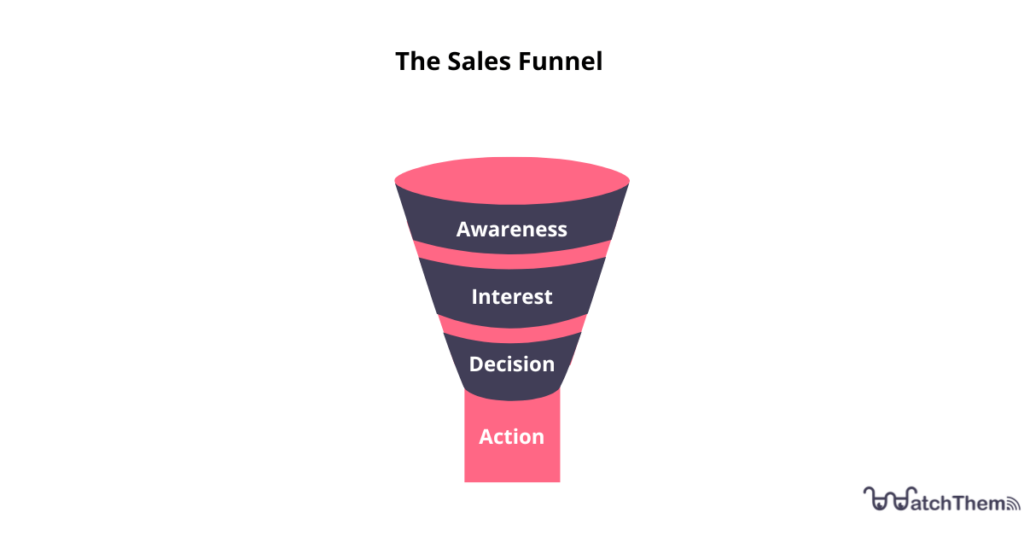 To figure out whether your sales funnel leaks or not, you need to analyze each stage with its number of potential customers in order to find the leaks. Here are some strategies you can use to fix your leaky sales funnel:
1. Attract the Right Customers
The first stage of your sales funnel is awareness which your potential customers become familiar with your business. So make sure you have a strong marketing campaign that makes you different from your competitors in order to grab your customer's attention. But, how can you reach the right target audience? Here are five ways that enable you to reach them effectively:
Create useful and relevant content.
Use social media and targeted advertising.
Write blog posts about your line of work.
Create a successful email marketing campaign.
Provide great customer service.
2. Keep Your Potential Customers Engaged
The next stage you should pay attention to is the interest stage. There is no guarantee that your visitors will reach the end of your sales funnel. They may lose interest early, even before they reach the decision stage. So how can you make a great first impression and keep users engaged?
Share new content and update old content.
Create a great customer experience.
Offer them discounts and promotions.
Use exit-intent triggers.
Follow up on customer feedback.
Update your website.
Improve your website's navigation.
3. Provide Your Customers with Significant Information
One of the most important stages of your sales funnel is the decision stage because this is where your customers decide to make a purchase. In this stage, they weigh up their options and compare you with your competitors, so you should do your best to make sure they are in the right place. Nobody likes to lose their prospects, so you need to provide them with all the information they need about your business and encourage them to make a purchase. So, how can you provide them with significant information?
Create case studies and testimonials.
Use social proofs.
Provide regular updates.
Use a downloadable guide.
4. Turn Your Prospects into Customers
The last stage of your sales funnel is the action stage in which you're going to seal the deal. Although it's the final stage of your funnel, it doesn't mean there is no possibility of losing customers. Your funnel can turn into a leaky sales funnel at any moment. So you need to keep them involved. How can you change their minds if they feel regret? You can send them regular emails to make sure they have no problems with their purchase order process.
Conclusion
In this article, we discussed what a leaky sales funnel is and how you can fix it to prevent decreasing your conversion rate. To have a successful sales funnel, you need to identify the problems and fix them. If you can't identify the problem areas, you can use a data analytics tool like WatchThemLive to see where things are going wrong on your website so you can repair the damage and boost your conversion rate. Give WatchThemLive a try and sign up for FREE!