You may encounter a lot of confusing terminology in the digital world. It is normal if you mistake user experience (UX) with customer experience (CX). These two terms are very similar. The question here is, are they different? Or not? The answer is both yes and no!
Before explaining the difference between CX and UX, we explain each one; then, we will draw a clear distinction between them in this article.
Note: WatchThemLive is a behavioral analytics tool that enables you to optimize your UX.
What Is CX?
Customer experience or CX is a term that refers to how customers engage and experience your entire brand, including your app or website, customer service, and even your logo. Keep in mind that all your customers' engagements count as CX. Whether that engagement is through a social channel, customer service call, or chatbox. You should pay attention to all of the touchpoints that represent good customer service if you want to create the best customer experience for your users. A great customer experience means meeting or exceeding the expectations of your customers during all interactions with your company.
If you consider customer service as an umbrella term, it envelopes the digital experience. When you search for customer experience, you understand digital experience is a key component of your overall customer experience strategy. That's why you need to optimize your digital experience as well.
Note: Want to understand your customers' wants and needs deeply? WatchThemLive is the best customer experience software that gives you the ability to track your users' online activities on your website, which helps you create a better user experience. Interested? Sign up here and get started.
What Is CX Design?
CX design is the design process that helps you optimize customer experiences at all the touchpoints with your service or product on your website.
What Is UX?
User experience or UX is strongly connected to usability or the product's ease of use. So the goal of any user experience should be increasing usability.
For a better understanding of what UX is, Let us give you a good example. If you want to interact with a product, you need an interface to use it. Imagine you want to make noodles, here noodle is your product, then you need chopsticks to eat it. Here chopsticks are your interface and help you to eat noodles easier, so the user experience is the whole experience that you had with your product.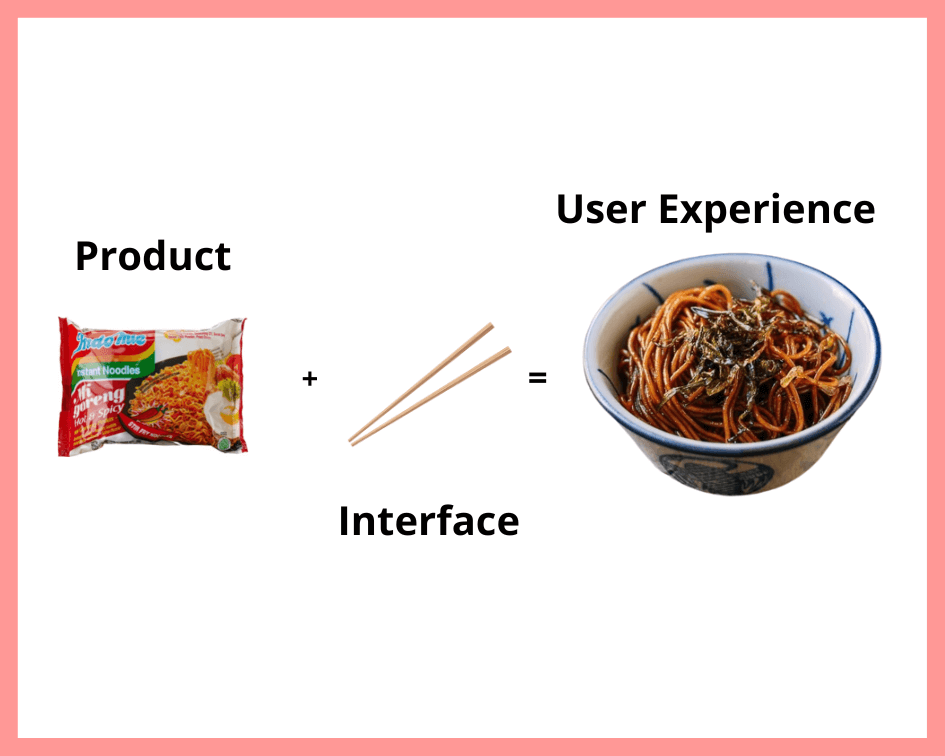 What Is UX Design?
UX design is a design process that is used to create relevant experiences for users. It includes all aspects of a user's interactions with a product on your website.
The point is that the experience already exists for the user, and your job as a UX designer is to look at the behavior, patterns, and habits of users to make their experience better.
What Is Good UX?
There are lots of factors that create a good UX design, but the three most important ones are:
usability
usefulness
desirability
If you want to have a great UX, it is essential to pay attention to these three factors.
Let's make these factors clear by an example:
You know many accessories became trendy for 2021, and many stylists or bloggers choose trendy items to match their outfits. One of these trendy accessories was a mini bag. They didn't care about the bags' usability. Instead, they preferred desirability, using something trendy and attractive. These mini bags were not usable, and you couldn't even put your smartphones in them. They were just attractive and eye-catching; in contrast, others preferred a bag that is not only useable but also beautiful.
What is important here is that the 'desirability' aspect can change from person to person. Some will like the mini bags because it's trendy and 'sexy' in a modern way, but some people prefer the purses or handbags, which are more usable. So yes, the handbag has a better user experience because it covers all three factors, but no matter how good the user experience is, human's desirability will ultimately determine which experience they choose. Sometimes one of those 3 factors will trump the other 2 for a person. 
Before testing the different methods, tools, and processes for having a good UX, you have to consider usability. A lot of companies and organizations make the mistake of not putting the users' at their design center. So what are the consequences? Eventually, it ends up with a huge negative impact on your business.
CX vs. UX
User experience or UX is the user's interaction with the company's services and products. Whereas CX is often used to describe the larger experience that a user has with an organization as a whole.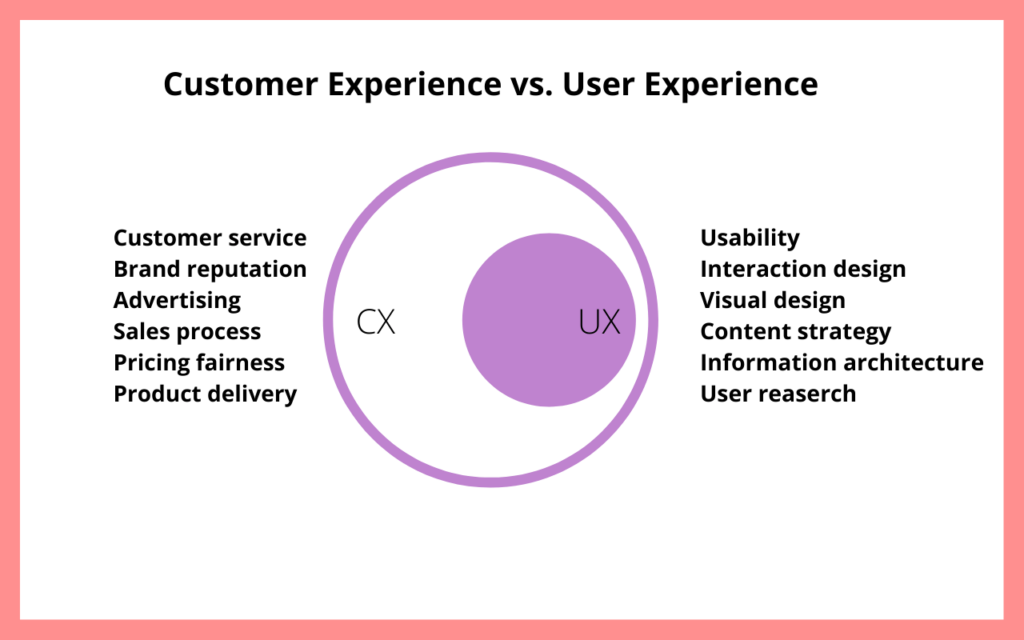 But why have people confused UX with CX?
The reason is UX has several levels of experience, which are very important to make a distinction between them. User's experience has three different levels such as:
Single-interaction level
Journey level
Relationship level
As the name suggests, in a single-interaction level, the person uses a single device to do a specific task. The journey level is a little broader, which includes a person's entire experience as they use multiple interaction channels or devices in order to complete their goal. Lastly, the relationship level is the widest scope of UX. It refers to all interactions between the company and the person throughout the lifetime of the customer relationship, such as researching, buying, using a product, and receiving support for the product over the course of several years.
It's important to acknowledge and differentiate between these three scopes because what it takes to deliver a good UX at each level can be quite different. As a result, all levels of experience are equally important for a smooth user experience.
As previously mentioned, UX is defined as how the user interacts with your product or website, whereas customer experience or CX is how the customer interacts with your organization or brand.
But both of them can be related to each other; for instance, you can have a great UX and bad CX or vice versa:
Good UX and Bad CX
You may have the best website and simple buying process but the worst customer service which results in losing your customers.
Bad UX and Good CX
Alternatively, your old website may not load on new browsers, so it makes the search process a nightmare, even if you have a good sales team and customer service team. The real trick is to be excellent at both. You can always learn and improve in both CX and UX until you have a 100% conversion rate and 100% customer retention.
One of the best examples is Amazon. It is arranged with users' personalized. The buying process is simple, and delivery is also easier when you have Amazon Prime. Additionally, it's streamlined and easy when you want to return a product. These are the main reasons why people turn to amazon when purchasing. All these features make Amazon a great example of good UX and CX.
How Do UX and CX Work Together?
UX is an inseparable component of CX. In the age of the internet, a user's first interaction with your brand is through your website or app, so UX is almost like the initial experience, and as you know, first impressions count. In order to create the perfect first impression for your users, you need to understand how CX and UX can work together. Here's a list of strategies that can help you understand how to integrate these two.
Feedback
Personalization
Internal communication
End-to-end thinking
Let's check them out together!
1. Feedback
Make sure it's clear how and where customers can leave their feedback. Social media channels are a great place for gathering feedback since they have become the norm for people to complain or leave feedback. Consider other technologies such as chatbots, webchat systems, or in-depth FAQ sections to collect user feedback.
2. Personalization
If you personalize the user experience, you will have a practical UX and CX, which will provide your business with positive impressions. Find areas. where you can personalize or make the experience unique to them. You solve users' pain points faster or offer them content tailored to them by using website personalization tools. You can also display relevant testimonials, articles, or resources to your target audience and bespoke the entire experience to them.
3. Internal Communication
The goal of CX and UX is to improve user experiences. Make sure they are aligning with your customer's feedback which enables internal teams to improve the overall experience.
4. End to End Thinking
CX and UX both start before your customer arrives at your website or business. Have they already looked at external reviews of your company? Have you responded to them in an open discussion? Have they interpreted the language of your advertising correctly? So think about your customer's first interaction with your brand and then create strategies on how you can make a positive experience.
Conclusion
Remember, the only way that you can make your customers return to your brand is to keep them satisfied. So long as you clearly understand what CX and UX mean and apply them appropriately, you may probably use the terms interchangeably. As a result, understanding various scopes of UX and having a good interpretation of CX enables you to differentiate them better. 
Note: We highly recommend using WatchThemLive to help you satisfy your customer's desires with session replay software that enables you to understand what your customers are experiencing.  Don't waste any more time sign up for FREE right now!