I'm sure this has happened to you. Suppose you want to change your laptop and you have two identical options from different brands. After doing some research, you decide to communicate with them through email in order to ask some relatable questions. One brand responds to your email friendly in no time, but the second one not only responds to your email belatedly but also doesn't answer your questions accurately. So which brand will you choose to buy your laptop? Definitely the first one. Although both companies have customer service, they are different in their customer experience. Providing a poor customer experience causes the loss of many customers. So in this article, we will deep dive into what customer experience is, why it is important, and how to improve customer experience strategy to generate more revenue.
Note: Want to analyze your user behavior to optimize your customer experience? WatchThemLive is a behavior analytics tool that enables you to monitor all actions visitors take on your website in order to realize where they click on or when and where they leave your website. Read on to figure out how it works.
What Is Customer Experience?
Before we get into how to develop a winning digital customer experience strategy, you need to understand what customer experience is. Customer experience (CX) is about your customers' feelings and perceptions through their engagement with your products and services.
A great customer experience can play a role in the success of your business. It should satisfy customers and meet their expectations and needs. If customers have a positive experience with your brand, you can create lifelong customer relationships. Many factors contribute to a great customer experience:
Quality of products or services
Friendly attitude
Quick response time
Shipping time and delivery
Multi-lingual support
Understand customer pain points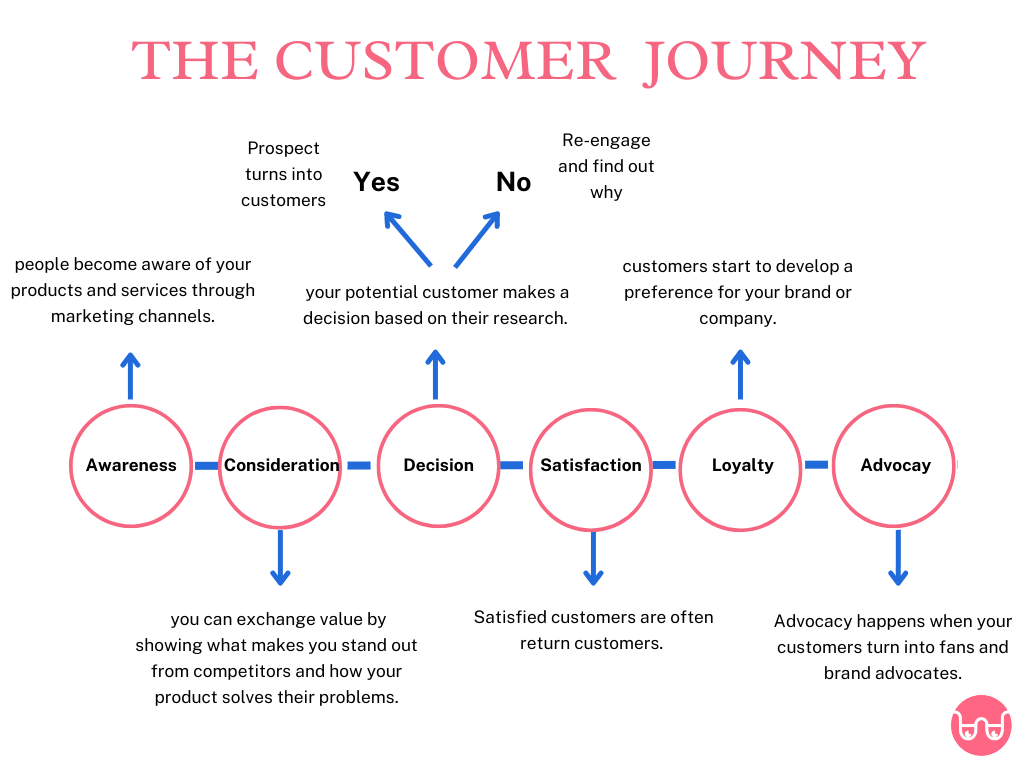 To create a great eCommerce customer experience, you must focus on your customer's journey. WatchThemLive is one of the customer analytics software which has many features like session replays. This feature helps you improve customers' perceptions of your brand and provides you with recorded videos from your customers' journeys.
For example, there is something wrong with your page load speed that causes delay and repels your customers. How could you possibly know that? You can watch every customer's digital experience with session replays and identify and fix costly bugs faster. Sign up now to get started with session replays.
Why Does Customer Experience Matter?
No one can deny the importance of customer experience, but how can it influence your business? According to Help Scout, "when it comes to making a purchase, 64% of people find customer experience more important than price." Moreover, people who have had negative experiences with your company can easily share it on social media and question your brand's value.
As Help Scout says, the number of people who talked about poor customer service is more than those who shared their positive experiences. Furthermore, converting new leads to paying customers is much more difficult. So customer experience is crucial in building loyalty with existing customers. Here are some benefits of having a good customer experience design:
Improve customer satisfaction and brand awareness
Enhance customer retention
Generate more sales and revenue
What Is CX Strategy Process?
Look at the picture below for a better understanding. The first step you need to take is to understand your target audience and create buyer personas. The second step is to explain why they should choose you and what benefits you promise; the third step is to determine all touchpoints to create a clear roadmap of your customer's journey. The fourth step is to define customer experience metrics you want to apply and the last step is to decide how to analyze your customers' feedback and fix pain points in their way, and the last step you need to take is to make an effort to improve your customer experience with the help of a customer experience strategy framework.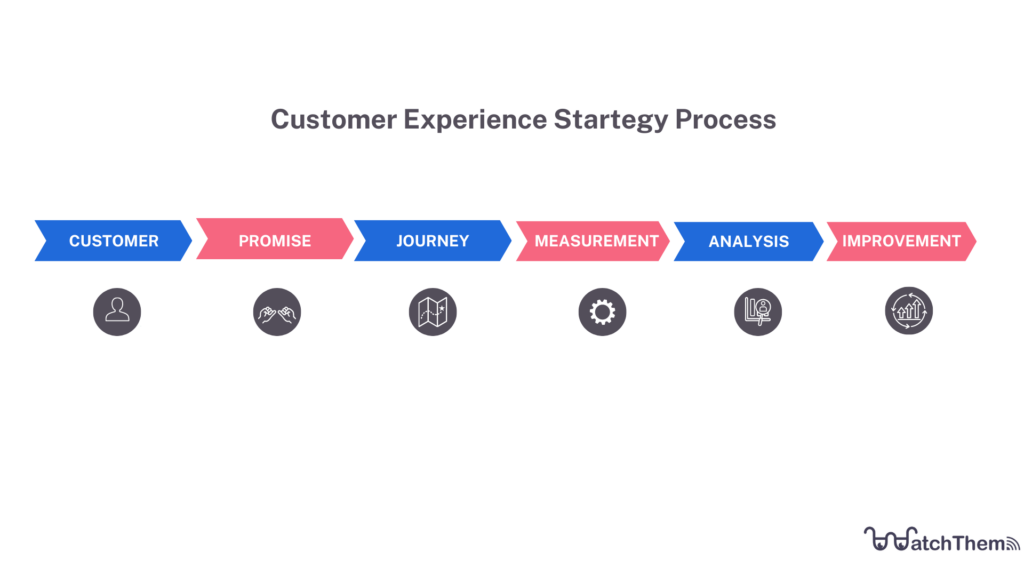 One of the great customer experience strategy examples is Sephora which sets the beauty industry standards. When smartphones entered the market, Sephora launched the Sephora Beauty Insider Program in 2007 to increase its brand's value.
In 2012, Sephora launched its Beauty Insider Card into the Apple Passbook. They realized that over 70% of their website traffic comes from an iOS devices. So they created the Sephora mobile app which leadsto 87,000 app downloads per week. At the end Sephora Beauty Insider Program get 17 million members just in North America.
How Do You Develop a Customer Experience Strategy?
According to Forrester, many companies focus on improving the customer experience as their top priority. Your strategy must be clear and differ from your competitors' strategies, even though, it depends on many factors such as your target audience, budget, product category, and business niche. So try to use customer experience strategy templates just for inspiration.
Besides, don't use one strategy for a long time because what works today may not work tomorrow. So how can you create the right customer experience strategy for your business? Here are some tips to help you:
1. Analyze Your Customer Journey
The customer journey is the route your customer takes from the moment they decide to purchase from your brand. It starts when they become aware of your brand to the point they complete your targeted action. So it is important to focus on your customer experience strategy to provide a great customer experience from the beginning to the end.
2. Personalize Interactions
Personalizing your customers' interactions is one of the most effective ways that can build a strong bond with brands and customers. For example, you can use their first name in the email or live chat or send unique offers or product recommendations to your past customers via emails. Try to make them feel important to yield customer lifetime value.
3. Provide the Best Customer Service
Providing good customer service can differentiate you from your competitors. Let's make a clear distinction between customer experience and customer service first. Customer service is the support you offer to your customers when they encounter a problem in their journey. They can contact you via emails, social channels, and voice calls, whereas customer experience is the process of analyzing or improving customers' interactions with your business. So customer service is just part of the customer experience you deliver.
According to Forrester, 45% of US customers leave their online journeys because they get no quick answers, so online customers expect a quick response when they have problems.
To provide real-time support, you can implement a live chat button or support them via email. Also, you can form a customer support team to monitor and answer your customers' questions on social media platforms and other channels as soon as possible.
4. Satisfy Your Customers at Every Turn
To provide a great customer experience, you need to delight your customers in order to create and nurture enduring relationships. Here are some tips to delighting them:
Send the handwritten thank your card
Thank your advocates on social media channels
Give freebies
Offer random free shipping day
Use personalized email
5. Commitment to Transparency
Transparency in business means being open and honest with your customers under any circumstances. Although it might seem daunting initially, offering a clear assessment of what's going on within your work can increase your customers' trust. These days, buyers are interested to know about your working process: how your products are made or what services you offer when they encounter a problem. So encourage your team members to communicate openly and transparently.
6. Win Back Your Lost Customers
Although you don't have control over everything, as an eCommerce business owner, you have two options: either ignore your unhappy customers or give your lost customers an incentive to return. As part of your customer experience strategy, make an effort to solve unhappy customers' problems. You have no idea how much this can be effective in your relationship with them. Moreover, your customer's negative product experience with your brand can highly impact your eCommerce business if you ignore it. So show them you will be around if they deal with a problem or difficulty.
7. Ask for Feedback
Another thing you can do to improve your customer experience efforts is to invest your time in collecting feedback from both happy and unhappy customers. Here are some suggestions you can make:
Add a poll on social media
Create feedback forms
Ask for reviews through your website
Ask for reviews via email
Why Is Customer Experience Strategy Important?
Customer experience is an ongoing process. As a business owner, you need a clear strategy to pave the way for your customers to move them closer to purchase. In other words, having a strategy enables you to introduce your brand with your own message; so you can create a meaningful experience, improve your customers' loyalty, increase profits, and improve the brand's public perception.
Conclusion
Finally, when you define your customer experience strategy, spend time collecting real data from CX analytics and analyzing your customer's journey. Besides, WatchThemLive is always here for you. If you don't know how to identify pain points in your customer's journey, sign up to WatchThemLive to see how you can do so.