What do your customers really want? Do you think all business owners can answer this question? Regardless of the size of your business, you need to compete mostly on the customer experience and create a great customer experience map to stand out among your competitors, but this is just one part of the story. You must make sure it matches your customers' expectations.
Do you think Apple, Tesla, and Amazon became successful overnight, or their success happens by chance or accident? Definitely not; Apple took Steve Jobs two decades to become Apple and made him a billionaire, and Amazon took 14 years to establish a firm foothold in eCommerce. As you understand, customer experience map matters, and in this article, we'll explain how to create one perfectly.
Note: Are you confused and don't know where to start improving your customer journey? WatchThemLive is here to help you. Keep reading to see how.
What Is a Customer Experience Map?
The customer experience map includes all the touchpoints and interactions a customer has with your products and services in their journey. So customer experience mapping is a powerful technique that enables you to visualize complex customer interactions and pain points to ensure all customers have the best possible customer experience with your organization.
What Are the Four Steps to Map the Customer Journey?
Although you can't take control of your customers' experience thoroughly, you must improve it as far as you can. Customers need their problems to be solved, so create a customer-centric customer experience journey map that fulfills customers' desires and needs. You can use different customer experience map templates to better visualize and plan your customer experience. Here are four steps you need to take to create an effective customer experience map:
1. Understand the Customer Journey
The first step to create a perfect customer experience map is to understand the customer journey. In 2016, Statista demonstrated how understanding customer journey has benefits and impacts on conversion rate. Moreover, if your want to identify customers' pain points, you need to map the customer journey to become aware of what they did during their entire engagement with your company.
In this step, all you need is to understand your customer journey by using customers' feedback and study their behavior through personas, interviews, and surveys, besides using product metrics. The more you understand your target audience, the better results you will get. If you couldn't discover what activities or actions distracts them during their engagement, you can schedule a meeting with them just in case to interview them.
Now, what if you tried your best but couldn't find a solution? Don't worry; we're here to introduce one of the best behavior analytics tools to you all. WatchThemLive is the answer to all questions you have in your mind about users. Here are some of their features that enable you to track user activity on your website and measure your marketing performance:
Heatmaps: A website heatmap is a great tool to understand user behavior on your website. With heatmaps, you can realize where users are clicking, tapping, and scrolling. Website heatmap is ideal for:
Digital marketers to improve conversion rate
UX designers to improve website's usability
E-commerce managers to discover what satisfies users
Session Recording: This feature allows you to record and watch every move of your website's users ranging from clicks to mouse movements. To analyze recordings, you can use advanced filters to see insights from specific country codes, devices, browsers, browser languages, screen resolutions, and operating systems. Session recordings are ideal for:
Digital marketers to optimize conversion rate
UX designers to enhance your website's UX
E-commerce managers to increase sales
Customer support to improve your customer service
Conversion & goal Tracking: The event tracking tool enables you to track events and goals to understand how many visitors complete your desired actions. This tool is ideal for:
Digital marketers to optimize conversion funnel stages
UX designers to identify the efficiency of page elements
E-commerce managers to optimize goals based on user interactions
WatchThemLive helps every digital marketer, UX designer, and eCommerce manager stand out among their competitors. Give WatchThemLive a try and sign up before it's too late!
2. Understand Customers' Emotions and Needs
A successful product meets the designer's goals. After mapping out the entire customer's journey, you're ready to understand them emotionally during each step of their experience. Again, feedback and surveys can help you manage your customers' satisfaction and expectations, and analyze your past customers' feedback to identify where they encountered a problem and dropped off to enhance the customer journey and find a way to improve them.
Ask the customer service team about the customer's sales process, sometimes customers hesitate to take the next step in the sales funnel, so you need to gain their trust and help them realize that your business stands out from your competitors. Then document them in order to discover your customers' ups and downs and pave the way for the best customer experience. A successful product satisfies customers in every conceivable way. So don't make customers happy, make happy customers.
3. Control All the Customer Touchpoints
Unlike the customer journey map, the customer experience map focuses on one experience. So choose a touchpoint to analyze to fill the experience gaps and improve it for customers. A customer touchpoint is any time a customer has online or offline interaction with your company. To begin, you can start listing your touch points and customers' actions, then break down the experience into actions to identify what's going right and wrong in each step. There are different touchpoints before, during, and after purchase:
Touchpoints Before a Purchase
Social media
Online ads
Peer referrals
Company events
Touchpoints During a Purchase
Product catalogs
Product reviews
Checkout pages
Touchpoints After a Purchase
Thank you letter
Product feedback surveys
Upselling and cross-selling emails
4. Set and Name the Stages of the Customer Journey
Now it's time to segment the customer journey into stages. Setting the stages helps you better chart the customer journey to see which stages need the most attention to put your focus on. Then name the stages to understand the process more thoroughly. Now, you know how to create customer experience map!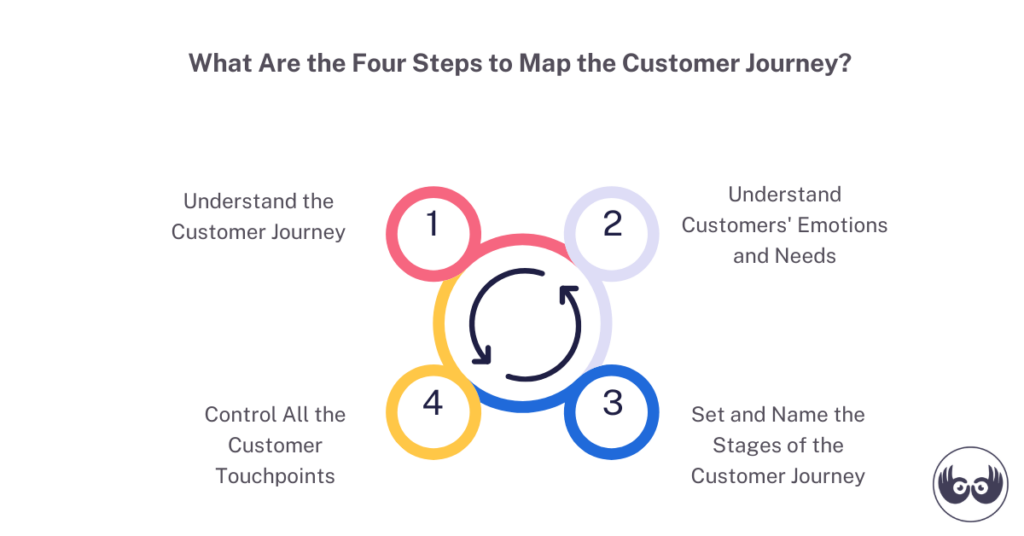 Conclusion
In simpler words, customer experience map impacts your business bottom line. Some brands have to pay too much money for improvements in their customer experience. So try to pay attention to customers' interactions from the first moment they begin their customer journey. If it is too difficult for you to keep your eyes on it, let WatchThemLive do it for you. Make sure to sign up.