A marketing funnel is a way of visualizing a potential customer's journey from being an anonymous website visitor to becoming a first-time customer.
A B2B marketing funnel, on the other hand, has some small differences from the well-known marketing funnel or B2C. This is because of the fact that in the B2B funnel, we are dealing with other businesses, and this will affect the way we approach them. In this article, we will focus on the conversion funnel of B2B marketing and how to build a successful one. So stay with us until the end.
What Is a B2B Marketing Funnel?
A B2B marketing funnel is a step-by-step procedure for attracting and converting relevant visitors into future customers, leads, and your brand representatives.
B2B funnels accomplish this by providing content at each level of the funnel that exactly answers your audience's most important problems. This will also lead to establishing your brand in your field as a reliable and essential source.
A B2B conversion funnel may take more steps and effort to complete. However, it is a more sustainable approach to selling your product than direct marketing, which aims to offer a product or service right away.
It categorizes your audience and helps you to produce customized messages based on the stage of the journey that each prospect is at.
The Best Tool In the Market for B2B Marketing Funnel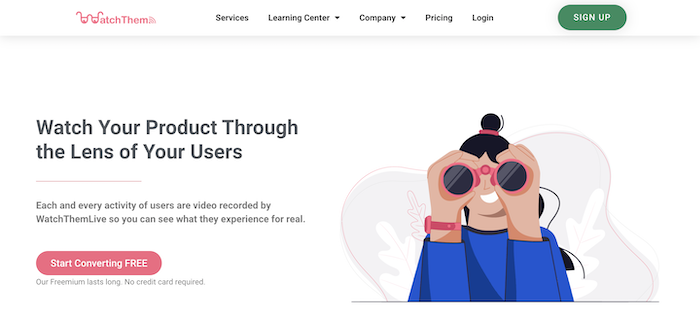 In this part, we will introduce you to a user-friendly and great software solution that can help you in creating and optimizing your B2B marketing funnel and make the procedure much easier and more efficient for you.
WatchThemLive is a user tracking platform that contains lots of features in the marketing area. In this case, we want to talk about their session replay feature and how it can help you with your B2B funnel conversion rates.
By using session replay, you can see every movement of your customers while they are using your website. This means you will figure out which stages of your funnel they have problems with and which ones are performing well. This gives you the edge you need to compete with your rivals and make your funnel more profitable.
All you need to do is to follow these steps and boost your revenue for good:
Sign up free and confirm your email address.
Add your website in the "Websites" tab.
Add the tracking code to your website.
Use the free session replay service to monitor your customers in a way you've never experienced before.
What Are The Differences Between B2C and B2B Marketing Funnel?
It is a common mistake for B2B businesses to proceed with the B2C marketing procedure instead of the B2B marketing funnel, and this is mostly because of the lack of clear information about B2B marketing funnel. This skyword article can be a good place to start.
There are some significant differences between these approaches that we will mention here.
Product cost: The cost of the product or service tends to be higher in a B2B marketing and sales funnel than in other business types.
Decision-makers: Most B2C consumers walk the funnel alone or with a small group of trusted advisers (such as family and friends,) but B2B buyers have a bigger, cross-departmental buying group.
Cycle length: Consider the following scenario as a demonstration of the B2C cycle. A buyer enters and explores the pages of an eCommerce website, sees a product, reads product reviews, possibly seeks approval from a few friends, and then purchases the item. Done.
B2B customers, on the other hand, require more time to complete the sales process. They need to have meetings and other related procedures to complete the purchase.
What Are the Stages of B2B Marketing Funnel?
Let's break down each one of the B2B sales funnel stages that must be well established for funnel optimization:
1. Awareness
You attract all potential clients into the funnel at this stage by raising awareness about your company's brand, product, and solutions.
Anything that allows you to reach new customers on relevant platforms to raise knowledge about your product and services should be included in your marketing strategy.
2. Interest
At this stage, you should raise your audience's interest in the brand.
For this, you can use social media to retarget your visitors with more information about the pages they were looking at on the website during their earlier visits.

3. Desire
Your goal at this point should be to get your visitors to take action on the landing page. Buttons with intriguing language like "Request a Demo," "Request a Callback," or "Download Now" are famous examples.
4. Engage
You have collected lots of data about your visitors and potential customers.
You should keep your visitors engaged and well informed with marketing content such as blog pieces, newspapers, case studies, etc. The sales team often enters the picture at this point to engage with the leads that have the most potential.
5. Customer
Finally, when a lead commits to doing business with your company, they become a customer.
Remember that in B2B, you can only win by providing the finest possible education to your clients about their problems and the solutions you're delivering. So, don't keep them in the dark.
How Do You Create a B2B Marketing Funnel?
Now that you know all about the stages, it's time to start building your B2B marketing and sales funnel.
Excel and Google Sheets are among the simplest ways to create a standard outline for your funnel content. You can make a layout of each stage and break down your actions in each one of them so it will be easier to track them down.
For example, in the interest stage of the B2B funnel, you need to determine potential buyers and send them informational emails. So, write it down, make a list of your targets, and start the work.
Conclusion
Having a B2B marketing funnel is an important factor in any B2B business's success. You, as a marketer, must know how to reach your potential customers and convert them into loyal ones. This is only doable by having a well-established funnel that can help you to monetize and optimize each stage of the process. To do it even better, you can use platforms such as WatchThemLive to speed up the work and increase the success rate.