I'm sure you already have experienced changing your mind about purchasing a product, so you may have an idea of how people's minds can change during their buying process. There are many factors that can influence their purchase decision and discourage them from buying a product. This is one of the biggest problems that businesses are facing today. This puts their focus on either the top of their conversion funnel to grow awareness and generate high-quality leads or pay attention to the bottom of the funnel to generate more sales. So what about the middle of the funnel? Don't expect all your leads to go through all funnel stages when you don't spend enough time keeping them engaged and building trust-based customer relationships.
In this article, we clarify the mid-funnel marketing definition; then, demonstrate 4 mid-funnel marketing strategies that enable you to keep your funnel engaging and powerful.
Note: Want to know why customers leave your marketing funnel? WatchThemLive is a behavior analytics tool that allows you to watch all of your visitors' journeys in order to find out when and why users drop off, what's wrong with your website, and where you lose them. Pore over to figure it out.
What Is Marketing Funnel?
A marketing funnel is a series of stages that demonstrate the process of turning leads into paying customers. It has three parts:
The top: When people land on your website, first, you need to tell them what your business is about, then, you should try your best to grab their attention to move them forward in your funnel.
The middle: In this stage, you need to answer why they should choose you because this is where they compare you to your competitors. So you need to nurture them.
The bottom: This is where your prospects should take your desired action. So if you can satisfy them, you will gain more loyal customers.
What if your prospects ignore you? Definitely, there might be some problems on their way and you must fix them. Wouldn't be great if you could find out why and at which part of the marketing funnel they dropped off? WatchThemLive allows you to see your users' journey on your website. This platform has many useful services such as session replay and heatmaps. With session replay, you can watch your user's actions through your website and improve your user experience.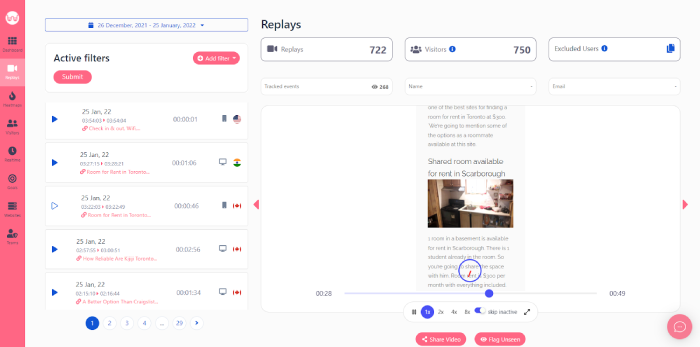 Interested? Sign up and give WatchThemLive's session replay a try.
What Is Mid-Funnel Marketing?
Before we get into mid-funnel marketing strategies, you need to know what Mid-funnel marketing (or MoFu) is. It refers to the middle of the funnel (interest and consideration stage), which fills the gap between the top and bottom parts of the conversion funnel. In this stage, your target audience who are interested in a particular product starts moving closer to making a purchase.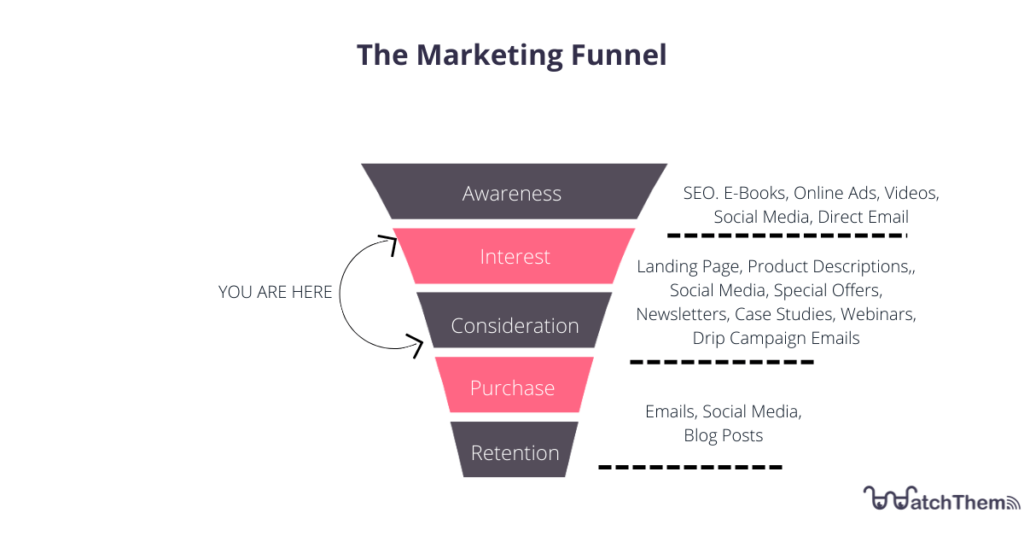 Mid-Funnel Marketing Tactics
Below, you can find some strategies to encourage your users even more and bring about high-quality conversions. Moreover, it helps you build trust and long-lasting customer relationships with your customers which will result in more sales.
1. Use Social Proof
In a marketing context, social proof is a piece of evidence (case studies, customer reviews, media reviews, testimonials) that shows people are satisfied with your brand or your product. It can be used to positively influence your customer's behavior; an effective way for nurturing and convincing them to go further down your funnel. You can use social proofs in the following formats:
1. Social Proof in Email Marketing Campaign
Email marketing is one of the best available channels. Using social proof-themed email can increase your chance to tell others how much customers are satisfied with your services. You can collect some of your media mentions, and customer reviews in the format of email to increase your business credibility.
2. Social Proof in Social Media Marketing
It's hard to increase the number of your leads without social media channels. This should be a part of your marketing strategy and it helps you find interested leads who move beyond the top of your funnel. Here, we asked one of our customers to talk about his experience and upload it on our website and youtube channel to gain more trust.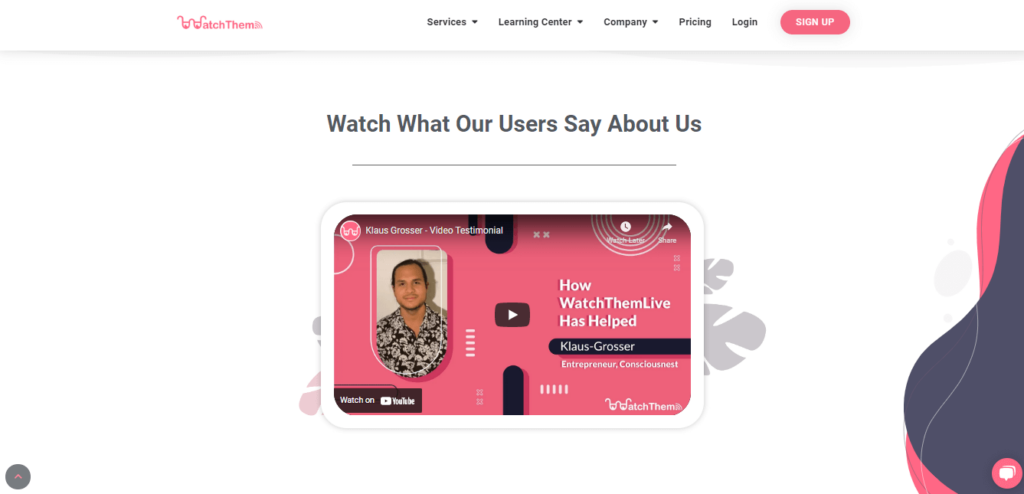 2. Send Curated Product Emails
One of the easiest ways to keep your customers engaged is to send them three to five emails per week. Sending curated emails allows you to provide your customers with the best content around a specific topic. Although, curated email marketing can't guarantee getting more leads; they work.
3. Create Great Content
It's possible to lose some of your prospects in the middle of the funnel if you don't spend enough time nurturing them. If you want to keep your business on top of users' minds, you need to create snackable content which is one of the best ways for educating your potential customers. Here are some ways for creating excellent content on your website.
1. Explain How Your Product Works
Some products don't need an explanation; for example, if you want to buy a purse, a qualified image can be enough in your purchase decision. Otherwise, many products especially in B2B marketing need more explanation. This is a good way for your customers to understand your products easily and evaluate their decisions to make a purchase. So you can use attractive images, guides, or infographic videos to show how your product or service works.
2. Use FAQs
This is a good strategy to help people find answers to all common questions they might have. By using FAQs, you can increase your product or service value and improve your customer experience. See how we use an easy-to-find FAQs page on our website:

3. Blog Posts
To achieve customer loyalty, you can use blog posts. Blog posts not only inform your visitors of common questions they have but will also create a more engaging website for your business. In the picture below, you can see some of our blog posts.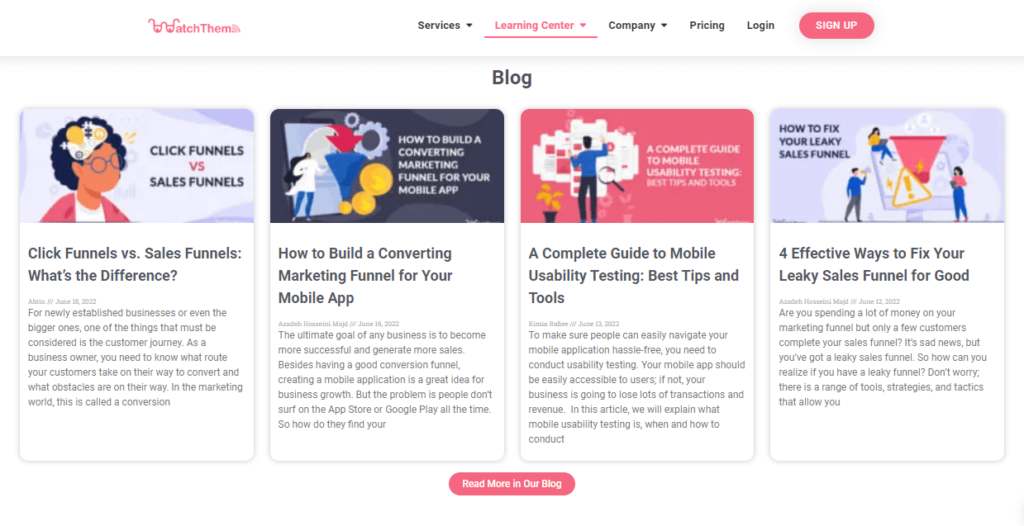 4. Use Lead Magnets
A lead magnet is a marketing term that offers long-form downloadable content like PDFs, e-books, and white papers in exchange for users' email addresses in order to create sales leads. 
1. Case Studies
If you want to showcase your best results to potential customers, you can use case studies that can build business trust. They allow you to show them how your product or service can be used by representing your previous customers' viewpoints.
2. White Papers
Whitepapers allow your prospects to understand the problematic issues in B2B marketing. If your prospects need more information in the sales cycle, you can use whitepaper to guide them to make a purchase.
Conclusion
That's it! We explain what mid-funnel marketing is and you learned some mid-funnel tactics to educate your leads and keep them engaged with your website. Besides, no matter how many leads you generate, you need to optimize all stages of your conversion funnel to make sure that it works perfectly; otherwise, you get a leaky sales funnel. But if you get one? Don't worry! A behavior analytics tool like WatchThemLive can help you identify customers' drop-off points and fix them quickly. Give it a try and Sign up for FREE.