You might be thinking "isn't usability testing the only way to identify usability problems?" I gotta say no. There are other useful methods that can help you uncover usability issues. Identifying and fixing issues concerning website usability will lead to a smooth user experience and, eventually, happy customers.
In this article, we're going to review 10 ways that UX designers identify usability issues. So sit tight and get ready because you won't find many articles explaining this matter!
Note: One way of uncovering usability problems is using behavior analytics software like WatchThemLive. Keep reading to learn more.
1. Usability Testing
Well, as you might already know, usability testing is the first and the most popular method for identifying usability issues. For conducting usability testing, you need to recruit the right participants first. Then you're going to have them complete some tasks and measure usability metrics to see how successful you were in designing an intuitive interface. If you're going to conduct moderated usability testing, a moderator will answer participants' questions and guide them through the whole test. In contrast, unmoderated usability testing is conducted via remote usability testing tools.
Pros
Even with one participant, you can come to conclusions.
You can test the functionality of every feature of your website.
It helps you with your website's design process.
Cons
Some usability testing methods are expensive.
Finding the right participants that reflect your target audience is hard.
Setting the equipment is time-consuming.
2. Behavior Analytics Software
Only real users can identify real problems. Behavioral analytics software allows you to understand what people are doing on your website.
One of the best analytics software solutions is WatchThemLive. It offers comprehensive session replay software that lets you understand what links customers are clicking on, which features they use and ignore, or what causes their frustration and makes them leave your website. Watch this short video to understand how they work:
Sign up for FREE and snag session replays now!
Pros
You're watching real interested users' behavior, so the data you get is accurate to a very great extent.
Cons
Since there is no moderator, it can be hard to realize why users are acting in a certain way.
3. Heuristic Evaluation
Heuristic evaluation is a method where experts use general rules of thumb to identify user interface issues and rate them. They evaluate and rate the usability problems based on a set of established heuristics (mostly 10 by Nielsen).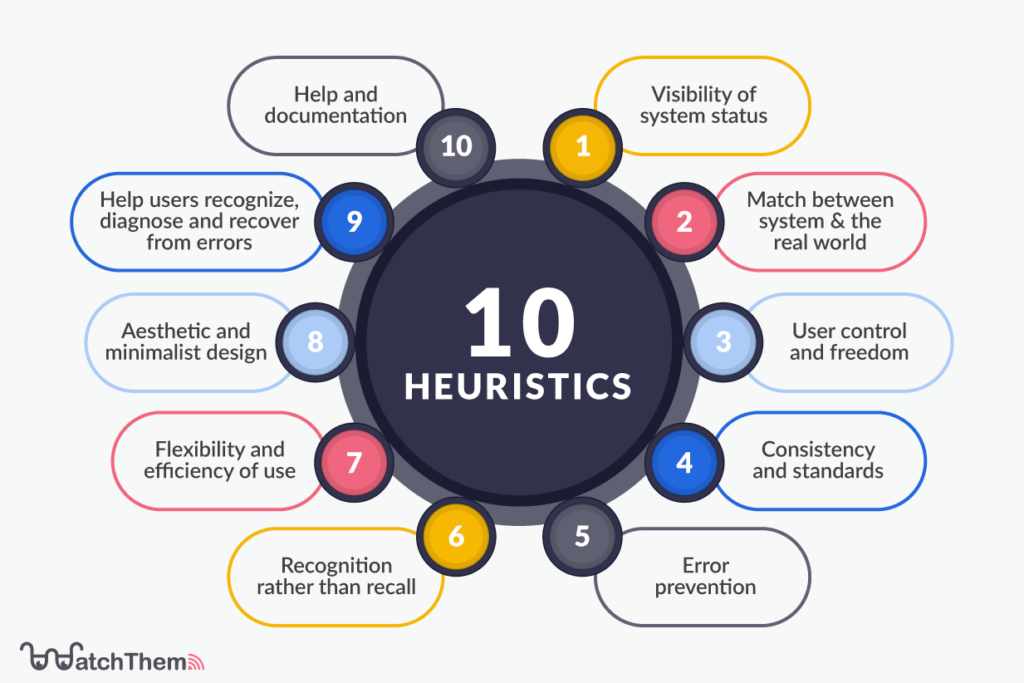 Pros
You can use your in-house UX experts, so it's pretty cost-effective.
It is fast to conduct since you don't need to recruit participants.
Cons
It needs several evaluators (usually 3 to 5) to uncover a good number of usability issues.
You can't cover all the usability problems with heuristic evaluation. You also need analytics and user research for in-depth data.
Users' opinions are not involved in this method.
4. Cognitive Walkthrough
Cognitive walkthrough is an inspection method that focuses on task completion from users' POV. This method is rooted in the fact that users like to learn to work with a system by completing tasks rather than studying a manual. In this method, the product's designers and developers complete a set of realistic and important tasks and ask some questions from the users' perspectives. This way, they can evaluate the system's learnability.
Pros
You can identify problems and the reason behind them.
Since the evaluator is putting themselves in the users' shoes, they can uncover more problems than other methods.
Cons
Since it's based on theory, it doesn't provide any quantitative data.
It requires an expert to be conducted.
5. Guidelines Review
Guidelines review is another inspection method in which an evaluator evaluates the interface based on some guidelines and principles. The number of guidelines is usually high; however, they are not hard to conduct, and you can use them instead of conducting usability testing when you're on a budget. Here's a list of guidelines review that can be helpful in designing your website.
Pros
The direct answers help designers with quick feedback.
Since it's detailed in nature, it eliminates the guessing.
It doesn't require an expert to be conducted.
Cons
Again, since it's detailed in nature, it's time-consuming.
It needs a high level of concentration.
6. The PURE Method
The term PURE stands for pragmatic usability rating by experts. This method measures the difficulty of using a product through principles and metrics rooted in user behavior. An evaluator assigns quantitative ratings to a design based on some criteria and then combines all of these scores to get the final rating.
The PURE method allows you to understand the pain points from users' perspectives. To make understanding the scoring simple, Christian Rohrer came up with some bars and colors. The more frictions a design has, the higher and hotter the bar is. Combining behavioral data and analytics gives you both quantitative and qualitative data.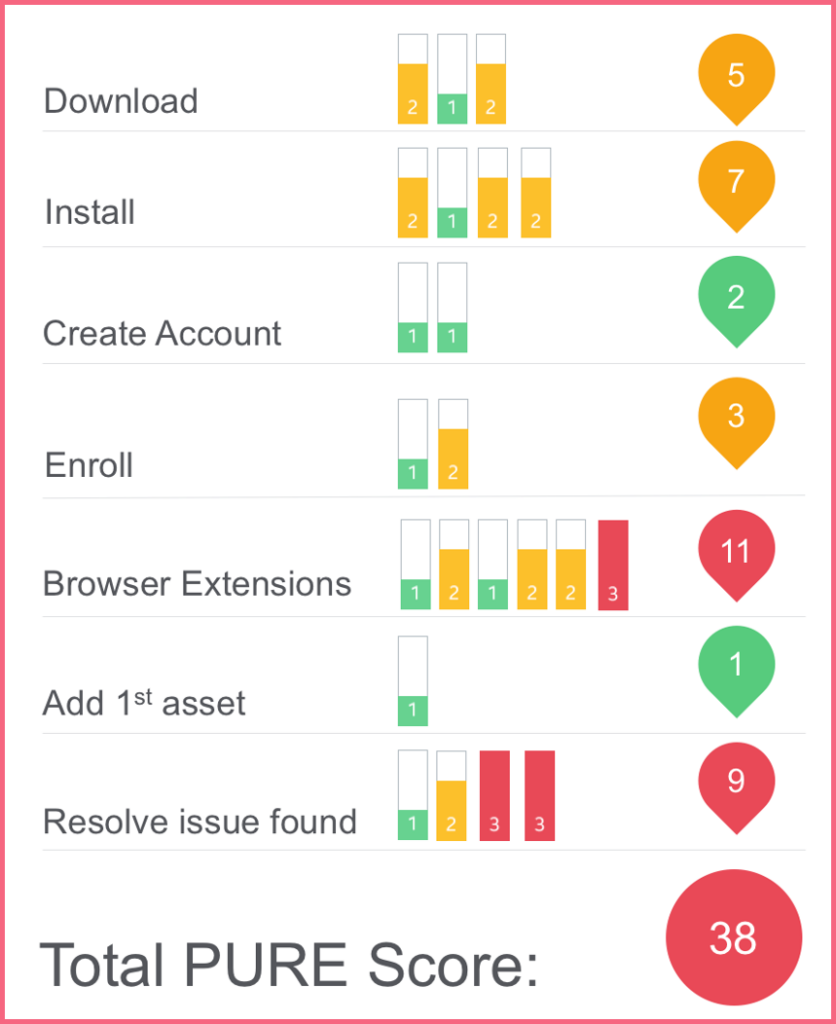 Pros
It can be easily conducted and is cost-effective.
You can use it on uncompleted user experiences.
Cons
It requires an expert to be conducted.
Because it needs lots of planning, it's pretty time-consuming.
7. Usability Survey
For conducting a usability survey, you should use standard usability questions to understand the perceived value of a design. However, you can't find specific problems or ways to fix them through usability surveys. This method is suitable for uncovering user experience problems.
Pros
You can conduct it very quickly and easily.
If you own a big company with lots of products, usability surveys can be a great first step to uncovering usability problems.
You can get a systematic benchmark for your products.
Cons
You can't understand user behavior with surveys.
8. The Navigation Stress Test
A navigation stress test contains a set of questions concerning your website's ease of use. To do this, you need to pick one of your website's pages, ignore the URL and answer the following questions:
What's this page about?
Where am I?
How can I get to the homepage from here?
What's the next step I should take?
If you could answer these questions easily, then your navigation is alright. If you can't, it means that your users can't as well.
Pros
It's one of the cheapest methods out there.
There's no need to hire an expert.
You can conduct it quickly.
Cons
You can't relate what you found for a specific page to your other pages.
9. Summative Studies
Summative studies, also known as UX benchmark studies, help you understand where you stand among your competitors in your industry. In this method, you track and measure metrics to see how you're doing compared to the standards, your competitors, and your past self. Using the summative method, you're able to collect both qualitative and quantitative data.
Pros
Motivates you to constantly improve your business.
Gives you ideas about how to be better than your competitors.
Cons
If you choose the wrong competitors, you'll be at risk.
You can't measure the overall effectiveness of your website.
10. Expert Review
One of the most common inspection methods used to uncover usability problems is hiring an expert. In this method, a professional in both human behavior and usability principles evaluates the interface and presents a list of usability issues in website design, strengths and weaknesses, and solutions for fixing the problems.
Pros
Compared to other inspection methods, it only needs one or two experts.
You don't need to hire participants, so it's not expensive and time-consuming.
Cons
You can only find usability problems identified by experts and not the issues a normal user would experience.
The reliability of this method lies within the experts' knowledge.
Conclusion
All of the methods we reviewed here are valid ways to find usability issues in a system. You can choose one or more of them based on your business, type of product, budget, or the stage of the product design you're in. Keep in mind that this is an iterative process, and in order to find all the usability problems, you need to repeat them all the time.
In this article, we talked about the common ways you can identify usability issues and their pros and cons.
Also, if you're looking for an inexpensive and time-saving method to uncover usability issues in your website design or web app, you can use behavioral analytics software like WatchThemLive.
Don't waste any more time; sign up here and get started.