The meaning of these two marketing terms "customer satisfaction" and "customer experience" is still not clear to many people. So they use these two words interchangeably although they prominently differ from each other. It can't be said which one is a priority because both of them work hand in hand. First, you need to deeply understand what customer satisfaction and customer experience are; then, we will discuss why you should focus on both.
Note: Are you one of those business owners who couldn't identify your customers' problems and lost them in the blink of an eye? Don't worry anymore. WatchThemLive is one of the best behavior analytics tools that enable you to fill all the gaps in your customers' journeys. Keep reading to make the head of it.
What Is Customer Satisfaction?
Customer satisfaction (or CSAT) is defined as a measurement that refers to how happy your customers are while using your company's products and services, and how well your company's performing in fulfilling their expectations.
Customer satisfaction highly depends on the quality of your products, your customer service, and your customers' feedback. To meet your customers' demands, you need to create high-quality products besides providing superior customer service.
Now, how can you make sure that your performance is good enough? If customers come back to repeat their purchases again, you can ensure that you deliver effective customer service. You can also use different customer satisfaction surveys to collect your customers' feedback in order to find out whether they are satisfied or not and if not, re-engage them.
In the meantime, if you don't get anything helpful from their feedback, you may face many challenges. What should you do in this situation? Don't worry there is always a solution for everything. Now it's time to introduce one of the best customer experience software to you.
WatchThemLive is a great tool with useful features like heatmaps or session recordings that gives you a realistic view of how visitors are interacting with your website. Let's take a brief look at them:
Heatmaps: If you want to know which areas of your website get more clicks or taps or how far users scroll on your site, you can use heatmaps.
Session recordings: Session replays help you to watch and track all your users' activities from clicks to mouse movements through recorded videos on your website.
If you are interested, it's worth giving it a try. Sign up for FREE.
What Is Customer Experience?
Customer experience (or CX) refers to customers' interactions with a brand's products and services during all stages of their purchasing process (whether eCommerce or in-person.)
Let us make it clear by an example. Do you think 'McDonald' has become popular in a day? Of course not. When McDonald faced a decline in its sales, they decided to focus on customer experience design instead of changing their marketing strategy. The results were unbelievable. They paid attention to their customers' feedback and changed their menu. Later, they installed digital self-order kiosks and table service for saving their customers' time. So, after implementing these changes, they become popular all over the world just by elevating their customer service experience.
According to American Express, 86% of customers are willing to pay more for a better experience. There is no surprise if businesses prioritize customer experience in the future. So, try to leave a lasting impression on your customers if you want to have them coming back.
What Is the Relationship Between Customer Satisfaction and Customer Experience?
Customer delight and customer experience willy-nilly impact each other because if you want to have a high customer satisfaction rating, you need to pay attention to their experience. It doesn't make sense to get a high rating while providing a poor CX. It's just like what Lisa Masiello says, "Happy customers are your biggest advocates and can become your most successful sales team." If you consider your brand credibility a scale, you should put the customer experience on one scale and the customer satisfaction on the other. So you shouldn't prefer one over the other.
Customer Experience vs. Customer Satisfaction Example
Imagine you have used the services of a company for years and you have been fairly pleased. Suddenly, you encounter troubles in your sign-up process, you decide to contact them via their email address to solve your problem but they take too long to reply. Besides, the company employees can't answer your questions about their service to solve your problem; even though, they are responsible. So if you are asked, you would provide a low customer satisfaction rating regarding this brand.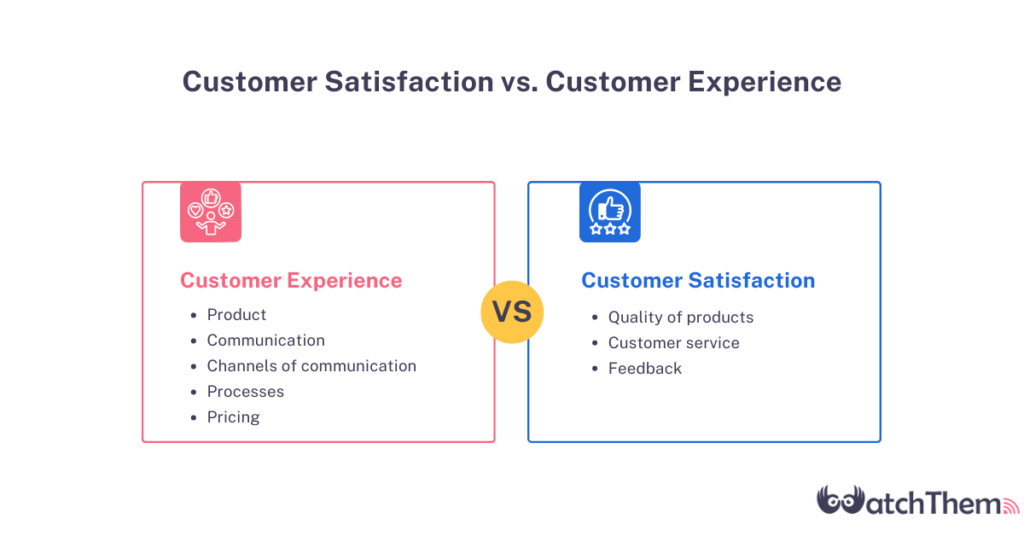 Conclusion
Now you know about the major differences between customer satisfaction and customer experience. Remember, customer experience doesn't rely on customer satisfaction, but the opposite is true. In order to improve your customer satisfaction, you need to work on your customer experience. You will understand if you "get closer than ever to your customer. So close, in fact, that you tell them what they need well before they realize it by themselves," you can differentiate your business from others, as Steve Jobs says.
All that is remaining to be done is using a great behavior analytics tool like WatchThemLive to balance the scales for your customers. Start your journey toward more customers now and Sign up for FREE.