In recent years, customer experience has become one of the most important factors impacting business growth and increasing revenue. In order to have a successful business, it's important to focus on customers and make sure they have a positive experience. That's because providing a superior customer experience makes them return and recommend your business to others. So you can improve brand loyalty and customer satisfaction in the end.
In this article, we have compiled some of the best customer experience statistics for 2022 to help you understand how it can be effective in making or breaking your business.
Note: Looking for a way to improve your customer experience and understand customer behavior? WatchThemLive is here to help you. Read on!
Why Does Customer Experience Matter?
According to recent CX stats, 89% of companies view customer experience as a competitive factor in their industry. And yet, only 1 in 5 businesses feel like they are providing a great customer experience. Customer experience is about creating a strong bond with your customers, understanding their needs, and making them satisfied. This is why a good customer experience results in more referrals and word-of-mouth marketing. 
What Percentage of Customers Tell Other People About a Good Experience?
Sharing is caring! According to Esteban Kolsky, 72% of customers share their positive experiences with others because people are interested in having social validation for their choices when they want to buy something. This means that companies should spend more time creating an effective customer experience if they want to get more leads and grow their businesses.   
Important Customer Experience Statistics for 2022
Here are some important customer experience stats that show why you should take it seriously:
1. Importance of Enhancing Customer Experience
1. Customer experience statistics show that 89% of customers say that they're ready to pay more for a better customer experience. (SuperOffice)
2. In 2010, 36% of companies competed on customer experience, whereas this number more than doubled in 2022. (Forbes)
3. Today, 89% of companies focus on improving their CX. (SmartKarrot)
4. Marketing customer experience statistics show an 80% increase in revenue comes from improving customer experience. (Zippia)
As previously mentioned, Customer experience is one of the important factors impacting purchase decisions and a company's success is often determined by the customer experience they provide. So any business needs to focus on delivering a superior customer experience.
The problem is how to make sure whether you're providing a good customer experience or not. Besides measuring CX metrics that can help you create an effective customer experience, you can use WatchThemLive, one of the best tools in the market for customer experience analytics, and breathe a sigh of relief. Here are some of their useful features:
Session Replay: As a UX designer, this feature allows you to record user sessions and watch them in order to identify those elements that distract users' attention and interrupt the customer journey.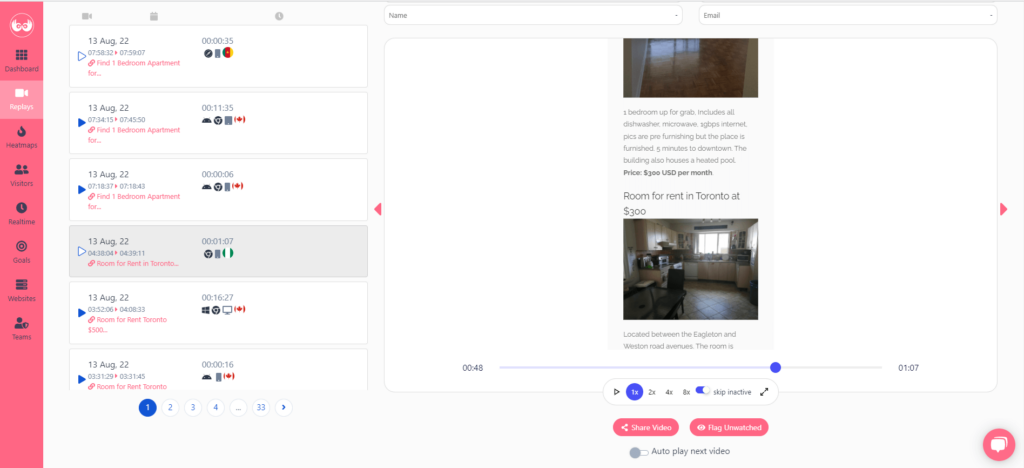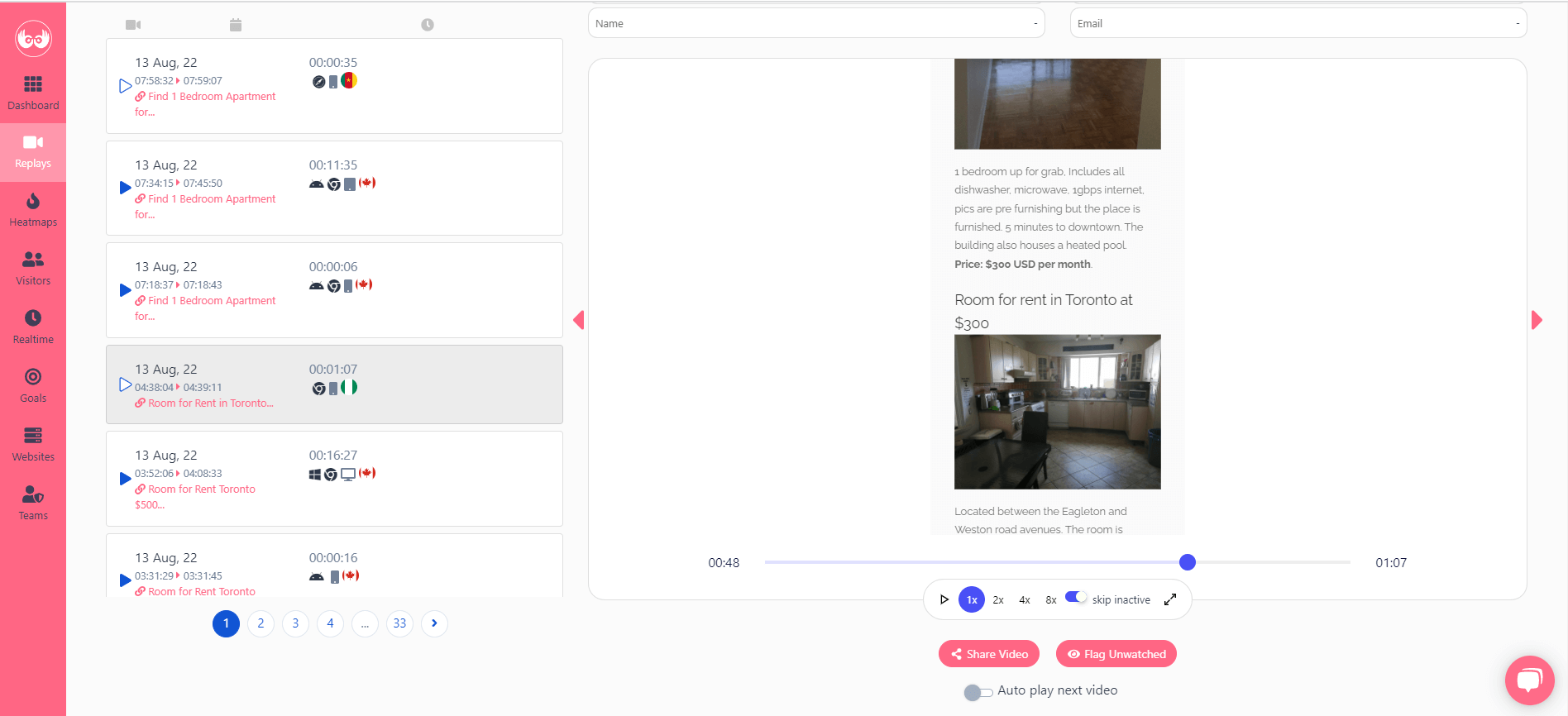 User Tracking: Tracking user behavior helps you see how users interact with your website elements. As a UX designer, you can improve personalization in UX design and track unlimited users on your website.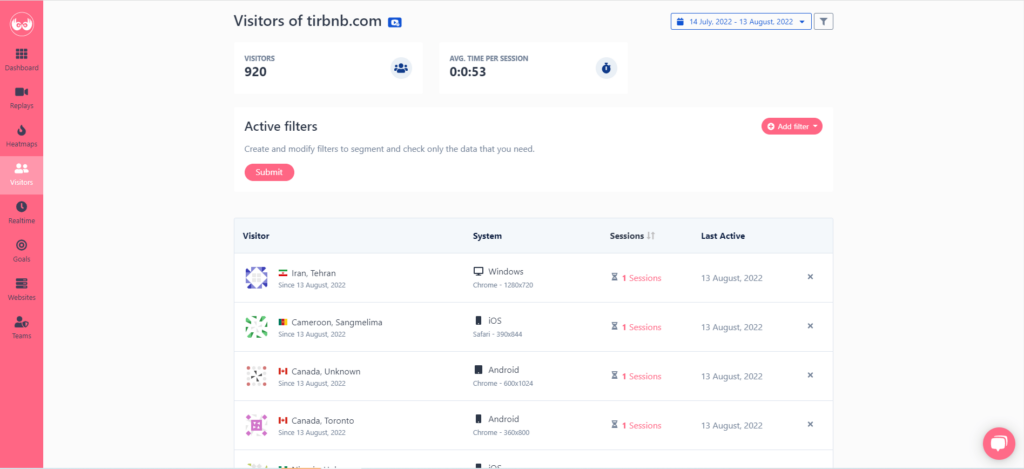 If you're interested, sign up and try WatchThemLive now!
2. Importance of Reviews and WOM Recommendations
No one likes buying an unsatisfactory product. This is why reviews are very helpful before making a purchase.
5. 77% of customers are willing to buy a new product based on word-of-mouth recommendations, and 93% of customers read online reviews. (Buyapowa, Qualtrics)
6. According to the latest online review by BrightLocal in 2020, nearly 79% of consumers say that they trust online reviews as much as personal reviews. (Oberlo)
7. Furthermore, a study by Nielsen found that 92% of customers will trust a referral from their friends and family instead of other forms of advertising. (Nielsen)
The impact of positive reviews and WOM referrals is clear but what about negative reviews?
8. One negative review can drive away 22% of prospects. (CMG Local solution)
9. When businesses responded to negative reviews quickly and effectively, it led to 5% to 9% revenue growth. (NeilPatel)
3. Impact of Customer Experience on Buying Decision
10. Customer experience statistics reveal that only 6% of customers believe a positive customer experience does not affect their purchase decision, whereas 94% of them disagree. (Sitel)
11. In May 2020, the CX impact report shows that 32% of customers said just one negative experience is enough to cut ties with a brand. (BusinessWire)
12. In 2021, one-third of customers stated that they stopped buying from companies that provide poor customer experience. (CM)
13. 73% of customers agree that customer experience affects their purchase decision. (PWC)
14. 49% of customers agree that they have made impulse purchases after a positive customer experience with a brand. (GlobeNewswire)
15. According to b2b customer experience statistics, 80% of B2B business purchases are impacted by a client's customer experience. (UserGuiding)
4. Impact of Customer Experience on Business Revenue
Studies have shown that customers are four times more likely to buy again after a positive experience. Nowadays, the importance of customer experience and its impact on revenue is proven for any business owner.
16. Customer experience statistics show that a 5% increase in customer retention can result in a 25% to 95% increase in business growth. (Forbes)
This is because customers who have great experiences are willing to purchase again.
17. Based on Super Office stats on customer experience, you can double your business revenue in 36 months by improving customer experience.
In simpler words, focus on customer experience if you want to see an increase in revenue.
5. Impact of Customer Experience on Customer Satisfaction and Retention
Customers are the most important part of any business. If you're not trying to keep them satisfied, you can lose them in no time and send them to your competitors with your own hands. So first, make them satisfied, then you have a higher chance of success in suggesting up-selling and cross-selling items.
18. According to research by Genesys, improving customer experience,  increases customer satisfaction (32%), increases customer retention (33%), and increases cross-selling and up-selling chances (42%). These are the main reasons why you should enhance your customer experience. (NewBreed)  
6. Impacts of Positive Customer Experience on Customers
19. According to 70% of customers, an excellent customer experience should be fast, convenient, helpful, and friendly. (TeckJury)
As customer experience report statistics revealed, these features are ideal pillars of an excellent customer experience.
20.  A positive customer experience make loyal customers willing enough to spend 140% more. (Deloitte) 
21. 87% of customers are likely to make more purchases from a brand if they had a positive customer experience. (Forbes)
7. Impacts of Poor Customer Experience on Customers
Here are some bad customer experience statistics that you should consider if you don't want to lose your brand reputation.
22. 57% of customers say that they don't recommend a brand if it has a poorly designed website that is not optimized for mobile. (Linkedin)
23. Customer experience statistics show you can miss out on 3.9 billion potential customers just without considering optimizing the website for mobile users. (TeckJury)
24. 50% of customers stated that they would stop visiting a website if it's not mobile-friendly. (JDMDigital)
So remember to optimize your customer experience and work on your mobile design.
Conclusion
According to all customer experience statistics mentioned in this article, many business owners now prioritize customer experience and agree that providing a superior customer experience is necessary for any organization. Meanwhile, WatchThemLive paves the way for you to provide an excellent customer experience for your customers. Sign up and give it a try.