As you may know, customers are the heart of every business, and there is nothing more important than satisfying them. Firms and companies need to place their customers at the center of everything they plan. They should make a good relationship with them and nurture this bond. It is a proven fact that it will increase revenue and lower the churn rate. A customer-centric design must make positive and excellent relationships with customers. Companies need to analyze their users' behaviors and address everything according to that.
As we go further through this article, you will understand the exact definition and use cases of customer-centric design. Also, you will learn how to implement a customer-centric design to boost your business. So let's start.
WatchThemLive provides real-time data of your users' actions to create a customer-centric design. Record how they use your product and watch them live! Assess engagement levels and user behavior in seconds. Get the insights you need to design a better user experience and maximize conversions on your website or web app. Sign up now for all these features!
What Is Customer-Centricity?
Well, first, let's talk about customer-centricity itself. A straightforward definition for this term is to put your customers first and at the core of your business, then build anything else around them. This is done by making a long-term and positive relationship with them. Putting your customers at the core of your business makes it even easier to gather data about them. Therefore, it would be easier to make changes and improvements and please your customer.
According to Deloitte & Touche's research, customer-centric design companies are 60 percent more profitable than non-customer-centric companies.
Companies that put their consumers first can give them a great experience with their journey. Although it is a little hard to achieve this goal, companies must make some significant changes to reach a customer-centric design.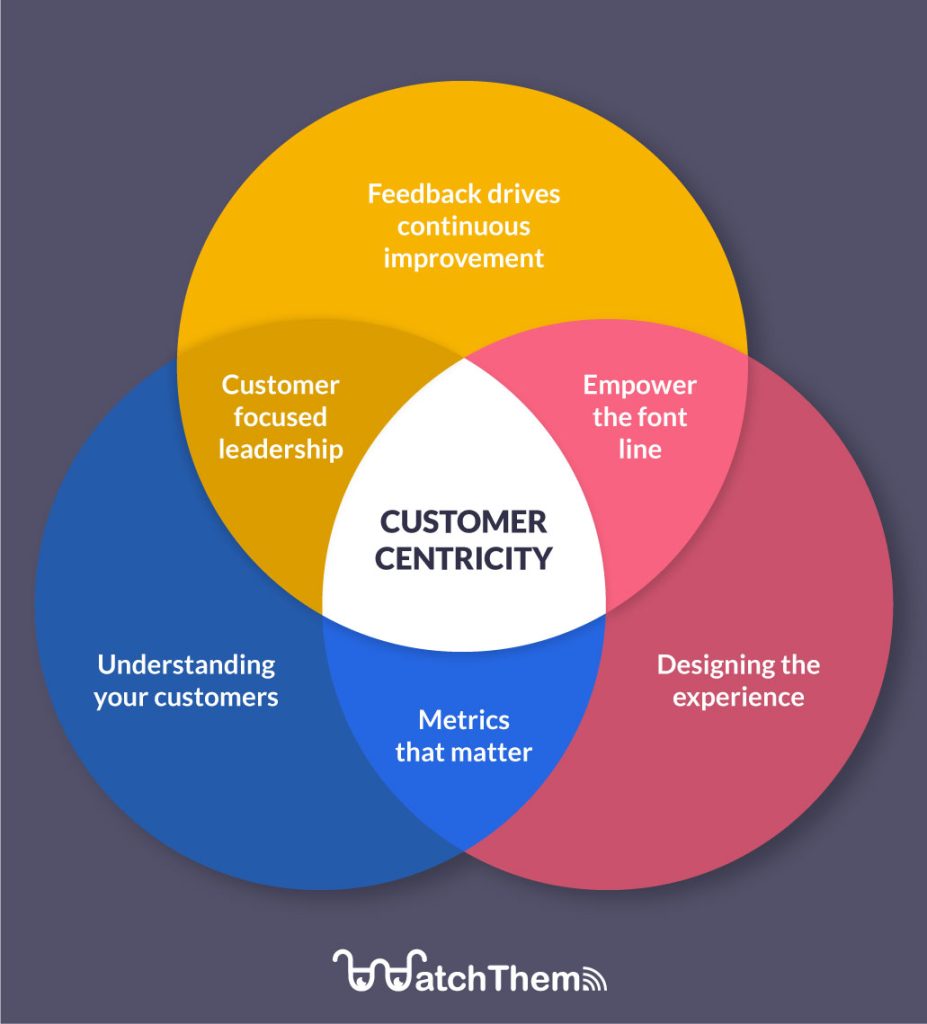 what is customer-centric design?
Customer-centric design or user-centric design is the process of designing a product or service based on your customers' wants and needs. You can use a behavioral analytics tool to understand customers' challenges and needs or run surveys and polls and conduct usability testing.
Naturally, you will also gather data about users through customer conversation that your social media manager or sales team have with customers.
You can be truly customer-centric when you gather information about users through different sources, combine them, and find repetitive patterns.
Why Is Customer-Centric Design Important?
Companies that invest in user-centered design outperform their competitors in any area. They will see a significant increase in their returns and profits. We mentioned this fact before. But let's see what failure in this design means in different cases:
Customers: As we said, customers must be your company's core. But this failure in this aspect will lead them to leave your business for rivals.
Developers: In their perspective, they will have a failed system or project on their hands. They can go on to other projects or companies as well.
Executives: Well, this is where it will hurt hardest. In the case of failure, executives are the ones that will lose money and profit. They can't quickly move on and must fix things as soon as possible.
This will show how important a customer-centric design is for the company as a unit. In the next part, we will walk through some of the things you should provide to deploy user-centric design for your business.
How Do You Create a Customer-Focused Design?
For having a great customer-focused design, you need to go through 4 stages and make each one of them work fine. Let's see what they are and how to employ them.
1. Research
It is critical to gather as much information as possible for a user-centered design to be effective. This is where you need to design for your audiences; you are not the one who uses your product or design daily. Make sure to have it in mind.
The emphasis should be on "deeper" rather than "surface-level" ideas. Some of the questions that must be answered are these:
Who is your audience?
Why are they using your tool?
What are they trying to do?
What is their experience level?
What information might they need?
There are some different methods for answering these questions. Each one has its own upside and downside and must be used in the right place.
Focus group interviews
Group Card Sorting
Card Sorting Surveys
Observations
This is a critical stage in the design. So, to have the best result, you need some help. There are platforms in the market that can help you with this matter. WatchThemLive is one of the best. The platform provides you with a variety of tools which, in our case, we will discuss their user tracking service. This service is exactly what you need: your user's information. It will give information about each user in detail. For example, you can see where they are from or what kind of devices they are using to reach you. This information will make a great database for the journey ahead.
Make sure to give it a try and sign up now for free!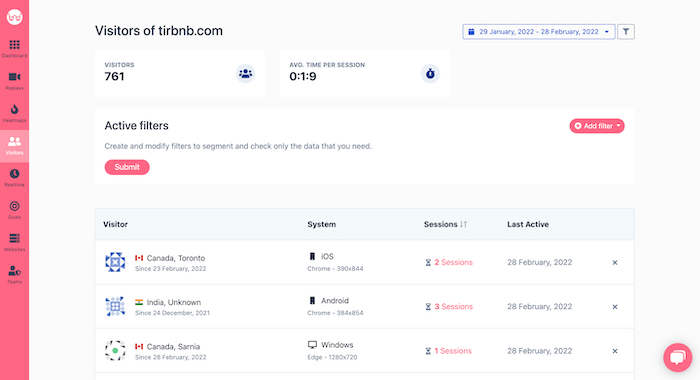 2. Design – Simple as Possible
The first design must be as simple as possible. You need to make sketches and mockups to experience basic stuff with your audience instead of constructing the final product and then making costly revisions about it. This makes it much faster and cost-efficient to change things as the process goes on. Therefore, try to follow the next steps for your design process:
Flow structure: Start by designing the flow structure and navigation to have a grand scheme of the process.
Produce prototypes: This way, you can test the product with more users and see what is right or wrong.
Design iterations: Always make changes according to your audience's opinions. Keep this a routine task.
3. Adaptation
Feedback from your tests and interview with your audiences should be delivered to designers as soon as possible. So, they can implement the results and make the product better. This process is called iterative design, which refers to the design, review, and redesign process. And is an important part of a customer-centric design.
Evaluation activities should begin early in the development process and be repeated regularly. It shouldn't stop even when the final product is ready and on the market.
4. Measure Everything
Metrics are essential if you want your design to be effective. Measurement isn't about having perfect knowledge. It's about gathering information about the product and how users interact with it. So, the company can decide according to them and properly manage their resources. For this matter, consider the following tips in the process:
Identify any problem that is affecting your users.
Know exactly what was changed to address the problems detected in the previous step.
Keep notes of the impacts that changes had on your product.
Conclusion
We should emphasize once again how important your customers are in your business success. You can't achieve what you desire without fulfilling their needs first and having a customer-centric design. Therefore, you must make everything according to their needs, not just your determinations.
Here in this article, we walked you through four stages of deploying a customer-centric design. We started from research and gathering information. Then the designing process and how simple it should be. Next was the adaptation and iterative design method. And at last, the measurement step will grant you a measurable result. Make sure to go through them and consider them in your decision-making for having a good customer-centric design.