What is the difference between "customer service" and "customer experience"? This is one of the common questions asked in marketing interviews. These two terms are often used interchangeably. However, there are some fundamental differences between the two concepts. In this article, we're going to dwell on the importance of customer service vs. customer experience to realize which one is more important.
Note: Looking for a way to deliver an exceptional customer experience? WatchThemLive is here to assist you and offer you direct support in delivering a superior customer experience. Stay tuned to see how!
What Is Customer Experience?
Before discussing customer service vs. customer experience, you need to know the definition of each term. While both customer service and customer experience are important, they serve different purposes. Companies should focus on providing excellent customer service in order to create a positive customer experience.
The term customer experience or CX is used to describe every interaction with a company that is spread across many touchpoints. It is the overall impression that a customer gets from your company based on their interactions. From the initial moment they hear about you in a blog post, they found on Google to the moment they try to contact you because of the problem they encounter in their sign-up process. So customer experience is about all the interactions users have with the company, both good and bad.
Why Does Customer Experience Matter?
Delivering a great customer experience is a crucial asset for almost any business to create loyal customers who make more purchases, write positive reviews on your website, and make you popular through words of mouth. If you treat your customers well, they'll keep coming back to you, again and again. They'll also tell their friends and family about their positive experiences, which can lead to even more success. As a result, you not only boost your revenue but also improve your customer retention with satisfied customers.
How to Improve Customer Experience
Today, many companies compete to deliver a great customer experience. Look at how Netflix got 16 million subscribers during the lockdown period by delivering bigger and better eCommerce offerings. To improve your website's CX, consider the tips below:
Analyze behavioral analytics data
Use compelling and helpful content
Prioritize speed and usability
Focus on navigation
Deliver personalized customer experience
Use live chat for better customer engagement
Improve your customer service
Use customer journey mapping
Use a behavior analytics tool
One of the best and most accessible ways to improve CX on your website is using a behavioral analytics tool that provides session recordings like WatchThemLive.
Using WatchThemLive's session replay as part of your CX strategy can help you enhance your CX in no time. This behavior analytics tool records a user's entire session and their mouse movements. So you can rewatch each session to see their experiences and solve any problems.
After signing up and adding your website, you have access to your dashboard. The most interesting thing that makes WatchThemLive the best is the fact that you can fully control your recordings:
You can add filters such as name, email, page, country code, device, browser, screen resolution, operating system, and browser language in order to use the recorded videos better. For example, the check-out page is one of those pages you can filter to watch users' experiences in a smaller range in order to improve them.
You can also record the browser console to see the console errors during a session.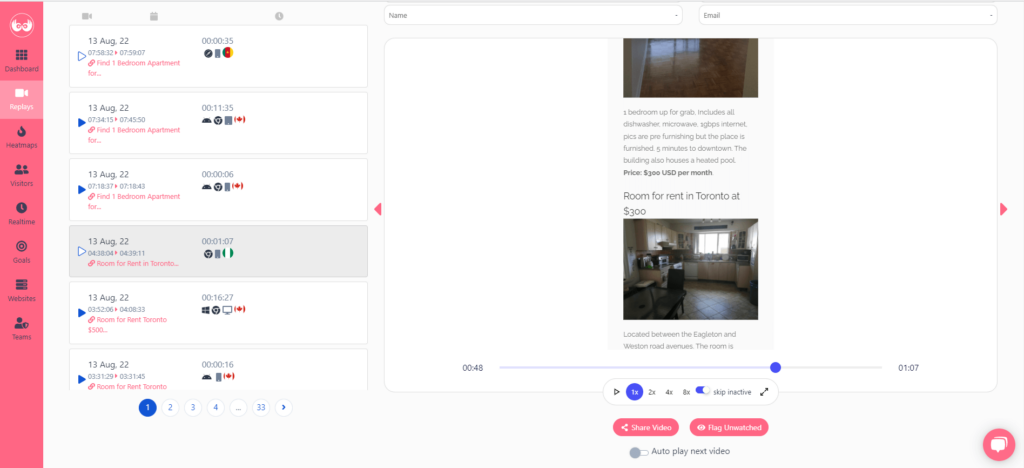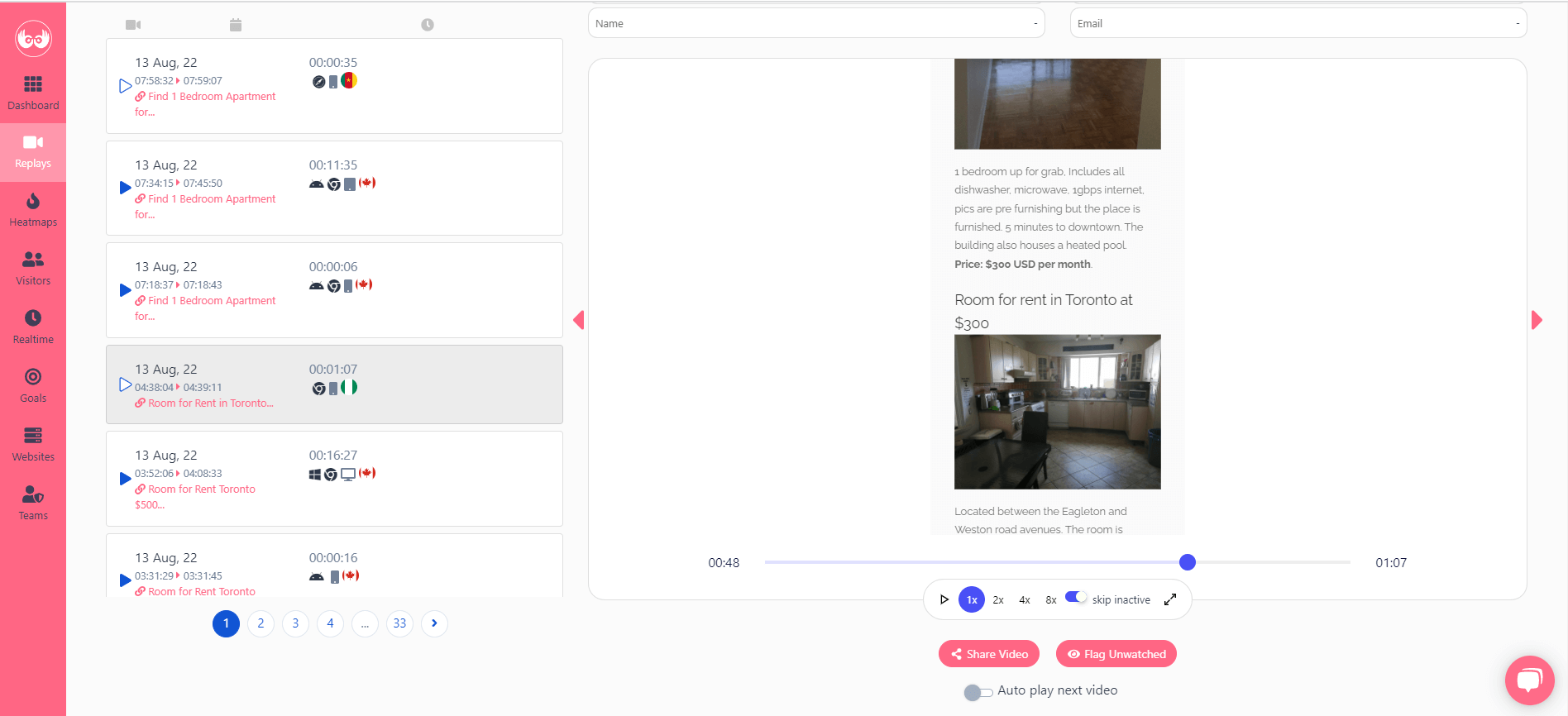 Don't miss the boat, and make sure to sign up before it's too late!
How Can a Poor Customer Experience Negatively Affect a Business?
Everybody reads reviews before making a purchase. A poor customer experience can have a ripple effect on a business. Not only does it hurt the company's bottom line but also damages its reputation.
A negative customer experience can occur when a customer has a problem with a product or service and is unable to get it resolved. This can lead to frustration and even anger. If the problem is not resolved, the customer may never use the company's products or services again and may tell others about their bad experience. This can lead to lost relationships with customers and revenue. To avoid this, companies need to make sure they are providing excellent customer service and resolving any issues that may arise.
What Is Customer Service?
Customer service is the direct interaction between a company and its customers. This can include everything from answering customer questions to handling complaints.
To improve customer service, you can exceed customers' expectations and delight them by seeking and promoting customer feedback, offering promotions, and slashing prices to bring in as many new customers as you want. However, unless you keep them coming back, your business won't be profitable for long.
Why Does Customer Service Matter?
Imagine you call a company with a question or problem, and you're greeted with a bad attitude, indifference, or worse. What's your reaction? It's frustrating, and it can leave you feeling angry and powerless.
Excellent customer service is not only the key to building trust and creating lasting relationships but also defines the difference between a one-time customer and a lifelong advocate. It's important to remember that customers are the lifeblood of any business. Show your appreciation for their patronage by delivering top-notch service every time they visit your establishment.
If you're not sure how to start providing great customer service, begin by evaluating your current level of customer care. Are you friendly and accommodating when interacting with customers? Do you take the time to listen to their needs and address them accordingly? If not, it's time to start making some changes.
Customer Service vs. Customer Experience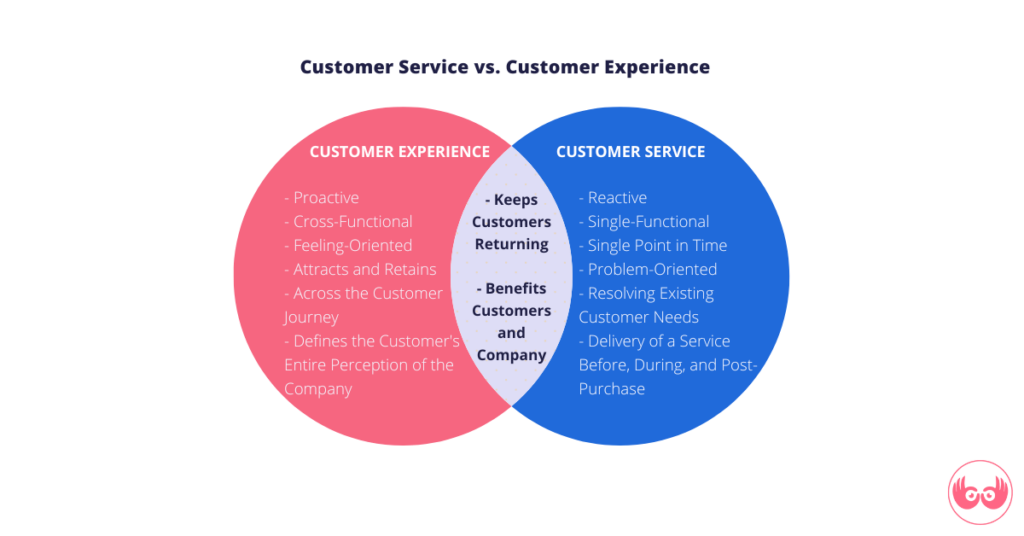 The goal of customer experience is to create a positive relationship between the customer and the company, whereas the goal of customer service is to resolve issues as quickly and efficiently as possible.
To understand better, make a list of businesses or companies that you go back to over and over again and ask yourself why. For example, I go to this restaurant at least once a week, why do I go back? What is the reason? Are you going back there because it's luxury or because it has great customer service?
Customer service is a part of customer experience, but customer experience goes to a much broader level. Customer service and customer experience may seem like the same thing, but there is a big difference. Customer service is the act of assisting customers. This could be in the form of answering questions, resolving issues, or providing information.
On the other hand, customer experience is the feeling that a customer gets from their interactions with a company. It includes everything from the initial contact to post-purchase follow-up. Here are three ways to distinguish customer experience from customer service:
1. Level of Control
Although you should try your best to shape customer experience and provide a superior one, you can't have full control over it because it depends on the feeling and emotions they get at each touch point. In contrast, you have complete control over the customer service you provide to your customers.
2. Metrics
To measure the quality of your customer service, you can measure customer satisfaction metrics, such as customer satisfaction score (CSAT), customer effort score (CES), and net promotor score (NPS). Although these metrics impact CX, you can use more metrics, including customer lifetime value (CLV), customer churn rate, and customer retention rate to evaluate your customer experience.
3. Ownership
The customer support team is responsible for delivering help to customer needs, while CX is shared responsibility and everyone in the business from your marketing team, to your product team, is responsible for delivering a superior customer experience at every touch point.
Conclusion
Successful companies aren't dwelling on customer service vs. customer experience, they try to leverage both to boost their revenue and improve their customer satisfaction. A good customer service interaction can create a positive customer experience, but it's not always guaranteed. While the two terms are different, they are very much related. If you want to make sure you deliver great customer service and memorable customer experiences, sign up for FREE and try WatchThemLive to see the results.