As a website owner, you need to track your conversion points to understand the value of your website and understand what steps in the sales process are working and which ones need improvement. Identifying conversion points is not easy, but it's crucial for any successful website.
Sometimes, it's easy to determine a conversion point, especially on an eCommerce website, because conversion is most likely a sale and when someone completes a transaction, your primary conversion point is as clear as a day. But sometimes, you need proper guidance to help you determine your conversion points and drive more conversion from your existing customers. In this article, we'll provide you with all the information you need to identify the most important conversion points of your website and boost your ROI.
Note: You might already own a website and track visitor data, but it's not enough to help you identify conversion points. Here, WatchThemLive is on the stage. Keep reading to realize how!
What Is a Conversion Point?
A conversion point is a specific action that a customer takes that indicates they are interested in your product or service. For businesses, conversion points are important because they help to determine where customers are in the conversion funnel and how likely they are to convert into paying customers and boost your conversions.
Conversion points are the key places on your website where visitors take an action that you want them to take. This could be signing up for a newsletter, buying a product, or filling out a contact form. Identifying the most crucial conversion points on your website is essential for optimizing your website to get more conversions.
The benefits of conversion rate optimization are clear. CRO allows you to better understand your customers and improve sales.
Conversion points can be tracked using a behavior analytics tool like WatchThemLive, which can give businesses valuable insights into where their website visitors are coming from and what actions they take on the site. This information can then be used to improve the overall customer experience and increase conversions. Let's take a look at some of their features:
1. Session Recording
One way to fix your website's low conversion rate is to use WatchThemLive's session replay tool, which helps you visualize conversion paths and see what's actually happening on your website. It offers specific qualitative insight into user behavior. So you can easily identify users' interaction points before they drop off and improve them as soon as possible. WatchThemLive also lets you add filters to segment your users based on their names, emails, pages, county codes, devices, screen resolutions, etc., to watch their journey. The interesting part is you can auto-play the recorded videos, flag them unwatched, and share them with your team members.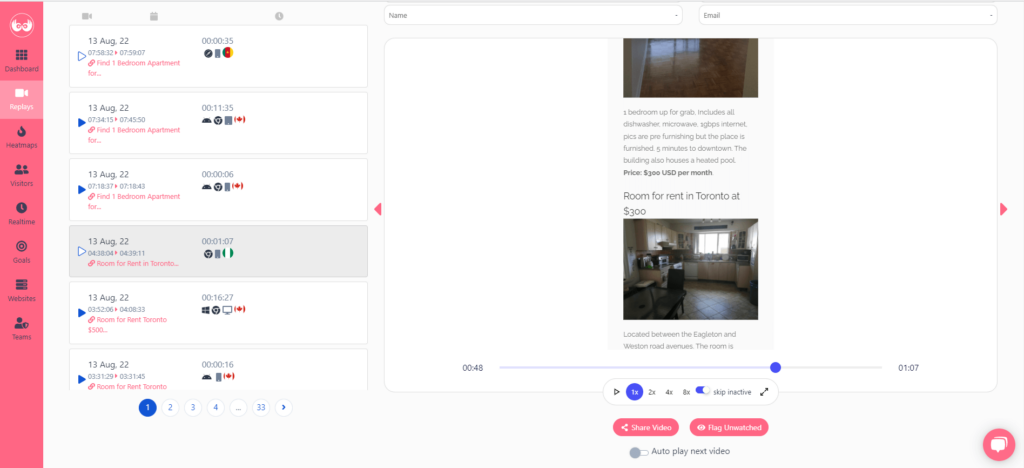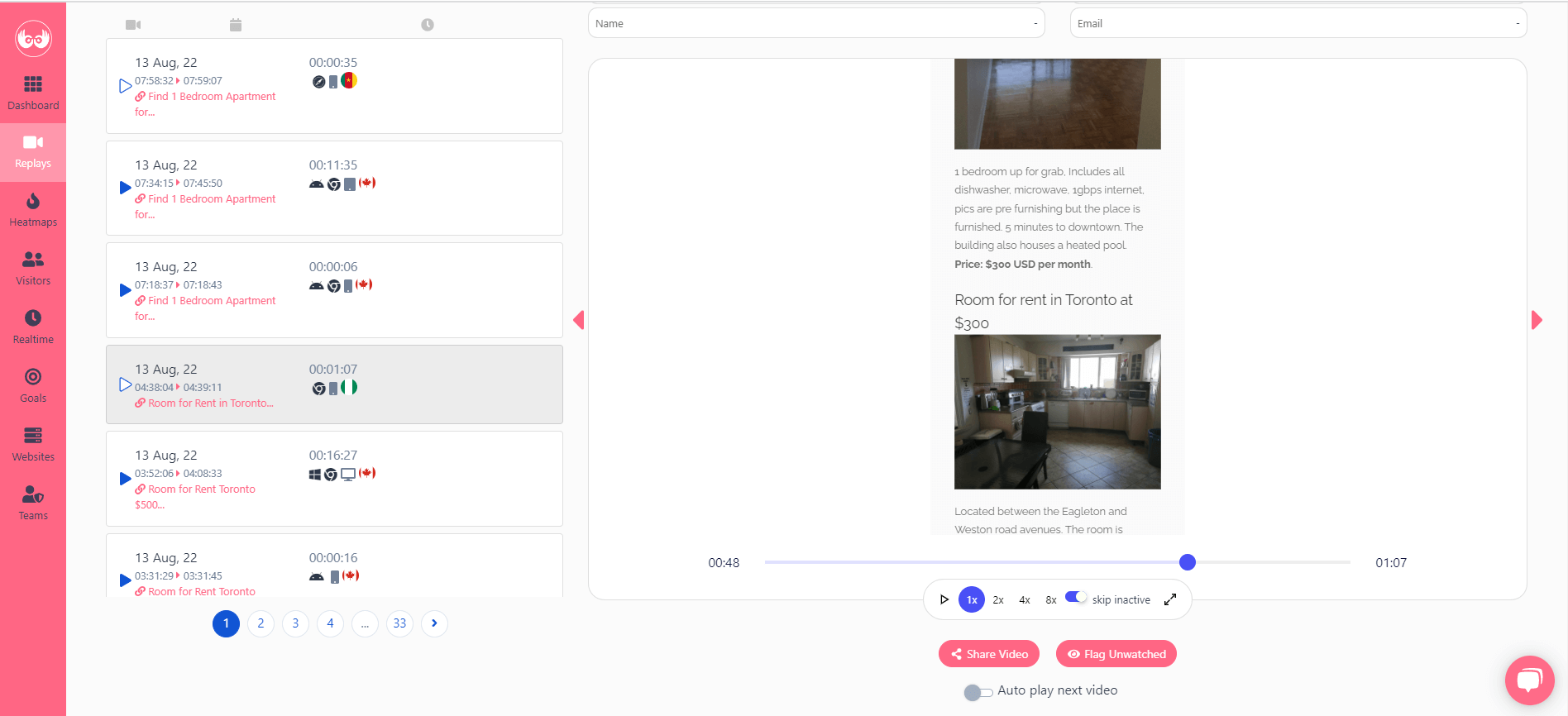 2. Heatmaps
Heatmap is a visual representation of the user's web browsing actions on your website. It shows data where values are depicted by cold and warm colors. As you know, one of the important conversion points on your website is your call to action. With WatchThemLive's heatmaps, you're able to identify distraction and attention points. You can find out why people ignore your CTAs, reposition the ignored elements, and improve your UX design.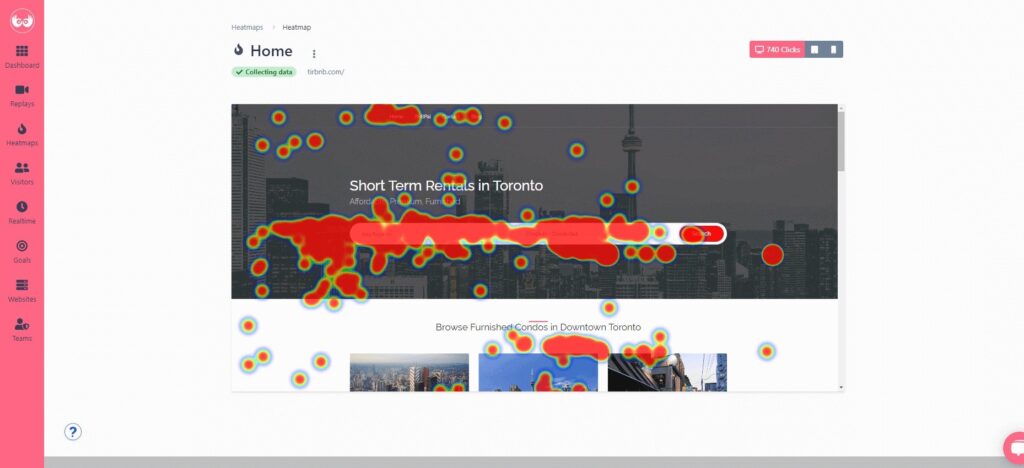 3. Conversion and Goal Tracking
A goal is a measurement of a completed action by a customer on your website. WatchThemLive enables you to set goals to track conversions, including button clicks, form submissions, and clicks on important links. You can also use goal tracking for your A/B tests. Set a goal for the CTA on each page and compare the conversions or create a goal for any other action on the page like submitting a form.
What are you waiting for? Sign up before it's too late.
What Are Conversion Points in Online Business?
There are a few steps you need to take when identifying the most crucial conversion points on your website. And we're going to discuss in this part:
1. Step One: Start with the Basics
The first thing you should do is track website visitors. So stop everything you're doing and register on WatchThemLive to see how visitors navigate around your website. After adding your website and installing the tracking code, you have access to your dashboard. So you can easily track your visitors' activities. If you need any hand, watch the video below:
Then, you need to define your primary goal. Part of the process is to determine what you want people to accomplish when getting to your website. How would you convince someone to buy your products or use your services? How would you keep them from leaving? How many CTA buttons should you put on your Homepage? Is your main conversion point a purchase button or a download application? Again, WatchThemLive lets you analyze your data, set your goals, and realize how many of your users are actually following a specific goal.
2. Step Two: Map Out Your Goal
Next, think about your secondary goals. A secondary goal might not impact your revenue directly but can impact your customer retention rate. Imagine you want to find out the effect email marketing has on customers' behaviors and increases sales. First, build a strong email subscriber list from people who've bought products from your business and offer discounts. Then, send out the email and set a goal to see how many of them come back to your site and purchase again.
So map every single conversion point out and recognize them by primary and secondary goals and discover their values.
3. Step Three: Take It To the Next Level
At this point, you need to analyze your website performance to uncover every last conversion point. You need to identify whether these conversion points are non-revenue-based conversion points or not.
For example, you can first determine which pages have the highest traffic. These pages are likely to have more potential conversion opportunities. Second, look at which pages have the highest bounce rate. This could indicate that visitors are not finding what they're looking for on these pages and are leaving without taking any action. Finally, look at which pages have the longest average time spent on the page. This could indicate that visitors are spending more time on these pages and may be more likely to convert. Here, WatchThemLive can help you filter your customers' recordings by the pages you want.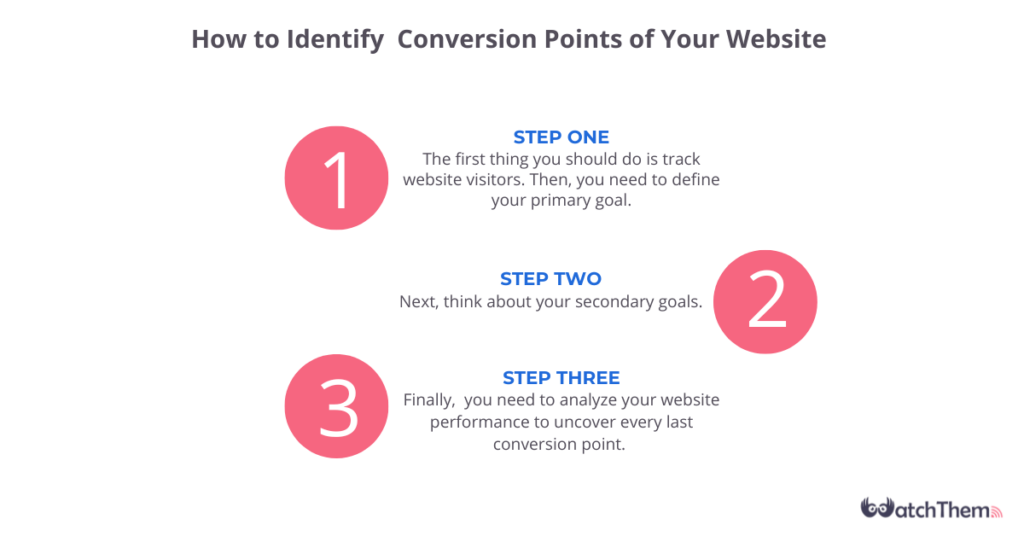 Conclusion
In this article, we discussed how to identify the conversion points of your website. By identifying the main conversion points, you can measure the performance of your website and improve the user experience in order to get more sales. Meanwhile, WatchThemLive helps you see whatever you can't see with your naked eye. Make sure to sign up.