One of the best ways to attract users to your Instagram page and boost your engagement rate is by running contests and giveaways. But similar to every other Instagram content, you need to put effort into designing an eye-catching post to maximize your entry. After that, you need to check the participants, pick a random one from qualified users, and announce the winner. This process can take so much time for many Instagrammers. That's why most of them use trusted Instagram giveaway picker tools.
Being one of the most successful social media platforms, Instagram will significantly impact your sales and revenues if used strategically. And one helpful strategy is using a reliable Instagram giveaway generator tool.
This blog will introduce you to the best giveaway tools that are completely safe and available in the market.
1. AiGrow: of the Best Instagram Giveaway Picker Tools
AiGrow is an Instagram management and growth service with multiple features to help professional Instagrammers manage and grow their page organically. This platform provides an intelligent Instagram giveaway generator tool that checks all the contest participants and finds the ones that have done the conditions.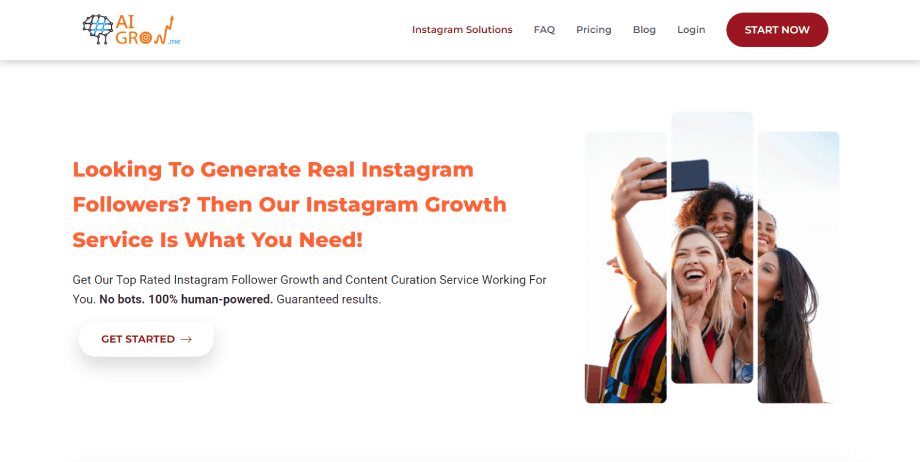 To keep your account safe, AiGrow connects you to a dedicated account manager who knows everything about Instagram algorithms and updates. They will perform manual actions on your behalf without risking your account. 
Read this detailed AiGrow review to find out more about this tool.
2. You to Gift
The following Instagram giveaway generator tool we want to introduce to you that more than 1.5 million users have tried is You to Gift. This Instagram giveaway winner picker started its work in 2019, and now it's available on android, ios, and desktop. All you have to do to run giveaways with this tool is provide a link to the contest post on Instagram and set your parameters for checking users.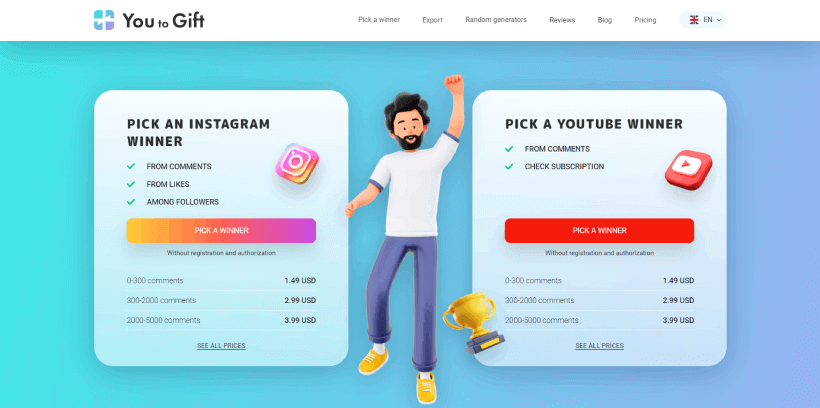 You to Gift checks your Instagram giveaway rules and finds qualified users. When the giveaway time is over, you'll receive a public Excel database with all participants and their assigned ID numbers to see if it's fair. Here is what You to Gift offers:
Instagram giveaway picker tool,
YouTube winner tool,
Export Instagram data,
Random number generator,
Random name generator.
3. AiSchedul
Another good tool to schedule and automate your giveaways is AiSchedul. AiSchedul is an Instagram content scheduler and bio link tool with multiple features to manage your content, including a giveaway picker tool. This powerful automation tool checks all the entries and picks winners randomly.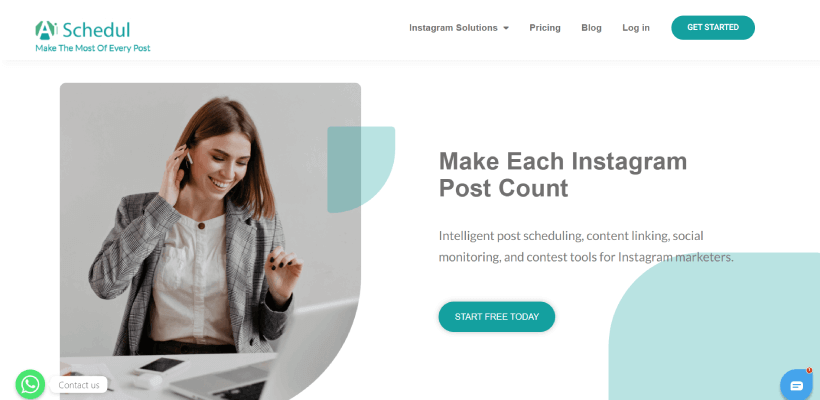 All you have to do is add the condition on your post and the AI engine will check them automatically.
4. Wishpond
You might have heard the name Wishpond under the top Instagram growth tools list. Wishpond offers different features to help users increase their followers organically, including an Instagram giveaway winner picker tool. Wishpond provides templates for ten types of social media contests, such as photo contests, coupons, vote contests, referral promotions, etc. After that, you can set your rules and run the giveaway for free.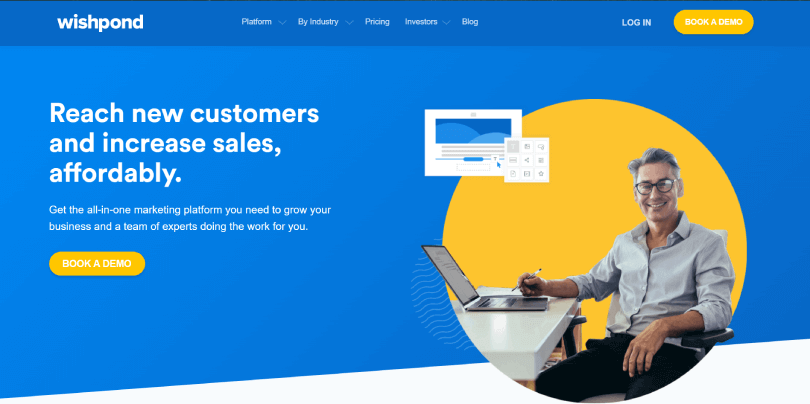 5. Iconosquare
Iconosquare is ab Instagram management tool with a random comment picker tool to help you with your Instagram giveaways and contests. This tool allows you to pick random winners for your Instagram and Facebook competitions. Using the Iconosquare contests tool, you can set your giveaway criteria, including the deadline for your giveaway entry, specific hashtags, mentions, etc. Then chooses random winner(s) for you from the participants.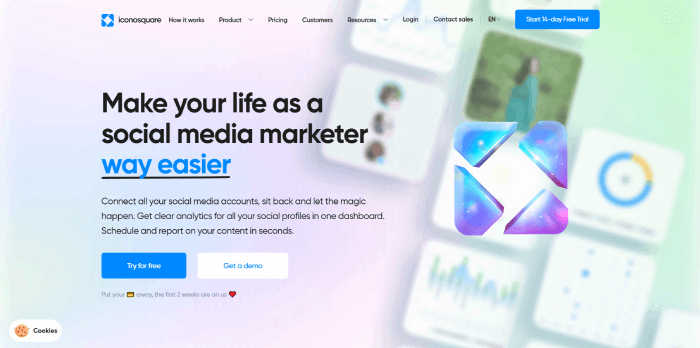 6. Gleam
Gleam is the next Instagram giveaway generator that helps you automate contests and save time. This platform allows you to run your giveaways on Instagram, Twitter, Pinterest, Tumbler, and Amazon and automatically check user requirements. After that, Gleam picks random winners and sends you email exports of your performance.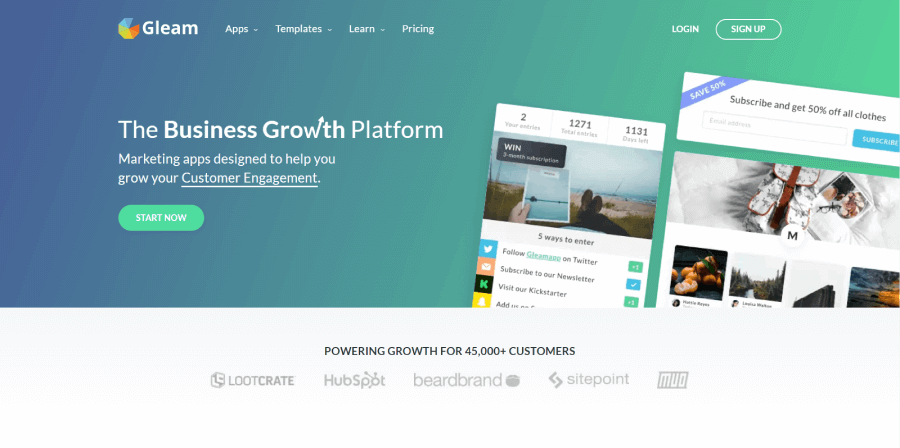 7. Woobox
For new business accounts with a limited number of followers and who want to run giveaways using a free tool, Woobox is a good choice. Woobox offers a free plan for small giveaways with fewer than 100 participants. You can use this tool for Instagram, Twitter, and Facebook contests. It also provides a campaign tool that allows you to track stats, entrants, and traffic through its campaign dashboard.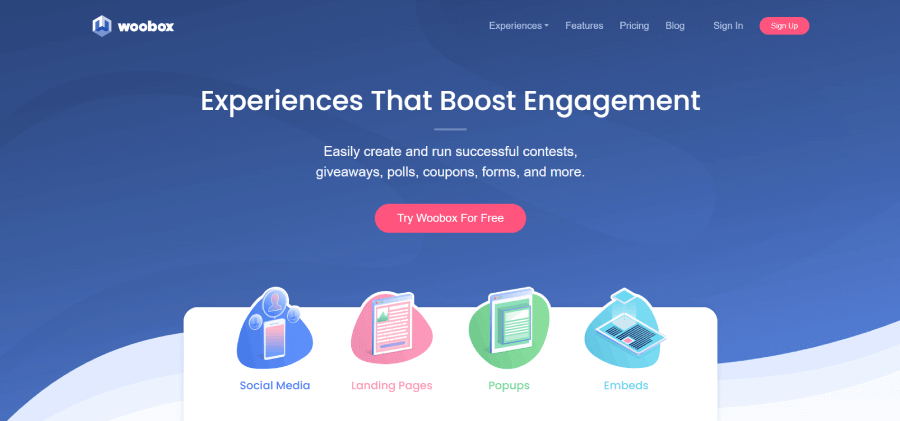 8. Wask
Another good choice for professionals who use Instagram, Facebook, and Twitter for their campaigns is Wask. Wask is a digital marketing software that helps you save time on running ads, campaigns, and giveaways and speed up the process. With Wask's Instagram giveaway picker tool, you can link to your contest post, and the engine checks all the participants and announce the winners.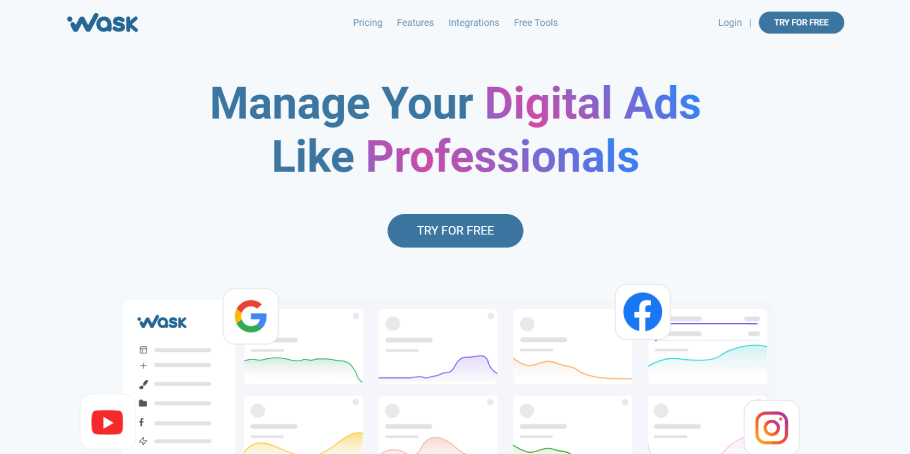 9. Woorise
Woorise is a marketing app that allows you to design and implement various interactive social media campaigns. With Woorise, you can make branded giveaways and social promotions using the pre-ready templates. Also, you can check the participants automatically and with the lowest price.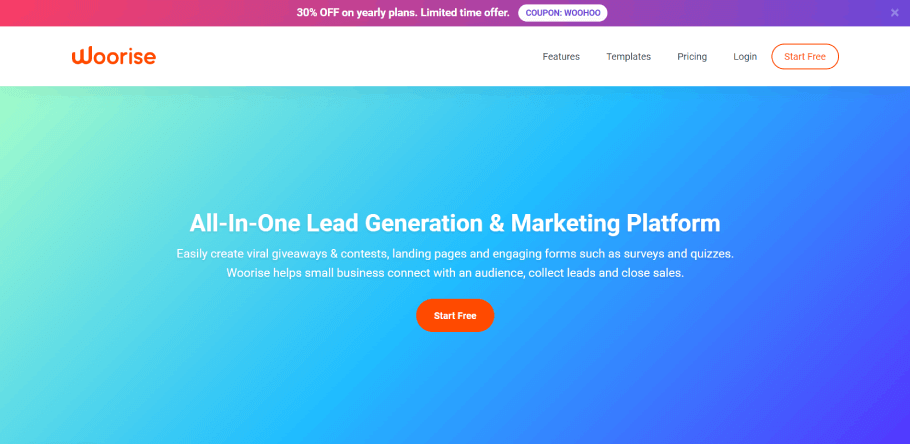 10. Sorteos
Sorteos is a free comment picker tool helping you to automate your Instagram giveaways, promotions, ads, and campaigns. You don't have to copy all your comments! Sorteos will do this for you, check the conditions, and pick one or multiple users from your posts' comments.
They provide the same tool for Facebook and Twitter campaigns.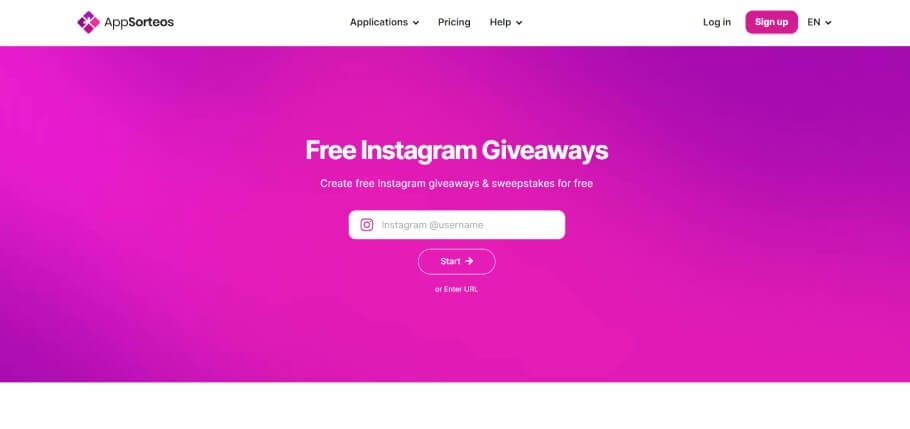 Conclusion
Instagram giveaway picker tools can help you save time by automating the giveaway process from sharing the post to announcing the winners. This article introduced you to top giveaway tools for Instagram, Facebook, and Twitter campaigns. All these platforms are safe and trusted, so you can use them without risking your Instagram page.