When it comes to SEO and website rankings, one of the most important elements is backlinks. Having access to reliable backlink checker tools is essential for any website owner or SEO expert. There are a plethora of different tools on the market that can help you track your backlinks and measure their effectiveness—but which ones are the best?
With search engine optimization becoming increasingly important in digital marketing, understanding the efficacy of your backlinks is necessary for any online business. Knowing which links are working and which ones aren't can help you better optimize your website for better search engine ranking.
This article will provide an overview of the top 10 backlink checker tools available and discuss their major features and benefits.
What Are Backlinks
Also known as inbound links, backlinks are online links from other websites to a specific page on your website that have an influence on the position that your website holds in organic search engine results.
A backlink acts as an endorsement for your website, providing credibility to users who come across it. The more related high-quality backlinks pointing to a webpage are, the higher its ranking in search engines would be.
What Is A Backlink Checker
A backlink checker is a tool used by website owners to measure the incoming links that point to their web pages. It is an important part of search engine optimization (SEO) activities as it can help determine how well a website ranks in search engine results.
Using a backlink checker, website owners can identify which websites are linking to theirs, and the quality of those links. This gives them insight into where their web pages may be receiving valuable link juice from high-authority websites that can help increase their page rankings.
Backlink checkers can also show which domains are linking to multiple pages on the same website, giving a better understanding of its linking strategy's effectiveness.
Additionally, they provide information on the anchor text associated with backlinks, providing
visibility into what keywords competitors might be targeting for SEO purposes.
Why We Use A Backlink Checker
As previously mentioned, backlinks are created when one website links to another, and they provide a valuable source of web traffic. Therefore, it makes sense that businesses would use a backlink checker to review their backlinking strategies and determine which links are most beneficial for their business.
In the following, we're going to explain why you need to use a backlink checker. You
can use these insights to adjust your approach or develop new strategies as needed.
1. Provides Superior Backlinks
When it comes to SEO, the quality of backlinks is just as important as the quantity. A backlink checker can be beneficial for viewing all the domains and links that are referring to various pages on your website. How? Below, we're going to discuss it.
Anchor Text
An anchor text in Google is a type of hyperlink used to direct viewers to another webpage. It allows viewers to click on the text and be taken to the website or page linked.
If another website has linked back to yours, but the anchor text could be more relevant, you may kindly request that they make the necessary changes.
Also, you need to provide them with further information regarding the relevance of the current anchor text and why the suggested one would be more suitable.
Broken Link
Also known as a dead link or dangling link, a broken link is a website hyperlink that no longer works. Broken links can be detrimental to the success of your website, causing a range of issues from lost visitors to poor search engine rankings.
If you are unaware of this, you could use a backlink checker to take a look at your backlinks and determine if any website is linking to your page that isn't working.
If that's the case, find the broken link and try to fix it by replacing it with the correct link if necessary.
Content Update
If you find that someone has linked to an old version of your content and your website now offers an updated version, it may be a good idea to reach out and introduce them to the more current piece.
2. Removes any Bad Backlinks as Necessary
Bad backlinks can be a serious issue for any website's online presence. These are links from websites that have been identified as spam by search engines, which could potentially harm your website's reputation with the search engine algorithms. Getting rid of these bad backlinks is an important step to ensure that your website ranks higher in search engine results. Bad backlinks include:
Irrelevant backlinks,
Backlinks with no context,
Spam links,
Links from penalized websites.
Once you find them, you need to reach out to the source website and request the removal of the link, or use Google's disavow tool to prevent the algorithm from continuing to crawl the bad backlinks.
3. Analyzes Competitor Backlinks
In today's competitive digital landscape, it is essential to understand the backlinks of your competitors in order to stay ahead and secure a strong position. Analyzing competitor backlinks can provide valuable insights into where you should be focusing your efforts for better optimization.
It can be incredibly helpful to use backlink checkers in order to get insights into your competition's backlinks. By analyzing your competitor's backlinks, you can observe their successes and mistakes. So, you may be able to learn some valuable lessons.
Below are suggested ways to analyze your competitors' backlinks:
Identify high-quality link that is related to your niche: If the sites link out to your competitors, it is possible they would be willing to link out to you as well if you offer value in return. All you need to do is to find high-authority web pages and reach out to their SEO manager to do a link exchange.
If there is a website linking back to your competitor's broken link, you need to contact the website as soon as possible and let them know that one of their links is broken. Then, you can suggest an updated piece of content from your own site they can use to replace it!
If you have an awesome piece of content that can beat your competitor's, we highly suggest that you reach out to the website linking back to an old or low-quality piece of your competitor's content, and ask if they would consider replacing it with your updated and high-quality blog or article.
4. Gives You Better Analysis
A backlink checker offers the great advantage of providing you with an easily understandable and reliable overview of your backlink profile's health. Also, you can observe backlink SEO and its strategies.
With this in mind, it is also highly recommended that you use a backlink checker in order to gain insight into the effectiveness of your SEO strategies.
4. Grows Your Business
A backlink checker allows you to identify which websites are linking back to yours and gives you the opportunity to analyze your competition's backlink profile. This information can then be used to build a successful SEO strategy and help you stay ahead of the game.
The importance of a backlink checker tool and CRO Tool for SEO purposes is often overlooked. As the two tools are closely related, understanding how to use them together can help maximize SEO results.
Besides a backlink checker tool, a CRO tool provides an in-depth analysis of user behavior on your website which helps to better understand customer needs and intent. By using both together, users can optimize their web pages while gaining valuable insight into user engagement, which will result in improved search engine rankings.
WatchThemLive: The Best CRO Tool in the Market
WatchThemLive is the latest and most advanced behavior analytics tool on the market. It offers a comprehensive range of features to help you get the most out of your website's traffic.
With WatchThemLive, you can gain valuable insights into what users are doing on your site, and make adjustments that will increase sales and improve user experience.
This powerful CRO tool allows you to identify areas where your website is underperforming, while also discovering opportunities for improvement. This means it's easier than ever before to optimize conversions and grow revenue while improving your SEO. In the following, we're going to delve more into the features.
Session Replay
In the modern digital age, businesses rely on search engine optimization (SEO) and conversion rate optimization (CRO) to attract more customers and improve their bottom line.
Using session replay is one of the most effective ways to understand how customers interact with your website and enhance SEO and CRO initiatives.
Session replay software records customer activity on a website in real time. This data can be used to inform web design decisions, uncover features that may need improvement, or identify user experience issues that could lead to a lower search engine ranking or poor conversion rate. WatchThemLive's session replay gives organizations an understanding of how their customers navigate their websites, allowing them to make strategic changes based on what they observe.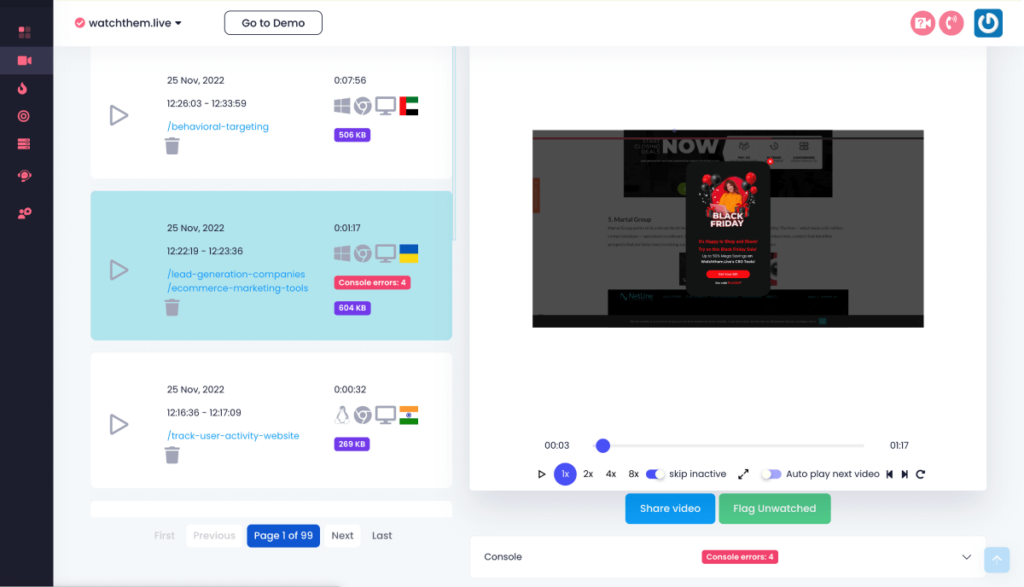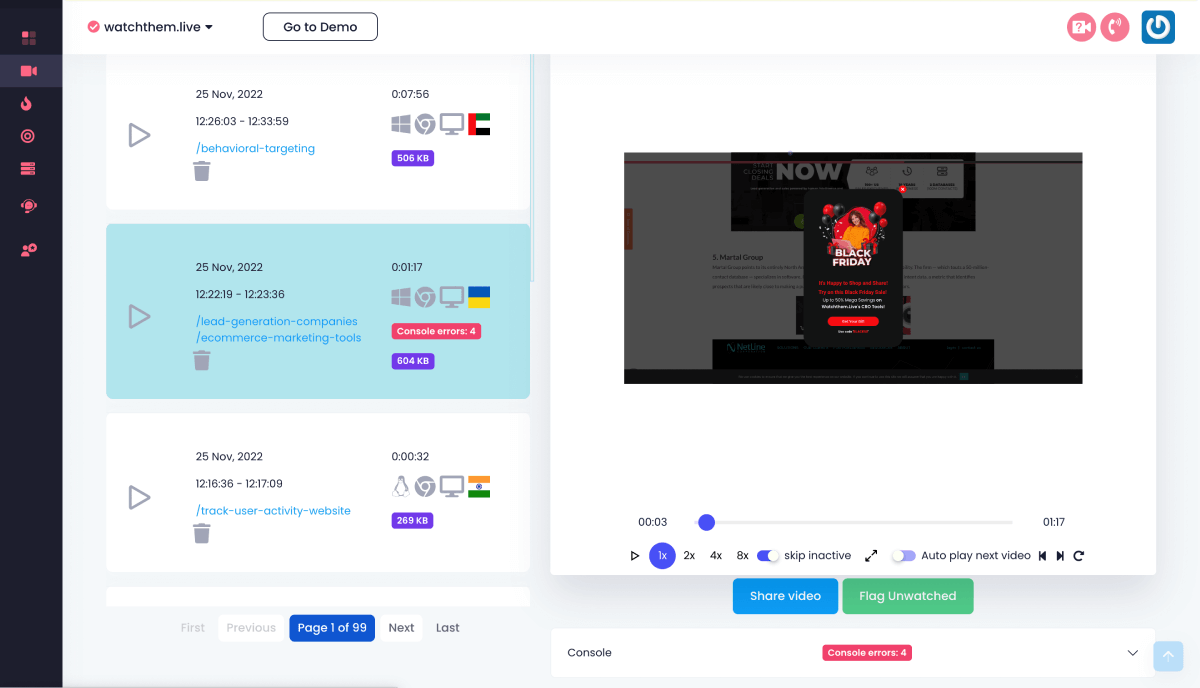 Heatmaps
A website heatmap tool provides a visual representation of how visitors interact with your website, providing insights into what works and what doesn't. By studying heatmaps, marketers can identify patterns in user behavior that can be used to optimize the customer experience and improve their SEO rankings.
For example, if heatmap analysis reveals that users click more frequently on certain types of call-to-action buttons than others, then marketers can adjust the design of those elements accordingly.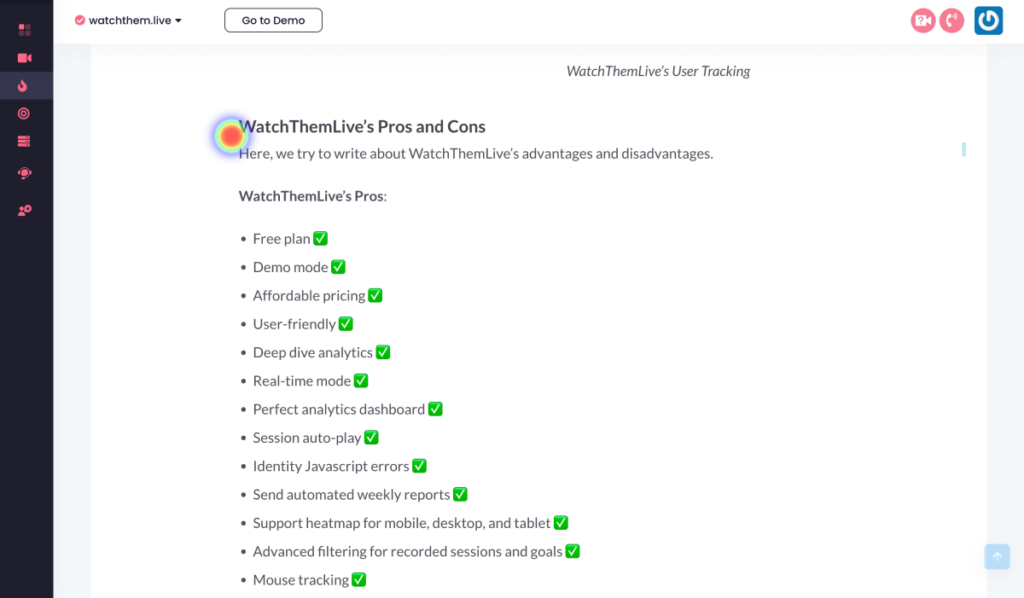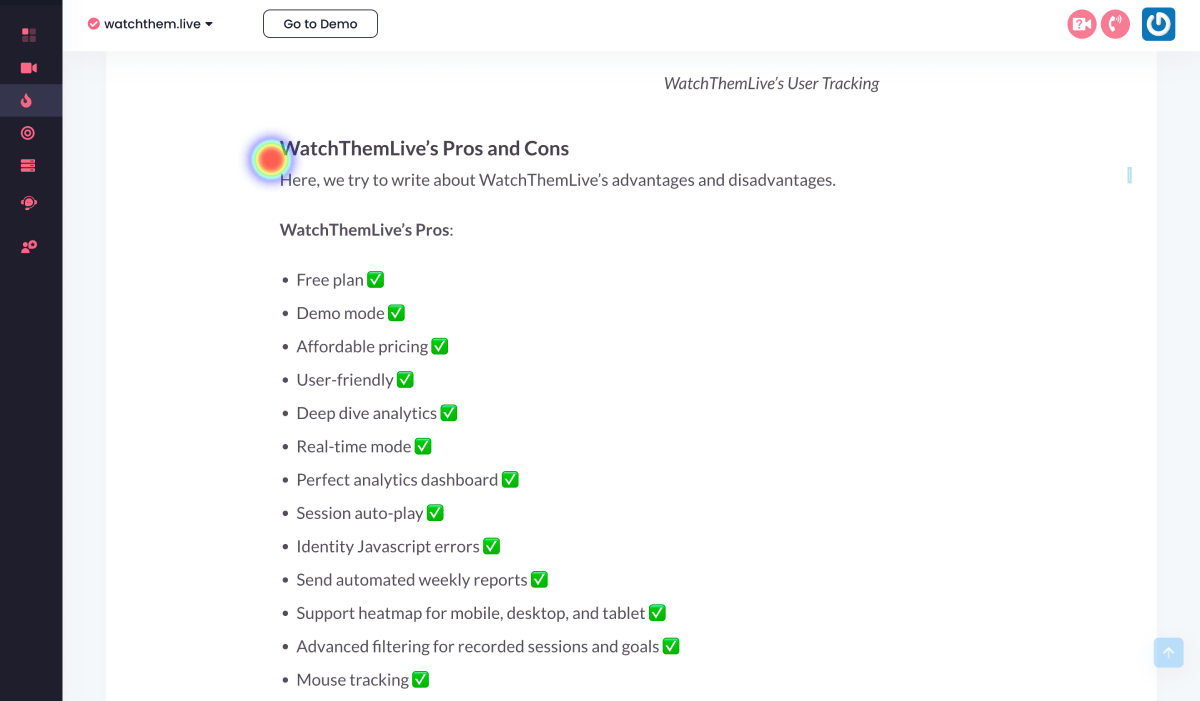 What are you waiting for? Sign up for FREE to optimize your website and improve your rankings.
Best Powerful Backlink Checker Tools: Free & Paid Options
When it comes to online marketing, backlinks are essential for improving website visibility and ranking on search engine results pages. A backlink checker tool can be used to evaluate the quality of existing backlinks and monitor new ones as they develop.
With the vast number of tools available, how do you know which one is the best? In this part, we will provide a breakdown of the most powerful backlink checker tools available in both free and paid options.
#1 Ahrefs
The first option is Ahrefs's backlink checker. It is a comprehensive SEO platform that helps users to improve their website's visibility in search engine results. This platform provides users with all the tools they need to audit and optimize their websites, from keyword research and content analysis to rank tracking. 
It also offers many tools for those seeking to build a successful link-building strategy, identify great keyword ideas and find top-performing content in your niche.
Furthermore, it provides detailed information about organic traffic sources as well as organic keywords used by visitors when searching for specific topics on search engines. You can also track any backlinks you may have lost, or check and identify if there are any broken backlinks.
You may also find it helpful to use Ahrefs in order to evaluate the internal links on your website. It enables you to use filters and identify internal links that may have been unintentionally set as 'no-follow'. So, you can fix them as soon as possible.
Ahrefs Key Features
Dashboard,
Site explorer,
Keyword explorer,
Site audit,
Rank tracker,
Content explorer.
Ahrefs Pricing & Plans
Unfortunately, it doesn't offer a free trial. And the paid plans include:
Lite: Starts at €89/mo
Standard: Starts at €179/mo
Advanced: Starts at €369/mo
Enterprise: Starts at €899/mo
#2 Semrush
Semrush is a powerful online marketing tool that promises to help businesses to succeed online. It provides comprehensive data and analytics on all aspects of digital marketing, including search engine optimization (SEO), keyword research, content marketing, social media management, and link building.
With Semrush's suite of tools, users can easily analyze their competitors' strategies and identify opportunities for improvement in their own campaigns.
Moreover, you can understand how they rank against competitors in organic search engine results pages (SERPs). This helps you understand the strengths and weaknesses of your SEO efforts as well as what strategies are working for others in your niche.
Additionally, Semrush's keyword research tool provides valuable information about which keywords are performing best for a particular niche or product category. This can help marketers determine which keywords should be targeted to increase visibility and drive more website traffic.
Semrush Key Features
Keyword research,
On-page SEO,
Competitor Analysis,
Content marketing,
Rank tracking,
Social media management,
Link building,
Content optimization.
Semrush Pricing & Plans
Pro: $119.95/mo
Guru: $229.62 /mo
Business: $449.95/mo
If you want to take advantage of the 17% discount, you should pay annually, and the pricing plans include:
Pro: $99.95/mo
Guru: $191.95 /mo
Business: $374.95/mo
#3 Moz Pro
Moz Pro assists you in focusing on the right keywords for your purpose, as well as creating custom reports that simplify SEO complexity. Moz Pro promises to help you create custom reports, find link opportunities, optimize your pages, and crawl and audit your site.
One of the advantages of using Moz Pro is its keyword research tool which allows you to identify keywords that are relevant to your industry or niche. With this feature, you can find out which terms generate more organic traffic and use those terms in your content strategy.
Additionally, it also provides detailed reports on search engine rankings. So, you can monitor your progress over time. Another great feature of Moz Pro is that it enables you to track your rankings to gain insights that may help you improve your search engine rankings.
Moz Pro Key Features
Keyword explorer,
Rank checker,
Page optimization,
Custom reports.
Moz Pro Pricing & Plans
Standard: $99/mo
Most popular: $179/mo
Large: $299/mo
Premium: $599/mo
#4 BussSumo
This is an online tool that enables users to easily and quickly identify the most popular content related to specific topics. BussSumo is a powerful analytics tool for content marketers, bloggers, influencers, and social media managers.
This platform helps users track brand mentions, industry updates, and trends to discover what's happening online.
Staying up-to-date with important events is made easier through alerts, helping to prevent you from becoming overwhelmed by the many social media notifications. You can create alerts for the topics, brands, and keywords which are likely to affect your business in some way.
The tool also allows you to find influential authors, influencers, and creators with devoted followers on Instagram, Twitter, and Facebook to promote your brand!
Content discovery,
Content research,
Find influencers,
Monitoring,
Chrome extension.
BuzzSumo Pricing & Plans
Besides its free plan, other paid plans include:
Pro: $99/mo
Plus: $179/mo
Large: $299/mo
#5 LinkMiner
Long tail keywords have become the bread and butter of SEO in recent years, as they not only allow companies to target specific audiences but also help them rank higher in search engine results. If you're looking for long-tail keywords with low difficulty, then you've come to the right place.
LinkMiner is a keyword analysis tool that helps you find keywords that are great for improving your ranking. You can also analyze competitor websites and see which keywords they're ranking for, giving you valuable insights into their SEO strategy.
With LinkMiner's detailed analysis features, users can easily identify strong links with high potential for improving search engine rankings or increasing website traffic.
LinkMiner Key Features
Keyword research,
SERP analysis,
Rank tracking,
Backlink analysis,
Site profiler.
LinkMiner Pricing and Plans
Basic: €29.90/mo
Premium: €44.90/mo
Agency: €89.90/mo
#6 Serpstat
Serpstat is a comprehensive all-in-one SEO platform that helps users improve their search rankings by offering many tools such as keyword research, keyword trends, rank tracking, content analysis, and backlink analysis.
Keyword trends are used to identify what people are searching for online, and how they use search terms to navigate around different websites.
By understanding these trends, you can optimize their content and make sure that it is relevant to their target audience. Serpstat gives you a list of trending queries that enables you to optimize your content.
Batch analysis is a type of data analysis method used to analyze large sets of data. This form of analysis works by breaking down the entire dataset into smaller, more manageable batches. Each batch contains a subset of the data that can be analyzed independently. And Serpstat enables you to analyze up to 100,000 keywords or a list of domains and compare the most important metrics.
Serpstat Key Features
Site audit,
Batch analysis,
Keyword research,
Content analysis,
Backlink analysis.
Serpstat Pricing & Plans
Lite: $69/mo
Standard: $149/mo
Advanced: $299/mo
Enterprise: $499/mo
#7 Majestic
Majestic SEO analysis is a comprehensive tool used to analyze website performance and content optimization from an SEO perspective. This type of analysis helps identify issues that may impair the ability of a website to achieve high search engine rankings.
Majestic's Site Explorer provides users with valuable information such as anchor text, backlink profiles, referring domains, new and deleted backlinks, and broken links. This enables users to gain an understanding of how their site's content appears in the eyes of Google.
Majestic's keyword generator assists you in optimizing a website's search engine visibility by suggesting the most appropriate words and phrases related to the user's topic of interest.
Majestic Key Features
Site explorer,
Keyword checker,
Search explorer,
Keyword generator,
Bulk backlinks.
Majestic Pricing & Plans
Lite: $49.99/mo
Pro: $99.99/mo
API: $399.99/mo
#8 Google Search Console
Google Search Console is a free backlink checker tool that can help you better understand your backlinks through its comprehensive set of tools and features.
The first step in using Google Search Console for analyzing your backlinks is to add and verify your site with Google. Once completed, you can access the Links tab where you will be able to see all of the external links pointing to your website.
You are also able to view any internal links within the same section, allowing you to check which pages on your site are linked together.
Additionally, you can use this tool as a way of monitoring and removing any harmful or low-quality links pointing toward your site if necessary.
FAQs on Backlink Checker Tools
Now, you have a thorough understanding of the backlink checker tools. Below, we are happy to answer some of your questions that have been asked.
Q1. How Do I Check Backlinks?
Checking backlinks is an important part of any website's SEO performance. Knowing how to check your backlinks is essential for maintaining healthy SEO results and understanding where traffic is coming from.
The first step in checking backlinks is obtaining access to the right tools. There are numerous free and paid options available to give you insights into your link profile, such as Google Search Console or Ahrefs. Once you have chosen a tool, sign up for an account so that you can view the data associated with your website's links.
Q2. Does Google Have a Backlink Checker?
Google is one of the leading search engines in the world, and with that comes many tools and features. One such feature is backlink checking. So, does Google have a backlink checker? The answer to this question is yes.
Google's backlink checker tool can help users analyze how many links are pointing from other websites to their own website or page. This allows them to understand how much authority their website has on search engine rankings, as well as which domains are linking to their content and whether those links are do-follow or no-follow links. 
Conclusion
So, backlink checker tools are essential for any website, as they can help you monitor and improve the quality of your backlinks. They provide key insights into your link profile and enable you to identify potential problems before they impact your rankings. With the right tool, you can also keep track of competitors' backlink strategies and stay ahead in the game.
Ultimately, using a backlink checker tool can give you an edge when it comes to SEO performance. Meanwhile, if you're looking for a tool to optimize your conversion rate besides SEO, WatchThemLive is your best solution. Sign up for FREE to get better results.